Tronsmart Ara X5 is one of the first mini PC featuring a Cherry Trail processor, more exactly Atom x5-Z8300 quad core processor manufactured with 14nm process. Price and max TDP are similar to Atom Z3735F Bay Trail-T processor found in many mini PCs designed in China, so it will interesting to compare the two platforms. Yesterday, I took some photos of the device, and found out the design was comprised of a baseboard and system-on-module, but today, I'll focus on testing the device in Windows 10, checking everything works as it should, as well as running some benchmarks, verifying the Windows license status, test H.265 video playback in Kodi, and more.
Tronsmart Ara X5 Setup
I had not much to do the first time I booted the device, as it was already configured to use English, and the system logged in with user "User" without password. I still double checked the screen resolution,as it was set to 1920×1080 (Recommended), but there are also option for 4K resolutions such as 4096×2160 or 3840×2160.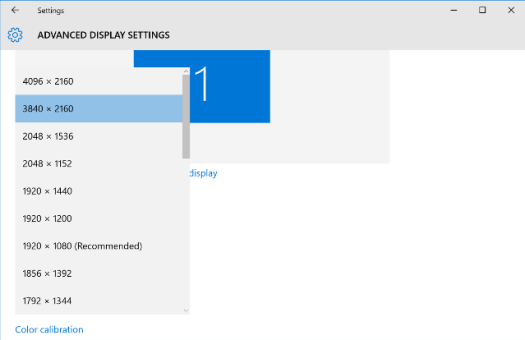 I set it to 3840×2160 and 4096×2160, and both resolution worked fine with an LG 4K TV. However, the system does not support HDMI 2.0, so the refresh rates are limited to 23 Hz, 24Hz, 25Hz, 29Hz and 30Hz for 3840×2160 and 23 and 24Hz for 4096×2160 in Intel HD Graphics Control Panel.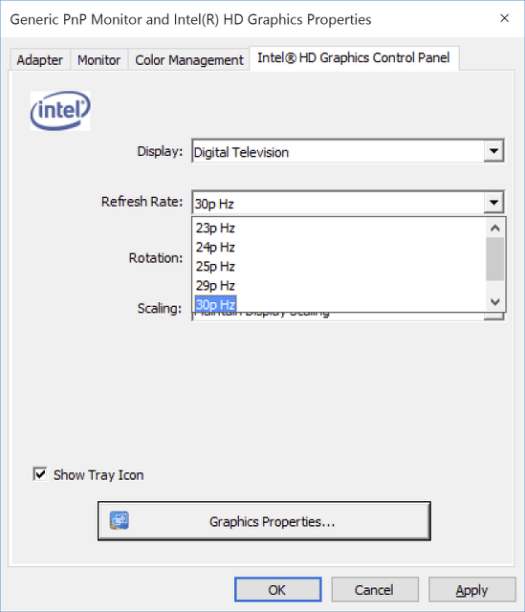 This probably explains why 1080p is recommended over 4K, since the refresh rate can be set up to 60 Hz, and if you are using another resolution a warning window will show up.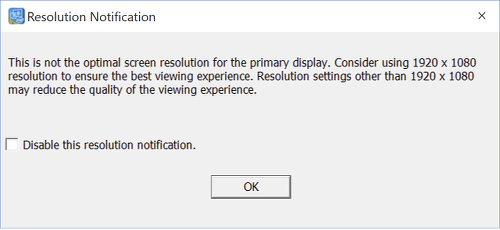 But the image quality seem fine once I switch the 4K. Here's a screenshot of the desktop. Click for full resolution.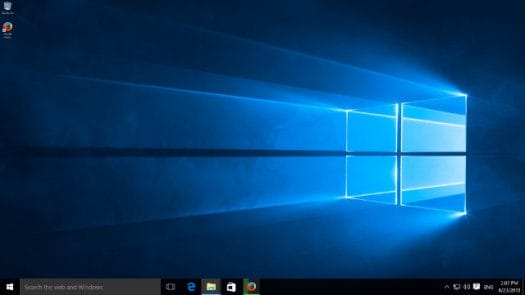 So if you want to watch 4K movies setting the resolution to 3840x2160p @ 24Hz will be appropriate, but for gaming you'll want to switch back to 1080p60. After changing the resolution, you'd better reboot or some apps won't display correctly. For example, Kodi 15.1 would only show the top left quarter of its interface.
The system supports both HDMI and stereo audio, so you may need to configure the audio output too. Simply right click on the speaker icon on the bottom right of the screen, and select Playback devices in order to set Speakers or your TV or AV receiver as the default audio playback device.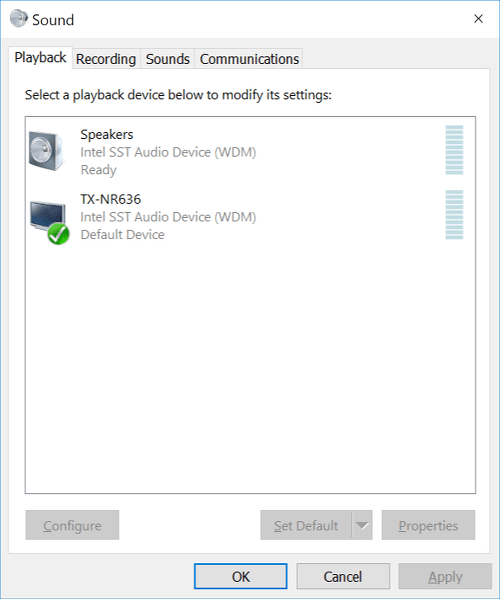 I could use both my TV speakers using the HDMI connection, and external speakers connected to the 3.5mm audio jack of the mini PC. That's all I had to do for the initial setup of the computer.
Tronsmart Ara X5 System Info
Let's check the System Info.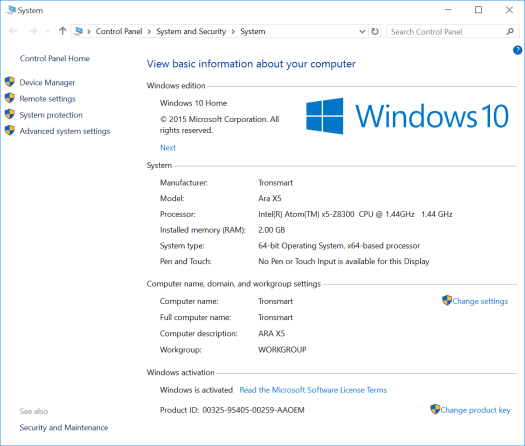 Tronsmart Ara X5 indeed features Intel Atom x5-Z8300 quad core processor @ 1.44GHz (base frequency) as well as 2 GB RAM, but contrary to Z3735F systems that ship the 32-bit version of Windows 8.1 or 10, Ara X5 runs the 64-bit version of Microsoft operating system, which could indirectly be good news for Linux support. Windows 10 Home is activated and appears to have a proper license.

The 28.5 GB partition on the eMMC flash had 14.3GB free space after installing Firefox and Adobe Flash.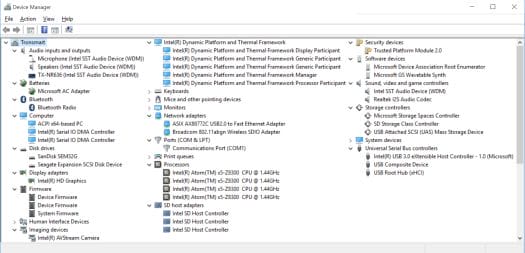 The Device Manager shows the list of devices, such as ASIX AX88772C USB 2.0 to Fast Ethernet controller, Broadcom 802.11 a/b/g/n/ wireless adapter, or a Realtek audio codec.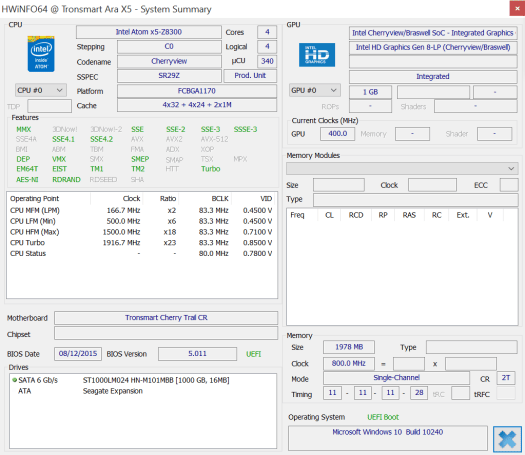 HWiNFO64 detects Atom x5-Z8300 processor and its Gen8 GPU correctly, and you'll find out that according to this tool, x5-Z8300 has the same list of features as Z3735F processor in Mele PCG03 mini PC. The memory is clocked a little higher at 800 MH instead of 677 MHz in MeLE PCG03, but the Gen8 GPU is clocked at 400 MHz, instead of 620 MHz for the Gen7 GPU found in Z3735F SoC.
Aptio Setup Utility complies with UEFI 2.4, and contrary to most Z3735F device that ships with a 32-bit UEFI binary, that one is loaded with a 64-bit UEFI and Secure Boot is disabled by default, both of which should make installing Linux distributions such as Ubuntu a little easier.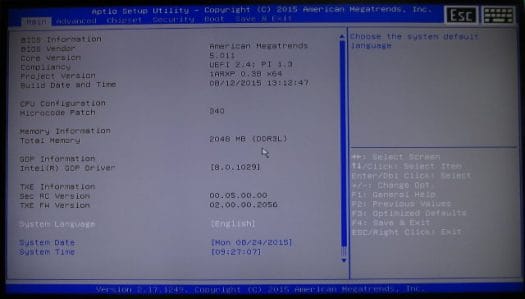 Tronsmart Ara X5 Benchmarks
PCMARK 8 is a pretty good benchmark for Windows, as it emulates real task such as video conference, word processing, photo editing and so on. I normally run PCMARK 8 HOME CONVENTIONAL 3.0 test, and in this version claims it does not know that processor yet reports it correctly as x5-Z8300.

Tronsmart Ara X5 gets 1,048 points, while MeLE PCG03 got 1,052 points in Windows 10. So if you were expecting a small boost in performance you'll be disappointed. I've compared the detailed benchmark results in my Z3735F vs x5-Z8300 post, and there are some variations in the scores, with Ara X5 getting a small edge for gaming, while losing out in most other tests.
The internal storage is a Sandisk eMMC flash, and although performance is acceptable, it's much small than the Samsung eMMC 5.0 flash used in MeLE PCG03.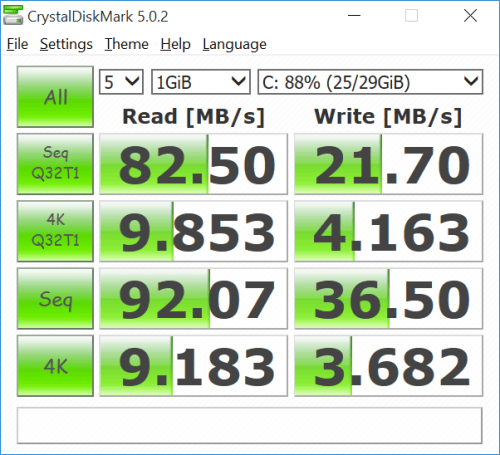 While Tronsmart mini PC achieves 92.07 MB/s and 36.50MB/s read and write speeds, MeLE PCG03 delivered respectively 165.5 MB/s and 72.55 MB/s.
I've also run some network benchmarks with iperf2 for Windows using "iperf.exe -t 60 -c 192.168.0.104 -d" command line
Fast Ethernet:

--

--

--

--

--

--

--

--

--

--

--

--

--

--

--

--

--

--

--

--

--

--

--

--

--

--

--

--

--

--

Client

connecting

to

192.168.0.110

,

TCP

port

5001

TCP

window

size

:

 

170

KByte

(

default

)

--

--

--

--

--

--

--

--

--

--

--

--

--

--

--

--

--

--

--

--

--

--

--

--

--

--

--

--

--

--

[

 

6

]

local

192.168.0.104

port

47902

connected

with

192.168.0.110

port

5001

[

 

6

]

 

0.0

-

60.0

sec

  

471

MBytes

 

65.9

Mbits

/

sec

[

 

5

]

 

0.0

-

60.0

sec

  

552

MBytes

 

77.1

Mbits

/

sec

Although it's still very much usable, Ethernet performance is not the best there is, as it's far from the 90 Mbits/sec achieved with the best devices over a Fast Ethernet connection. Gigabit Ethernet is not supported.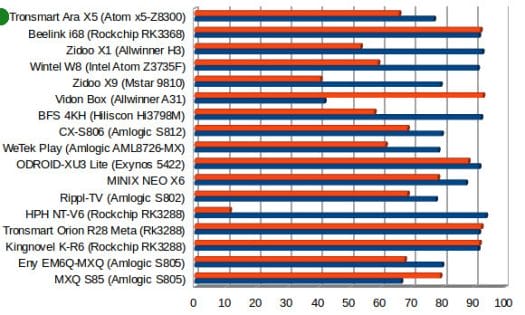 WiFi 802.11n 2.4GHz:

Client

connecting

to

192.168.0.109

,

TCP

port

5001

TCP

window

size

:

85.0

KByte

(

default

)

--

--

--

--

--

--

--

--

--

--

--

--

--

--

--

--

--

--

--

--

--

--

--

--

--

--

--

--

--

--

[

 

6

]

local

192.168.0.104

port

55505

connected

with

192.168.0.109

port

5001

[

 

4

]

 

0.0

-

60.1

sec

  

132

MBytes

 

18.3

Mbits

/

sec

[

 

6

]

 

0.0

-

60.1

sec

  

104

MBytes

 

14.5

Mbits

/

sec

[

 

5

]

local

192.168.0.104

port

5001

connected

with

192.168.0.109

port

50912

I have less data for WiFi performance with iperf, but Ara X5 seems less than average @ 1.8 to 2.2 MB/s.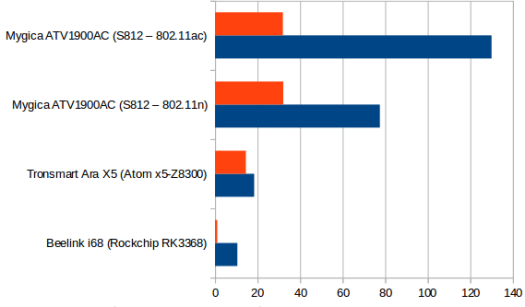 Having said that, it was much better than an Intel NUC running Windows 10 with a 7620N mPCIe wireless card which frequently has lots of packet losses and a ping > 2s in the local network, while Ara X5 worked just as expected.
Tronsmart Ara X5 Usability Testing
I've also tested the various programs in the device, that may often be problematic in low end devices, and shot a video with the following:
Web Browsing in Firefox

Loading CNX Software
Playing an Embedded Video
Playing a 1080p Video in Full Screen mode
Playing a flash game  (Candy Crush Saga)

Gaming with Asphalt 8
Kodi 15.1 with 1080p & 4K H.265 video playback at 1080p50 and 3840x2160p25.
I had some troubles scrolling the webpages in Firefox with the scrolling wheel of my mouse, as it was jittery going up and down at times, instead of simply going down, but let's say it's a minor issues. Both embedded and fullscreen 1080p videos in played very well in YouTube, until I was called for lunch, and came back later to find out the videos were rather choppy. The temperature at the top and bottom of the box was respectively 57 and 52 degrees C, so I paused the video and waited a few minutes, and the video was smooth again. Candy Crush Saga was playable in Firefox, but the animations were rather slow..
Even with the better GPU, I did not find Asphalt 8 that enjoyable to play as I like higher framerates, and although H.265 video decoding for 1080p and 4K videos is OK at 1080p resolution, once you switch to 3840×2160 in Windows 10, 4K videos are not smooth enough for an enjoyable experience. Hopefully, that's something that Intel, Microsoft, or Kodi developers can improve on.
In theory, the USB 3.0 port is a useful addition to expand storage, since the flash can fill up pretty quickly if you intend to use the system as a desktop computer and install many programs, but unfortunately a Seagate Expansion USB 3.0 drive did not work in the USB 3.0 port with the message "USB device not recognized", but working just fine in the USB 2.0 port. A USB 3.0 flash drive was properly recognized in the USB 3.0 port, but I could not insert it perfectly perpendicularly to the rear panel since it's a bit too close to the HDMI cable, and I assume some people will require a USB hub to connect their thumb drives as there may be too little space.
Tronsmart Ara X5 is not a bad device, but apart from H.265 1080p videos, there are not many things you could not do just as well with an Atom Z3735F based device, and there are also quite a few bugs, which may be related to Windows 10, directly or indirectly, as the apps or drivers may not have been fully ported and optimized since the OS and processor are so recent.
I'd like to thanks Geekbuying again for providing the device for review. They sell it for $149.99 including shipping [Update: use UTJOOOWW coupon for $20 discount], with delivery scheduled for August 31, and you may want to play their lottery to win coupons. It can also be purchased on Ebay for $159.99 and soon more online sellers should list the product.
Next Step… Trying Linux, but so far I can't get UEFI to list my flash drive as a boot device…

Jean-Luc started CNX Software in 2010 as a part-time endeavor, before quitting his job as a software engineering manager, and starting to write daily news, and reviews full time later in 2011.