HD23 is an Android TV box based on Allwinner H3 quad core processor that includes a 2.0MP camera and a microphone that should allow you to make and receive video calls. I've already taken some pictures of the device, and opened it to have a look at the hardware including the camera and microphone in HD23 unboxing and teardown post, so today I'll specifically test the device's camera and mic with Skype and Google Hangouts.
HD23 Installation
The device is made to connect to the top of your TV, so you'll probably want to limit the weight on the back of the device, and I only connected the HDMI cable, the RF dongle for MINIX NEO A2 Lite air mouse, and the power supply cable. For the purpose of the review, I also connected a USB keyboard via the USB OTG adapter in order to take screenshots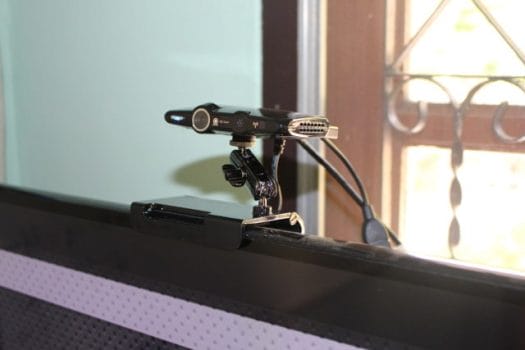 .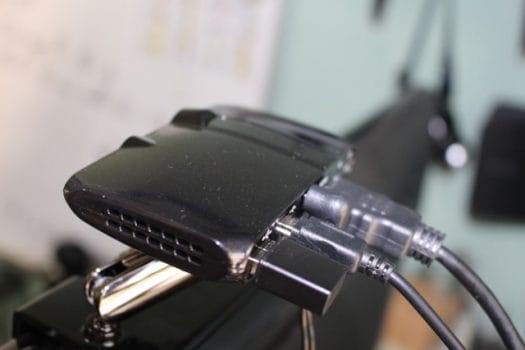 If you wonder how big the device would look on your TV, I've take a picture with the device connected to a 42″ TV (LG 42UB820T).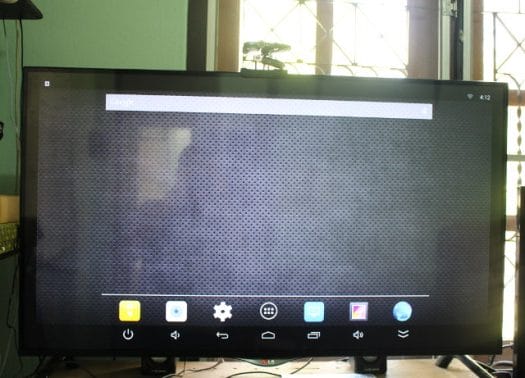 It's fairly easily to adjust the mini PC to the direction and angle you need, but you'll have to make sure you tighten the two screws firmly.
HD23 User Interface and Configuration
MX HD23 has a typical Android home screen, not really a TV launcher, but you could always install another one if you prefer. As you can see from the picture above, the device is set to compensate for overscan by default, so if you TV is already doing this, as in my case, you want to go to Settings->Screen percent, and adjust the slider to the max, or whatever value is best for your TV in order to get a full screen experience. Since HD23 has no Ethernet, you'll have to setup WiFi too if you want to access the Internet.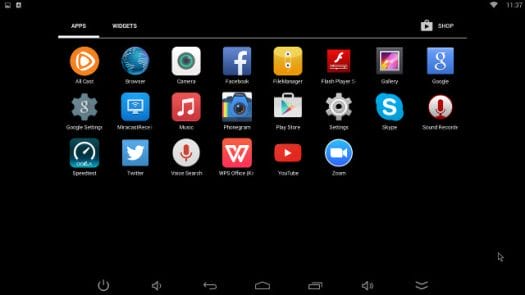 The list of pre-installed app is shown above. If you click to see the full size of the screenshot you'll notice the image resolution is 1280×720, meaning they've gone with a 720p user interface whatever video output you set in the settings, in my case 1080p50, but 4K30 is also supported. The Play Store worked fine, as I could install ES File Explorer and Google Hangouts.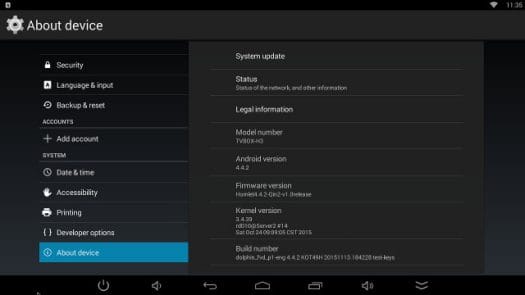 I've also gone into About device to find a bit more about the system. The model number is TVBOX-H3, and it's running Android 4.4.2 with Linux 3.4.39. The firmware is dated on November 13, 2015, and the firmware update app told me my firmware was up to date.
HD23 Camera Review
I've tested the camera with three applications: the included Camera app, Skype and Hangouts. I've checked the picture quality in the camera app, and considering my room is relatively dark, the quality is not too bad, and much better than the cheap USB camera I normally use for TV box reviews.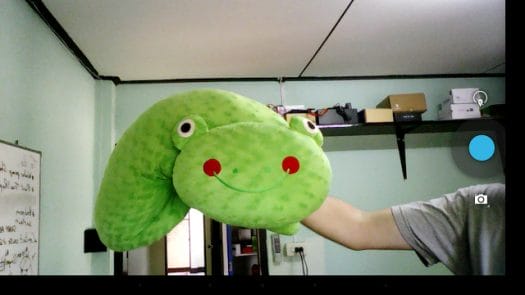 Taking an actual picture with the camera with save 1600 x 1200 photos. Here one sample for reference. It's rather grainy and it would be pretty bad if the device was used as an actual camera instead of a webcam.
I then switched to Skype. I had not problem to log into the app, and make an audio test call with the Echo / Sound Test Service, and audio quality was quite good, and I find the device has a decent microphone. The video was fine and smooth too, but somehow the picture on the receiving end was not exactly the same as on the TV, with the lower part of the video cut. One thing you need to be aware of while doing video conferences on a TV is that you'll usually be a bit further from the screen as usual, so you may have to come a little closer to the screen, as AFAIK there's no option to zoom in.
Finally I tried Google Hangouts, and while I could sign-in, and make a call, the whole experience was not smooth at all with the video rendering at 1 to 2 fps or even less on both HD23 and computer (Ubuntu 14.04 + Chrome).
So while I find Skype perfectly usable on the device, Google Hangouts is not. You can see all three tests in the video below.
I'd like to thanks GearBest again for sending a sample for review, and if you are interested in such device, you could purchase it for $60.60 on GearBest [Update: Coupon HD23sV brings that down to $59.39]. It can also be found on Amazon US, eBay, DealExtreme, GeekBuying, Aliexpress, and others online retailers for $60 and up.

Jean-Luc started CNX Software in 2010 as a part-time endeavor, before quitting his job as a software engineering manager, and starting to write daily news, and reviews full time later in 2011.