Ugoos UT4 is one of many Rockchip RK3368 TV boxes available on the market today, but it's one of the model with higher-end specifications including  2 GB RAM, and 16 GB flash, as well as Gigabit Ethernet and 802.11ac WiFi, Ugoos offers regular firmware updates for their devices, and as I found out in Ugoos UT4 specs and teardown post, the mini PC features a fan to keep the device cool at all times. Today, I'll focus on reviewing the firmware including video playback capabilities, performance and whether advertised features work as they should.
First Boot, Settings and First Impressions
Before powering on the device, I connected some cables (Ethernet, HDMI, optical audio, AV to speakers), and made use of all four USB ports with a USB hard drive, a webcam, a keyboard, and a USB hub with two RF dongles for MINIX NEO A2 Lite air mouse and Tronsmart Mars G01 gamepad, and to power my external speakers that are connected to the AV port. Finally, I inserted the power cable, and UT4 booted automatically with a typical boot time being 25 to 30 seconds, or one of the fastest start-up time I've experienced lately.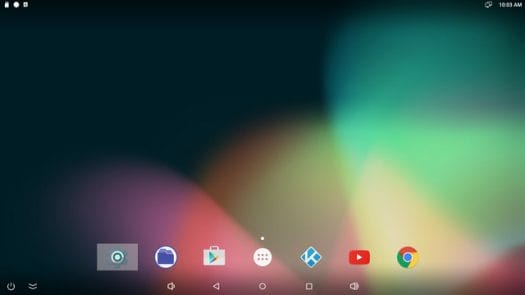 So Ugoos has decided not to include a TV launch with their device, and instead go with the typical Android Home Screen with some pre-installed apps including Settings, a File Manager, the Play Store, the list of Apps, Kodi, YouTube, and Chrome. The status bar can be hidden easily by clicking on the double down arrow icon on the right of the power icon. The notification bar at the top does not get out of the way in all apps, which may annoy some people… But it does disappear in Kodi and the games I tried. There's also a small display bug when you hide the taskbar, and the gray icon highlighter, shown on the Settings icon in the screenshot above, will be have an incorrect vertical alignment afterwards (too high).
The box automatically detected the TV is HDMI 2.0 capable and set the video output to 2160p @ 60 Hz. However, I noticed later on that the resolution had changed to 1080p60 or even 720p60, so it's better to go in the settings (Display->HDMI mode) to set this manually. I could also confirm that the AV port worked with my speakers. Both HDMI audio and AV are always enabled.
The most useful options inside Android Lollipop settings include:
Wireless & Networks – Wi-Fi, Ethernet, Data usage for Wi-Fi and Ethernet, Bluetooth, and a "More" section with: Airplane mode, Tethering & Tethering & portable hotspot, PPPoE and VPN
Device

USB – Connect to PC
Sound & Notifications – Volume for various sounds, notification settings, and a Sound Device Manager to select Default Output, Spdif Passthrough, or HDMI Bitstream
Display

Wallpaper, sleep, Daydream, font size, screen rotation
Cast Screen
Screen Scale
Output Interface – HDMI only
HDMI Mode:

Auto
4096x2160p @ 60Hz (YCbCr420), 50Hz (YCbCr420), 30Hz, 25Hz, or 24Hz
3840x2160p @ 60Hz (YCbCr420), 50Hz (YCbCr420), 30Hz, 25Hz, or 24Hz
1920x1080p @ 60 Hz, 50Hz, 30Hz, 25Hz, 24Hz
1280x720p @ 60 or 50 Hz
720x576p @ 50 Hz
720x480p @ 60 Hz

Storage – Two partitions: 3.87 GB "Internal storage" with 3.57GB free, and a  9.12 GB "NAND FLASH" partition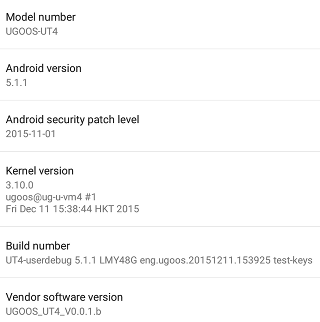 While there's no unified partition in the device, the 3.87GB internal partition should be large enough for most people. Usual settings like Accounts, Language & Input, Printing, accessibility are all enabled.
Going into "About device" shows UGOOS-UT4 model number is running Android 5.1.1 on top of Linux 3.10.0. There's also "vendor software version" reports that's UGOOS_UT4_V0.0.1.b on my device. OTA firmware updates appear to be working, but my system was detected as being up to date so I could not test it. The firmware is not rooted by default.
While I prefer using air mice like MeLE F10 Deluxe or MINIX NEO A2 Lite with Android TV boxes, an infrared remote control is normally included. So I added two AAA batteries to test the provided remote, and while it works, the range was rather short, and if I stood more than 4 meters away, key presses started to get unreliably detected. I tried with two sets of batteries, and the result was the same.
After successfully registering my Google account, Google Play Store complains I was unauthorized to access my list of apps… But I rebooted, and it worked quite well afterwards. I could install all apps I needed for review, except Hplus Watch for F68 Bluetooth LE smart watch, which I had to sideload. I could also install Riptide GP2 using Amazon Underground app.
At first, power handling appears to be properly implemented, as when you press the power key for a short time it goes into standby / sleep mode, and a long press – or clicking on the power icon in the task bar – pops up a menu with: Power off, Reboot, Sleep, Reboot bootloader. However while Reboot and Sleep modes are working fine, power off  and reboot bootloader modes do not seem to work. The screen does go black, but the power LED is still on, power consumption is high (~7 watts), and there's no way to power it on again, except by powering cycling the device.
I still tested power consumption, but bear in mind power off mode simply hangs, so the consumption is higher than normal, and hopefully Ugoos can fix it in the next firmware. I tested power consumption without any USB device, and with a USB hard drive:
Power off – 4.0 Watts (system hangs)
Standby / Sleep  – 1.3 Watt
Idle – 4.2 Watts
Power off + USB HDD – 6.0 Watt (system hangs)
Standby / Sleep + USB HDD – 3.1 Watt
Idle + USB HDD – 6.4 Watts
So for the current firmware, I'd recommend to only use Sleep mode. Idle power consumption is also a little higher (1 Watt extra) compared to Kingnovel R8, another RK3368 TV box, and while there could be various reasons for it, the fan is likely the culprit here.
Since I'm talking about the fan, I'd like to mention it is rotating all the time, not only when the processor gets hot. Compared my computer, it's very silent, but if I turn off my main computer, I can clearly hear the fan, even standing at about 2 meters away. I don't find it noisy at all or disturbing, but it may be an issue for some people.
The fan clearly helps with temperature, as after running Antutu, the temperature was just 38 and 41°C on the top and bottom of the case, and it only went up to 40 and 44°C after 30 minutes playing Beach Buggy Racing and Riptide GP2.
Beside the power off issue, Ugoos UT4 is a good device with fast boot and app loading, and I only had slowdowns once or twice. So overall it's a very responsive system, and performance can be sustained over time thanks to the cooling fan. There are also a few display bugs like icon highlight alignment when hiding/showing the task bar, and the notification bar may be an annoyance with some apps.
Video Playback with Kodi
Ugoos UT4 comes pre-loaded with a version Kodi 15.2-rc1 likely modified with specific patchsets to add Dolby TrueHD and DTS HD passthrough to RK3368, and it's actually been compiled almost the same day as the source code release.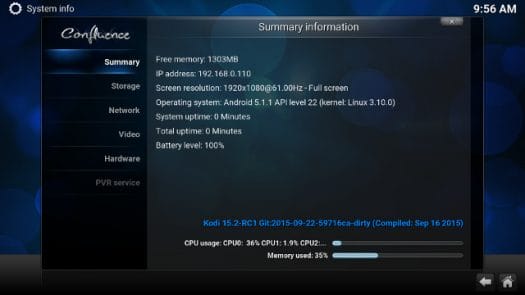 I've played all videos from a SAMBA share in Kodi over Ethernet, unless otherwise noted. I've also enabled Automatic frame rate switching in Kodi, but unfortunately it did not work at all, so some videos may suffer from micro stuttering.
Linaro media samples, Elecard H.265 samples, and low resolution VP9 video could all play fairly well, except Real Media videos:
H.264 codec / MP4 container (Big Buck Bunny) – 480p/720p/1080p – OK
MPEG2 codec / MPG container –  480p/720p/1080p – OK
MPEG4 codec, AVI container 480p/720p/1080p – OK
VC1 codec (WMV) – 1080p – 480p/720p/1080p – OK
Real Media (RMVB), 720p / 5Mbps – Could be a little smoother
WebM / VP8 480p/720p/1080p – OK
H.265 codec / MPEG TS container  – OK
WebM / VP9 (no audio in video) – OK
I then switched to some video with various frame rates
ED_HD.avi

(1080p MPEG-4 – 10Mbps)

– OK
big_buck_bunny_1080p_surround.avi (1080p H.264 – 12 Mbps) – OK
h264_1080p_hp_4.1_40mbps_birds.mkv (40 Mbps) – OK
hddvd_demo_17.5Mbps_1080p_VC1.mkv (17.5Mbps) – Could be smoother
Jellyfish-120

-Mbps.mkv

(120 Mbps video without audio) – OK from the network, except a micro pause occurs after about 2 seconds playback.
The next step was to test audio capabilities of the device using HDMI and S/PDIF pass-through in Kodi, and PCM output (downmixing) in both Kodi and Video Player.  I selected the output in Android Settings->Sound & Notifications->Sound Device Manager and chose Default Output, Spdif Passthrough, or HDMI Bitstream accordingly. For audio pass-through, I also configured Kodi as shown below.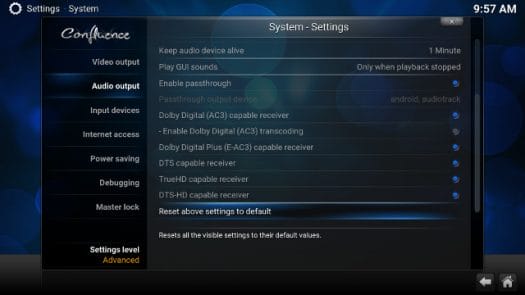 Video
PCM Output
(Kodi)

PCM Output
(Video Player)

HDMI Pass-through
(Kodi)
S/PDIF Pass-through
(Kodi)
AC3 / Dolby Digital 5.1
Audio OK
video 1:1 aspect ratio
No audio
OK (Dolby D 5.1)
OK (Dolby D 5.1)
E-AC-3 / Dolby Digital+ 5.1
OK
No audio
OK (Dolby D 5.1)
OK (Dolby D 5.1)
Dolby Digital+ 7.1
OK
No audio
OK (Dolby D+ 7.1)
Audio Formats Not Supported over S/PDIF
TrueHD 5.1
OK
No audio
OK (TrueHD 5.1)
TrueHD 7.1
OK
No audio
OK (TrueHD 7.1)
Dolby Atmos 7.1
OK
No audio
No (TrueHD 7.1)
DTS HD Master
OK
No audio
DTS 5.1 only
OK (DTS 5.1)
DTS HD High Resolution
OK
No audio
DTS 5.1 only
OK (DTS 5.1)
Audio downmixing and pass-through are working well in Kodi, but since Dolby and DTS licenses are not included most other video players and online video services won't support Dolby and DTS audio, unless you are passing the audio through an AV receiver.
Some 4K videos can be played, but there are still some issues, and there's no miracle as VP9 and 10-bit H.265 codecs are not supported by Rockchip RK3368 VPU:
HD.Club-4K-Chimei-inn-60mbps.mp4 – OK

sintel-2010-4k.mkv – OK most of the time, but a freeze lasting 9 seconds occurred at the 4 seconds mark (apparently not related to buffering).
Beauty_3840x2160_120fps_420_8bit_HEVC_MP4.mp4 (H.265) –  OK
Bosphorus_3840x2160_120fps_420_8bit_HEVC_MP4.mp4 (H.265) – OK, but a micro pause happened once.
Jockey_3840x2160_120fps_420_8bit_HEVC_TS.ts (H.265) – Won't play, stays in UI
MHD_2013_2160p_ShowReel_R_9000f_24fps_RMN_QP23_10b.mkv (10-bit HEVC) – Black screen
phfx_4KHD_VP9TestFootage.webm (VP9) – Freeze at the beginning and get stuck there.

BT.2020.20140602.ts

(

Rec.2020

compliant video) – Won't play, stays in UI
big_buck_bunny_4k_H264_30fps.mp4 – OK
big_buck_bunny_4k_H264_60fps.mp4 – Not very smooth and massive audio delay (4K H.264 @ 60 fps not supported by RK3368)
Fifa_WorldCup2014_Uruguay-Colombia_4K-x265.mp4 (4K, H.265, 60 fps) – OK
Samsung_UHD_Dubai_10-bit_HEVC_51.4Mbps.ts (10-bit HEVC / MPEG-4 AAC) – Won't play, stays in UI
Astra-11479_V_22000-Canal+ UHD Demo 42.6 Mbps

bitrate.ts

(10-bit H.265 from DVB-S2 stream) – Won't play, stays in UI
Both Sintel-Bluray.iso and amat.iso (Ambra – Prism of Life) Blu-ray ISO could play smoothly, as well as two 1080i video samples.
Hi10p videos have the same problem as on other Android TV boxes in Kodi:
[Commie] Steins;Gate – NCED [BD 720p AAC] [10bit] [C706859E].mkv – Audio and subtitles OK, some video artifacts
[1080p][16_REF_L5.1][mp3_2.0]Suzumiya Haruhi no Shoushitsu BD

OP.mkv

– Audio and susbtites OK, more artifacts
This will likely only be possible with the upcoming Rockchip RK3229 and RK3399 SoCs that natively support 10-bit H.264.
LG 42UB820T 4K UHD television does not support 3D, but I still played some 3D videos to check 3D decoding capabilities of Ugoos UT4:
bbb_sunflower_1080p_60fps_stereo_abl.mp4 (1080p Over/Under) – Plays in slow motion, and some audio delay
bbb_sunflower_2160p_60fps_stereo_abl.mp4 (2160p Over/Under) – Blackscreen with audio only
Turbo_Film-DreamWorks_trailer_VO_3D.mp4 (1080p SBS) – OK
Finally, I tested various other videos in my library (VOB/IFO, MKV, AVI, MP4, XViD, DiVX, FLV and MKV), and I did not notice any issues, except for some FLV that could not play.
The stability test consisting of a 2-hour movie was successfully, and the movie played in its entirety reasonably smoothly, but not perfectly due to the mismatch between the video frame rate and the TV refresh rate. I also notice it was impossible to access the zoom menu while playing the video. During my testing, I adjusted the volume to the maximum while playing some videos, only to notice it was reverted back to some other values when playing another video.
Ugoos UT4 achieved 730 points in Antutu Video Tester 3.0. That's not quite as high as on Amlogic S905 TV boxes (~900 points), but still a good progress over Beelink i68 (532) or Zidoo X6 Pro (328) scores.
DRM info reports that neither Widewine nor PlayReady DRM are installed.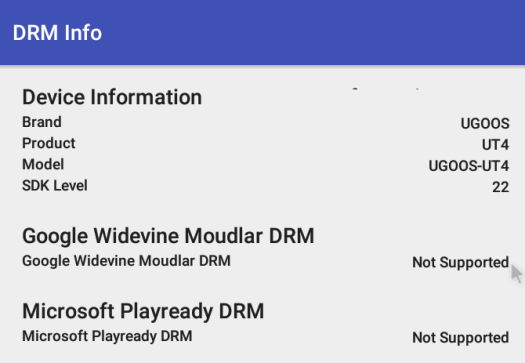 However, since Netflix is now available internationally, I did have a try, and was able to stream a video at SD resolution. So either the lack of DRM for standard definition streaming is not an issue with Netflix, or the app reported incorrect information.
If you want to reproduce most of the tests above, you can download the video samples (mostly in comments section).
Network Performance (Wi-Fi and Ethernet)
I transfer a 278MB file between a network share (SAMBA) and the internal storage, and vice versa, using ES File Explorer in order to evaluate WiFi performance. The results for Ugoos UT4 are pretty good as 802.11n connection achieved 3.18 MB/s on average, and 802.11ac 5.87 MB/s,  one of the top three results, and about equivalent to MINIX NEO U1 WiFi performance.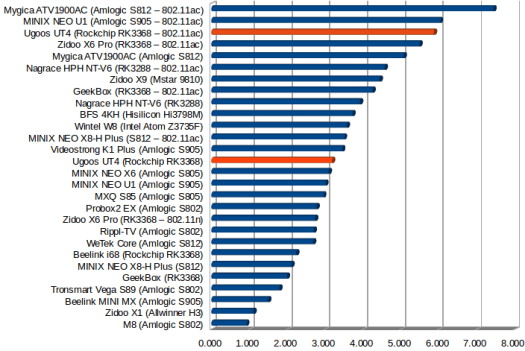 I repeated the same test with Gigabit Ethernet, but instead of using a larger 885 MB file, and the average transfer rate was 9.4 MB/s, which for some reasons is quite lower than other devices I tested, possibly due to the low write speed of the flash, as we'll see below. Having said that, it's not that far from other Rockchip RK3368 based mini PCs file transfer throughput.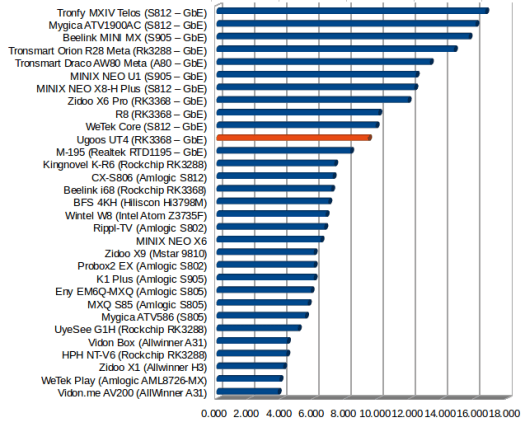 Since as Gigabit speeds, file transfer rate is likely to be limited by storage performance, it's important to also test raw network performance, which I did with iperf -t 60 -c "server-ip" -d command in Android.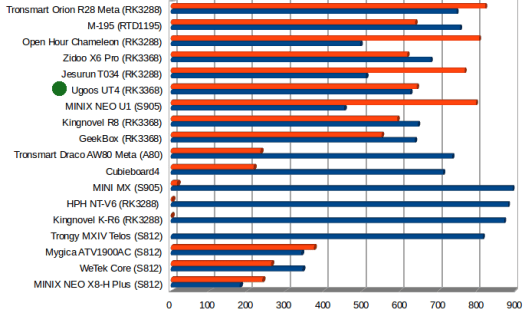 Here the performance is slightly over average, and very similar to other Rockchip RK3368 TV boxes such as Zidoo X6 Pro or Beelink i68.
iperf output:

Client

connecting

to

192.168.0.108

,

TCP

port

5001

TCP

window

size

:

 

136

KByte

(

default

)

--

--

--

--

--

--

--

--

--

--

--

--

--

--

--

--

--

--

--

--

--

--

--

--

--

--

--

--

--

--

[

 

6

]

local

192.168.0.104

port

50039

connected

with

192.168.0.108

port

5001

[

ID

]

Interval

      

Transfer

    

Bandwidth

[

 

6

]

 

0.0

-

60.0

sec

 

4.37

GBytes

  

626

Mbits

/

sec

[

 

4

]

 

0.0

-

60.0

sec

 

4.49

GBytes

  

643

Mbits

/

sec
Miscellaneous Tests
Bluetooth
Ugoos UT4 supports Bluetooth 4.0 LE, and shows as rk3368 Bluetooth device like most other device based on the same processor.  While I could pair it with my iocean MT6752 smartphone, and initiate photos transfer, it eventually failed with the message "Request can't be handled correctly", on both the device and my phone.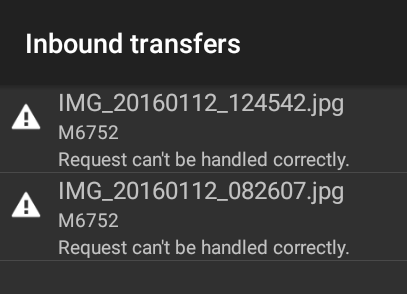 I has more luck connecting to a Bluetooth headset that I used to watch a 1080p YouTube video. I also tested Bluetooth LE (BLE) with F68 smartwatch successfully. Since the firmware is not rooted, I skipped the test with my PS3 gamepad clone using Sixaxis Controller app.
Storage
The mini PC could mount NTFS & EXT-4 partitions on my USB hard drive,  as well as an SD card formatted with FAT32, but it could not handle exFAT, nor BTRFS partitions.
| | | |
| --- | --- | --- |
| File System | Read | Write |
| NTFS | OK | OK |
| EXT-4 | OK | OK |
| exFAT | Not mounted | Not mounted |
| BTRFS | Not mounted | Not mounted |
| FAT32 | OK | OK |
USB storage performance, tested with A1SD bench, is average with respectively 21.98 MB/s and 27.01 MB/s read and write speeds for NTFS, and 22.44 MB/s and 26.17 MB/s for EXT-4.
The internal storage (Samsung eMMC 5.0) has a good read speed (~60MB/s), but write speed is limited to less than 10MB/s, which probably explains why I experienced two or three slowdowns during this review.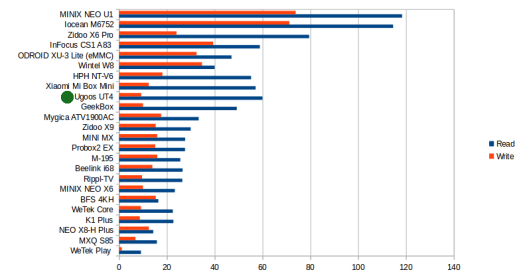 Gaming
Candy Crush worked well with NEO A2 Lite air mouse, but that's not a surprise. I then use a wireless gamepad to play Beach Buggy Racing and Riptide GP2, and both games were very smooth with default settings. I maxed out the graphics settings to "High Resolution", while Beach Buggy Racing was just as smooth, Riptide GP2 was a little less so, but still very playable, and decided to perform my stability test with those settings. After playing around 15 minutes with Beach Buggy Racing, and then 20 minutes with Riptide GP2, the graphics performance was just the same all the way, so the cooling fan is doing its job.
Ugoos UT4 Benchmarks
Before running the benchmark, I ran CPU-Z, which detected UGOOS-UT4 model with an octa-core Cortex A53 processor @ 1.20 GHz, and a PowerVR G6110 GPU. So the company did not try to boost the CPU clock frequency despite the presence of the fan.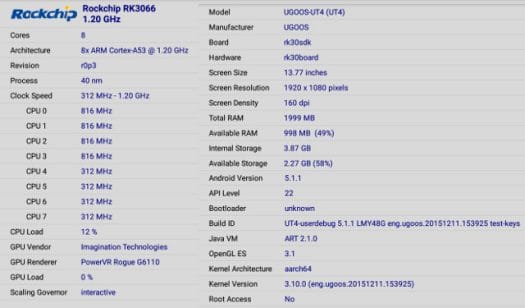 The TV box got 39,032 points in Antutu 6.0.1, and managed to pass all tests, including Marooned graphics.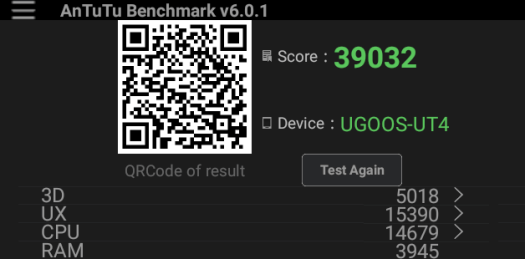 The score cannot be compared to Antutu 5.x, and the only other scores I have are 38,032 points for MINIX NEO U1 (Amlogic S905) and 35,069 points for GeekBox (Rockchip RK3368). That's interesting that Ugoos UT4 is over 10% faster in Antutu than GeekBox that is a very a similar platform.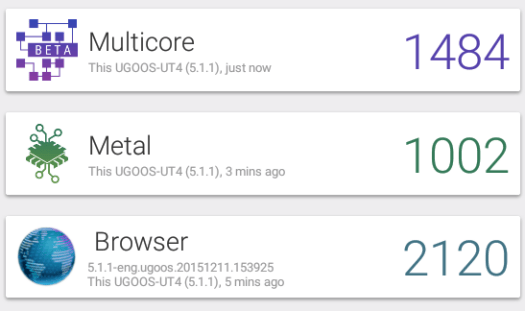 I've also run Vellamo 3.0, and results confirm a performance boost compared to other Rockchip RK3368 devices such as Beelink i68 or GeekBox in all three tests: Browser, Metal and Multicore.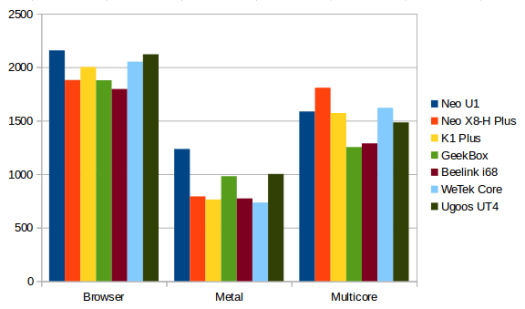 Other platforms in the chart are based on Amlogic S905 (Neo U1, and K1 Plus), and Amlogic S812 (WeTek Core and Neo X8-H Plus). So proper cooling appears to provide some performance boost even in benchmark that do not last that long.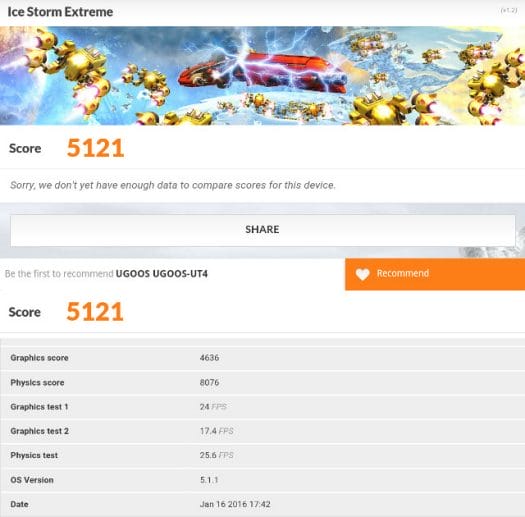 Finally, Ugoos UT4 achieved 5,121 points in 3DMark's Ice Storm Extreme that compared to 4,248 in Beelink i68 or 4,327 in MINIX NEO U1.
Conclusion
All in all, Ugoos UT4 is a pretty good device with responsive firmware, decent Kodi support including working 4K H.264 and H.265 video playback, and audio pass-through for DTS-HD and Dolby TrueHD, very good WiFi performance for 802.11ac, and thanks to the cooling fan a performance that stays high over time, and allows Ugoos UT4 to outperform other Rockchip RK3368 devices I've tested so far. However, it would have been even better if an eMMC flash with a higher writing speed had been chosen to completely eliminate some rare slowdowns, the firmware has still a few bugs, including power off and Bluetooth file transfer that do not work, and the lack of automatic frame rate switching in the pre-installed version of Kodi 15.2.
PROS
Stable firmware, and responsive most of the time
Constant performance throughout thanks to the cooling fan, which provides better performance than equivalent RK3368 based devices
Video Output – HDMI 2.0 up to 2160p 60Hz; 24/25/30/50/60 Hz refresh rates supported, and AV
Fairly good Kodi support with working 4K H.265 video playback, and Dolby 5.1, Dolby+7.1, DTS-HD and TrueHD audio pass-through via HDMI and S/PDIF.
Very good WiFi performance, especially 802.11ac, and 802.11n is above average.
Fast read speed of internal storage, leading to fast boot time (< 30 seconds) and app loading
4 USB ports  allow for good expandability
3D games are running well, even after playing for several minutes
CONS
Powering off the device does not work (UT4 appears to hang)
Kodi issue – Automatic frame rate switching is not working, some videos will freeze a short time a few seconds after the beginning of the video, most videos don't have the option to adjust the zoom level.
Bluetooth file transfer does not work, at least with my smartphone
IR remote control has a relatively short range (4 meters)
No Dolby and DTS licenses, so there will be no audio if you use PCM output in some applications (Kodi is OK).
Lack of Widewine and PlayReady DRM which might be an issue with some premium video streaming apps, or a least limit their capabilities.
Relatively slow write speed of the internal storage may lead to some slowdowns (does not happen often)
The fan is always spinning, and audible in quiet room at one or two meters (I don't really notice it personally, but some people may do).
UI bugs – Icon highlight misalignment when hiding or showing the task bar, volume settings may not be remembered
Ugoos sent me the sample for review, and if you are planning in purchasing in quantities, you could contact the company via their Ugoos UT4 product page. Individuals can purchase Ugoos UT4 for $103.90 on Ugoos Aliexpress store, as well as GearBest, GeekBuying, and probably some other online shops.

Jean-Luc started CNX Software in 2010 as a part-time endeavor, before quitting his job as a software engineering manager, and starting to write daily news, and reviews full time later in 2011.