In part 1 of ARNU Box Mach 10 64-bit Pure Linux review, I listed the specifications, and took some pictures of the Amlogic S905 based TV box, and its board. I've now completed testing of this Kodi Linux media player, going though setup and add-ons, and see how it works compared to ARNU Box Mach 10 Pure Linux based on Amlogic S812 processor.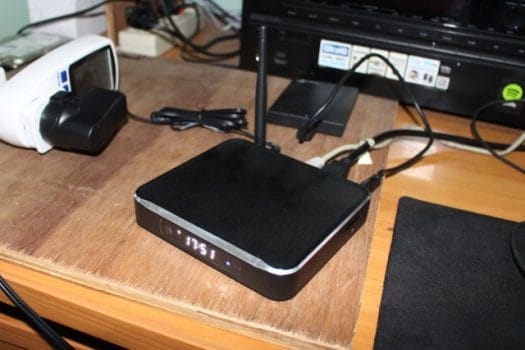 Setup, Cloudword and Configuration
The setup part is basically the same as on the previous model, but I'll go through it again. Please ignore the vertical white line on the TV in the photos below, as it's just due to my 18 months old LG 42UB820T 4K UHD television being partially broken, and out of warranty.
The boot will typically take 30 seconds, but the first time, you'll go through ARNU Box Setup Wizard.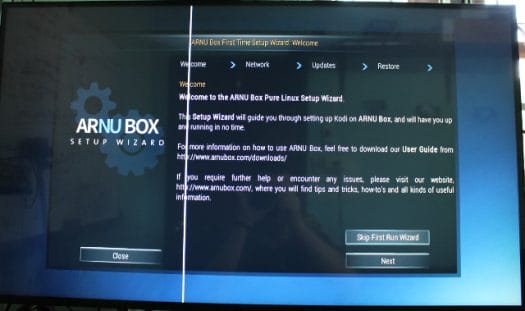 You could skip it in theory, but it's still a good idea to go through it, so I've clicked on Next bringing me to the Network Setup.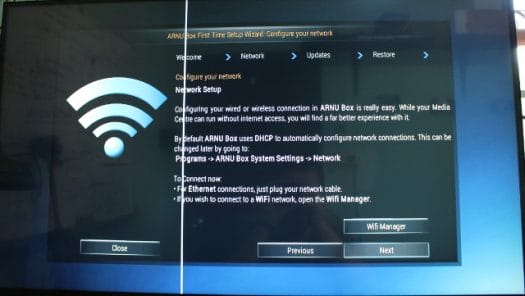 I'm going to use Ethernet for this review, but I've still clicked on Wifi Manager to check it out, and for some reasons only one of my access points was detected, while the other two 2.4GHz and 5.0 GHz, namely CNX-TRANSLATION (on a router 6 meters away) and CNX-SOFTWARE_5GHZ (on the same router as CNX-SOFTWARE access points) were not listed even after clicking on Refresh. ARNU Box is support to support dual band WiFi according to the specs.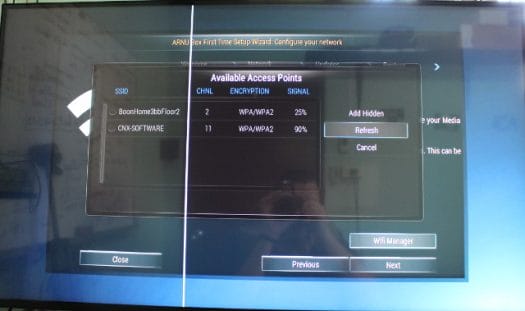 So there's a potential issue here, but I clicked on cancel, and Next to carry on with Ethernet connectivity, and enter the Firmware Update section.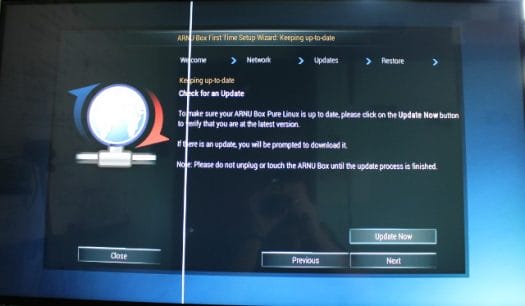 So I clicked on Update Now, a new firmware was detected, and asked to go ahead with the update and the download started.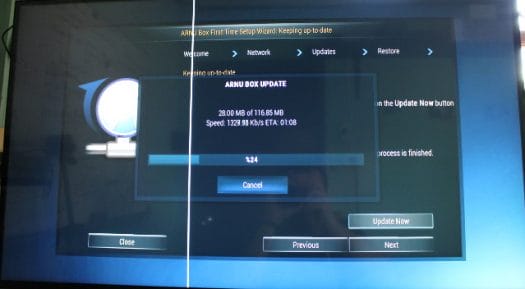 The system will then reboot to perform the firmware update, which should take about 2 or 3 minutes, and you'll be taken to the next part of the Wizard: Restore & Backup.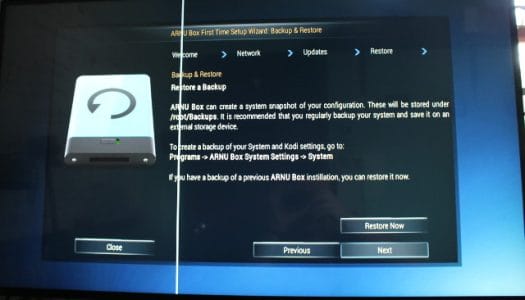 This part is mostly useful if you had a previous ARNU box TV box, or made a fresh install, as this would allow you to restore the settings, add-ons, etc... Since I don't have any backup files, I skipped that step, and clicked on Next… [Update: The restore function also supports backups make with OpenELEC backup and the Kodi backup add-on, so if you have other TV boxes based on Kodi or OpenELEC, you can also import your settings and add-ons, as Restore & Backup can handle the conversion. See comment from developer]


Screen calibration is for overscan compensation, when the user interface sides are truncated. Most recent televisions have an "underscan" setting, for example LG refers to it as "Just Scan", so the problem does not occur. But if you TV does not have that options, or you use composite (AV) output you may have to adjust the screen size. Next up is the Skin Selector.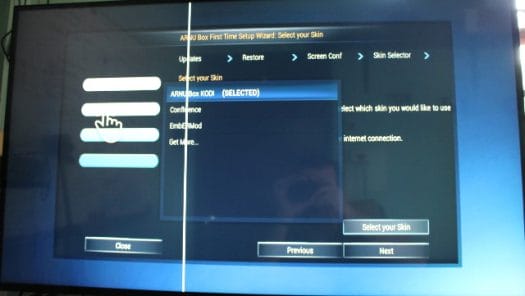 ARNUBox KODI, Confluence, and EmbERMod skins are installed, but others can be loaded on the device too. I just went with the default.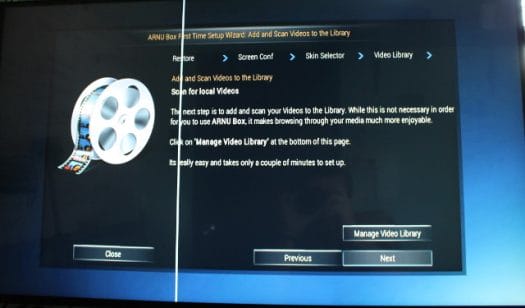 The other two steps are for Videos and Music scanning, which will go through all your files and retrieve some metadata and pretty pictures for your media library. It's a common part of all Kodi devices, so I went to the next step: Cloudword add-on installer.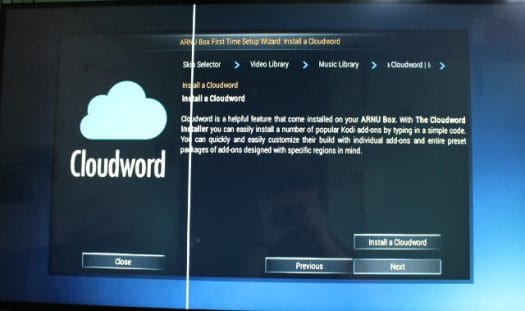 The way is works is after clicking on "Install a Cloudword", you have to type a word…. Where can you find those? Some are listed in the user's manual.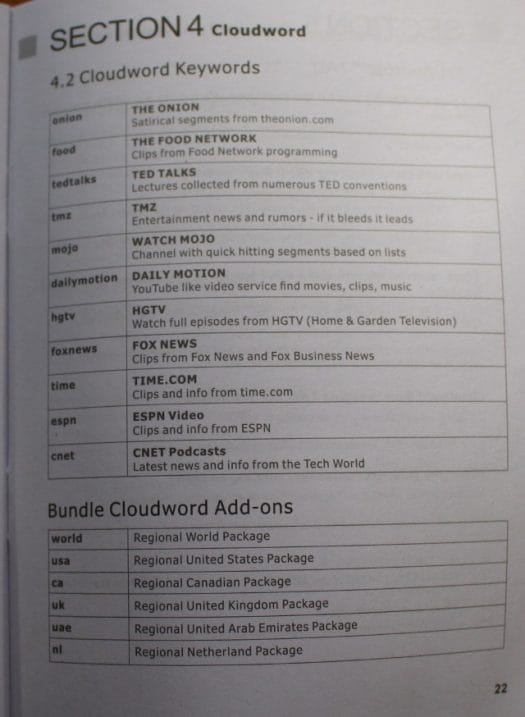 In my previous ARNU box review, I went with "uk", but this time I went with "usa", and the system downloaded the add-ons and recommended me to reboot once it was done, which I did.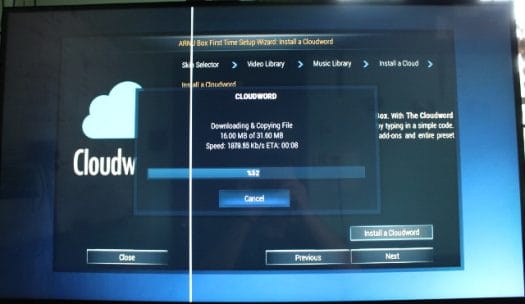 There was a heated debate in the comments section of my review of ARNU Box Mach 10 Pure Linux (Amlogic S812) last tear, mostly because Cloudword is part of the list of banned add-ons on Kodi forums. But just like with the old box, the new ARNU Box does not come pre-loaded with any add-ons, and "usa" cloudword does not appear to have installed any add-ons streaming pirated contents.  But since I'm not exactly a specialist about piracy issues, I've taken a few pictures with the list of add-ons so you can decide by yourself.
All sources appear to be legit to me. I think the reason it's banned on Kodi forums is that people can create their own keyword to install piracy add-ons, and Kodi developers wanted to stop questions about that. But from my point of view, Cloudword is just a downloader and installer, and the keywords provided in the user's manual all link to legit content (AFAICT). Saying Cloudword is "illegal" is like saying BitTorrent, Kodi add-on system itself, or even computers are illegal. So that's just to say ARNU Box Mach 10 Pure Linux 64-bit is perfectly clean.
Back to the Setup Wizard… The next step is finally the "Setup Complete" screen.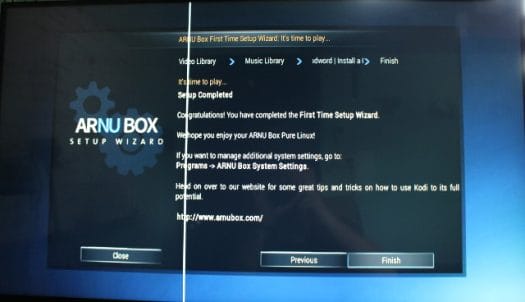 You can click Finish, and access the user interface using ARNUBox Kodi skin.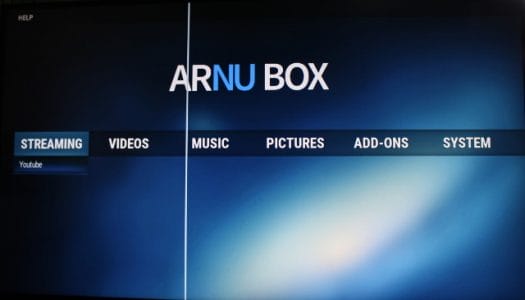 But setup is not quite done, as you may have three or four more steps to do:
Time zone selection – Go to System->Settings->Appearance->International, and select your Timezone country, and if needed Timezone.
Output resolution – The media player was set to 720p60 output automatically, so I went to  Settings->System->Video Output, and change the Resolution and Frame Rate to 3840x2160p and 60 to make full use of the ability of my 4K TV.
Automatic frame rate switching – This is optional, but some videos will play much more smoothly if you adjust this setting, simply because video frame rate and screen refresh rate will match. Go to Settings->Video, change Level to Advanced, go to Playback, and finally change Adjust display refresh rate to Always or On start / stop.
Audio pass-through configuration. This is only needed if you own an A/V receiver, and the system currently only supports Dolby abd DTS pass-through. HD Audio (TrueHD/DTS-HD) is not supported.
Sp overall, the setup wizard is quite useful, and easy to follow, and Cloudword allows you to install add-ons baed on your country or favorite subject quite easily. It would have been nice to included time & date, as well as video output in the wizard too.
Video and Audio Playback
The TV box runs EmbER 4.0.1 operating system on top of Linux 3.14.65, and the firmware is based on Kodi 16.1.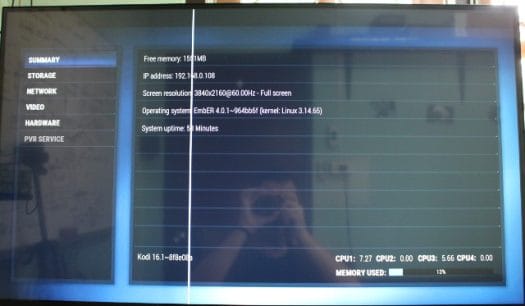 I could connect to my SAMBA share where videos are located without issues. I had to type the password with the IR remote control, which is not ideal, but since it's a one time setup thing, that's no big deal. I played all videos from SAMBA through the Gigabit Ethernet interface, but I also connected my hardware with NTFS, EXT-4, exFAT, and BTRFS, and only the NTFS partition was recognized.
I started by playing samplemedia.linaro.org and Elecard H.265/HEVC video samples up to 1080p:
H.264 codec / MP4 container (Big Buck Bunny) – 1080p – OK
MPEG2 codec / MPG container – 1080p – OK
MPEG4 codec, AVI container 1080p – OK
VC1 codec (WMV) – 1080p – OK
Real Media (RMVB), 720p / 5Mbps – OK
WebM / VP8 1080p – OK
H.265 codec / MPEG TS container – 1080p  – OK.
All good, let's switch to videos with various bitrates:
ED_HD.avi

(1080p H.264 ~10 Mbps) – Stays in UI, audio only
big_buck_bunny_1080p_surround.avi (1080p H.264 – 12 Mbps) – OK.
h264_1080p_hp_4.1_40mbps_birds.mkv (40 Mbps) – First try: black screen and I had to turn off the box with the remote control to restart it. Second try: OK.
hddvd_demo_17.5Mbps_1080p_VC1.mkv (17.5Mbps) – Not quite smooth
Jellyfish-120

-Mbps.mkv

(120 Mbps video without audio) – Network: Black screen and I had to turn off the box with the remote control to restart it (repeated twice); I also tried to play the video from the USB hard drive, and I got the same result.
So two videos lead to black screen requiring a reboot, that's a little worrying… Let's carry on with some audio tests with PCM 2.0 output, and HDMI pass-through using Onkyo TX-NR636 A/V receiver.
| | | |
| --- | --- | --- |
| Audio Codec used in Video | PCM 2.0 Output | HDMI pass-through |
| AC3 / Dolby Digital 5.1 | Audio OK, but video not smooth | Audio OK (DD 5.1), but video not smooth |
| E-AC-3 / Dolby Digital+ 5.1 | OK | OK, except short "fart" noise once |
| Dolby Digital+ 7.1 | OK | PCM 2.0 |
| TrueHD 5.1 | OK | PCM 2.0 |
| TrueHD 7.1 | OK | Blue screen , i.e. HDMI output down, equivalent to black screen problem when A/V receiver is turned off. Reproduced twice |
| Dolby Atmos 7.1 | OK | PCM 2.0 |
| DTS HD Master | Black screen, device requires reboot | Blue screen |
| DTS HD High Resolution | OK | DTS 5.1 |
| DTS:X | OK | DTS 5.1 (after first short noise at the very beginning) |
That's disappointing. First, HD audio is not supported at all (even in the settings), and Dolby and DTS seem to work but I could hear noise from once in two of the short video samples. Turning on the A/V receiver also helped me discover more details about the previously found "black screen", as it's clear the device does not actually hang, and I can still control it to turn it off with the remote control, but my problem is that the HDMI connection is lost with some videos. It's quite possible this is specific to my television (interoperability issue), and most people won't encounter this problem.
But let's not give up just yet, and instead play some 4K videos:
HD.Club-4K-Chimei-inn-60mbps.mp4 – OK

sintel-2010-4k.mkv – OK
Beauty_3840x2160_120fps_420_8bit_HEVC_MP4.mp4 (H.265 @ 30 fps) –  OK
Bosphorus_3840x2160_120fps_420_8bit_HEVC_MP4.mp4 (H.265 @ 30 fps) – OK
Jockey_3840x2160_120fps_420_8bit_HEVC_TS.ts (H.265 @ 30 fps) – OK
MHD_2013_2160p_ShowReel_R_9000f_24fps_RMN_QP23_10b.mkv (10-bit HEVC) – OK

BT.2020.20140602.ts

(

Rec.2020

compliant video; 36 Mbps) – OK
big_buck_bunny_4k_H264_30fps.mp4 – OK
big_buck_bunny_4k_H264_60fps.mp4 – Not smooth and audio delay (expected since not supported by S905).
Fifa_WorldCup2014_Uruguay-Colombia_4K-x265.mp4 (4K, H.265, 60 fps) – OK
Samsung_UHD_Dubai_10-bit_HEVC_51.4Mbps.ts (10-bit HEVC / MPEG-4 AAC) – OK
Astra-11479_V_22000-Canal+ UHD Demo 42.6 Mbps

bitrate.ts

(10-bit H.265 from DVB-S2 stream) – OK
Ducks Take Off [2160p a 243 Mbps].mkv (4K H.264 @ 30 fps; 243 Mbps; no audio) – Takes a while to start, and not that smooth. No buffering shown during playback however.
The results here are excellent, as all videos that were supposed to play did so very nicely, and somehow the "black screen" bug did not kick in.
Sadly, it came back with a vengeance when I tried 1080p and 720p Hi10p videos, which makes it wonder if the bug happens when changing when the video resolution does not match video output resolution.
Both Sintel-Bluray.iso and amat.iso videos played fine, and you could switch between chapters easily with the page up and down buttons, as well as change subtiles and audio tracks quickly using the corresponding buttons on the remote.
My TV does not support 3D videos, but I still cheked if the system could decode them, and in the case of MVC videos checked whether my A/V receiver detects a 3D signal as it does with Zidoo X1 II:
bbb_sunflower_1080p_60fps_stereo_abl.mp4 (1080p Over/Under) – Not super smooth, and audio delay
bbb_sunflower_2160p_60fps_stereo_abl.mp4 (2160p Over/Under) – Black screen, audio only
Turbo_Film-DreamWorks_trailer_VO_3D.mp4 (1080p SBS) – OK
3D

-full-MVC.mkv

(Full-frame packed MVC 3D MKV) – 2D mode only (no 3D icon shown on Onkyo receiver), and not smooth at all.
ISO-full3D

-sample.iso

(Full-frame packed MVC 3D ISO) – "Blue screen" (lost HDMI connection), and reboot required.
Other Remarks and Conclusion
Contrary to my experience with Android TV boxes, the remote control has been designed with Kodi use in mind, so you get trick modes with play/pause, fwd, frwd, etc… as well as direct access to Kodi functions such as Home, zoom level, subtitle, audio track, setup and so on.
They've also changed the way power is handled, and while Mach 10 (S812) supported standby and reboot, Mach 10 64-bit supports proper power off. I measured power consumption in four different cases:
Power off – 1.3 Watt
Power off with USB HDD – 1.3 Watt
Idle – 5.0 Watts
Idle with USB HDD – 6.4 Watts
The good news is that the USB ports are turned off in power off, so your hard drive is not powered on all the time. The off and idle power consumption could be a little bit lower though.
I've summarized the positives and negatives of the device below:
PROS
Very good Kodi 16.1 video support including 4K H.265 & H.264 videos, and working automatic frame rate switching for smoother videos
Easy setup thanks to Setup Wizard during the very first boot
Cloudword makes installing country or interest specific add-ons an easy task
Remote control designed for Kodi use
The device build quality feels good thanks to metal look and LCD display
OTA firmware update
CONS
HDMI audio pass-through needs some work: I had some noises from time to time with Dolby and DTS, and HD audio is not supported so no TrueHD and DTS-HD pass-through
Intermittent HDMI connection loss when starting playing some videos (at least with my LG TV / Onkyo receiver)
Potential WiFi issues as the system only detected one out of three of my access points.
File system support: only NTFS was detected on my hard drive (no EXT-4, no exFAT)
So the device is working pretty well, except for three potentially critical issues depending on your setup or requirements. The good news is that firmware updates should keep coming, and hopefully fix the most important bugs over time.
I'd like to thank Theaterinabox for providing the sample, and if you are interested in this ARNU Box Mach 10 64-bit Pure Linux TV box, the company should start selling it by the end of July, hopefully with some fixes for the issues I found, next to its Mach 10 64-bit Android 5.1 TV box going for $99.99.

Jean-Luc started CNX Software in 2010 as a part-time endeavor, before quitting his job as a software engineering manager, and starting to write daily news, and reviews full time later in 2011.