Most TV boxes on the market are running Android, but if all you'd want to do is watching online or local videos in Kodi, a Linux box may offer a more streamlined experience, and that's exactly what ARNU Box Mach 10 Pure Linux is offering as an Amlogic S812 TV Box running Kodi 15 Linux. In my "Arnu Box Mach 10 specs, unboxing and teardown" post, we've already seen the box bascially uses the same PCB used in Eny M8S, but with some different memory and storage chips. But that's the software that's mostly interested in this box, and today, I'll go through the first time setup and Cloudword, before testing video playback capabilities.
Setting Up ARNU Box Mach 10 Pure Linux
So I've just connected an HDMI cable, an Ethernet cable, and the power adapter to get started, and the very first time you'll go through a detailed setup wizard, that doubles as a tutorial in some cases, as it explains where to change some settings.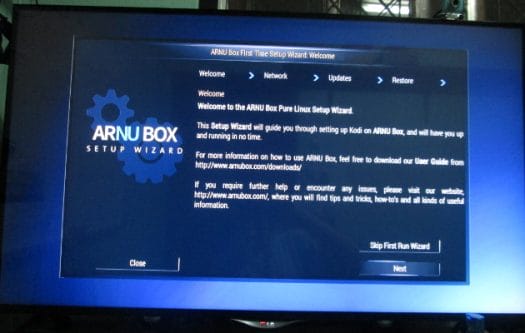 If you have an issues setting up the box, you can visit arnubox.com to get help. Having said that, the setup is pretty easy, and most of the time you just need to press Next.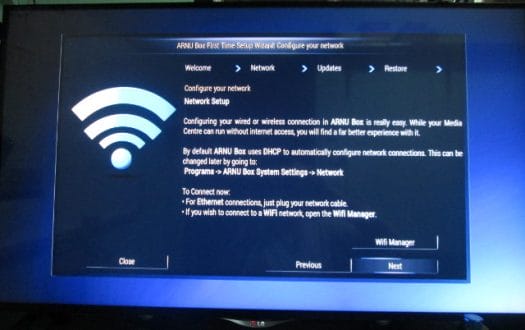 The second step is network configuration. If you plan to use Ethernet and DHCP, just press next, but if you want to use a WiFi connection instead enter the WiFi manager. The system detected both my 2.4 and 5 GHz access point, but I finally just pressed next to use Ethernet. If later on, you change your mind, the network settings can be modified in Programs->ARNU Box System Settings-> Network.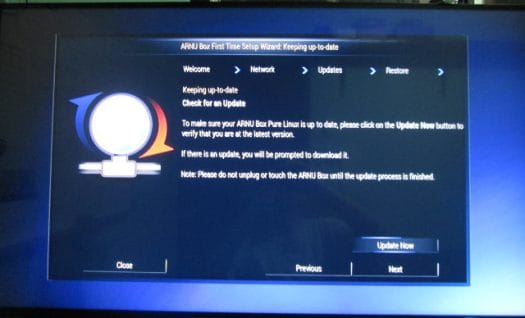 Once the network is properly configured, the system can install the latest OTA firmware. I click on Update Now, and the system told me I already had the latest version. Next…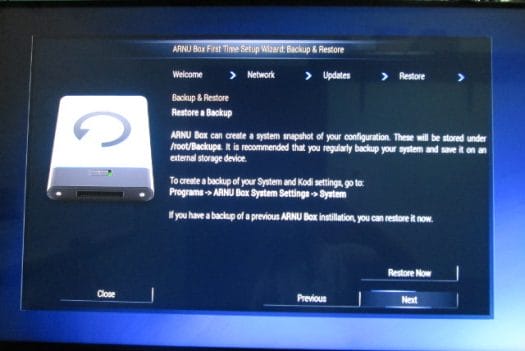 If you had a previous ARNU Box, or Armada Box as the previous versions used to be called, you may have a backup of your configuration settings and add-ons. This step allows you to restore them. I did not have any, so I clicked Next, and learned that I can create a backup by going to Programs -> ARNU Box System Settings -> System.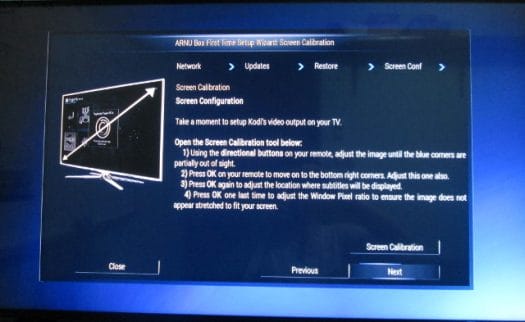 The next step if for screen calibration in order to compensate for overscan. My TV HDMI input is already set to fit to underscan, so I selected Next.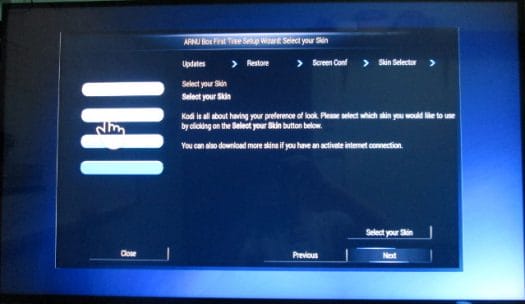 Then you'll be able to select your Kodi skin. Three skins are already installed: ARNU Box KODI (Selected by default), Confluence, and EmbERMod, but you can also get more from the net directly from the setup wizard. I was happy using the default settings, so I just clicked Next.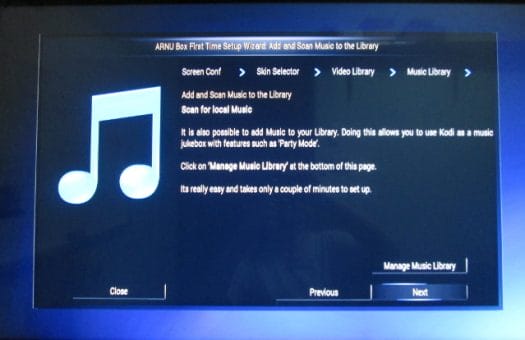 The two next steps are "Video Library" and "Music Library" which are used to scan the files on your local and networked storage and create a library. I skipped both these steps. Next.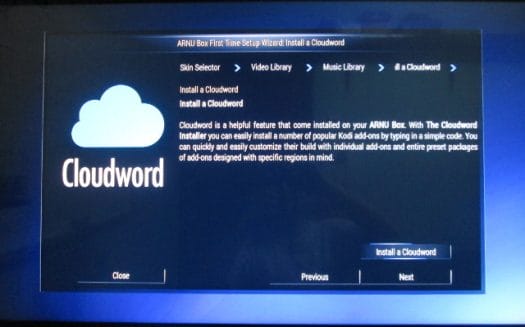 The next step is Cloudword installer, one of the key selling point of the box, which allows you to install add-ons by inputting a single word. I had read somewhere, that you could install add-ons for your country easily, so I just click on Install a Cloudword and typed "thailand", but it did not work.. So for once, I consulted the user's manual, these can be useful at times, and found out they listed several keywords including:
onion for theonion.com videos
tedtalks for TED talks videos
tmz for TMZ entertainment news
mojo for Watch Mojo channel
espn for clips and videos from ESPN network
cnet for CNET podcasts

world to install world add-ons package
usa to install US add-ons package
ca to install Canada add-ons package
uk to install United Kingdom add-ons package
uae to install United Arab Emirates add-ons package
nl to install Netherland add-ons package
So I gave a try at "uk", and the system downloaded and installed about 11MB of data.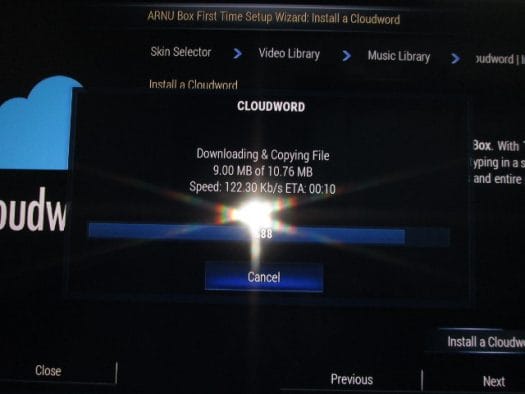 Once installation is complete, you need to restart the box, and the system greets you with a Setup Completed window.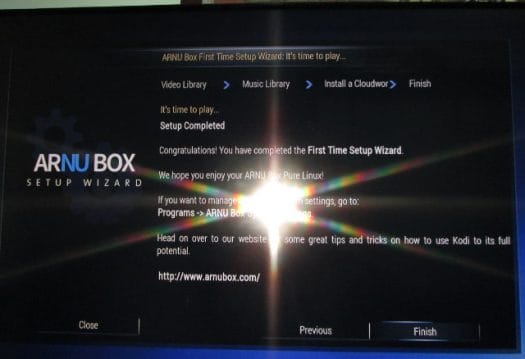 You can click Finished.
The setup wizard may be complete, but you may want to add at least two or three more steps:
Time zone selection – Go to System->Settings->Appearance->International, and select your Timezone country, and if needed Timezone.
Automatic frame rate switching – Go to Settings->Video, and change Level to Advanced. Go to Playback, and change Adjust display refresh rate to Always. If you don't follow this step, there may be some old frames showing up every X seconds. It was especially visible on Big Buck Bunny MPEG4 videos in my case.
UI resolution – The first time I think I got a 1080p UI, but later after going from standby it suddenly switched to 480i. You can change the default by going to Settings->System, and change the Resolution and Frame Rate as needed in Video Output section.
The setup is now complete, unless you plan to use an AV receiver (tip: it does not work anyway, at least not for me).
I'd like to complete this section, by addressing piracy and add-ons, as  some commenters mentioned that ARNU Box devices would be filled with piracy add-ons. So I went to Add-ons->My add-ons->All, and 81 add-ons were installed, including 36 video add-ons, but I could not see any add-ons like Navi-X or 1Channel which are often used to access pirated content, but instead add-ons names include ARNU Box add-ons, BestOfYoutube.com, Disclose.tv, DIY network, Engadget, Filmon, Khan Academy, NASA, etc.. none of which are part of Kodi's forum banned add-ons. So based on my experience, you don't need to worry the box may come pre-loaded with piracy add-ons. That does not mean Cloudword may not be used for this purpose, but AFAICS the box and user's manual don't point to any pirated content. I tried a few add-ons, and most of them would work properly, either reporting an error (check the log), or letting me browse the list of video, but failed to stream the video. The exception was YouTube which worked as expected.
ARNU Box Mach 10 Video Playback
The box running Kodi 15.2-RC1 (Compiled September 15, 2015), and the operating system is called EmbER 3.0.0~beta2, and runs on top of Linux 3.10.87.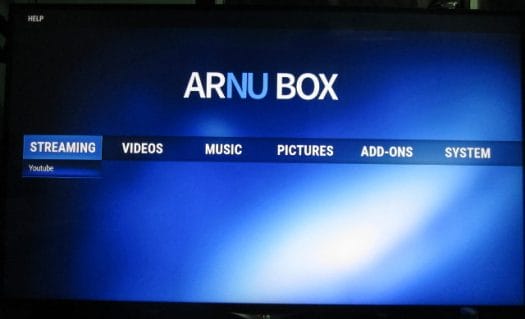 So I went in the Videos menu to browse and add my network shares, and this worked fine, until I was asked to input my password. Inputting password with an IR remote control is a pain, so I connect a USB keyboard, but it was not recognized. Small problem, so I continued with the remote, but after four attempts to login it failed. So I decided to revert to playing video from my hard drive, as I could not access my Ubuntu 14.04 SAMBA share. I played from the NTFS partition. The EXT-4 partition is also mounted, but exFAT is not supported.
Results with video samples from samplemedia.linaro.org, Elecard H.265/HEVC samples up to 1080p, and a low resolution VP9 video:
H.264 codec / MP4 container (Big Buck Bunny) – 480p/720p/1080p – OK
MPEG2 codec / MPG container –  480p/720p/1080p – Audio only, the system stays in Kodi's user interface
MPEG4 codec, AVI container 480p/720p/1080p – OK (after enabling automatic frame rate switching in the settings. See first section of the review)
VC1 codec (WMV) – 480p/720p/1080p – OK
Real Media (RMVB), 720p / 5Mbps – OK
WebM / VP8 – OK
H.265 codec / MPEG TS container (360p/720p/1080p) – OK.
WebM / VP9 (no audio in video) – OK
Overall very good, except MPEG-2 videos are not supported
Time for some higher bitrate videos:
ED_HD.avi

– Won't start, stays in UI
big_buck_bunny_1080p_surround.avi (1080p H.264 – 12 Mbps) – OK.
h264_1080p_hp_4.1_40mbps_birds.mkv (40 Mbps) – OK
hddvd_demo_17.5Mbps_1080p_VC1.mkv (17.5Mbps) – Plays but could be smoother (few boxes can handle this video perfectly)
Jellyfish-120

-Mbps.mkv

(120 Mbps video without audio) – OK
Then I configured audio pass-through in Kodi, and turned off  my Onkyo TX-NR636 receveir to test HD audio. I normally start with HDMI pass-through using BD/DVD input, and if that works well, I also test optical S/PDIF using TV/CD input of the receiver. As reference, I also tested audio down-mixing to PCM.
Video
PCM Output
HDMI Pass-through
S/PDIF Pass-through
AC3 / Dolby Digital 5.1
Audio OK, but no video (MPEG-2 bug)
Short noise (> 1s), then PCM 2.0, and no video
Dolby D 5.1 (no video)
E-AC-3 / Dolby Digital+ 5.1
OK
Short noise, then PCM 2.0
Dolby D 5.1
Dolby Digital+ 7.1
OK
PCM 2.0
Audio Formats Not Supported over S/PDIF
TrueHD 5.1
OK
PCM 2.0
TrueHD 7.1
OK
PCM 2.0
Dolby Atmos 7.1
OK
PCM 2.0
DTS HD Master
OK
Short noise (> 1second), then PCM 2.0
DTS HD High Resolution
OK
Short noise (> 1second), then PCM 2.0
Let's carry on with some audio videos, and pass-through disabled.  Sintel-Bluray.iso Blu-ray ISO video could play, but two 1080i video samples did not play properly because they are encoded with MPEG-2.
Hi10p videos are almost watchable, and the keyword here is almost :
[Commie] Steins;Gate – NCED [BD 720p AAC] [10bit] [C706859E].mkv – Audio OK, subtitles OK, but the video has some artifacts from time to time.
[1080p][16_REF_L5.1][mp3_2.0]Suzumiya Haruhi no Shoushitsu BD

OP.mkv

– Audio OK, subtitles OK, but the video has much more noticeable artifacts.
Contrary to other boxes I tested recently, 4K videos play reasonably well in ARNU Box Mach 10, but with one important caveat:
HD.Club-4K-Chimei-inn-60mbps.mp4 – OK

sintel-2010-4k.mkv – OK.
Beauty_3840x2160_120fps_420_8bit_HEVC_MP4.mp4 (H.265) –  OK
Bosphorus_3840x2160_120fps_420_8bit_HEVC_MP4.mp4 (H.265) – OK
Jockey_3840x2160_120fps_420_8bit_HEVC_TS.ts (H.265) – Won't play, the system stays in user interface.
MHD_2013_2160p_ShowReel_R_9000f_24fps_RMN_QP23_10b.mkv (10-bit HEVC) – Outputs a different garbled image every 2 seconds.
phfx_4KHD_VP9TestFootage.webm (VP9) – Probably plays at 3 to 4 fps.

BT.2020.20140602.ts

(Rec.2020 compliant video) – Won't play, the system stays in the user interface
big_buck_bunny_4k_H264_30fps.mp4 – OK
big_buck_bunny_4k_H264_60fps.mp4 – Somewhat slow motion, and audio/video synchronization issues (Actually better expected as Amlogic S812 does not support 4K video at 60fps)
It's quite good, so what's that caveat? Video output is set to 1080p60 or 1080p50 depending on video, but I have not found any way to make the system output to 2160p, whether in the user's manual, or in ARNU Box forums. I'm using LG 42UB820T television for testing, and the only time I could get 2160p output was when the video signal went through my AV receiver which upscaled the signal from 1080p to 2160p, but it's obviously not the ideal solution as clarity is lost in the process.
Even though my television does not support 3D, it's still worth checking out if the system can decode 3D stereoscopic videos:
bbb_sunflower_1080p_60fps_stereo_abl.mp4 (1080p Over/Under) – Not smooth, and audio/video sync delay
bbb_sunflower_2160p_60fps_stereo_abl.mp4 (2160p Over/Under) – Audio only (None of my hardware can decode this though, as it requires two 4K decoders for 4K 3D videos…)
Turbo_Film-DreamWorks_trailer_VO_3D.mp4 (1080p SBS) – OK
FLV videos, othe videos from my library (H.264, DViX/XVid, and MP4) could play fine and smoothly, except VOB and mpg videos using MPEG-2 codec. I also played a full length 1080p MKV movie without interruption. The box was also pretty stable, but I managed to make it hang once when I played an empty (0 byte) mpg video.
Most of the video samples used for testing can be found in the comment section of the post "Where to get video, audio and images samples".
Other Remarks and Conclusion
Most of the time I'm using a MeLE air mouse during my Android TV box review, but with ARNU Box, the IR remote was quite pleasant to use, except when I had to input text, as Kodi is well suited to IR input, play/pause & stop keys are included (strangely a rarity in TV boxes…), and some keys like Zoom and Subtitle make Kodi's user experience better than on most Android TV boxes. The range is pretty good, as the remote works fine about 10 meters away. I did noticed some missed pressed however, when I use the remote at a sharp angle.
The system supports standby and reboot, but not power off, so you'll need to go into standby before unplugging the device if you want to complete turn off the power. I measured power consumption in four use cases:
Standby – 1.3 Watt
Idle (On in main interface) – 4.1 Watts
Standby with USB HDD – 3.0 Watts
Idle with USB HDD – 6.2 Watts
Standby power consumption is about halved compared to 5 other TV boxes I tested, but sadly the USB ports won't be turned off in standby mode. Idle is a little higher though at 4.1 Watts, against 3.0 to 3.4 Watts to other ARM based TV boxes in my power consumption test.
ARNU Box Mach 10 offered a much better playback experience than the other boxes I reviewed recently, but it's not perfect, and features like MPEG-2 video decoding, 4K video output, and HDMI audio pass-through are not working.
PROS
Good video playback experience with Kodi 15.2 including 4K and H.265 video decoding, and automatic frame rate switching support
Setup Wizard makes initial setup easy, even for people not familiar with Kodi
Cloudword makes installed of add-ons easy
optical S/PDIF pass-through
Case with LCD display feels higher quality of most other devices I tested
OTA firmware update (not tested)
CONS
Could not login to password protected SAMBA share
HDMI pass-through did not work
USB keyboard did not work
4K video playback works, but video output is limited to 1080p60 max (unless I missed an option somewhere)
Many add-ons did not work properly (might be be specific to my location / Internet connection).
Hopefully most of the bugs listed above will be fixed in upcoming OTA firmware updates.
ARNU Box Mach 10 Pure Linux sample was provided by Theater in a Box, which sells the device for $149.99, which is significantly more expensive than some other Amlogic S812 TV boxes like Tronfy MXIV Telos, but I found that it performs better, yet with some regrettable bugs, but combined with support and firmware updates, it may warrant the price difference. Your choice…

Jean-Luc started CNX Software in 2010 as a part-time endeavor, before quitting his job as a software engineering manager, and starting to write daily news, and reviews full time later in 2011.