Karl here with Tanix TX5 Pro S905X review. This is my first s905x box. I am splitting this into 2 parts because software is not quite up to snuff yet. I ran into some issues with language reverting back to default which is Chinese. This happens so frequently it is unbearable. I can almost read Chinese now. Youtube only shows green square with audio, and finally most apps show incompatible in the Play Store. I have notified Gearbest who is going to contact the manufacturer. On the bright side I am very pleased with UI compared to the s905 boxes I have reviewed.
Specs pulled from GearBest Website
General

Model: TX5 Pro
Type: TV Box
GPU: Mali-450
System: Android 6.0
CPU: Amlogic S905X
Core: 2.0GHz,Quad Core
RAM: 2G
ROM: 16G
Max. Extended Capacity: TF card up to 32GB (not included)
Color: Black

Media Supported

Decoder Format: H.265
Video format: 1080P,H.264,H.265,MPEG-1,MPEG2,MPEG4,VC-1,VP9 Profile-2,WMV
Audio format: AAC,AC3,APE,DTS,FLAC,M4A,MP3,OGG,WAV,WMA
Photo Format: BMP,GIF,JPEG,JPG,PNG

Product Details

WIFI: 802.11 a/b/g/n/ac
Bluetooth: Bluetooth4.0
Power Supply: Charge Adapter
Interface: AV,DC Power Port,HDMI,RJ45,SPDIF,TF card,USB2.0
Language: Multi-language

Firmware Information

WiFi Chip: 2.4G + 5.8G
KODI Pre-installed: Yes
KODI Version: KODI 16.1 JARVIS

Power Requirement

Power Type: External Power Adapter Mode

Dimension and Weight

Product weight: 0.140 kg
Package weight: 0.600 kg
Product size (L x W x H): 10.50 x 10.50 x 1.50 cm / 4.13 x 4.13 x 0.59 inches
Package size (L x W x H): 19.50 x 11.50 x 6.50 cm / 7.68 x 4.53 x 2.56 inches

Package Contents

Package Contents: 1 x TX5 Pro TV Box, 1 x Remote Control, 1 x HDMI Cable, 1 x Power Adapter, 1 x English Manual
Unboxing Photo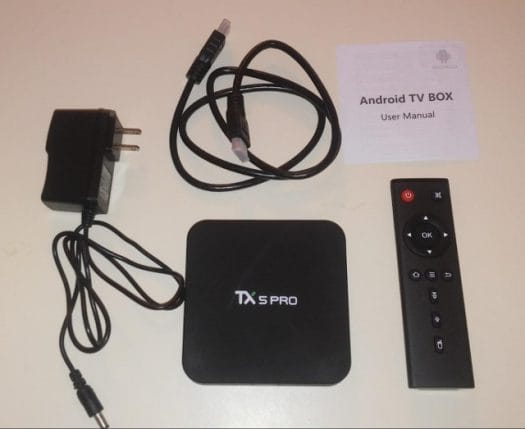 Teardown Photos
The box is a matte plastic and picks up fingerprints easily.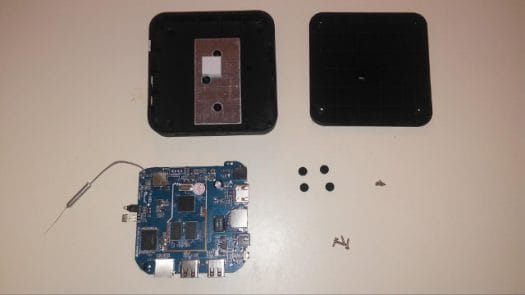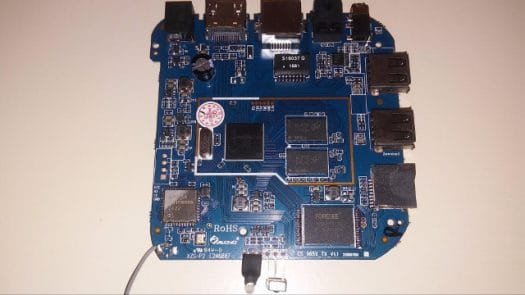 AP6255 Wifi chip with 10/100 network. Storage is provided by Foresee ncefbs98-16g. I couldn't find any specs on it.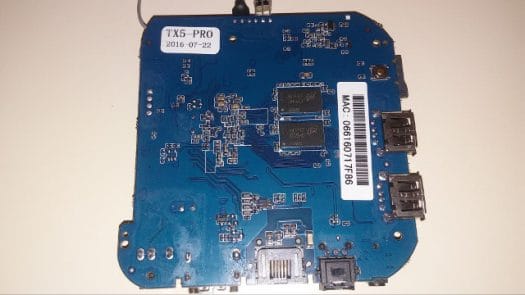 06:61:60 MAC address does not look up to any specific company.
Random Observations/Thoughts
I am pleased to see a new launcher…seems pretty nice and is easy to use.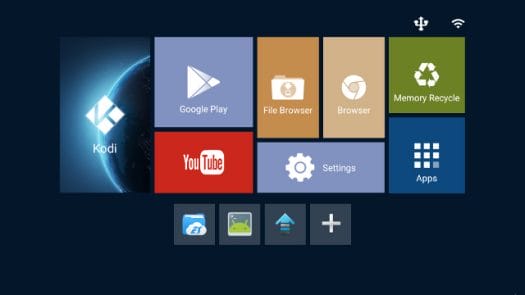 I haven't stressed the box but the thermal design seems fine. Metal slab with thermal pad making contact with CPU. Button to put the device in flash mode, which typically is in the AV hole, is on the bottom of the device. Registers as a worldcup device with the drivers that I already have installed. I did some initial testing with S/PDIF, Kodi, and passthrough settings seen below and I got digital audio on my 5.1 receiver on all of them but I did have some audio clipping.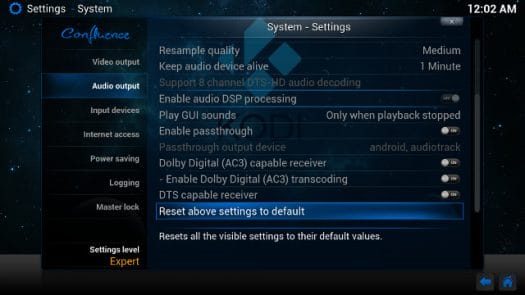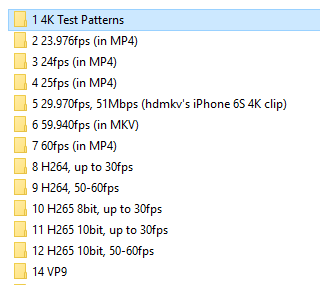 I was also able to play most of my 4K test clips in either Kodi, MX Player, or built in players with the exception of the 60fps fluidly. I also found that the device had been booted once and factory test tool was in memory. I tried to find a way to launch it but was unsuccessful. I installed chrome and navigated to Youtube and requested the desktop site and was able to request 4k video but again green screen.
This is promising. I believe that once they get some of the bugs worked out it will be a good box. But until then I would wait. I can't find a website for Tanix to give feedback. "Along" marking on the PCB could point to Shenzhen Along Electronics as the manufacturer.
I would like to thank Gearbest for sending the box for review. Hopefully they can light a fire under Tanix and get the software fixed.
In case, you'd like to purchase the device despite the current firmware flaws, you can do so on GearBest for $46.35 shipped. Other shopping options include eBay, GeekBuying, and Banggood.
[Update: The second part of the review is up @ Tanix TX5 Pro TV Box Review – Part 2: Modding and Testing]

Karl is a technology enthusiast that contributes reviews of TV boxes, 3D printers, and other gadgets for makers.