Last week I publish the first complete review of an Amlogic S905X device with MINI M8S II TV box review, and while the device work in a smooth and stable manner, some features did not work as expect such as HDMI audio pass-through. I've now had the change to compare  it to another S905X with NEXBOX A95X, not to confuse with its "homonym": NEXBOX A95X with Amlogic S905 processor. I've already taken pictures of the device and accessories, and checked out the hardware in the first part of the review,  so today, I'll report my finding playing with Android 6.0 firmware, Kodi video and audio capabilities, and check whether bugs and issues found on MINI M8S II are also present in the device.
First Boot, Settings and First Impressions
NEXBOX A95X is really a tiny device, so it's no surprise that it only comes with two USB 2.0 ports, and I used one with my 1TB hard drive, and connected a USB hub to the other with 2 RF dongles for my air mouse and gamepad, as well as a USB keyboard to take screenshots.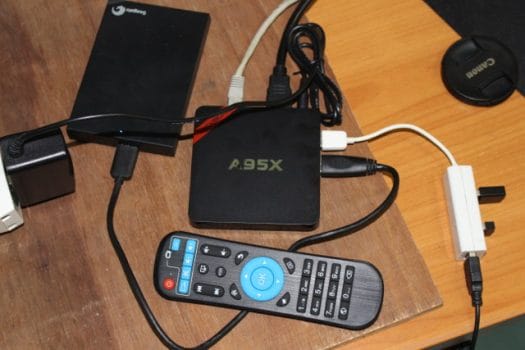 The typical 30 second boot is a little faster than on MINI M8S II, possibly thanks to faster eMMC flash, or more optimized firmware. I was also happy to see a different launcher for once.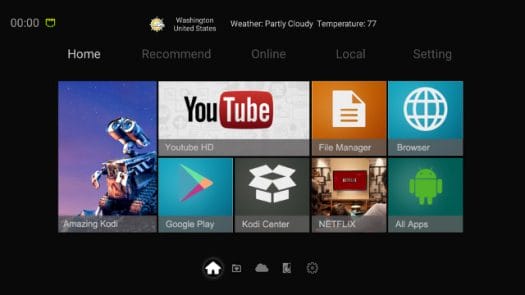 The top row of the user interface shows the current time, network connectivity status, and weather for your selected city. The Home screen has 8 pre-definied (and non customizable) icons for Kodi, YouTube, File Manager, Browser, Google Play, Kodi Center (add-ons installer), Netflix, and a shortcut to All Apps.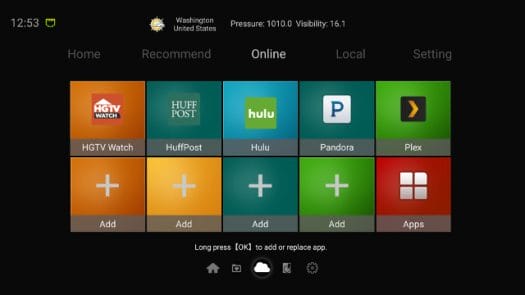 The "Recommend", "Online" and "Local" tab are folder where you can add or remove your favorite apps. The Online tab comes with HGTV Watch, HuffPost, Hulu, Pandora, and Plex by default.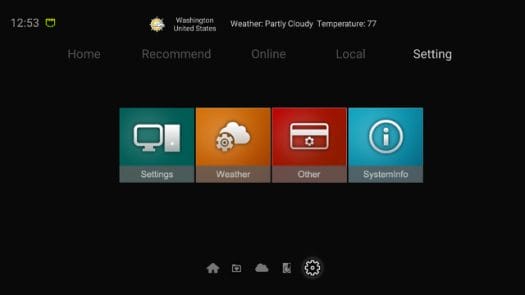 SystemInfo will show a summary of the device specifications and firmware, Other will only allow you to disable/enable "touch sounds", Weather is used to set your city,  and Settings points to the usual Amlogic settings.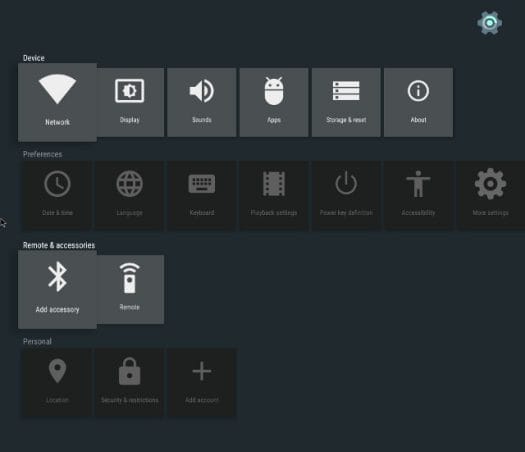 Again it's very similar to other box, but like on MINI M8s II, it adds the HDR (High Dynamic Range) option, and storage also shows external storage like the 4 partitions of my USB drive. HDMI-CEC is also missing, which is a problem as I can't disable it, and the box will prevent me from turning off my Onkyo A/V receiver.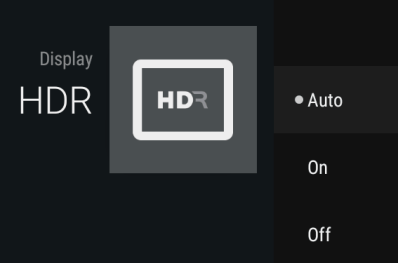 The one extra options I found on NEXBOX A95X is "Power key definition" to select either "suspend and resume" or "shutdown" when pressing the power key on the remote control.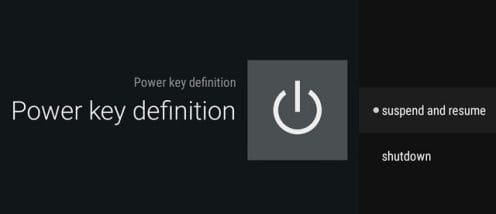 I personally recommend using "Suspend and resume", as you can also power off the device with a long press on the Power button.
If you are using a USB drive, the following window should show up a few seconds after the boot is complete. That's a little annoying since it will happen for every boot, but there's an extra option compare to M8S II, as you can setup the hard drive as internal storage.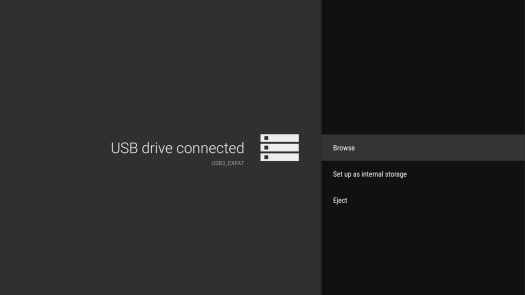 That's great, unless you already have data on your hard drive, as it requires it to be formatted. So I skipped that step. But if you are going to use that hard drive permanently with the box, then that's a good option, as you'll have very large storage for app and data, and I assume you won't be shown the "USB drive connected" after each boot.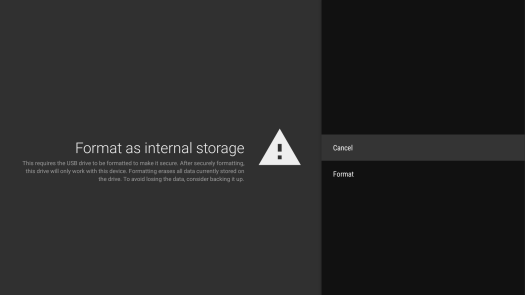 So instead I setup a class 10 micro SD card as internal storage, and formatted it as shown above. Android complained that "This USB drive appears to be slow" however, but I could carry on, and was asked whether I wanted to "Move data to SanDisk SD card", which I accepted by clicking on "Move now". Once this is done you'll strangely see the device storage with a total of 32GB, instead of 16+8 = 24GB, but at least that mean available storage has been increased thanks to the added micro SD card. I understand this is a new feature of Android 6.0.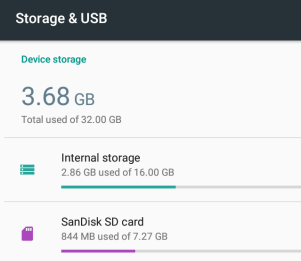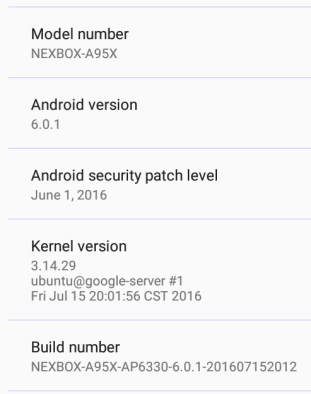 The flash on NEXBOX A95X (S905X) has a 16GB capacity, at least on my model, and is partitioned as a single unified partition for app and data with around 1.41GB used after the first boot (with micro SD card used as internal storage yet).
Another identical behavior between MINI M8S II and NEXBOX A95X was that HDMI output was set to 4K SMPTE (4096×2160 @ 24 Hz) by default. I set it manually to 4K 60 Hz (3840×2160) manually, but I noticed it would sometimes fall back to 1080p60 after a reboot. It's quite easy to notice since the mouse pointer is much smaller (maybe too small) when 4K output is selected. Those common issues are likely due to Amlogic SDK, so I'd expect most Amlogic S905X TV boxes to suffer from those.
I clicked on "More settings" to enter Android 6.0 settings and access other options like Accounts, Language & input, Printing, and so on… The "About MediaBox" section reports NEXBOX-A95X running Android 6.0.1 on top of Linux 3.14.29. The firmware used for review is NEXBOX-A95X-AP6330-6.0.1 dated July 15th, 2016. The firmware is rooted. OTA firmware update is not supported.
The included remote control has a decent range as it worked up to 8 meters (but not 10m), and the IR learning function works well as I was able to register and use the power, input selection, volume, and mute keys of my TV remote control. However, as usual MINIX NEO A2 Lite was my favorite input device since beside acting as a remote, I also use it as a mouse and keyboard, and is much more convenient to use in various parts of Android and apps.
Google Play worked fairly well, except it would not install Mi Fit or Vidonn Smartband apps, possibly because of Bluetooth LE requirements. All other application needed for review could be installed from the store. I also downloaded Amazon Underground with the web browser to install the free version of Riptide GP2.
Power implementation is bit better than on MINI M8S too, mostly thanks to added option to go to standby mode. That means I could go into and out of power on/off, and standby using the remote control. Power consumption was measure with a power meter in 6 different configurations:
Power off – 0.4 watt
Standby – 0.4 watts
Idle – 2.4 watts
Power off + USB HDD – 1.1 watt
Standby + USB HDD – 0.4 watt
Idle + USB HDD – 4.1 to 5.2 watts
It looks rather good. The only oddity is that Power off with USB hard drive consumes more than in standby, and there does not appear to be advantages (in terms of power consumption) of going into power off mode, instead of standby. Standby will also save you some time, as you don't need to wait for 30 seconds to boot. Power off might be a little safer for your data, depending on how the firmware has been implemented.
When I opened NEXBOX A95X the thermal design seemed OK, except the processor and heatsink were pointing down, instead of up, so in theory the heat could be end up being trapped inside the device. During use, the case gets a little hotter than MINI M8S, but not that much as the maximum temperature on the top and bottom of the case after Antutu 6 was respectively 45°C and 52°C max, and after 15 to 20 minutes playing Riptide GP2, the tempeatures went up to 50°C and 56°C. However, performance (e.g. frame rate) was constant during game play.
My first impressions with NEBOX A95X were pretty good, with the device running a stable and responsive firmware, and the main downsides were small annoyances like the USB drive connected windows after each boot, and the device preventing me from turning off my A/V receiver. The lack of OTA firmware support with the Update & Backup app reporting "Check Failed! Check Your OTA Servier Agent" (sic.) was also a disappointment, but a common problem with cheaper devices.
Audio & Video Playback in Kodi 16.1, and DRM Support
I can also see piracy add-ons pre-installed together with Kodi 16.x with more an more devices, and NEXBOX A95X is no exception.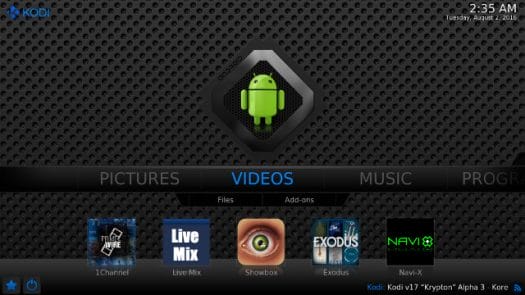 The box is using Kodi 16.1 like in M8S II, but the build date is different, so there may have been some modifications.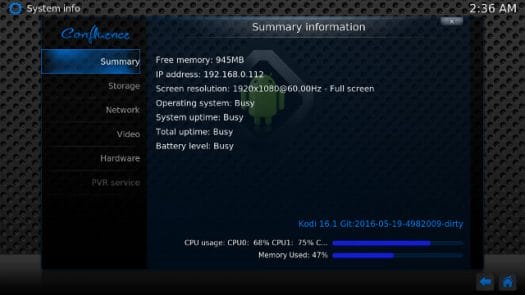 I'll get straightaway with 4K video testing from a SAMBA share over 100M Ethernet, unless otherwise stated (HDD = USB hard drive):
HD.Club-4K-Chimei-inn-60mbps.mp4 – OK

sintel-2010-4k.mkv – HDMI_4K_SMPTE (24 Hz): OK; HDMI_4K_60Hz: OK
Beauty_3840x2160_120fps_420_8bit_HEVC_MP4.mp4 (H.265) –  OK
Bosphorus_3840x2160_120fps_420_8bit_HEVC_MP4.mp4 (H.265) – OK
Jockey_3840x2160_120fps_420_8bit_HEVC_TS.ts (H.265) – OK
MHD_2013_2160p_ShowReel_R_9000f_24fps_RMN_QP23_10b.mkv (10-bit HEVC) – HDMI_4K_SMPTE (24 Hz): OK; HDMI_4K_60Hz: OK
phfx_4KHD_VP9TestFootage.webm (VP9) – OK

BT.2020.20140602.ts

(

Rec.2020

compliant video; 36 Mbps) – OK
big_buck_bunny_4k_H264_30fps.mp4 – OK
Fifa_WorldCup2014_Uruguay-Colombia_4K-x265.mp4 (4K, H.265, 60 fps) – OK
Samsung_UHD_Dubai_10-bit_HEVC_51.4Mbps.ts (10-bit HEVC / MPEG-4 AAC) –

Network: Audio cuts during playback, then silence;

HDD: OK
Astra-11479_V_22000-Canal+ UHD Demo 42.6 Mbps

bitrate.ts

(10-bit H.265 from DVB-S2 stream) –  OK

Ducks Take Off [2160p a 243 Mbps].mkv (4K H.264 @ 30 fps; 243 Mbps; no audio) –

HDD: System hangs after a few frames

tara-no9-vp9.webm (4K VP9 YouTube video) – OK

The.Curvature.of.Earth.4K.60FPS-YT-UceRgEyfSsc.VP9.3840×2160.OPUS.160K.webm

(4K VP9 @ 60 fps + opus audio) –

OK most of the time, except for ~5 seconds period @ 2:08 with severe artifacts.
NEXBOX A95X does not suffer from poor video playback when 24 fps videos are played using 4K SMPTE (24Hz) video output, any improvement over MINI M8S II, but streaming over Ethernet may not be as good, as one 51.4 Mbps video suffered from audio cuts due to buffering. The system also completely hanged with a very high bitrate (243 Mbps) video played from the USB hard drive. The artifacts in one VP9 videos occurred at the exact same time on both devices.
I enabled automatic frame rate switching in Android and Kodi, but sadly this does not work.
Audio testing looked much more promising when I went into Kodi Audio output settings with not only AC3 and DTS options, but also TrueHD and DTS-HD options present in the settings.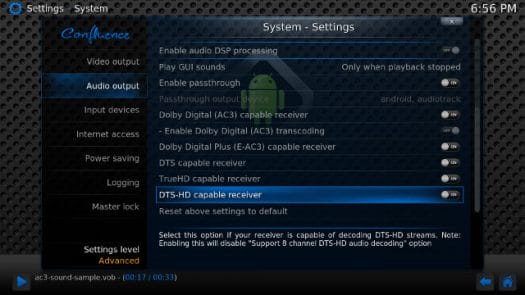 The results however were disappointing, so I also used HDMI audio pass-through using MX Player / MoviePlayer app too through my Onkyo AV receiver that can handle TrueHD, DTS-HD and Dolby Atmos.
Audio Codec in Video
PCM 2.0 Output
(Kodi 16.1)
PCM 2.0 Output
(MoviePlayer or MX Player)
HDMI Pass-through
(Kodi 16.1)
HDMI Pass-through
(MoviePlayer or MX Player)
AC3 / Dolby Digital 5.1
Audio OK but video not smooth
No audio
Audio OK (DD 5.1) but video not smooth
OK (DD 5.1)
E-AC-3 / Dolby Digital+ 5.1
OK
No audio
DD 5.1, but two short audio cuts
OK
Dolby Digital+ 7.1
OK
No audio
"PCM 2.0/Unknown" switching, and no audio
Video Plays in fast forward mode, system has no time to setup audio output
TrueHD 5.1
OK
No audio
"PCM 2.0/Unknown" switching, and no audio
TrueHD 5.1
TrueHD 7.1
OK
No audio
"PCM 2.0/Unknown" switching, and no audio
TrueHD 7.1
Dolby Atmos 7.1
OK
No audio
"PCM 2.0/Unknown" switching, and lots of "audio farting".
Continuous beep
DTS HD Master
OK
No audio
"PCM 2.0/Unknown" switching, no audio, and video not smooth
DTS 5.1
DTS HD High Resolution
OK
No audio
"PCM 2.0/Unknown" switching, no audio
DTS 5.1
DTS:X
OK
No audio
"PCM 2.0/Unknown" switching, no audio
DTS 5.1
Not really the results we want to see, even for new devices…
I also played a 2-hour H.264 1080p videos over Ethernet to test stability, and I had no problem there.
NEXBOX A95X supports Widewine DRM Level 3 only. This has to be expected however.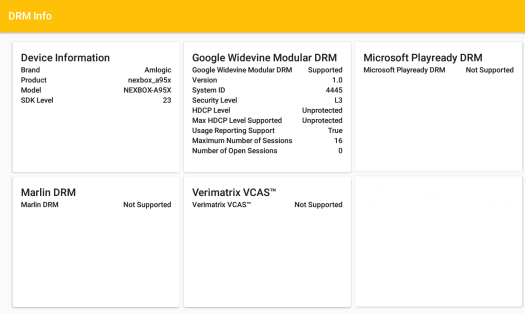 Download links to video samples used in this review can be found in the comments section of this Video/Audio sample post.
Network Performance
I've tested both 802.11n and Fast Ethernet by transferring a 278MB file between SAMBA and the internal flash a few times, and averaged the results. WiFi supports both 2.4 and 5.0 GHz (no 802.11ac), the connection is stable, but the performance is rather poor with average transfer rate of around 1.6 MB/s.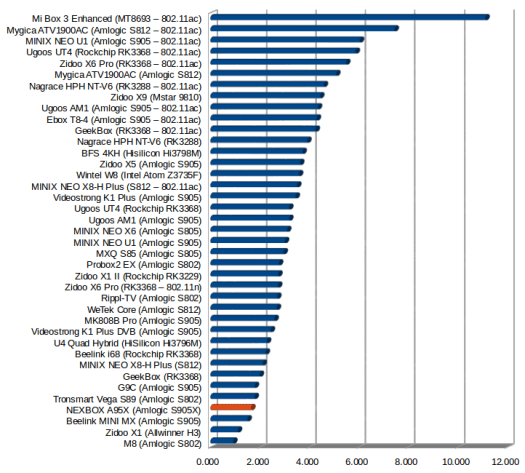 The same test with Ethernet shows a more standard performance of 6.7 MB/s for a Fast Ethernet interface.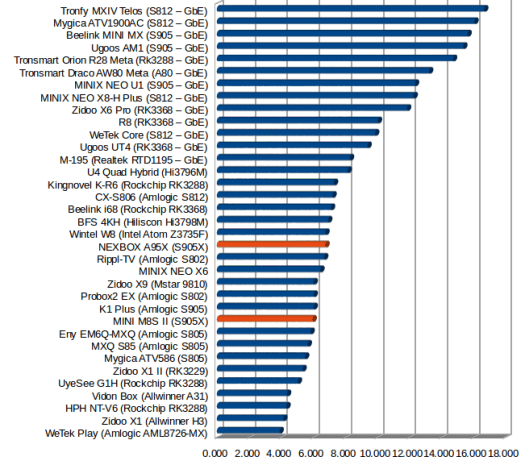 Miscellaneous Tests
Bluetooth
Bluetooth worked reasonably well, and I could transfer a few pictures after pairing NEXBOX-A95X to my Android smartphone, and get Xiaomi Mi Band 2 data after side-loading Mi Fit app. So that means Bluetooth LE is working. I could not use my Bluetooth headset, as the system kept on asking for a pin code during pairing, something my phone, and most other Android devices have never asked for that headphone.
Storage
If you've been following my reviews of Amlogic TV boxes, you may know my expectation of getting write support on my USB hard drive are pretty low, ever since Amlogic moved to Android 5.1 SDK and the "10MB bug". But when I realized NEXBOX A95X would actually allow me to copy files and run benchmarks on some of the partitions of my USB hard drive I felt like the second was coming, and could barely control my emotion with tears coming out of my eyes after around 10 months of hardship :).
| | | |
| --- | --- | --- |
| File System | Read | Write |
| NTFS | OK | OK |
| EXT-4 | Not mounted | Not mounted |
| exFAT | OK | OK |
| BTRFS | Not mounted | Not mounted |
| FAT32 | OK | OK |
Contrary to MINI M8S II, the hard drive partitions are apparently detected as SD cards in NEXBOX A95X, so they were also listed as in A1 Bench, and I could run the benchmark on both NTFS and exFAT partitions of the driver with a very good 37 MB/s sequential read speed for both, and less impressive 6.78 MB/s & 17.66 Mb/s write speed respectively.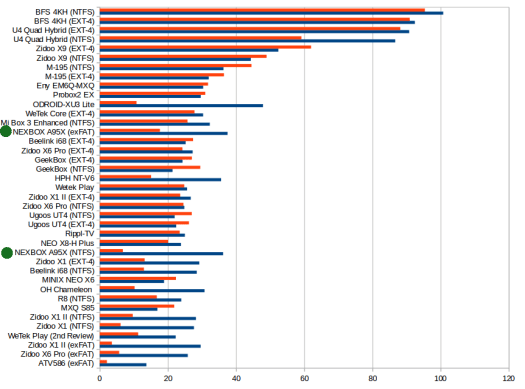 exFAT used to have very poor performance across devices, so maybe Android 6.0 improve exFAT support a lot.
The 16GB eMMC flash performance is OK with 45.8 MB/s read speed, and 15.24 MBs write speed.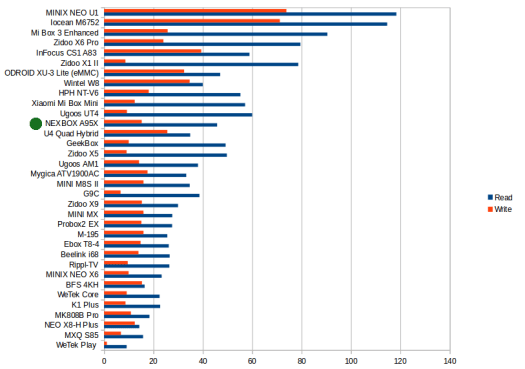 Gaming
I've focused on Riptide GP2 only, playing it with Mars G01 wireless gamepad. The game was perfectly playable using default settings, but not quite as smooth as I like when settings the graphics settings to "max resolution". I kept playing the game for 15 to 20 minutes, and performance was OK, and constant over time. Amlogic S905X is not the ideal processor for gaming, but it's good enough for casual gaming.
NEXBOX A95X (Amlogic S905X) Benchmarks
Before running running benchmark, let's have a look at the info reported by CPU-Z.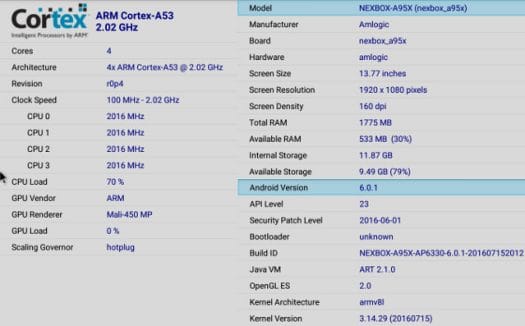 Amlogic S905X processor is again confirmed as a quad core Cortex A53 processor running between 100 MHz and 2.02 GHz, and with an ARM Mali-450MP GPU. Internal storage partition capacity is 11.87GB, total RAM 1775 MB, and the frame buffer resolution is set to 1920×1080.
Despite having the exact same CPU frequencies, we've already seen in our Amlogic S905 vs S905x benchmarks comparison that Amlogic S905X did not performance quite as well. But with NEXBOX A95X the results are even lower possibly due to its non-optimal thermal design as previously discussed.

The device achieved 28,519 points in Antutu 6.x, against 33,553 for MINI M8S II.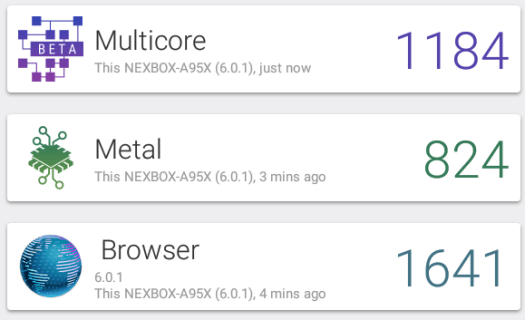 The picture is the same with Vellamo with Multicore, Metal and Browser being respectively 1,184, 824, and 1,641 against 1,491, 910, and
1,885 points for MINI M8S II.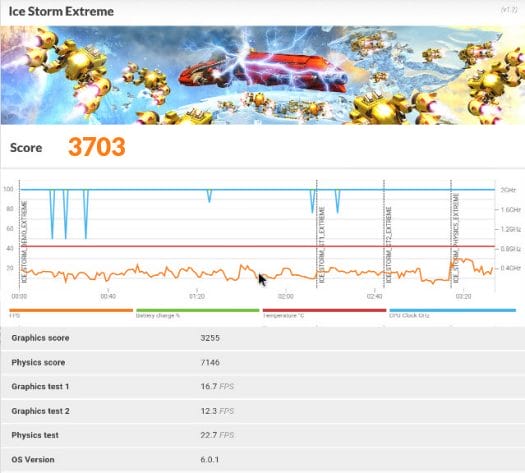 3DMark Ice Storm Extreme score @ 3,703 points is also lower despite the CPU running at 2.0 GHz for most of the benchmark during. MINI M8S II achieved 4,183 points in that same test. So the system is slower, but it's hard to pinpoint what happened.
Conclusion
NEXBOX A95X (S905X) firmware was stable and felt fast, although benchmarkls indicate a lower performance compared to competitors. Video playback in Kodi 16.1 for 10-bit and 8-bit H.265, H.264, and VP9 videos up to 4K @ 60 fps was also good, and I like some details like the ability to set the power button behavior, and setup external storage (micro SD or USB) as internal storage.
PROS:
Stable and responsive Android 6.0 firmware
Kodi 16.1 supports 4K 10-bit H.264, H.264 and VP9 videos fairly well
HDR (High dynamic range support) for the latest televisions (not tested as LG 42UB820T UHD TV does not support it)
Proper power handling (standby/power off) and low power consumption in all modes.
Internal storage expansion via external storage devices (micro SD, USB flash drive, USB hard drive).
Above average internal storage performance leading to fast boot, and low app loading times
exFAT, NTFS, and FAT32 file system support for external storage with read and write support (except in ES File Explorer)
IR remote control with IR learning function and good range (up to 8 meters)
Bluetooth working for file transfer and sync to fitness trackers (BLE)
CONS:
Video & Audio playback issues: HDMI audio pass-through not working well, automatic frame rate switching not working, Lack of Dolby & DTS licensed for downmixing to PCM 2.0 (stereo audio) in apps other than Kodi
Video output settings not always remembered. e.g. set to 4K @ 60 Hz, but fall back to 1080p60 at next reboot
Stable but poor WiFi performance
Lower performance compared to MINI M8S II, at least in in benchmarks
Lack of OTA firmware update support
Pairing issue with Bluetooth headset
DRM: Only supports Widevine Level 3
TV box will force my AV receiver to turn on, even as I manually turn it off (likely HDMI CEC issue)
Lack of notification and status bar, leading to some inconvenience after download or Bluetooth transfers for example.
I'd like to thank NEXBOX for sending the device for review, and resellers and distributions can contact the company via their website to purchase the box in quantities. The version of NEXBOX A95X featured in this review (Amlogic S905X, 2GB RAM, 16GB flash) is sold for $42.99 on GearBest and $51.99 on Banggood. Both sites also sell cheaper version with 2GB/8GB ($38.2) and 1GB/8GB ($33), and GeekBuying too. However, if you don't think you need Android 6.0 features, VP9 and/or HDR, NEXBOX A95X model with Amlogic S905 processor might be a better option, and sells for around $25 with 1GB RAM.

Jean-Luc started CNX Software in 2010 as a part-time endeavor, before quitting his job as a software engineering manager, and starting to write daily news, and reviews full time later in 2011.