One of Zidoo X9S media center's key features is its HDMI Input port with support for PVR, picture-in-picture, and video broadcasting over UDP. The company has come a long way since the implementation of HDMI input on Zidoo X9 TV box, which would only support PVR function, and exclusively work in the foreground.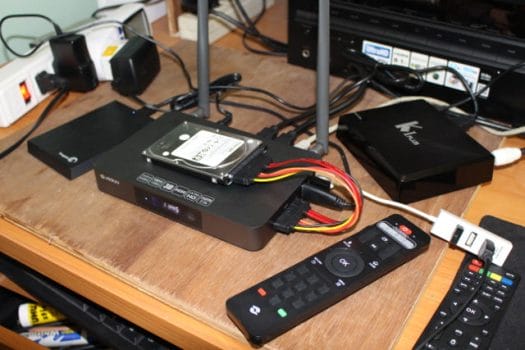 For this review, I connected K1 Plus T2 S2 Android TV box to the HDMI input of Zidoo X9S, and started HDMI In app.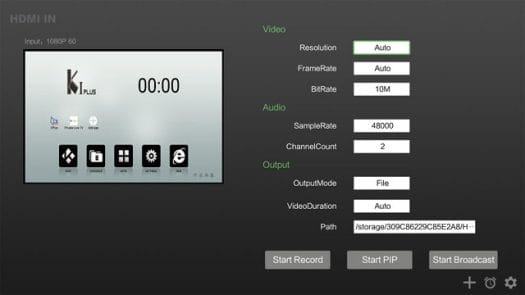 The first good news is that HDMI input does work, as we can see K1 Plus user interface preview inside Zidoo X9S' HDMI IN app. Before testing all features, let's go through the options for Video, Audio, and Output.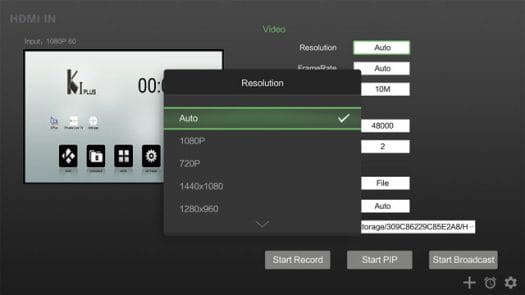 You can select various video resolution up to 1080p, but I left it to Auto, which for this test meant 1080p. Framerate cannot be changed and is set to Auto, while bitrate ranges from 1M to 10M. For local video recording 10M should be a good option, but if you broadcast the video over the network, it would be wise to lower the bitrate to something more manageable, even if you are using Ethernet because the video may not be perfectly smooth at 10Mbps.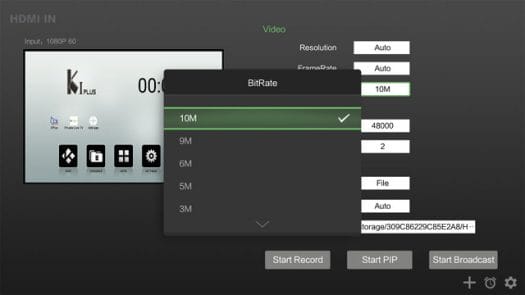 I don't expect most people will change Audio settings, but the sample rate is configurable from 8,000 to 96,000 with the default being 48,000, and the number of channels can be adjusted between one and two.
The output mode allows you to select between "File" and "Broadcast" recording. If File is select, the second option will be video duration (HH:MM:SS), and the third the recording path (which I set to a directory in the SATA drvie), while if Broadcast is selected you can choose between Multicast, Broadcast, or Unicast with the default addresses being respectively: 239.0.0.1:7878, 255.255.255.255:7878, and some IP address:7878.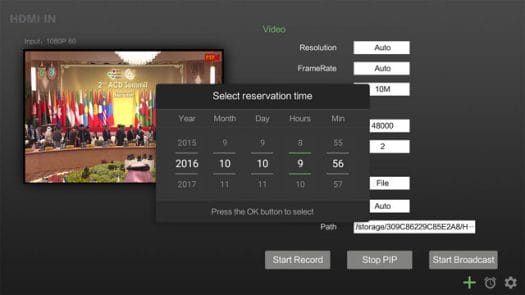 The + icon on the bottom right will let you set a start time (Reservation time) to record to File or start a broadcast, the clock icon will show the list of current scheduled events (called "My Reservations"), and the settings icon provides a list of options such as enabling audio in PiP mode.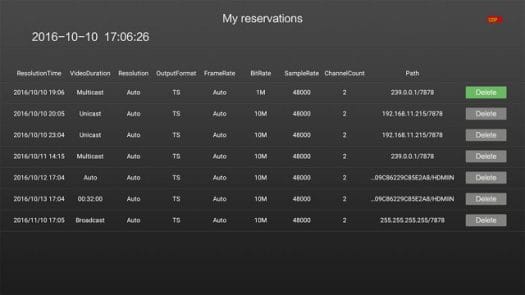 As you can see from the screenshot above you can schedule any type of "recordings" either to a file or broadcasted to the network using various settings for each schedule. It works well, but the box needs to be running at all time. If you set Zidoo X9S to standby mode, it won't wake up and start recording.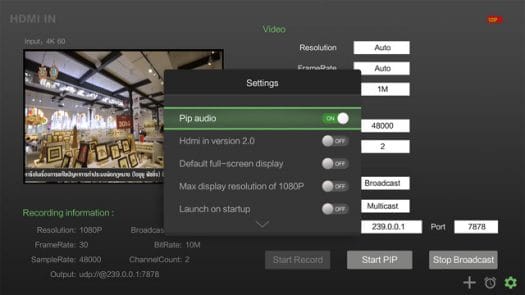 Settings include HDMI 2.0, because Zidoo X9S suports HDMI 2.0 input up to 4K 60 Hz, although it will record the input at 1080p30 max. If the input is 60 Hz, it will record at 30 fps, and 50 Hz to 25 fps.
Let's play with the main features, start with PiP (Picture-in-Picture), which could start from from the HDMI IN app, or the PiP icon on the taskbar.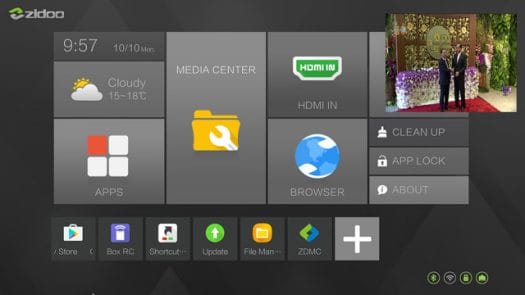 The first time it will show on the top right corner, but you can move it around and resize it as your please with an air mouse. There are also icon to put it into full screen mode, and close the PiP window. You can then play with other app like the web browser, or even play another videos from any video app in Android. I was very pleased with PiP support, as I could not find any faults, and you'll see a demo in the video embedded at the end of this post. A quick option to turn on/off the volume for the PiP window would be nice (a simple firmware update could do this), since for example you do some tasks waiting for the program in PiP to start (in silent mode), and then switch to full screen and enable audio. Now you have to go back to HDMI IN app to enable PiP audio for this to work.
The very first time I used HDMI input function, I had no audio at all. I made sure volume was not mute or low on Zidoo X9S, K1 Plus, and my TV, but I still had no audio. So I went to the Settings-> Sound & Notifications->HDMI Rx Audio format, and try to switch from PCM to RAW. I also changed some audio settings in K1 Plus, and suddenly I had audio for 5 seconds, and it stopped again for no obvious reasons. Eventually, audio came back, and I could not reproduce the issue at all. I'm not entirely sure what may have happened here. I've tested this with firmware V1.2.3, and the upcoming firmware V1.2.4 includes fixes for "abnormally sound recorded from HDMI IN", so maybe this will help avoiding the issues I had too.
Video recording to the hard drive works well too, and the part I really appreciate is that it can take place in the background, meaning you can still use the box while it's recording, something that was not possible when I tested Zidoo X9 (no S) in 2015. You'll have the REC icon showing on the top right of the user interface at all time.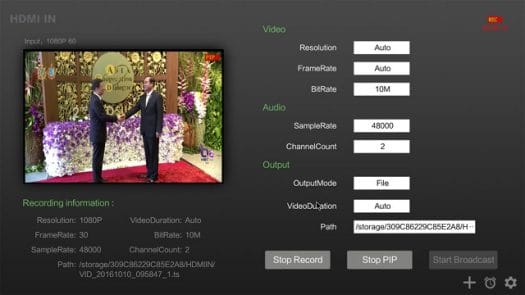 Browsing the web, and playing app should not affect the recording, if you use an app consistently using multiple cores and/or having lots of I/O request on the recording devices it may degrade the recording. I don't have any device requiring HDCP, so I have not been able to test that part.
Finally, I experienced with UDP broadcasting using Multicast protocol.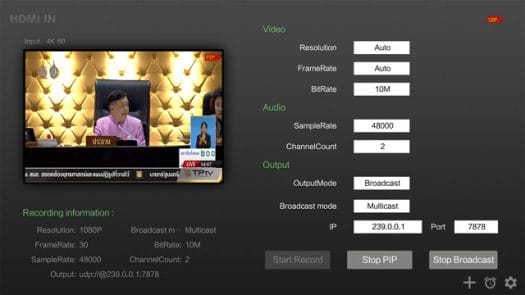 You can see the video input is 4K 60 and is converted to 1080p30, just like for video recording to the hard drive. However, the very first time I tried this feature, I got the message "Start broadcast failed…", and Start Record would also fail with "Start hdmi in record failed…" Very odd since recording to file previously worked. After 30 minutes, I found that the culprit was Settings-> Sound & Notifications->HDMI Rx Audio format set to raw, and whatever settings in K1 plus (PCM or HDMI pass-through), Zidoo X9S would refuse to start streaming or recording the video. Settings HDMI Rx Audio format back to PCM fixed the issue, and I could start UDP streaming. That also means if you can't record AC3 / Diolby Digital 5.1 audio
So I open VideoLAN (VLC) in my computer, to open a Network Stream using udp://@239.0.0.1:7878 address, and it worked just fine.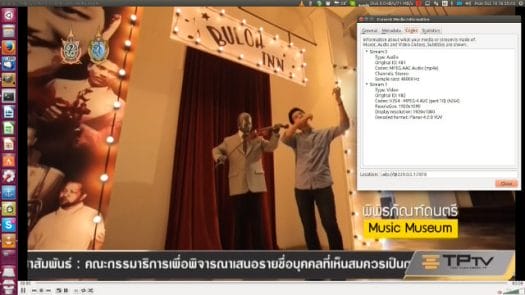 The video uses H.264 codec and AAC stereo audio. It's not quite as smooth as the original input, possibly because of the framerate convertion. It's particularly obvious when looking at the scrolling ticker in the video. I still found it was watchable.
So I decide to try another client at the same time, and installed VideoLAN on my Android smartphone (Vernee Apollo Lite), and all I got was a green screen with some artifacts at the top.
Since the stream was working with VideoLAN Linux program, this has to be a problem with VideoLAN, or a compatibility issue between HDMI IN app and VideoLAN Android app. So I searched for alternative UDP streaming apps, and at first found one designed for security cameras that was not really suitable for watching video. But finally I found that GoodPlayer app would do the job on my phone.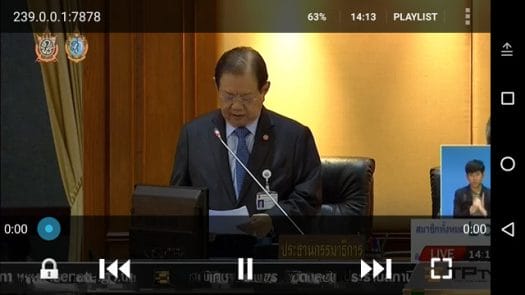 That means you can stream videos from Zidoo X9S to multiple devices, and both on computers and mobile phones. What you can't do is record to file and stream to the network at the same time.
You can watch HDMI In app in action in the video below.

While HDMI IN implementation is not 100% perfect, that's a massive improvement over my first experience with Mstar based Zidoo X9 Android TV box in 2015, and the HDMI input port on Zidoo X9S can be useful for various use cases.

Jean-Luc started CNX Software in 2010 as a part-time endeavor, before quitting his job as a software engineering manager, and starting to write daily news, and reviews full time later in 2011.