I've previously reviewed other Amlogic S912 TV boxes such as M12N MXQ Plus or Qintaix Q912, but Beelink GT1 has the advantage of being quite cheaper at $56 and up, but still come with many of the same features as more expensive devices. I've already posted pictures, and checked out the hardware design in the first part of Beelink GT1 review, so in the second part I'll report my experience with Android, including video and audio capabilities, hardware features testing, and some benchmarks.
First Boot, OTA Firmware Update, Settings, and First Impressions
The device comes with two USB ports only, so I connected a USB hard drive to one of the port, and a USB hub to the other with the RF dongles for MINIX NEO A2 Lite air mouse and Tronsmart Mars G01 gamepad, as well as a USB keyboard to take screenshots. I completed the setup by adding HDMI and Ethernet cables, and connected the power supply to start the system.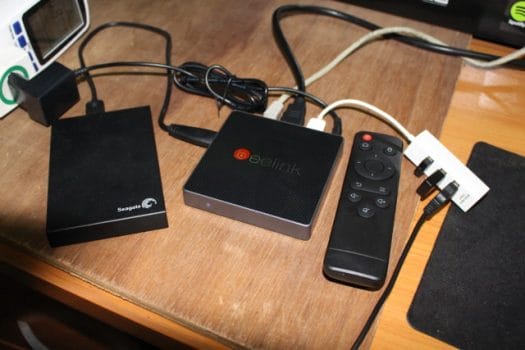 A typical boot will take 30 seconds, and brings you to the home launcher.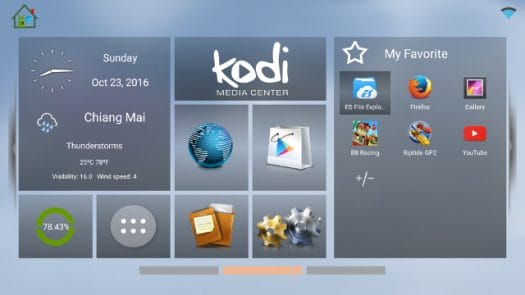 You'll find a section with date & time, and weather for your city, icon to main app (Kodi, Browser, Play Store, File Manager, Settings…), and a section with favorites, which the first time is empty, but you can easily add or remove icons as I did in the screenshot above. You'll also have access the more favorites on the left and right of the main screen. If you've connect a hard drive, you'll also get the annoying "USB device connected" window(s) at each boot just like in NEXBOX A95X TV box.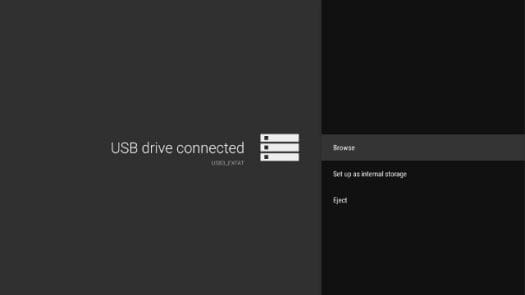 I had received the box early September, but now we are close to the end of October, so one of the first thing I did was to go to the list of apps, and start UPDATE&BACKUP app to check for any Online (OTA) firmware update.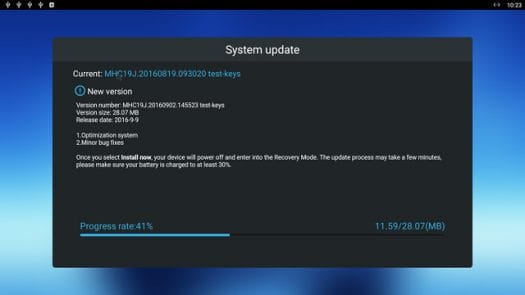 Good, so I could update 20160819 firmware to 20160902 firmware. It did not work the first time, as my USB hard drive was connected, but I repeated the update without USB mass storage devices connected to the device, nor a micro SD card, and it worked smoothly, and did not mess with my settings, nor the few apps I installed with Google Play at the time.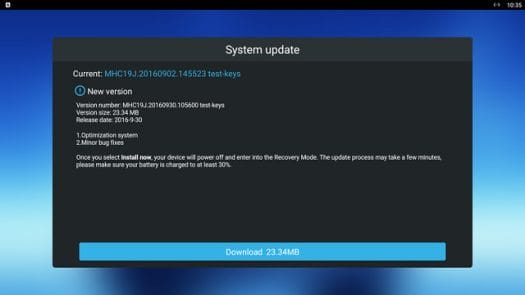 I went to the app again, and it found another update, so I update to firmware 20160930. I would be extra nice, if this would be handled automatically, but that's just a minor issue. The changelog is completely useless, as they just copy "1. Optimization system 2. Minor bug fixes" for each firmware update…
I did on more check, and this was the latest version when I started the review. But before testing Kodi a few days later, I checked one more time, and I found yet another version with the exact same changelog, but a new 20161022 version which I installed successfully.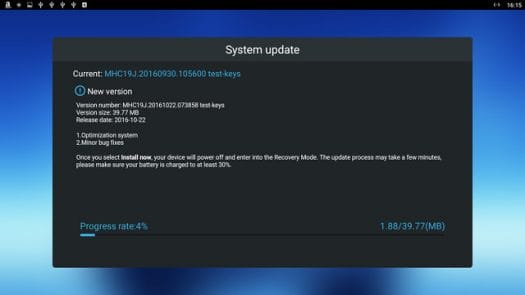 So the good news is that OTA firmware update is working fine, and Beelink is providing them fairly often at this stage. I'd also like it them to offer a detailed changelog the way Zidoo is doing.
The settings part is the same as on Qintaix Q912 Android TV box, except they've added HDMI CEC options, and removed "Power key  definition"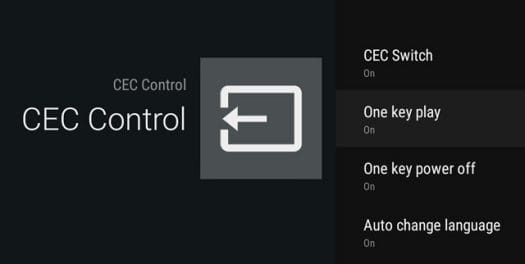 Some of the most useful options include:
Device

Network – WiFi, Ethernet, and VPN
Display

Screen resolution: Auto switch on/off, deep color mode on/off, 1080p24/50/60, 720p50/60, 4k2k 24/25/30/50/60/SMPTE, 576p50, 480p60, 1080i50/60
Screen position, Day Dream, HDR (Auto, On, Off)

Sound -> Digital Sounds -> Auto detection, PCM, HDMI, SPDIF

Preferences

HDMI CEC – See screenshot above
Playback settings – HDMI self-adaptation on/off (aka automatic frame rate switching)
More settings – Access to Android Marshmallow settings
My Onkyo AV receiver will detect Beelink GT1 through HDMI CEC, but as usual I can't use the arrow keys on Onkyo remote to control the device. The Android TV box will also prevent me to turn of the AV receiver, even if HDMI CEC is turned off in the box. The only work around is to disable HDMI CEC (RIHD) in the receiver itself. It's a bug common in all Amlogic TV boxes running Android 6.0.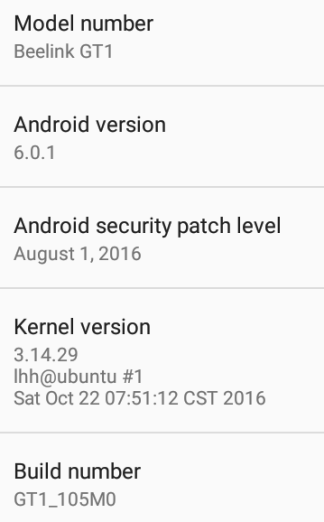 The good thing with Beelink GT1 is once I configure video output to 4K 60Hz it will stay that way all the time, contrary to many other TV boxes, not only based on Amlogic or also other processors.
We can go to More Settings to access Android Marshmallow settings with all the usual options. The settings also report an internal 16GB partition, but it's obviously an hard coded value, possibly to avoid some customer complaining about not getting 16 GB storage, but only 11 or 12 GB… The About Mediabox section shows Beelink GT1 runs Android 6.0.1 on top of Linux 3.14.29 as per About Mediabox section. The firmware is rooted.
The included infrared remote control works OK, but the range is limited to 4 to 5 meters.  I've still used an air mouse for most of the review, since that type of device is more suited to Android, and a keyboard is included.
I had no problems with Google Play store, and I could install all apps I needed for review. I also installed the free version of Riptide GP2 racing game through Amazon Underground app.
The power button on the remote control will let you turn off, enter sleep mode or reboot the device, and it works… most of the time. For some reasons, at one point the box would just reboot, when I select the Shutdown option, and I could reproduce the issue 3 times. However, later one, the problem completely disappeared and turning off the device worked 100% of the time. I cannot remember if this was done before or after applying the last firmware update (20161022). You can also turn on the device from your sofa using the remote control.
Power consumption is not too bad, but bear in mind that Beelink decided to keep USB and Ethernet on in standby mode:
Power off – 1.0 watt
Standby – 2.0 watts
Idle – 2.4 watts
Power off + USB HDD – 1.1 watt
Standby + USB HDD – 4.0 watts (USB HDD + Ethernet still on)
Idle + USB HDD – 4.4 watts
That's an advantage if you download files in the background for example, but if you want to save power, then power off mode is recommended. Ideally, power off consumption should be a bit lower than 1.0 watt.
Beelink GT1 did not get overly hot during testing. The maximum top and bottom covers' temperatures after Antutu were respectively 47 and 51 °C, and about 47°C and 59°C after playing Riptide GP2 for 20 minutes.
Based on several comments I had read last month, and earlier this month, about apps crashing, some green screen flickering, and even Kodi forums recommending to avoid Amlogic S912 TV boxes and giving the "Buggiest Android Kodi Box award of the quarter" to "any Amlogic S912 box running Android Marshmallow 6.0", so I was expecting a lot of troubles with the device. However, my experience was actually pretty good, as the firmware was responsive, I did not experience apps crashing nor random reboot at any times, never saw the green screen issue, and as we'll see below, Kodi worked reasonably well for a cheap device. So either I was lucky, or the firmware update since then, helped fixed many of the issues. This does not mean it's perfect, as it still have HDMI CEC issues, small pointer at 4K resolution, and other small bugs.
Video & Audio Playback with Kodi 16.1, Antutu Video Tester 3.0, and DRM Support
Beelink GT1 comes pre-loaded with a version of Kodi, but I'm not sure which, as while in Google Play I saw a few apps needed some upgrade, and I just clicked on upgrade all, and I only saw too late than it would mean an "upgrade" to Kodi 16.1 from Google Play. But finally, I found it may not be a bad idea, as usually I test the pre-installed version of Kodi, but for that review I can see how Kodi 16.1 from Google Play works on an Amlogic S912 TV box.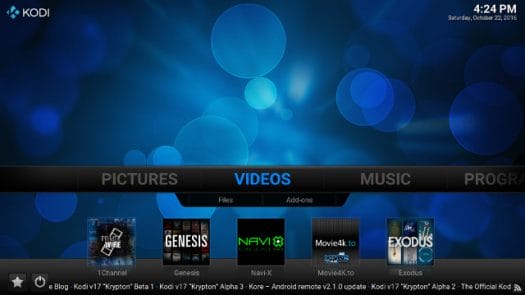 Some piracy add-ons are installed in the box by default, and an installation from the Play Store, will not remove them. I first went to the settings to make sure Video->Playback->Adjust display refresh rate is set to Always, as I had already enabled HDMI self-adaption in Android settings.
I played all videos from a SAMBA share over Gigabit Ethernet, unless otherwise stated.
Starting with some 1080p (and 720p) videos from Linaro media samples, and Elecard:
H.264 codec / MP4 container (Big Buck Bunny) – 1080p – OK
MPEG2 codec / MPG container –  1080p – OK
MPEG4 codec, AVI container – 1080p – OK
VC1 codec (WMV) – 1080p – 1080p – OK
Real Media (RMVB), 720p / 5Mbps – OK (software decode)
WebM / VP8 – 1080p – Not smooth (software decode)
H.265 codec / MPEG TS container  – OK
Automatic refresh rate switching is not working as on most other Amlogic TV boxes. VP8 is not playing smoothly because it's relying on software decide. More videos with various bitrates:
ED_HD.avi

(H.264 / 10 Mbps) – Not smooth
big_buck_bunny_1080p_surround.avi (1080p H.264 – 12 Mbps) – OK, excepting while panning in some scenes due to 60 Hz video output. If I manually switch to 24 Hz, the video is smooth.
h264_1080p_hp_4.1_40mbps_birds.mkv (40 Mbps) – OK
hddvd_demo_17.5Mbps_1080p_VC1.mkv (17.5Mbps) – Could be smoother
Jellyfish-120

-Mbps.mkv

(120 Mbps video without audio) – OK
Not quite perfect, but pretty much the expected behavior on most Amlogic devices. Dolby and DTS audio testing was then performed using both PCM output (stereo downsampling) through my TV speakers, and HDMI pass-through via Onkyo TX-NR636 receiver. Kodi audio options only allow DTS and AC3 pass-through, and there was nothing about TrueHD, nor DTS HD.
Audio Codec in Video
PCM 2.0 Output
(Kodi 16.1)
PCM 2.0 Output
(Video Player)
HDMI Pass-through
(Kodi 16.1 )
HDMI Pass-through
(Video Player)
AC3 / Dolby Digital 5.1
Audio OK, but slow video
No audio
 DD 5.1, but slow video
OK
E-AC-3 / Dolby Digital+ 5.1
OK
No audio
OK
OK
Dolby Digital+ 7.1
OK
No audio
PCM 2.0 & no audio
Slow video, and no audio HDMI icon blinking on AV receiver
TrueHD 5.1
OK
No audio
PCM 2.0 & no audio
OK (TrueHD 5.1)
TrueHD 7.1
OK
No audio
PCM 2.0 & no audio
OK (TrueHD 7.1)
Dolby Atmos 7.1
OK
No audio
PCM 2.0 & no audio
DD 5.1 with beep (the app switched to the DD 5.1 track in the video)
DTS HD Master
OK
No audio
DTS 5.1
DTS 5.1
DTS 5.1
DTS:X (not supported by Onkyo TX-NR636)
OK
No audio
DTS 5.1
DTS 5.1
So that's clearly not as good as more expensive Android TV box, as Amlogic S912 does not include Dolby nor DTS license (required for stereo downsampling for most apps), but it's still slightly better than most cheap TV boxes, as HDMI pass-through works for DTS 5.1 and Dolby Digital 5.1 in Kodi, and TrueHD also supported in other video apps like Video Player or MoviePlayer. I did not notice any audio cuts with HDMI audio pass-through, as I experienced in many other devices.
Time for some 4K videos:
HD.Club-4K-Chimei-inn-60mbps.mp4 (H.264, 30 fps) – OK

sintel-2010-4k.mkv (H.264, 24 fps, 4096×1744) –  OK
Beauty_3840x2160_120fps_420_8bit_HEVC_MP4.mp4 (H.265) –  OK
Bosphorus_3840x2160_120fps_420_8bit_HEVC_MP4.mp4 (H.265) – OK
Jockey_3840x2160_120fps_420_8bit_HEVC_TS.ts (H.265) – OK
MHD_2013_2160p_ShowReel_R_9000f_24fps_RMN_QP23_10b.mkv (10-bit HEVC) – OK
phfx_4KHD_VP9TestFootage.webm (VP9) – OK

BT.2020.20140602.ts

(

Rec.2020

compliant video; 36 Mbps; 59.97 Hz) – OK
big_buck_bunny_4k_H264_30fps.mp4 – OK
big_buck_bunny_4k_H264_60fps.mp4 – Not smooth, and audio delay (not supported by S912 VPU)
Fifa_WorldCup2014_Uruguay-Colombia_4K-x265.mp4 (4K, H.265, 60 fps) – OK
Samsung_UHD_Dubai_10-bit_HEVC_51.4Mbps.ts (10-bit HEVC / MPEG-4 AAC) – OK
Astra-11479_V_22000-Canal+ UHD Demo 42.6 Mbps

bitrate.ts

(10-bit H.265 from DVB-S2 stream) –  OK
暗流涌动-4K.mp4 (10-bit H.264; 120 Mbps) – ~1 fps, lots of artifacts (not supported by Amlogic S912 VPU)
Ducks Take Off [2160p a 243 Mbps].mkv (4K H.264 @ 29.97 fps; 243 Mbps; no audio) – SAMBA: bufferring a lot; USB HDD: Slow motion
tara-no9-vp9.webm (4K VP9 YouTube video @ 60 fps, Vorbis audio) – OK

The.Curvature.of.Earth.4K.60FPS-YT-UceRgEyfSsc.VP9.3840×2160.OPUS.160K.webm

(4K VP9 @ 60 fps + opus audio) – Plays but could be a bit smoother
So overall, 4K video playback is pretty decent on Beelink GT1.
Sintek-4k.iso & amat.iso Blu-Ray ISO's samples, and MPEG2 1080i videos could play just fine. A 720p Hi10p video could play smoothly with subtitle and audio, but 1080p is not smooth, as on other Amlogic S912 TV boxes. Since Hi10p relies on software decode, you need more powerful hardware, and I expect Rockchip RK3399 based TV boxes to easily handle Hi10p 1080p videos, but not 4K ones.
I've also tested some 3D stereoscopic videos only to see if the device could decode them since my TV does not support 3D:
bbb_sunflower_1080p_60fps_stereo_abl.mp4 (1080p Over/Under) – OK
bbb_sunflower_2160p_60fps_stereo_abl.mp4 (2160p Over/Under) – Black screen, audio only
Turbo_Film-DreamWorks_trailer_VO_3D.mp4 (1080p SBS) – OK
I also tested a bunch of other videos including MKV, VOB/IFO, AVI, XViD/DViX, MP4, and FLV videos and I had no problem whatsoever.A full 2-hour 1080p H.264 movie could fully play from the SAMBA share without issues
Antutu Video Tester 3.0 benchmark reports 866 points, roughly the same as on other Amlogic S912 I've tested so far.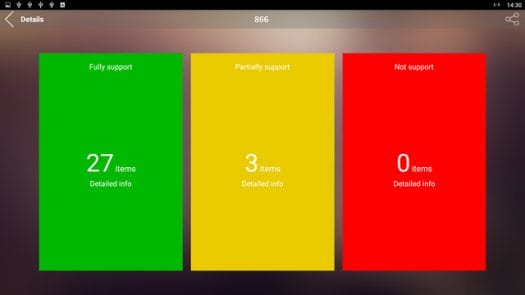 DRM info reports Widevine Level 3 is supported.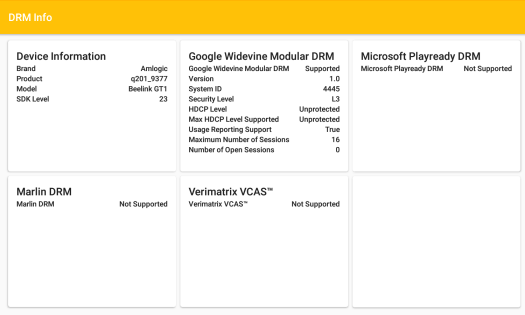 YouTube app could play videos up to 1080p.
WiFI & Ethernet Performance
I copy and paste a 278MB file between a SAMBA share and the internal flash using ES File Explorer in order to evaluate WiFi performance. Beelink GT1 achieved a lowly 1.7 MB/s on average with 802.11n @ 2.4 GHz, but a more respectable 4.36 MB/s with 802.11ac (434Mbps Link Speed). It should be noted that download and upload speeds are asymmetrical, and downloads reach about 6.0 MB/s using 802.11ac, and ~2.2 MB/s with 802.11n.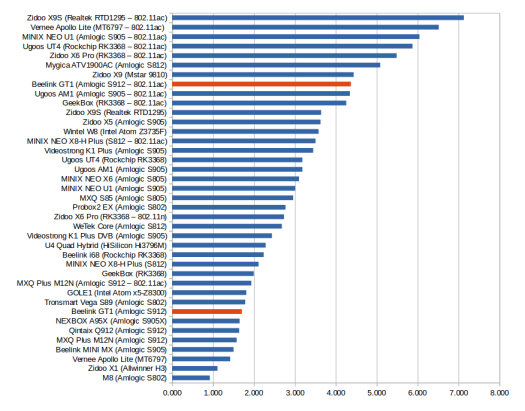 Gigabit Ethernet works pretty well, as shown with iperf full duplex results:

Client

connecting

to

192.168.0.110

,

TCP

port

5001

TCP

window

size

:

 

255

KByte

(

default

)

--

--

--

--

--

--

--

--

--

--

--

--

--

--

--

--

--

--

--

--

--

--

--

--

--

--

--

--

--

--

[

 

6

]

local

192.168.0.104

port

39060

connected

with

192.168.0.110

port

5001

[

ID

]

Interval

      

Transfer

    

Bandwidth

[

 

6

]

 

0.0

-

60.0

sec

 

3.84

GBytes

  

550

Mbits

/

sec

[

 

4

]

 

0.0

-

60.0

sec

 

5.31

GBytes

  

761

Mbits

/

sec
Miscellaneous Tests
Bluetooth
I could pair Beelink GT1 TV box () and Vernee Apollo Lite smartphone in order to transfer a few pictures. Smart Movement has no issue connecting and synchronizing data to my Bluetooth LE fitness tracker, and I could listen to audio through SPORTS-S9 Bluetooth headset.
Since the firmware is already rooted, so I tried Sixaxis app with PS3 Bluetooth game controller close as explained in the post entitled "How to Play Games in Android TV Boxes With a PS3 Bluetooth Controller", and it worked perfectly. So Bluetooth appears to be working very well on that device.
Storage
NTFS and exFAT partitions on a 1 TB USB 3.0 Seagate hard drive could be mounted, but not BTRFS nor EXT-4 ones. a FAT32 micro SD card could also be mounted in read/write mode.
| | | |
| --- | --- | --- |
| File System | Read | Write |
| NTFS | OK | OK |
| EXT-4 | Not mounted | Not mounted |
| exFAT | OK | OK |
| BTRFS | Not mounted | Not mounted |
| FAT32 | OK | OK |
A1SD bench app confirmed results found in most Android TV boxes with USB 2.0 ports, with 30+ MB/s for read speed for both NTFS and exFAT file systems, but a much lower sequential write for exFAT (6.8 MB/s) compared to NTFS (22.37 MB/s).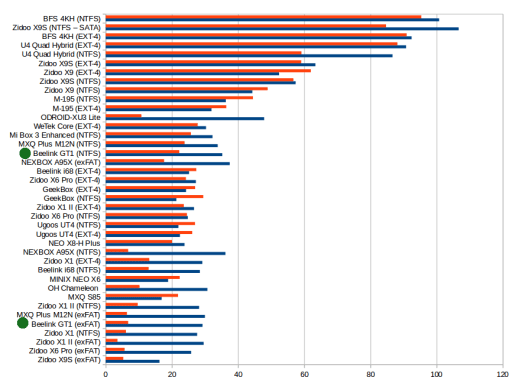 The eMMC flash performance is clearly above average at 57.60 MB/s read speed, and 30.71 MB/s write speed.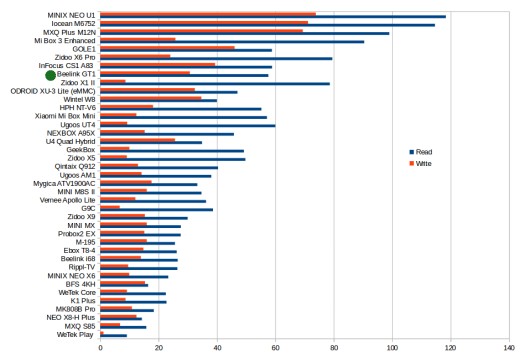 Gaming
I played Candy Crush Saga with the air mouse, and as Beach Buggy Racing with the wireless gamepad are both games played perfectly, even with graphics set to the highest settings in the latter. Riptide GP2 had acceptable performance even with "highest resolution" setting, not quite as smooth as on devices with a better GPU, such as Xiaomi Mi Box 3 Enhanced, but as expect just the same as other Amlogic S912 TV boxes, and the best Amlogic S905 TV boxes. I played the game for 15 to 20 minutes, and performance was constant throughout.
Beelink GT1 Benchmarks
Let's start with CPU-Z. Beelink has not updated the firmware to reflect Amlogic S912 is actually limited to 1.5 GHz (1.65 GHz in best case), but apart from that we have the same values as on other S912 TV boxes. The manufacturer is Netxeon (Beelink is their brand), and the board is named q201_9377.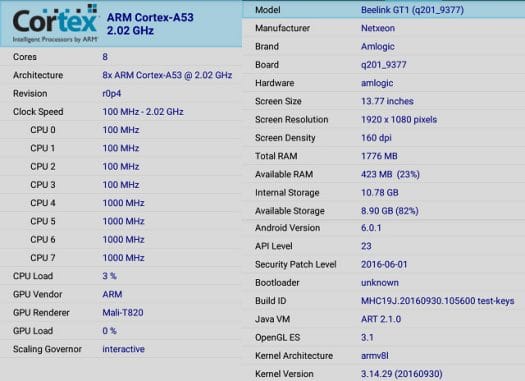 Antutu 6.x results varied quite a bit, with the first run achieving only 37,013 points, and another run around one hour latter getting 41,287 points, or about the same as M12N MXQ Plus TV box. RAM speed tests seems to be especially variable on Amlogic S912 devices.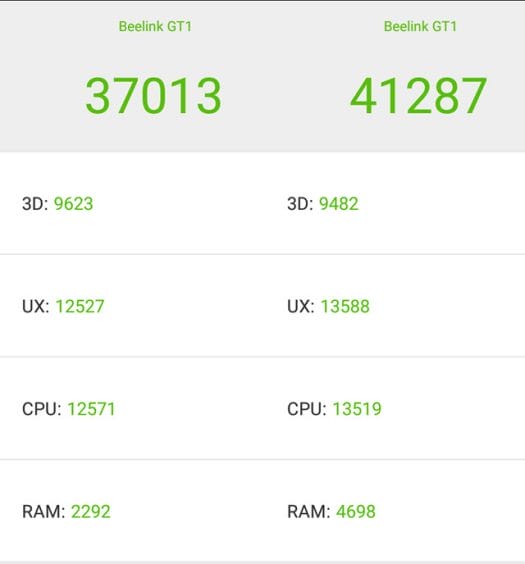 Vellamo returned results slighly better to what I got with Qintaix Q912, namely 792, 1,488, and 2,858 points for respectively Metal, Multicore, and Browser benchmarks, against 787, 1,422, and 2,336 points for the Qintaix device. M12N did not manage to complete the Multicore test.

Conclusion
Beelink GT1 works relatively well for this price, with a responsive and very stable firmware, most features working just fine, Kodi 16.1 working with DTS and Dolby audio pass-through, very good storage performance, but of course you can't expect the same level support as more expensive devices, so for example TrueHD and DTS-HD are not working, automatic frame rate switching neither, and there are still some bugs common to other Amlogic Android Marshmallow devices.
PROS
Stable and responsive Android 6.0 firmware
Good 4K video support for VP9, H.265 and H.264 codecs in Kodi 16.1
HDMI audio pass-through for Dolby 5.1 & DTS 5.1 i Kodi 16.1, plus TrueHD 5.1/7.1 in Video Player & MoviePlayer (and other video apps relying on Android APIs)
Fast eMMC flash leading to fast boot and app loading times
Good Gigabit Ethernet performance, and decent WiFi 802.11ac performance (with my setup)
Google Play Store works fine
Good Bluetooth support with file transfer, BT audio, Bluetooth LE, and Sixaxis controller (PS3 gamepad) all working
OTA firmware update, and frequent firmware releases (about once a month so far)
Support forums (with Beelink more or less active)
CONS (and bugs)
HDMI audio pass-through not working for TrueHD and DTS HD 7.1 in Kodi 16.1, Dolby Atmos and DTS-HD 7.1 not supported in other apps
Automatic frame rate switching not working properly in Kodi and other apps (e.g. Video Player)
Overall performance and user experience very similar to Amlogic S905 TV boxes, except for Android 6.0, VP9 and HDR support.
802.11n WiFi performance under average (with my setup)
Potential issue with Shutdown not working all the time (it will reboot instead). N.B.: I can not reproduce it easily.
HDMI CEC bug keeps my A/V receiver on (when pressing the power button on the receiver), even when HDMI CEC is disabled (unless I disable CEC in the receiver itself)
DRM: Only supports Widevine Level 3
Dolby & DTS licenses not included (Only a problem for apps other than Kodi, for people not using HDMI or S/PDIF audio pass-through). This would require Amlogic S912-H (Dolby+DTS) or S912-B (Dolby only) processor
Minor – Mouse pointer quite small when 4K video output is selected
Minor – "USB device connected" window(s) always autostart at boot time when USB mass storage device is connected.
Beelink GT1 price makes it attractive compared to other Amlogic S912 devices, but you don't already gain much compared to cheaper, and some would argue more stable, devices based on Amlogic S905 processor, beside an upgrade to Android 6.0, VP9 video decoding, and HDR support.
I'd like to thank Netxeon/Beelink for sending the review sample. Resellers and distributors can purchase in quantities directly with the company, while individual will be find Beelink GT1 on Amazon US for $66.97, GearBest for $55.99 with GBGT1 coupon, and from several sellers on Aliexpress for $59.99 and up.

Jean-Luc started CNX Software in 2010 as a part-time endeavor, before quitting his job as a software engineering manager, and starting to write daily news, and reviews full time later in 2011.