Shenzhen Shiningworth MXQ Plus M12N is one of the first TV box powered by Amlogic S912 octa-core processor also bringing a faster GPU, VP9 and HDR support compared to the earlier Amlogic S905 processor. I've already shown the device, its accesories, and its internal degisn in the first part of MXQ Plus M12N review, so today I'll spend time reporting my finding testing features and performance with Android 6.0 firmware.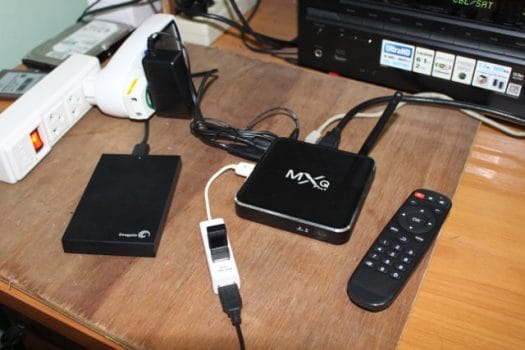 Setup Wizard and First Impressions
Since there are only two USB ports, I connected my USB hard drive to one, and used a USB hub to connect input devices including two RF dongles for an air mouse, and a gamepad, as well as a USB keyboard to take screenshots. I also added Ethernet and  HDMI cable, and finally connected the power supply to boot it up.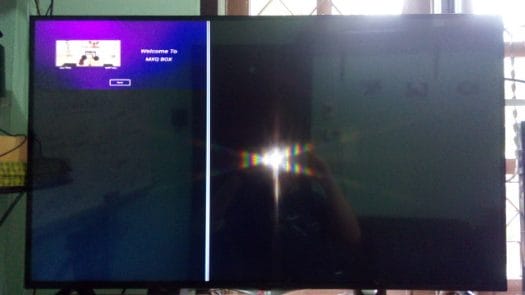 But as you can see from the picture the very first boot was not quite as expected, as all I can see what a mini version of the user interface in the top left corner of my TV (please ignore the vertical line(s) in my pictures, as it is a problem with my LG 4K TV). I contacted the Shenzhen Shiningworth about this issue, and they told me to try to reboot the device… To my surprise, the issue was gone, and I've never been able to reproduce it.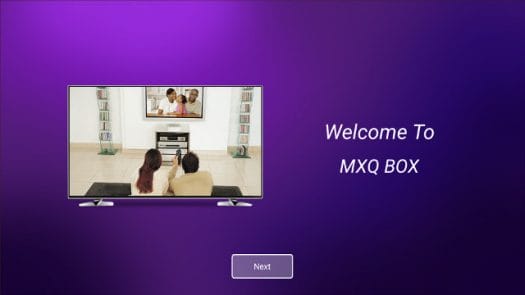 The very first screen will be a welcome from the setup wizard. Select/Click on Next to select the language.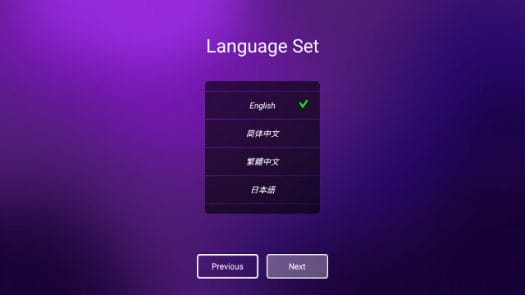 You'll only have four choices at this stage: English, simplified Chinese, Traditional Chinese, or Japanese.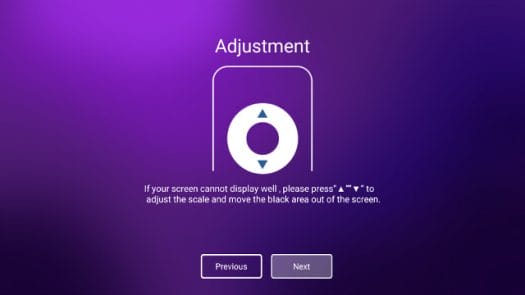 The Next window is for overscan compensation in case you have black zones on the edges of your TV.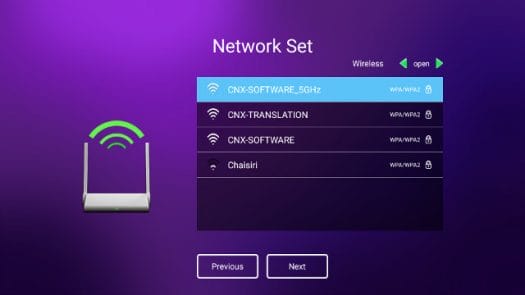 The final settings in the wizard is for Network. If you have connected an Ethernet cable just click Next, but if you want to use WiFi instead set Wireless from close to open, select your access point, and enter its password. Both 2.4 and 5.0 GHz (802.11ac) networks are supported.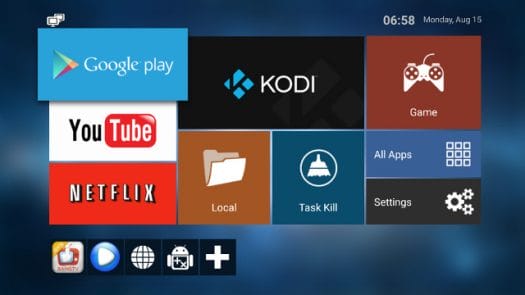 Once everything done you get to the main launcher with icons for Google Play, Kodi, YouTube, Netflix, "Local" apps, All apps, a Game app (KO GameBox), and a links to Settings. There's also a customizable bar at the bottom for favorite apps. Boot is normally achieved in less than 30 seconds.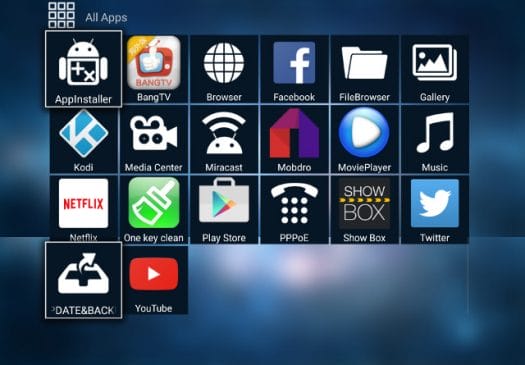 The pre-installed app are mostly pretty common, except some IPTV apps – BangTV, Mobdro, and Show Box – which I'm not familiar, and check out later in the review.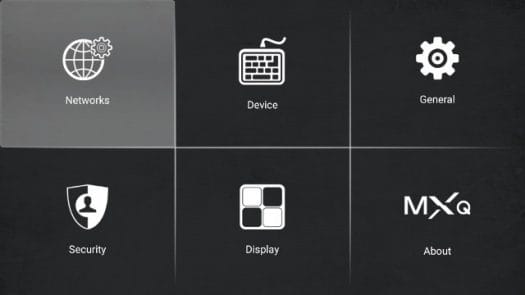 There are 6 main menus in the settings:
Networks – Wireless, Ethernet, Broadband (PPPoE), and wireless hotspot
Device – BlueTooth, Keyboard, HDMI CEC control, Sound settings (PCM, SPDIF passthrough, or HDMI passthrough)
General – Device Name (default: MXQ Plus), Date & Time, Language, and More settings (Android 6.0 settings)
Security – Security redirecting to Android 6.0 Security Settings, Add Account
Display – Adjustment, Resolution, Wallpaper, Screensaver
MXQ About – Device Name, System Info, Developer mode, ROM update, and Restore factory status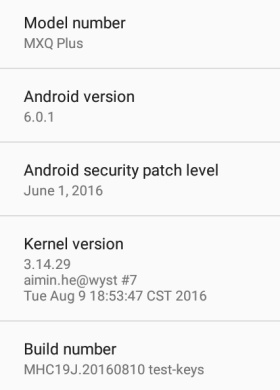 I haven't had any problems with neither WiFi or Ethernet connectivity, and I could setup HDMI output up to 4K@60 Hz, however the system would almost always revert to 1080p60 after a reboot. The mow usual annoyance that I can't turn off my AV receiver while it's connected to the device still occur, even if I disable HDMI CEC. I could not find any HDR options in the settings.
While we have the most useful option in Settings app,  you can still access Android 6.0 settings via General->More settings, and set other parameter like accessibility, printing, developer options, Languages and Input (with many languages), and so on.
Like most new devices to the market, the TV box has a unified partition for apps and data with 11.87 GB storage, and at the end of the review I had only used 2.99 GB with all installed apps and some files copied to the download directory. So there will be enough space for the requirements of most people.
Going to About MediaBox section shows MXQ Plus running Android 6.0.1 on top of Linux 3.14.29. The firmware is not rooted. The company told me that OTA firmware is supported, but it won't work through UPDATE&BACKUP app, which reports OTA failure connecting to server, and instead you'd have to go to Settings->MXQ About->ROM update. I have not been able to confirm whether it works since the company has not release a new firmware since I've received the device. [Update: The company has now pushed a new firmware on their OTA server, and I've tested it. See section below]
While I used MINIX NEO A2 Lite air mouse for most of the review, I've also quickly tested the infrared remote control, and it works with a range up to 10 meters.  Google Play store worked well, except for BLE (Bluetooth LE) app such as Mi Fit or Vidonn Smartband, which I had to side-loaded. I had no problem installing the free version of Riptide GP2 through Amazon Underground.
Power handling is OK with a short press on the power button of the remote control making the device go into standby, and a long press, popping up a window to power it off cleanly. I could also use the remote control to power it back on.
I measured power consumption in 6 different configurations:
Power off – 0.4 watt
Standby – 0.4 watt
Idle – 3.0 to 3.4 watts
Power off + USB HDD – 0.4 watt
Standby + USB HDD – 1.0 watt (HDD LED was turned off)
Idle + USB HDD – 4.2 watts
All good numbers, and behaviors. Unless you consider the 30+ watts consumed by my A/V receiver which I can't power off while connected to MXQ Plus M12N…
Thermal design as seen in the teardown post with two thick thermal pad connecting the processor to the metal case, was not very convincing, but during use the case does not get very hot. After Antutu 6.x, top and bottom temperatures were both 41°C max, and after playing Riptide GP2 for about 15 minutes, the temperatures only went up to 43°C and 45°C respectively. The game frame rate was also constant during the whole duration of the game.
Considering Amlogic S912 is a brand new processor, and putting aside the very first boot letterbox issue. my first impressions were quite good with MXQ Plus M12N with the stable and responsive firmware most of the time. Other small annoyances and bugs included the lack of status and notification bars, the device preventing me from turning off my A/V receiver, and in two or three occurrences having the system ask whether I wanted to close or wait for an unresponsive app.
A Quick Look at IPTV apps
As previously mentioned 3 IPTV apps are installed.
BangTV plays Chinese TV stations in Mandarin, but also some in foreign languages (Russian, French, Arabic…) in SD resolution.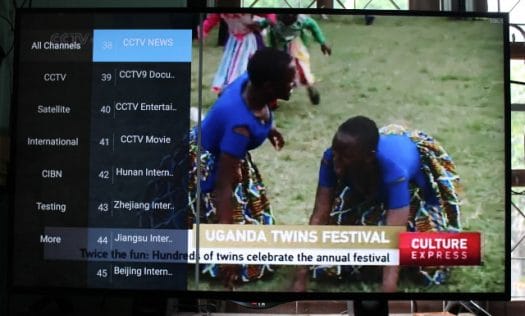 Mobdro app categorizes live video feeds by Channels, News, Shows, Movies, Sports, and Music, and more.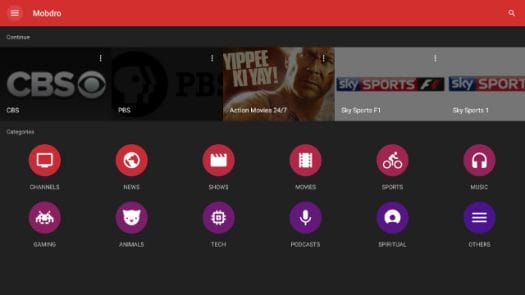 Once you enter a category, you will be presented by a list of channels with logo and descriptions.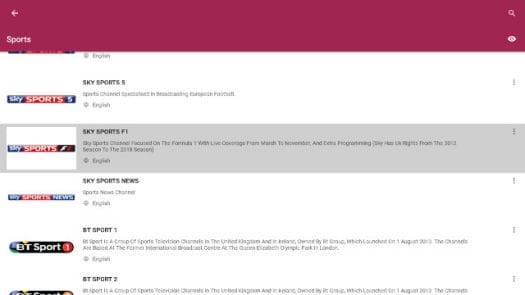 I could play Sky Sports F1 from the list in SD resolution, and it worked well, except the quality was rather low. Watching sports on TV is often a paying endeavors, so I assume this may not be legal everywhere…
Finally Show Box app starts in the News section, which you can navigate to access various entertainment news about movies and TV shows.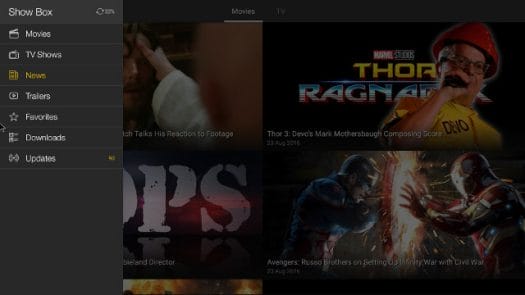 But you can also select Movies and TV shows in the left sidebar, which brings you to a list of movies.
I selected one, and it looks like it's pointing to stream or download the movie through bittorrent.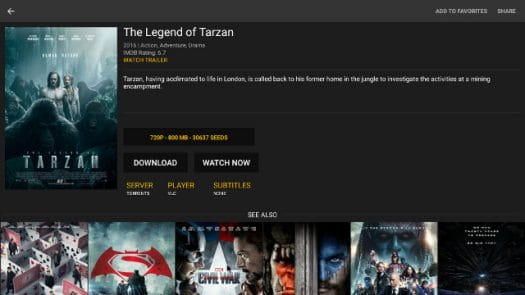 I've checked Tarzan for two minutes and it could stream fine at 720p (with somewhat low quality)… Again it may not be fully legal in all locales…
OTA Firmware Update
Note: this section had been added after the review since the company only pushed the new firmware one day later.
So soon after starting the device, I got a pop-up window prompting for an Update together with a short changelog.
I clicked "Yes" and then… nothing. I asked the company if this was normal, and was informed that download occurs in the background, and a down arrow is shown during the process.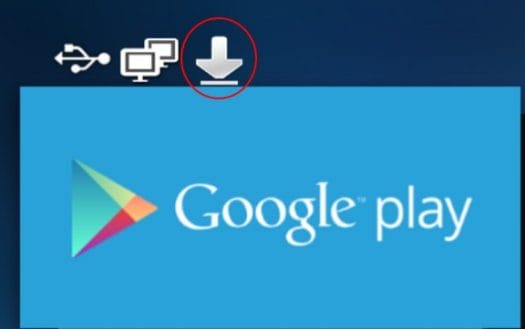 So I minded my own business doing other things for a few minutes, and finally I got another pop-up asking me to applying the update.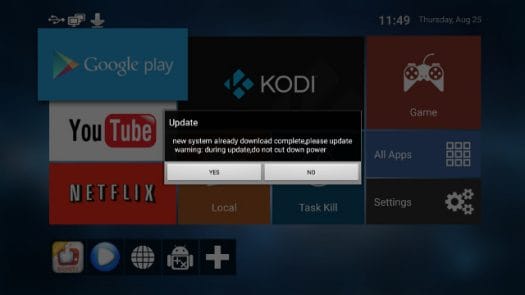 I clicked "Yes", the system rebooted, applied the update, and then complete the installation for a reboot. Around 5 minutes later everything was completed, and I still had my files and apps. So no problem and it went smoothly.
Video and Audio Playback with Kodi, Antutu Video Tester, and DRM information
I'll switch to local video playback. The first time you start Kodi, you'll be asked whether you want to install Add-ons. I selected "Not install" myself, since I don't need it for review.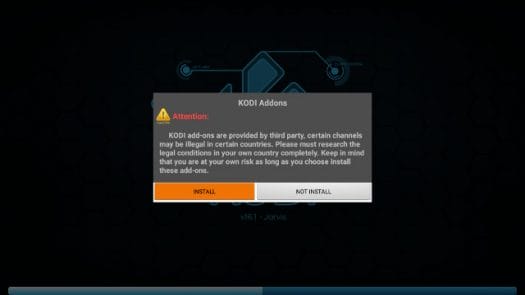 Kodi 16.1 is installed, probably a custom version built on July 4, 2016.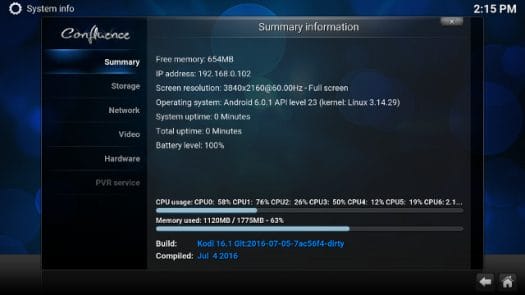 I'll play all videos from a SAMBA share over an 100Mbps Ethernet connectivity, unless otherwise stated (HDD = played from USB hard drive).
I've started with some Linaro media samples, and Elecard H.265 videos:
H.264 codec / MP4 container (Big Buck Bunny) – 480p/720p/1080p – OK
MPEG2 codec / MPG container –  480p/720p/1080p – OK
MPEG4 codec, AVI container 480p/720p/1080p – OK
VC1 codec (WMV) – 1080p – 480p/720p/1080p – OK
Real Media (RMVB), 720p / 5Mbps – OK (software decode)
WebM / VP8 – 480p/720p – OK (ff-vp8 software decode),

1080p – some frames are skipped

H.265 codec / MPEG TS container  – OK
I enabled automatic refresh rate in Kodi, but this did not work well.
Videos with various bitrates were next:
ED_HD.avi

(H.264 / 10 Mbps) –

Not 100% smooth (software decode)

big_buck_bunny_1080p_surround.avi (1080p H.264 – 12 Mbps) – OK
h264_1080p_hp_4.1_40mbps_birds.mkv (40 Mbps) – OK
hddvd_demo_17.5Mbps_1080p_VC1.mkv (17.5Mbps) –

Audio only, stays in UI

Jellyfish-120

-Mbps.mkv

(120 Mbps video without audio) – HDD: OK
The worry here is that the system can't play some videos with software decode that could be played without issues in Amlogic S905X devices like MINI M8S II, so it could be the CPU is throttling under load.
I also tested PCM output (stereo downsampling) via Kodi and MX Player/MoviePlayer app using my TV's speakers, and HDMI pass-through in both using Onkyo TX-NR636 receiver for advanced audio codecs.
Audio Codec in Video
PCM 2.0 Output
(Kodi 16.1)
PCM 2.0 Output
(MoviePlayer or Video Player)
HDMI Pass-through
(Kodi 16.1)
HDMI Pass-through
(MoviePlayer or Video Player)
AC3 / Dolby Digital 5.1
Audio OK but video not smooth
No audio
Dolby D 5.1 detected,

but audio starts with noises, video not smooth

OK
E-AC-3 / Dolby Digital+ 5.1
OK
No audio
Dolby D 5.1,

but with 3 audio cuts

OK
Dolby Digital+ 7.1
OK
No audio

no audio

Video plays in slow motion without audio

TrueHD 5.1
OK
No audio

no audio

TrueHD 5.1
TrueHD 7.1
OK
No audio

no audio

TrueHD 7.1
Dolby Atmos 7.1
OK
No audio

PCM 2.0

Dolby D 5.1

–

continuous beep

DTS HD Master
OK
No audio

DTS 5.1 with 2 audio cuts

DTS 5.1

DTS HD High Resolution
OK
No audio

DTS 5.1 with 1 audio cut

DTS 5.1

DTS:X
OK
No audio

DTS 5.1

DTS 5.1
No audio with PCM output using apps other than Kodi is expected since the processor is Amlogic S912, and not Amlogic S912-H with the proper Dolby and DTS licenses. HDMI pass-through is still in a sorry state, especially in Kodi. It's still usable in other apps, as long as you are satisfied with 5.1 audio.
4K video playback is pretty good however, at least for supported HW codecs:
HD.Club-4K-Chimei-inn-60mbps.mp4 – OK

sintel-2010-4k.mkv – OK
Beauty_3840x2160_120fps_420_8bit_HEVC_MP4.mp4 (H.265) –  OK
Bosphorus_3840x2160_120fps_420_8bit_HEVC_MP4.mp4 (H.265) – OK
Jockey_3840x2160_120fps_420_8bit_HEVC_TS.ts (H.265) – OK
MHD_2013_2160p_ShowReel_R_9000f_24fps_RMN_QP23_10b.mkv (10-bit HEVC) – OK
phfx_4KHD_VP9TestFootage.webm (VP9) – OK

BT.2020.20140602.ts

(

Rec.2020

compliant video; 36 Mbps) – OK.
big_buck_bunny_4k_H264_30fps.mp4 – OK
big_buck_bunny_4k_H264_60fps.mp4 –

Not smooth, and audio delay

(as expected since hardware is not supposed to support it)
Fifa_WorldCup2014_Uruguay-Colombia_4K-x265.mp4 (4K, H.265, 60 fps) – OK
Samsung_UHD_Dubai_10-bit_HEVC_51.4Mbps.ts (10-bit HEVC / MPEG-4 AAC) – OK
Astra-11479_V_22000-Canal+ UHD Demo 42.6 Mbps

bitrate.ts

(10-bit H.265 from DVB-S2 stream) –  OK
暗流涌动-4K.mp4 (10-bit H.264; 120 Mbps) – HDD: Slow motion, and many artifacts (Not supported by S912 VPU, software decode)
Ducks Take Off [2160p a 243 Mbps].mkv (4K H.264 @ 30 fps; 243 Mbps; no audio) – HDD: Not perfectly smooth for either NTFS or exFAT partitions
tara-no9-vp9.webm (4K VP9 YouTube video) – OK

The.Curvature.of.Earth.4K.60FPS-YT-UceRgEyfSsc.VP9.3840×2160.OPUS.160K.webm

(4K VP9 @ 60 fps + opus audio) – OK

watchable but not 100% perfectly smooth

.
I had already written about 4K video playback on Amlogic S912 SoC, and if you haven';t seen it already you can watch some of the videos above playing in M12N in the embedded video below.

Sintek-4k.iso & amat.iso (non encrypted) Blu-Ray ISOs, and two MPEG2 1080i videos could all play without an issues. I was expecting Amlogic S912 to handle 1080p 10-bit H.264 video software decoding thanks to its 8 cores @ 2.0 GHz, but while a 720p Hi10p would play perfectly with audio, video and subtitles, the 1080p Hi10p video was not perfectly smooth, and even suffered from artifacts and audio cuts from time to time. The culprit could be M12N specific thermal design, so the issue will have to be confirmed or disproved with some other S912 models.
My TV does not support 3D videos, but I normally still checked if the TV box can decode the videos, and Onkyo TX-NR636 A/V receiver is capable of detecting 3D content (shows 3D icon) for MVC videos as shown in  Zidoo X1 II review, so I check whether the 3D icon is lit up:
bbb_sunflower_1080p_60fps_stereo_abl.mp4 (1080p Over/Under) – OK
bbb_sunflower_2160p_60fps_stereo_abl.mp4 (2160p Over/Under) – Audio only, stays in UI.
Turbo_Film-DreamWorks_trailer_VO_3D.mp4 (1080p SBS) – OK
3D

-full-MVC.mkv

(Full-frame packed MVC 3D MKV) – 2D only, 3D icon not shown on Onkyo receiver
ISO-full3D

-sample.iso

(Full-frame packed MVC 3D ISO) – 2D only, 3D icon not shown on Onkyo receiver
I completed Kodi videos testing by playing various VOB/IFO, MKV, AVI, MP4, XViD/DViX, and MKV 720p and 1080p videos from my library and all could play fine. I also played one complete video for 2 hours without issues.
I've also run Antutu Video Tester 3.0 benchmark, and MXQ Plus got 865 points, which is quite similar to the 909 points achieved on MINI M8S II. The best devices normally get over 1,000 points.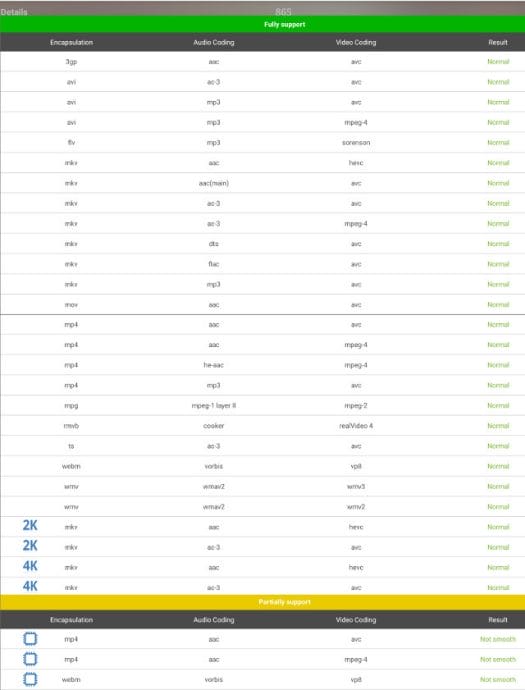 DRM info shows only Widewine Level 3 is supported. No surprise here.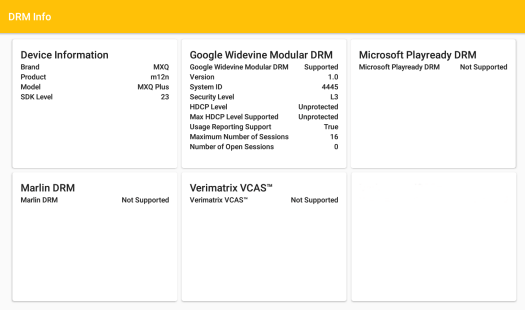 YouTube works fine, but is limited to 1080p max.
Video samples used in Kodi for this review can be downloaded via links in the comments section of my video sample post.
Network Performance
I copied a 278MB file between a SAMBA share and the internal storage test WiFi performance, both using 802.11n @ 2.4 GHz, and 802.11ac @ 433 Mbps.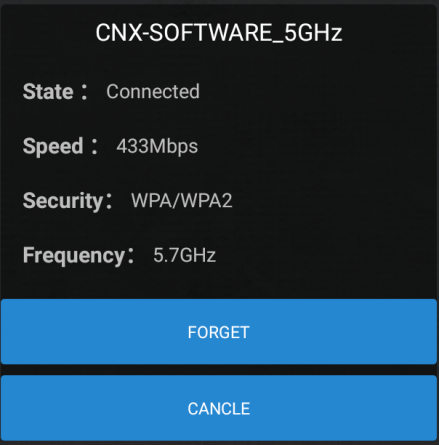 Results are below average, and during the 802.11n test, I even got a stalled and failed transfer. Performance is also asymmetric with "downloads" (SAMBA-> flash) faster than uploads (flash to SAMBA). 802.11n achieved 1.6 MB/s on average, while the file was transfered @ 1.9 MB/s over 802.11ac on average.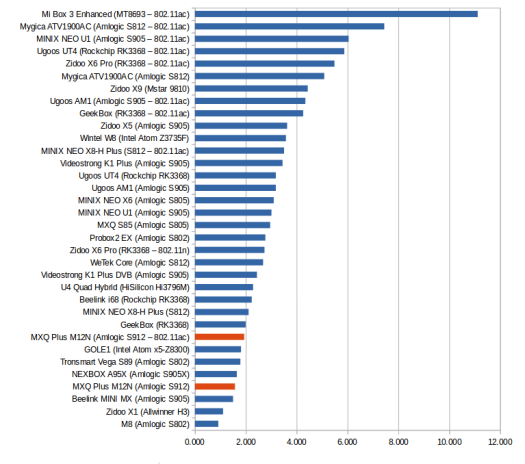 For Fast Ethernet, I instead ran iperf -t 60 -c server_ip -d to test full duplex transfer, a worse case scenario, and performance is good:

Client

connecting

to

192.168.0.113

,

TCP

port

5001

TCP

window

size

:

 

153

KByte

(

default

)

--

--

--

--

--

--

--

--

--

--

--

--

--

--

--

--

--

--

--

--

--

--

--

--

--

--

--

--

--

--

[

 

6

]

local

192.168.0.104

port

59092

connected

with

192.168.0.113

port

5001

[

ID

]

Interval

      

Transfer

    

Bandwidth

[

 

6

]

 

0.0

-

60.0

sec

  

656

MBytes

 

91.7

Mbits

/

sec

[

 

4

]

 

0.0

-

60.1

sec

  

651

MBytes

 

90.9

Mbits

/

sec
Miscellaneous Tests
Bluetooth
After pairing my Android smartphone with "MXQ Plus" I could transfer a couple of photos over Bluetooth. I side-loaded Mi Fit, and it recognized and sync data with Xiaomi Mi Band 2 fitness band, however the app was displayed in portrait mode.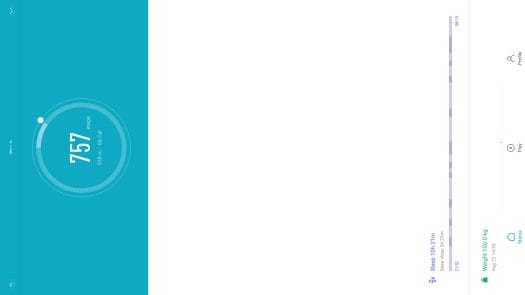 I skipped Sixaxis app test with my PS3 Bluetooth game controller clone since the firmware is not rooted, and for some reasons the TV box completely failed to detect my Bluetooth headset.
Storage
My Seagate USB hard drive with 4 partitions got NTFS and exFAT partions recognized and mounted  and a FAT32 micro SD could also be moutned in read/write mode.
| | | |
| --- | --- | --- |
| File System | Read | Write |
| NTFS | OK | OK |
| EXT-4 | Not mounted | Not mounted |
| exFAT | OK | OK |
| BTRFS | Not mounted | Not mounted |
| FAT32 | OK | OK |
Once I tried to copy a file from NTFS to exFAT in ES File Explorer but it failed due to permissions issues. I had not such issues with File Manager app. A1SD bench app shows fast sequential read speed in both partitions with 30MB/s (NTFS) and 33.86MB/s (exFAT), but write speeds are on the low side at respectively 6.42MB/s (NTFS) and 23.83MB/s (exFAT). I checked the NTFS partition with ntfsfix in my PC, and repeated the benchmark but the write speed was still very low.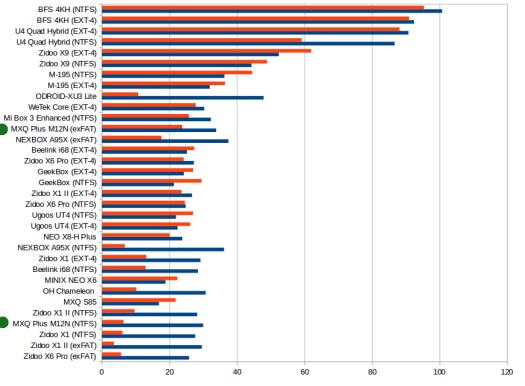 I repeated the test for M12N Samsung eMMC flash, and the results were excellent with 99.00 MB/s read speed and 69.40 MB/s write speed, which really makes me wonder why the box are the "unresponsive" app issue.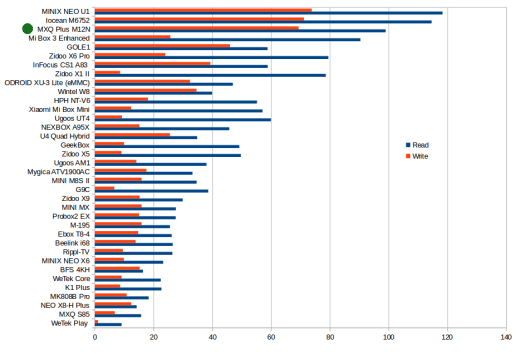 Gaming
I've already written a specific post about Gaming on Amlogic S912 TV box, and performance is clearly better than on Amlogic S905 TV boxes. The included retro gaming app "KO Gamebox" is also interesting. You can see the performance in several games in the video below.

MXQ Plus M12N Benchmarks
I'll refer to you to the post entitled M12N Amlogic S912 TV Box Benchmarks for details, but let's say results are disappointing, and I was expecting a larger performance jump compared to Amlogic S905 platforms.

Conclusion
MXQ Plus M12N works reasonably well with a stable and responsive firmware, good 4K video playback in Kodi, and decent gaming performance, however it feels like the device does not fully leverage Amlogic S912 processor performance based on benchmark results and video software decoding performance, and it still has some bugs like lack of HDMI audio pass-through in Kodi, and no automatic frame rate switching, problem with remembering HDMI resolution, slow WiFi, and so on.
PROS
Recent, stable, responsive (most of the time) Android 6.0 firmware
Good 4K videos playvack for VP9, H.265 and H.264 in Kodi
HDMI audio pass-through for Dolby 5.1, DTS 5.1, and TrueHD 5.1 and 7.1 in Video Player/MoviePlayer
One of the fastest internal storage I've seen in any TV boxes leading to reasonably fast boot (< 30 seconds)
Good 3D gaming performance
Proper power handling, and low power off, standby, and idle power consumption
OTA firmware update support
exFAT, NTFS, and FAT32 file system support for external storage
IR remote control working up to at least 10 meters
Bluetooth file transfer and BLE are working
CONS
HDMI audio pass-through and automatic frame rate switching not working properly in Kodi. Dolby Atmos and DTS-HD 7.1 not supported in other apps
Disappointing performance compared to Amlogic S905 TV boxes (only ~ +10/15% boost in many benchmarks), and some videos (10-bit h.264) are not playing as well as in Amlogic S905X devices using software decode. Possibly a thermal design issue
User set HDMI output mode is not always remember, often falling back to 1080p60 after a reboot, even if I set it to 4K 60Hz previously.
"App not responding" issue appearing from time to time (not too often, but still noticeable)
Poor WiFi performance
Likely HDMI CEC issue as the device will not let me turn off my A/V receiver even after disabling HDMI CEC or automatic HDMI output
Bluetooth audio may not be working
Lack of status and notifications bars
DRM: Only supports Widevine Level 3
Dolby & DTS licenses not included (Only a problem for apps other than Kodi, for people not using HDMI or S/PDIF audio pass-through)
The manufacturer, Shenzhen Shiningworth, provided the sample for review, and wholesalers and distributors can contact the company to purchase in quantities. They also sell the MXQ Plus M12N to individuals on Aliexpress for $69.90. Alternatively you can buy their customers' design, with a slightly different firmware, such as Acemax M12N for $65 on GearBest, or $69.99 on Aliexpress, as well as ENYBOX X2 sold on GeekBuying for $79.99.

Jean-Luc started CNX Software in 2010 as a part-time endeavor, before quitting his job as a software engineering manager, and starting to write daily news, and reviews full time later in 2011.