The last day of the year is a good time to look back at what the year brought us, and I have to say it has been a fun and interesting year on CNX Software. The TV boxes news cycle has been dominated by Amlogic products, but most products have now switched to 64-bit ARM SoC, with 4K and HDMI 2.0 support, and price have kept going down, so you can now get a 4K TV box for as low as $20, although many people will prefer spending a bit more for extra memory and support. Intel based Bay Trail & Cherry Trail mini PCs have continued to be released with Windows, and in some cases Ubuntu, but the excitement seems to have died off a bit, maybe with the expectation of upcoming Apollo Lake mini PCs that should be more powerful. The year have been especially fruitful in the IoT space with a dramatic reduction in costs and sizes from ESP8266 boards to GPS modules and microwave radar modules, and we've also seen LPWAN modules & boards, mostly based on LoRa, but also Sigfox, being brought to market, as well as an alternative to ESP8266 with Realtek RTL8710AF, and of course the launch of Espressif ESP32 SoC with WiFi and Bluetooth LE. We've also been spoiled with development boards this year with the launch of 64-bit boards such as Raspberry Pi 3, ODROID-C2, and Pine A64+, as well as more dirt cheap Orange Pi boards, joined by NanoPi boards later in the year, and made all the more useful thanks to armbian community.
I've compiled a list of the most popular posts of 2016 using the page views count from Google Analytics:
Stats
Traffic has been rather steady in 2016 over the months.

The blog got around 9.8 millions pageviews in 2016 compared to about 7.2 millions pageviews in 2015, a 36% growth in traffic that was likely helped by my not going on a 3 months trip this year…
"openwrt" and scoop.it, respectively the top keyword and referral in 2015, were replaced by "amlogic s912" and Facebook in 2016.  Google Analytics only shows the last three months for keywords, and the full year for referrals, with referrals excluding search engines such as Google where CNX Software gets most of its traffic.
| | |
| --- | --- |
| Top 10 Keywords | Top 10 Referrals |
| amlogic s912 | facebook.com |
| rk3399 | flipboard.com |
| s905 vs s905x | scoop.it |
| s905x vs s912 | t.co |
| mxq box | m.facebook.com |
| amlogic s905 | 4pda.ru |
| orange pi vs raspberry pi | com.google.android.googlequicksearchbox |
| s905 vs s912 | duckduckgo.com |
| s912 vs s905x | plus.google.com |
| amlogic | freaktab.com |
The visitor mix of the blog per country as not changed much, with the top 10 countries of 2015 still there in 2016, and the top five order unchanged with United States, United Kingdom, Germany, Canada, and France.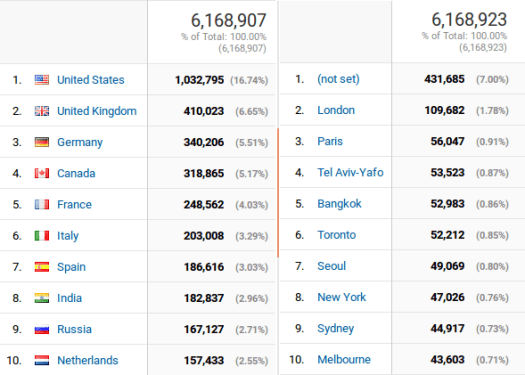 London still hold the top city spot, but Hong Kong and Moscow dropped of the list to be replaced by New York and Melbourne.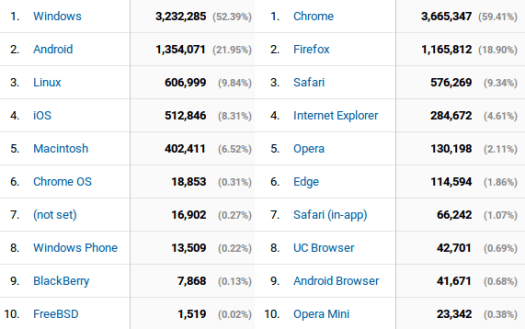 Windows is still the main operating system of CNX Software visitors, but its share, as well as the share of other desktop operating ssystems including Linux and "Macintosh", keeps dropping, while Android and iOS are having a stronger and stronger presence. In the "browser war", Chrome lead extended further from 52.93% in 2015 to 59.41% in 2016, and Firefox dropping from 23.54% to 18.90%. Microsoft Edge probably had the best growth going from 0.56% last year to 1.86% this year.
Some of the 2016 review samples and I wish all my readers a very happy, prosperous, and healthy new year 2017.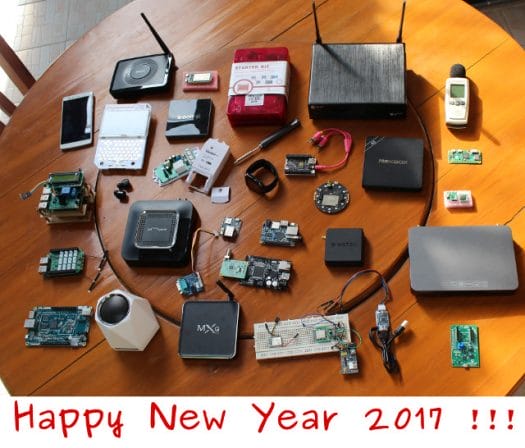 Jean-Luc started CNX Software in 2010 as a part-time endeavor, before quitting his job as a software engineering manager, and starting to write daily news, and reviews full time later in 2011.