Samsung has made several announcements with IoT, especially IoT security. First, Samsung ARTIK 053, ARTIK 530 and ARTIK 710 modules are getting an "s" version, which stands for "robust security", as well as a new ARTIK 055s module, and all ARTIK modules can now work with SmartThings Cloud uniting the company's existing services – ARTIK Cloud and Samsung Connect Cloud – into a single IoT platform.
Separately, the company announced their Secure Element solution which combines eFlash memory and new security software.
Samsung ARTIK "s" modules & ARTIK 055s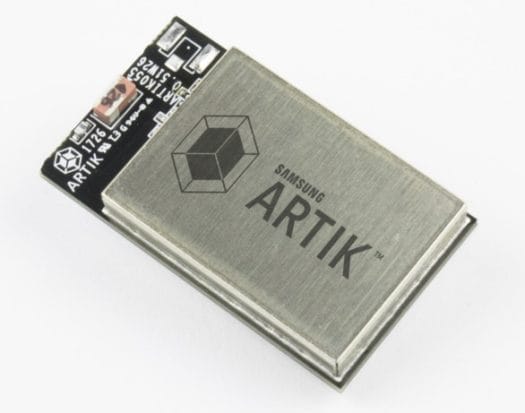 The company explains in their blog that ARTIK 053s, 530s, 710s, and the all new 055s will feature "advanced protection, integrated cloud services, and hosted security services with "enhanced ARTIK end-to-end security by providing greater protection for IoT data as well as prevention against hacking".
The press release is a little more specific:
ARTIK secure IoT modules provide a strong root of trust from device-to-cloud with a factory-injected unique ID and keys stored in tamper-resistant hardware. Samsung's public key infrastructure (PKI) enables mutual authentication to the cloud to identify each device on the network and support whitelisting. Customers can use the new Secure Boot feature and code signing portal to validate software authenticity on start-up. In addition, the secure IoT modules provide a hardware-protected Trusted Execution Environment (TEE) with a secure operating system and security library to process, store, and manage sensitive resources, including keys and tokens on devices. Information is protected using FIPS 140-2 data encryption and secure data storage.
The product briefs somewhat help us better understand what has changed with the "s" version.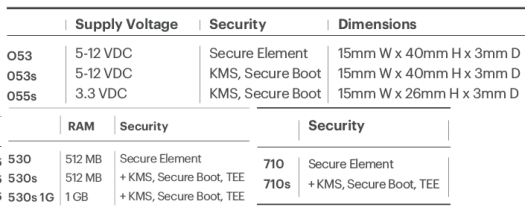 So it appears the modules were previously secured with a "Secure Element", and now the company has added KMS and secure boot support to the "s" version, as well as TEE to the more powerful ARTIK 530s and 710s modules. The company claims there will no increase in price for the (more) secure modules.
Samsung ARTIK 055s Smart IoT module (pictured above) is similar to ARTIK 053(s), but is quite smaller, and works at 3.3VDC, instead of the 5-12VDC. ARTIK 055s specifications with highlights in bold showing differences with ARTIK 053:
MCU – 32-bit ARM Cortex R4 @ 320MHz with 1280 KB RAM for general use, 128 KB RAM for global IPC data
Storage – 8 MB flash
Connectivity – 802.11 b/g/n WiFi @ 2.4 GHz
Expansion – 29 dedicated GPIO ports, 2x SPI, 4x UART (2-pin), 4x ADC, 1x JTAG, 2x I2C
Security – AES/DES/TDES, SHA-1/SHA-2, PKA (Public Key Accelerator), PRNG/DTRNG (Random Number Generators), Secure key storage, Physical Unclonable Function (PUF)
Power Supply – 3.3 VDC input voltage
Dimensions – 26 x 15 x 3 mm
Temperature Range – -20 to 85°C
Certifications – FCC (U.S), IC (Canada), CE (EU), KC (Korea), SRRC (China)
The documentation does not list any hardware differences with regards to security, but Tizen RT OS adds secure firmware and JTAG protection for 055s and 053s.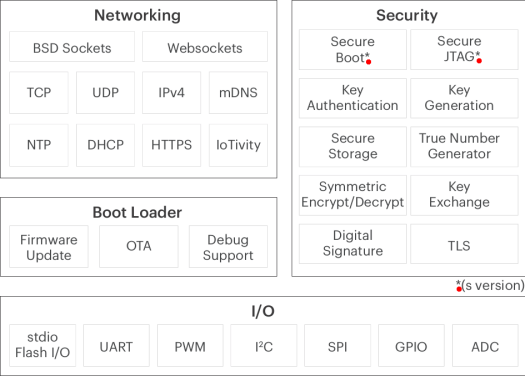 In other news, Samsung ARTIK 530(s), ARTIK 710(s), and future Linux based ARTIK modules will now default to Ubuntu 16.04, instead of Fedora used so far.
Samsung Secure Element
We've just seen older ARTIK modules included a "Secure Element", but Samsung has just added to confusion by introducing an "integrated Secure Element (SE) solution for Internet of Things (IoT) applications that offers a turn-key service for both hardware and software needs".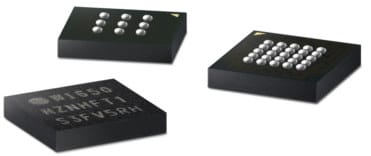 The SE includes an embedded flash (eFlash) and will stop and reset itself whenever it detects abnormal activity. The solution also comes with security software that supports personal verification, security key storage, encoding and decoding, and secure data transfer between devices servers and clouds.
The SE and developer board are showcased at the Samsung Developer Conference, but that's all the information I have so far, as I could not find any info about Secure Element or W1650 chip on Samsung website.

Jean-Luc started CNX Software in 2010 as a part-time endeavor, before quitting his job as a software engineering manager, and starting to write daily news, and reviews full time later in 2011.