RetrOrangePi is a retro gaming & media center firmware based on Armbian Debian image and working on Allwinner H3/H2+ based Orange Pi boards, Banana Pi M2+, and NanoPi M1, as well as Beelink X2 TV Box.
Right at the end of last year, I reviewed RetrOrangePi 3.0 on Orange Pi One board to which I connected Mars G01 gamepad, and I could play some games like Wolfenstein 3D and Quake, and watch videos on OpenELEC/Kodi 16. The firmware also comes with various emulators, but you'd have to load the ROMs yourself due to intellectual property / license issues. The developers have now released RetrOrangePi 4.0.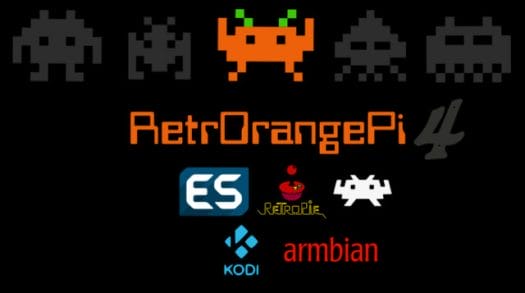 RetrOrangePi 4.0 changelog:
Latest Armbian v5.32 (Debian Jessie kernel 3.4.113)
RetroPie-Setup v4.3.3 (unofficial fork, upgradeable)
New RetrOrangePi repository for easy updates and fixes
EmulationStation v2.6.5 with video and game collection support, Desktop/OpenELEC shorcuts from main menu
New ROPi "Attract-Mode"-like theme (based on Cosmos theme)
Retroarch 1.6.7 – Retroachievements tested
Kodi Krypton 17.4 (hardware acceleration provided by MPV + VDPAU): IPTVsimple included, quit button fixed
OpenELEC (Kodi Jarvis 16.1) with CEC support by Jernej Skrabec (optional installation)
Slim and Full versions for all compatible boards
All Libretro cores updated
All RetroPie themes available for installation
Experimental new libretro cores: DOSBox, MAME2014, VICE, X68000, Amiga PUAE
PPSSPP latest v1.42
Mupen64Plus standalone emulator (with hires textures support)
AdvanceMAME 3.5
AdvanceMENU frontend integrated
AdvanceMESS (support for ancient platforms, tested OK: Bally Astrocade, BBC Micro, Channel F, Colecovision etc.
New Quake 2 port (Yamagi Quake)
New Streets of Rage Remake port (needs BennuGD engine downloaded to home folder)
Improved Amiga emulation – fullscreen UAE4ARM with JIT support, optional WHDLoad
Hatari 2.0 (SDL2) – atariST emulator
Vice 3.1 (SDL2) – Commodore emulator
Boot selection – from Desktop (EmulationStation, Kodi, AdvanceMENU, RetroArch, Desktop)
Onscreen keyboard (Florence)
Overscan fix in AV outputs (Allwinner_TVOUT_manipulator)
New Desktop wallpaper, wifi config, ES, Kodi, Donate and Support icons
Customized Retroarch configuration (optimal settings, appearance tweaks, original aspect ratio)
New HDMI/Analog AV configuration tool (thanks Jose Rios) + our overscan fix
New exclusive ROPi Radio beta version
Scraper by Sselph update
Universal XML Scraper integration and tutorials
Binary cores updates
GPIO driver can be installed from driver section.
RetroPie services tested: USBROMSERVICE – create a retropie-mount folder in your FAT32 flash drive, Virtual gamepad
Custom ES splashscreen by Francois Lebel @MagicFranky – the number 4 was on us :p (great skills!)
Custom MOTD with ROPi invader + Armbian info
Improved filesystem support: FAT32 automount, ExFAT support
The full images are not yet available, but if you are an existing users with ROPi 3.0.1 instead, you can upgrade to version 4.0 by running ropi4.sh script in your board/device as pi user:


The images for new users will be coming later once one of the developers involved get more free time. In the meantime, you'd have to download & install RetroOrange Pi 3.0.1, and run the script to upgrade to 4.0.
You'll find more details about the release in the forums, where you can also ask for support questions. The source code can be found on github.

Jean-Luc started CNX Software in 2010 as a part-time endeavor, before quitting his job as a software engineering manager, and starting to write daily news, and reviews full time later in 2011.