A short while ago, I wrote about a tri-panel waterproof solar power bank that delivers up to 4 Watts and comes with 10,000 mAh capacity. I've now received a sample of a somewhat similar product, except CHOETECH told me it can deliver up to 24 Watts, which should be more suitable for charging devices like smartphone daily.
CHOETECH 24W Solar Charger Unboxing
The gadget is supposed to be fitted on larger backpacks as we'll see below, but it comes in a relatively small package.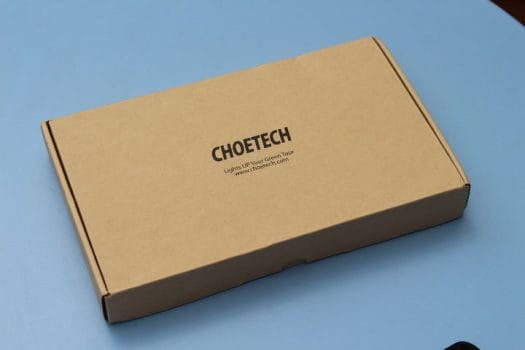 The thing just looks like some purse or wallet out of the box.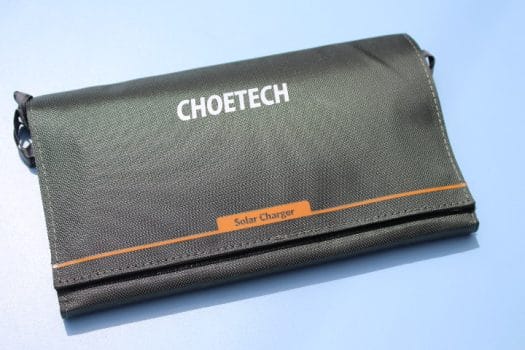 Once it's unfolded we'll see four solar panel, six hoops around the design, and some pouch / pocket on the right.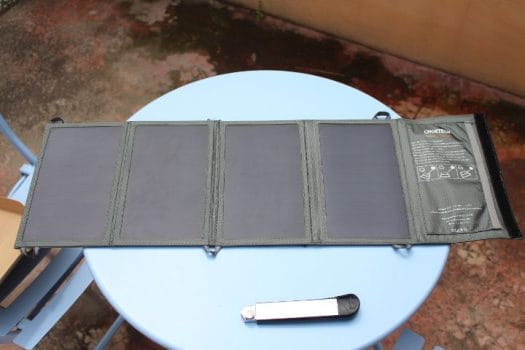 The "junction box" includes a micro USB to USB cable, some silica gel, and four metal hoops to hook around some of the 6 fabric hoops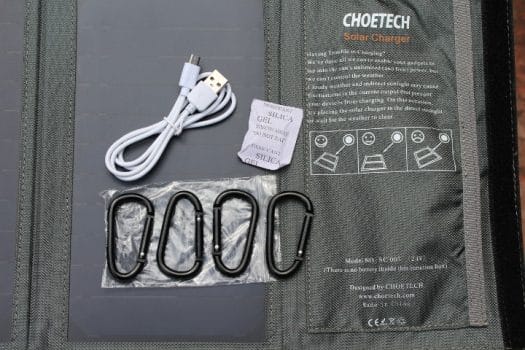 The text on the photo above explains cloudy weather and indirect sunlight may cause the phone not to charge, and that not battery is included…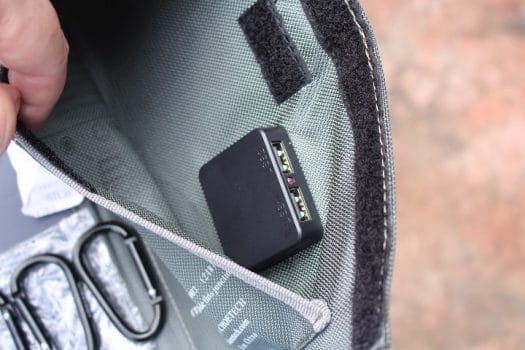 The latter is further confirmed after having a look inside, and instead we can see a box with two USB ports and a red LED that lits up if there's enough sunlight.
CHOETECH 24W Solar Charger Specifications
Before actual testing of the device, let's have a look at the specifications to better understand what to expect:
Solar Panel Power – 24W (max.)
Conversion Efficiency – Up to 23-24%
Output Voltage – DC 5V
Max Output for Each Port – 2.4A
Total Output – 4A
Dimensions

Unfolded – 790 x 260 x 20mm
Folded – 160 x 260 x 40mm
So in theory it could be as good as a 5V/2.4A power charger in ideal conditions.
CHOETECH 24W Foldable Solar Charger Review
FIrst, I tried to find out how it would look installed on my backpack.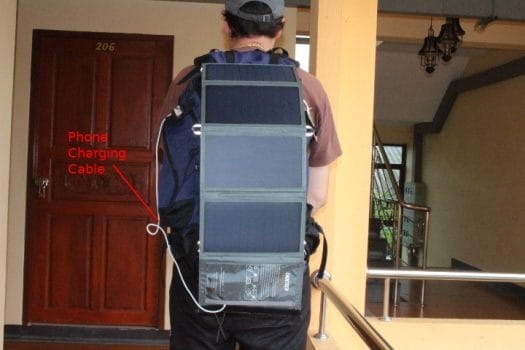 It's pretty easy to install to it since backpacks usually have many handles and in some case hooks. Then you can take your phone's USB cable connect it to one of the USB port and place your phone inside your bag protected from rain and dust. It should also be protected against rain since the USB port is facing down. I open a water tap to pour water on the pocket for 30 seconds or, and everything stayed dry inside. Another advantage of placing it outside of your bag is that it does not have to take any space inside.
The first day I tried to use the solar charger it was fairly cloudy, and I could not charge the phone at all with the charger. USB Charger doctor reported 5V and 0.000A, and I also removed it just incase it would interfere but same results: no charging. As a side note, USB charger doctor is almost completely useless outdoors as the display is unreadable, and I had to cover it with my hand to be able to read the values. It's also impossible to take photos of the readings so you'll have to trust me :). I search for e-ink / e-paper USB charger tester, all I could find was some fitting with an LCD display – instead of just LED – like UM25C model.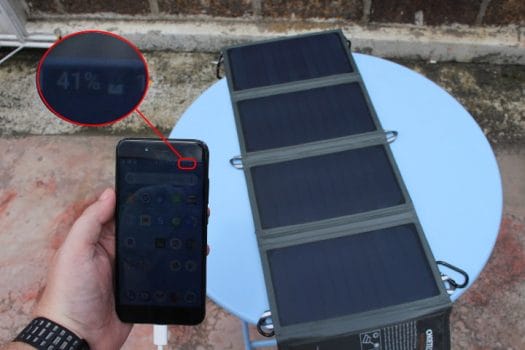 Back to the solar charger… So I had to wait for an extra day, and today is still cloudy, but with the sun coming out from time to time. I could finally get the phone to charge as shown above. The fist time the sun was partially blocked by some clouds, and charging was done at 4.98V/0.69A, and a few minutes later the sun got stronger an USB charger doctor reported 4.95/0.98A charging. For reference I did the test at around 13:30, and the phone is Xiaomi Mi A1 which I can charge at 5.14V/2.00A with its USB power adapter and a similar level of charge.
5 watts charging is actually not too bad, and you should be able to charge your phone daily with the solar charger if you are in the middle of nowhere. I'd expect the wattage to get closer to the advertised 5V/2.4A in sunny day and with the solar panels facing the sun directly. However, I doubt charging while the panels are placed on the backpack works at a very rate in most conditions, and you may want to orientate the panels towards the sun during breaks.
I'd like to thanks CHOETECH for providing a review sample, and you can purchase one of the many solar charger on Amazon for $24 and up. The exact model I reviewed – except for color – goes for $69.99 on Amazon.


More details may also be found on the product page.

Jean-Luc started CNX Software in 2010 as a part-time endeavor, before quitting his job as a software engineering manager, and starting to write daily news, and reviews full time later in 2011.