Google recently announced several Android One smartphones, which are supposed to get 2 years of firmware updates, including to the latest version of Android, such as HTC U11 Life and Android One Moto X4. Many of those phones are limited to some specific countries, but Xiaomi Mi A1 will be launched in over 40 countries, and thanks to Chinese online shops is really available worldwide. GearBest sent me the latter last month, and in the first part of Xiaomi Mi A1 review I simply went through unboxing, booted the phone, perform an OTA update, and ran Antutu 6.x on the phone for a quick estimate of performance.
Since then, I've had around four weeks to play with the smartphone running Android 7.1.2 (still), so I'm ready to report my experience in the second part of the review.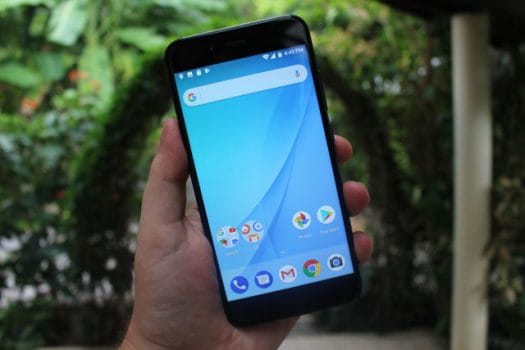 General Impressions
In the past year, I used Vernee Apollo Lite smartphone powered by Mediatek Helio X20 deca-core SoC, which in theory is quite faster than the Qualcomm Snapdragon 625 used in Mi A1, but in practise, I did not feel much difference in performance for example while browsing the web or checking email, and in some games, performance of Xiaomi Mi A1 was actually much better than on Apollo Lite, as I reported in the post entitled "Mediatek Helio X20 vs Qualcomm Snapdragon 625 – 3D Graphics Benchmarks and CSR 2 Game".
Some of my wishes in Vernee Apollo Lite included a better camera, and improved GPS accuracy, and Mi A1 is a big improvement for both as we'll see in more details later on in the review. The build quality of the phone is good, and the design looks more stylish and thinner than my previous phone. The display is clear, and I like the wide brightness range, that is low enough not to hurt eyes in the dark, and high enough to use the phone in sunlight. It's quite glossy though, so you'll have reflect especially with black background, and it's possibly to use it as a mirror without turning it on… I seldom call with my phone, but the couple of times I made or received actual calls, the sound was loud and clear. I spend most of my time browsing the web, checking emails, watching YouTube video, and playing games (mostly CSR 2) on my phone, and do so over WiFi connection, and the phone just works flawlessly for this with good performance, and no overheating (that I could notice) contrary to Vernee Apollo Lite, which does get hot in some cases, and slows down considerably.
I'm also happy about battery life, and with my use case of hour 4 to 5 hours use a day, I can still get around 30 hours on a charge. One of the downside is the lack of fast charging, so I can't quickly top of the battery for 5 minutes before going out. A full charge takes around 1h30, so still not too bad, and since the battery lasts more than 24 hours, it would be possible to charge every day at the same time to avoid low battery charge while on the go.
The main selling of the phone is being part of Android One program, as you'll get security updated once or twice a month, as well as bigger Android version updates for two years hopefully up to Android 9 / P. You do pay a premium for this, so if regular security/firmware updates are not important to you, you'll get better value with other smartphones.
Overall, I'm very satisfied with Xiaomi Mi A1 smartphone, I could not find any major flaws so far, so I can safely recommend it especially if having up-to-date firmware (for the next two years) is important to you.
Benchmarks: Antutu, Vellamo, and 3DMarks
Here are Antutu 6.x benchmark results for people who have yet to read the first part of the review.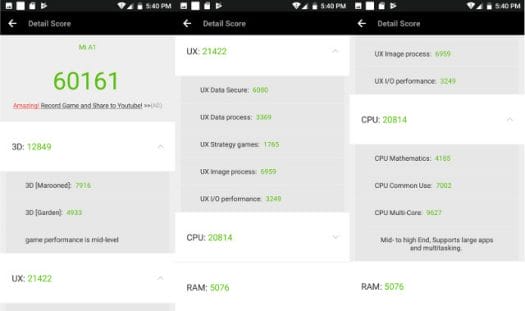 60,000 points is a decent score for a mid-range phone, but for example quite lower than the 85,840 points I got on Vernee Apollo Lite.
Next up… Vellamo 3.x benchmark. Comparisons are against older phone / Android version, so I should probably drop that benchmark in future reviews…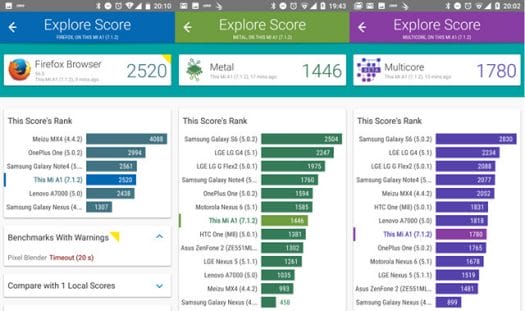 Note that I could not run Vellamo with Chrome browser, since it would hang during CSS 3D animation. Firefox mostly worked, except for Pixel Bender test timing out… The number are all much lower than my Vellamo results on Vernee Apollo Lite.
So I also ran GeekBench 4. AFAIK, It's however limited to CPU performance so it does not really give real world indication like Vellamo's Browser test for example.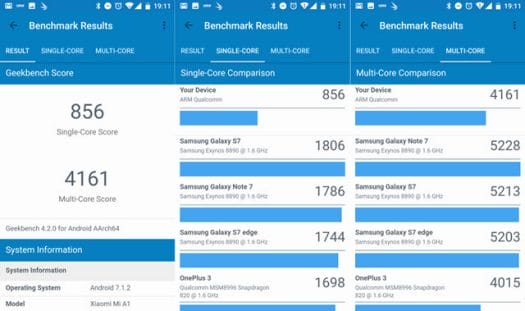 We can see the single core performance is quite lower than more powerful Cortex A72 "class" processors, but multicore performance is close enough. You can find the full details here.
I also ran 3DMark Ice Store Extreme for evaluation 3D performance further. Vernee Apollo Lite would max out the test, but Xiaomi Mi A1 scored "only" 8,045 points.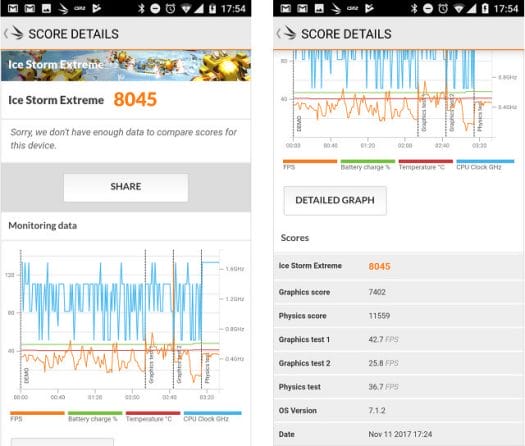 The interested part is that my real-life experience does not match the benchmarks at all, as I found Mi A1 to perform just as well as if not much better in many apps. We'll find out one potential reason just below.
Storage and Wi-Fi Performance
I ran A1 SD Benchmark app to estimate storage performance of 64 GB eMMC flash, and Xiaomi Mi A1 has by far the best storage I've used on any devices.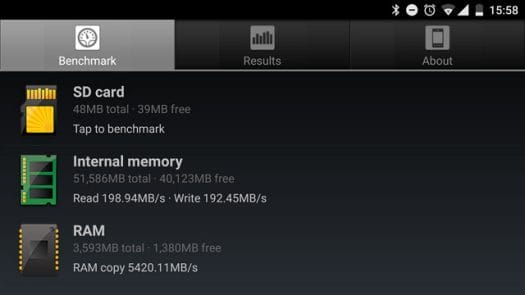 With sequential read speed of 198.94 MB/s, and a write speed of 192.45 MB/s, the device is in a class of its down. Ideally, random I/O performance should be tested too, but it still gives an indication.
Time for some WiFi testing. I did not have any issues, and felt web pages were always loading fast, and YouTube videos played smoothly even at 1080p. But let's have some numbers to play using SAMBA file copy (278MB) over 802.11ac WiFi with ES File Explorer, and placing the phone is the same test location as the other DUTs. Just like many recent devices SAMBA "download" is much faster than "upload":
File copy SAMBA to Flash – 47.5s on average (5.85 MB/s)
File copy Flash to SAMBA – 2m10s on average (2.13 MB/s)
When we average both numbers, Xiaomi WiFi SAMBA performance is only slightly above average, but still outperformed by some 802.11n devices.
Maybe that's an Android Nougat bug… In order to have raw numbers, I also used iperf for both upload and download
Server

listening

on

TCP

port

5001

TCP

window

size

:

85.3

KByte

(

default

)

--

--

--

--

--

--

--

--

--

--

--

--

--

--

--

--

--

--

--

--

--

--

--

--

--

--

--

--

--

--

[

4

]

local

192.168.0.104

port

5001

connected

with

192.168.0.110

port

37257

[

ID

]

Interval

Transfer

Bandwidth

[

4

]

0.0

-

60.0

sec

1.66

GBytes

238

Mbits

/

sec
Client

connecting

to

192.168.0.110

,

TCP

port

5001

TCP

window

size

:

85.0

KByte

(

default

)

--

--

--

--

--

--

--

--

--

--

--

--

--

--

--

--

--

--

--

--

--

--

--

--

--

--

--

--

--

--

[

3

]

local

192.168.0.104

port

53494

connected

with

192.168.0.110

port

5001

[

ID

]

Interval

Transfer

Bandwidth

[

3

]

0.0

-

60.0

sec

1.91

GBytes

274

Mbits

/

sec

Assymetry is gone, and Mi A1 is the best device in that test, but we have less data for comparison…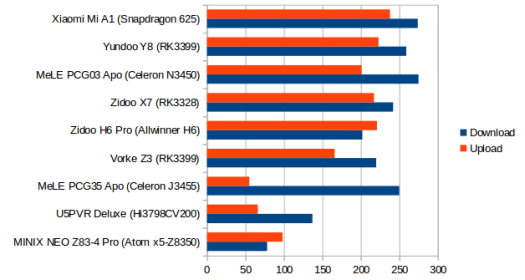 The main takeaway is that WiFi is working well, and performance is very good.
Rear and Front Facing Cameras
Beside being part of Android One program, another key feature of Xiaomi Mi A1 smartphone is the dual rear camera with optical zoom.
Rear Camera
So I've taken a few shots with the camera, starting with an easy cat shot… The thing that surprised me the most at first was the speed at which the photo is taken. It just happens instantaneously. With older devices, I often had to wait around one second after pressing the button while it was doing the auto-focus and take photos. You can launch the camera app very quickly – without having to unlock your phone – by pressing the power button twice.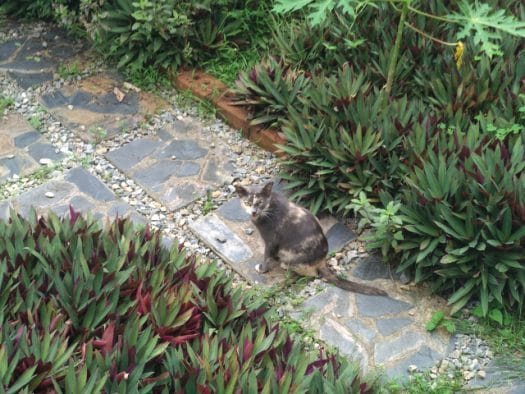 Clear enough for a camera phone. Close up shots are sometimes problematic with phone, but I had pretty good results. The text book shot is close to perfect.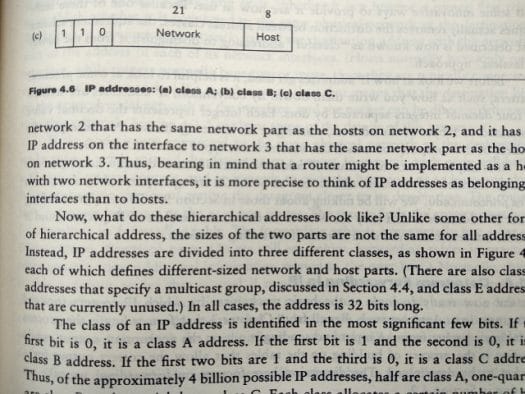 Development board can be tricky to photograph because the camera can focus on the wrong part (e.g. top of Ethernet/USB connector), But Orange Pi One photo below is fairly good. I had to try a few times to get the right focus.
You can press on the live view to set the focus point. It will help.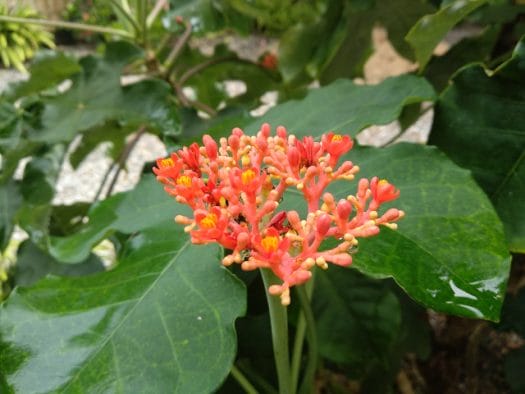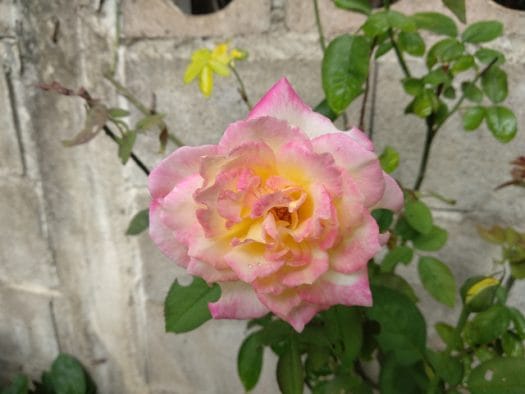 Flower photos were also good with color matching reality.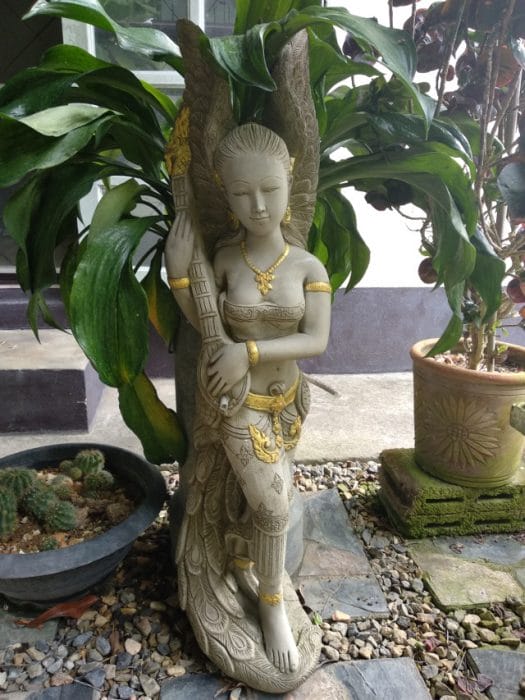 Photos taken with good lighting are always good.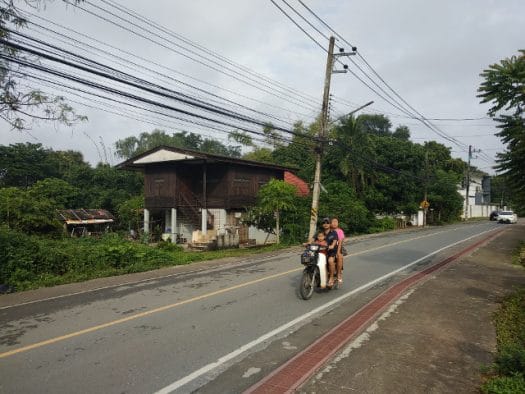 The photo above was taken in the morning with the sun in my back.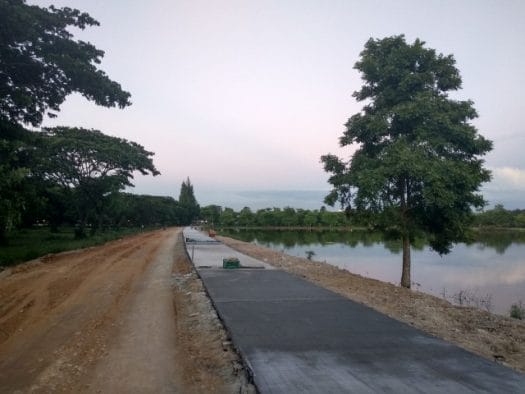 When it get a little dark, or in shots with different lighting conditions for foreground and background it helps to enable HDR function.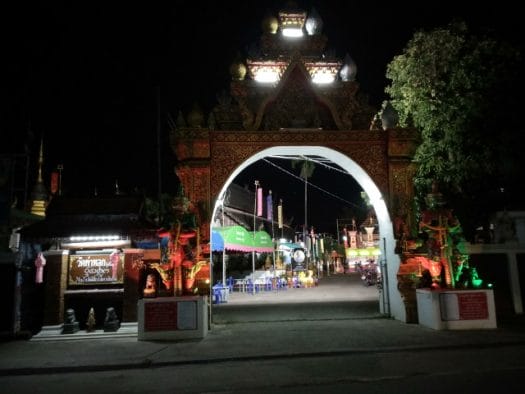 Night shots can be a little grainy, but I find they are still pretty good…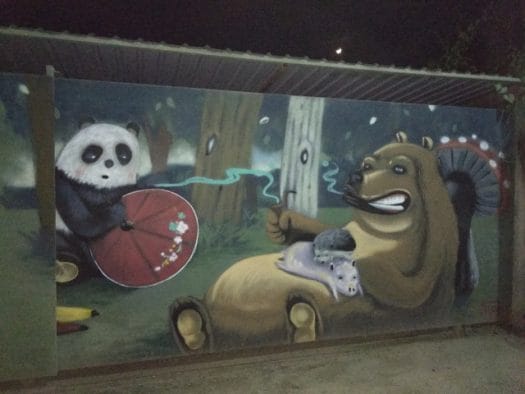 Now some video testing, starting with the easiest of all 1080p30 day time video.
The video looks fine, but if you've watched it with audio, you may have noticed may not be quite right with the microphone/audio.
4K video can be recorded at 30 fps, but it does feel as smooth as the 1080p one while panning.

All videos are recorded using MP4 Quicktime container, H.264 video codec @ 30 fps, and MPEG-4 AAC stereo audio. If you plan to watch 4K videos from the phone on TV, you'll have to make sure the player supports 4K H.264 @ 30 fps, as some 4K TV boxes are limited to 24 fps.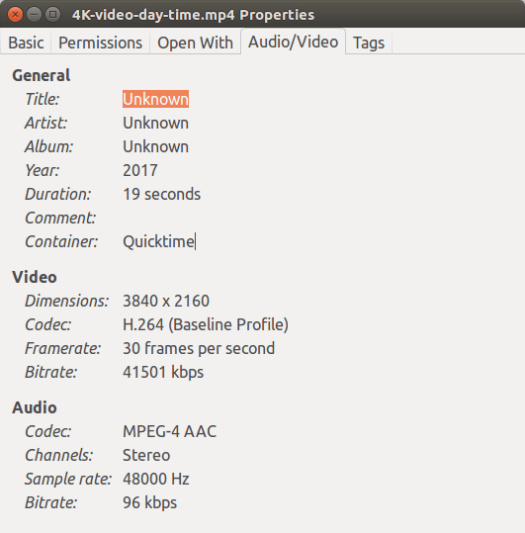 Slow motion recording is something that I did not have in my previous phone, and it's working fairly well up to 720p30 (recorded at 120 fps).
Night time videos are the most difficult, and even at 1080p the results are quite poor with the video frame rate at 14 fps, auto focus being seriously confused, and and audio has a metallic component to it, even more than for the video I recorded during day time.
So I tried again to shot a video will taking to myself, and audio was just fine. So I guess the issue may be specific to far field audio or traffic noise.
Font-facing camera
The front-facing camera works pretty well for selfies.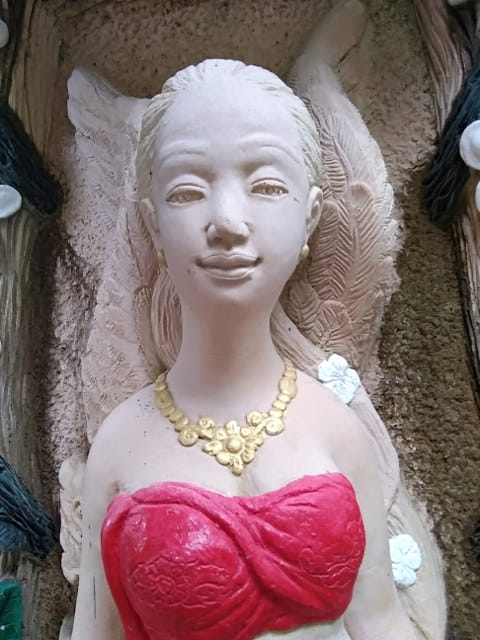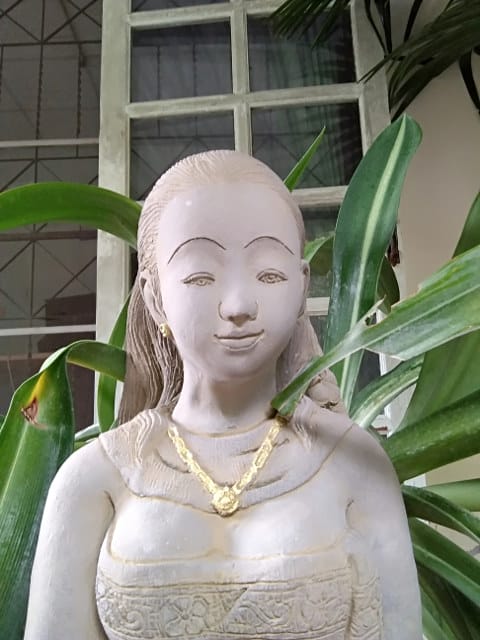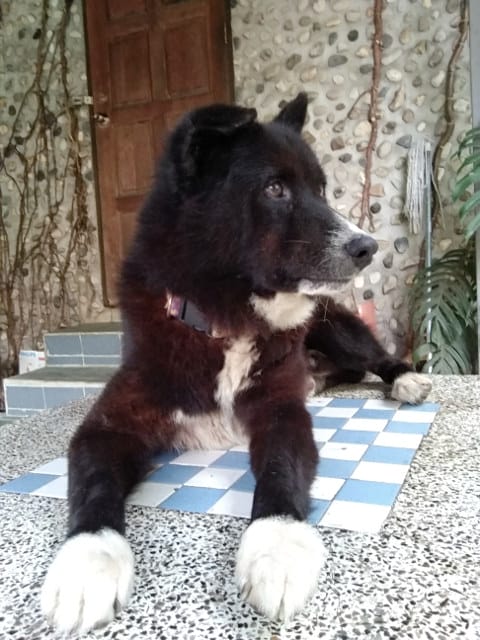 I also used it with a one hour long Skype call.
Camera App Settings
Let's have a look at the camera app interface. In the preview window we have three icons at the top to change flash settings, enable/disable portrait mode (if enabled it will bur the background), and enable/disable HDR.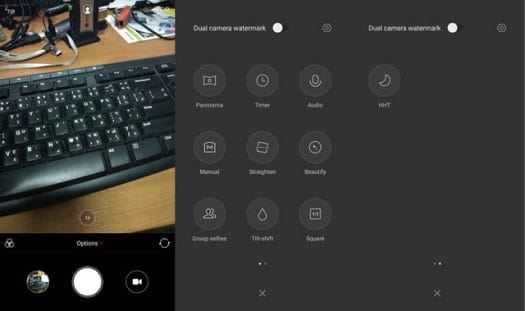 If we tap on Options we'll have the choice to play with Panorama mode, adjust timer and audio settings, set manual camera settings for white balance, exposure time, focus, ISO, lens selection (wide/tele), and more. Tapping the Settings icon on the top right corner will bring further camera settings.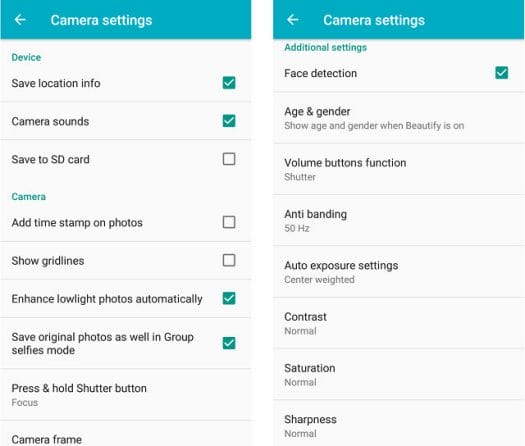 If you plan to share photos with strangers you may want to disable "Save location info" as otherwise your GPS location will be embedded into the photos's EXIF info. Face detection is nice, but you may consider disabling "Age & gender", as it will automatically detect whether a person is male or female, and estimate their age while taking a photo (although it won't show on the photo itself). I've seen the phone misgender people, and age can always be a contentious subject 🙂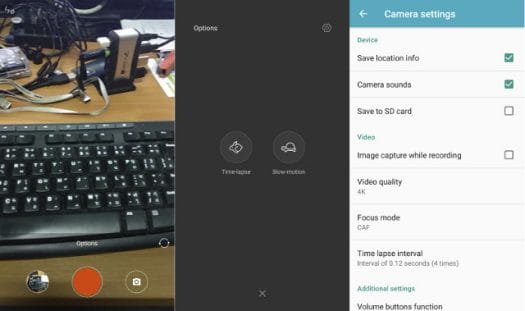 If we switch to video capture we have much fewer options, mostly time-lapse or slow-motion, and we can select video quality (4K, FULL HD, HD, SD).
Battery Life
Xiaomi Mi A1's ~3,000 mAh baterry provides enough juice for over 30 hours in my use cases (Web browsing / YouTube / Gaming 4 to 5 hours a day). I also like to turn off my phone automatically at night between 22:00 and 7:00, so it adds a little to the battery life too. A typical cycle for charge to charge looks as the one below.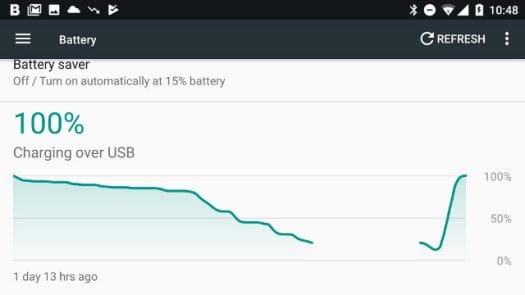 I normally use LAB501 Battery Life app to test battery life from 100% to 15% for browsing, video and gaming cases, with brightness to 50%, WiFi and Cellular (no data) enabled, but for some reasons I cannot explain, the tests would always stop after a few hours – despite several attempts -, not drawing the battery down to 15%.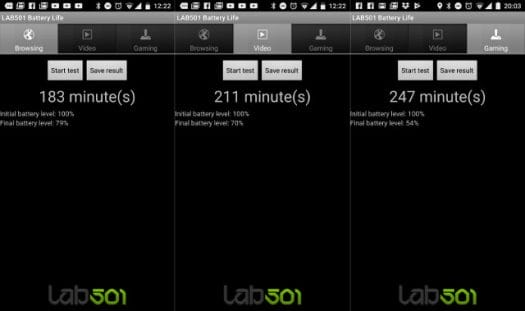 However, the battery discharge on this phone, and Vernee Apollo Lite looks linear…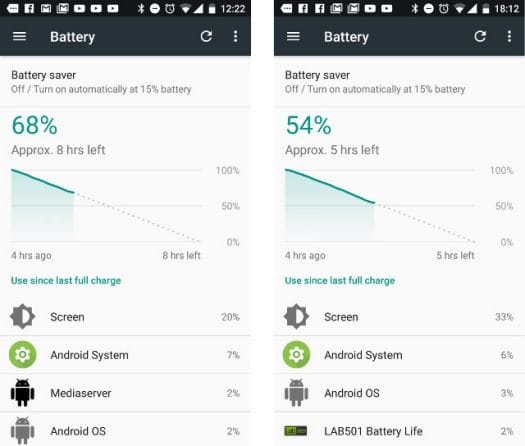 …so I'll use linear approximation to estimate the actual battery life..
Browsing (100% to 15%) – 740 minutes (12h20)
Video (100% to 15%) – 598 minutes (9h58)
Gaming (100% to 15%) – 389 minutes (6h29)
…and compare it to the other battery powered mobile devices I've tested so far.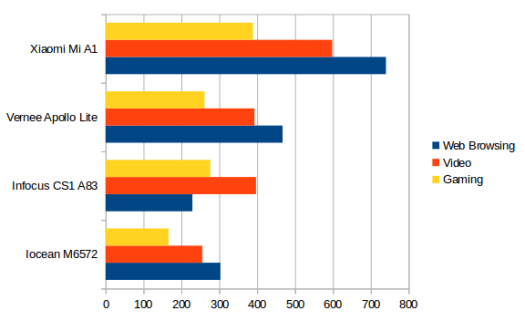 Xiaomi Mi A1 wins hands down against the other (older) devices I've tested when it comes to battery life. The good news is that battery life seems to improve over the years, as the older devices fare the worse. So a few more years, and we can get a week of charge on our phones?
Charging is not as fast as on Vernee Apollo Lite since there's no Quick Charge, and it takes 1h30 to 1h50 to fully charge the phone from 15% to 100%. Topping the battery from a low of 8% to 27% took me 23 minutes. For comparison, I could do a full charge in one hour on Apollo Lite with Quick Pump 3.0, and a 20 minute charge would add about 40% to the battery.
Miscellaneous
Bluetooth
No problems here. I could transfer photos between the phone and Zidoo H6 Pro Android TV box over Bluetooth, connect two different Bluetooth headsets to the phone, and pair with, and retrieve data from a fitness tracker using Smart Movement app.
GPS
GPS is also an improvement over all the other Mediatek phones I've had. GPS fix is super fast like on Vernee Apollo Lite, but while using Nike+ Running, GPS accuracy is much better on the Xiaomi Mi A1 smartphone, as you can see from the two screenshots below.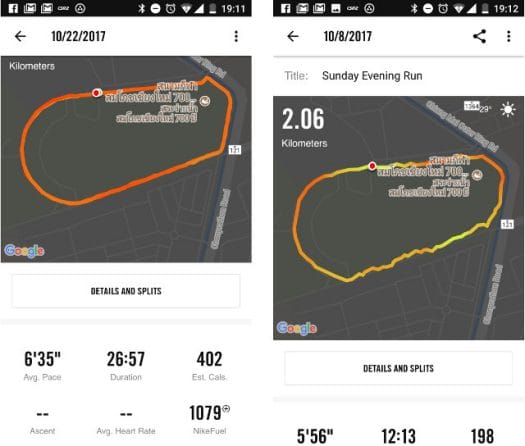 I ran two laps with the Xiaomi phone, and they almost exactly overlap. The downside is that I have to run a little longer to achieve the same distance on the app 🙂
Gaming
I tried four games: Candy Crush Saga, Beach Buggy Bleach, Riptide GP2, and CSR Racing 2. All played very smoothly, to my surprise CSR 2 performed much better than on Vernee Apollo Lite, despite the latter having a more powerful ARM Mali-T880 GPU in Helio X20 SoC. As mentioned in a aforelinked post, I can see 3 potential reasons for the difference in that game: more optimization on Qualcomm SoCs than Mediatek SoCs, slightly lower level of details shown in the Qualcomm phone, better cooling for Xiaomi Mi A1 smartphone, which stays cool at all times, contrary to the Vernee phone which may require a cool pack to run smoothly…
IR Transmitter / Remote Control App
An infrared transmitter is built into Xiaomi Mi A1 smartphone, and can be control with Mi Remote app. I tried with LG 4K UHD TV, and it worked well.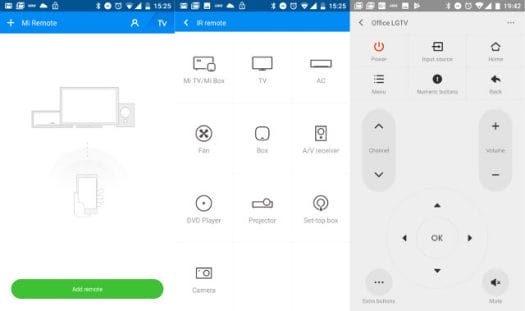 Air conditioners are always more challenging. So first I had to go through a process to detect which Haier aircon model I had, pressing poweroff button, and then other buttons, to find the right model among 158 options.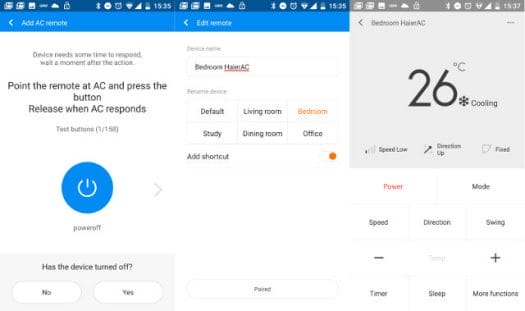 It finally found mine, I gave it a name "Bedroom Haier AC" and realized on some functions would work, and some temperatures are not supported. So not so useful in that case.
Others
Multitouch app reports the touchscreen supports 10 touch points. The smartphone has a single speaker with mediocre quality when listening to music, but that's not that big of an issue as Bluetooth speakers are now rather inexpensive, and in my daily life I mostly use wired or Bluetooth audio headsets. It's good to have a 3.5mm audio jack, but I normally prefer when it's placed on the top of the phone, rather than the bottom left, which can be an issue when using an armband, or while holding the phone.
Video Review
I've also shot a video review mostly summarizing the points above, showing the camera in action, playing Riptide GP2, a YouTube video up to 1080p, opening a large PDF files, etc…
Long Term Review / History
Since I've very satisfied with the phone, I'm going to retire Vernee Apollo Lite, and make Mi A1 my main phone. Since it's also supposed to be upgraded for two years, I'll keep this section to report the history of the phone, like a long term review, and report important events like firmware updates, or if something stops working. I got 3 firmware updates since I received the phone less than a month ago.
September 5, 2017 – Xiaomi Mi A1 announcement
September 12, 2017 – Official launch in India
October 16, 2017 – Unboxing and September 2017 security update (1059.6 MB), Android 7.1.2 / Linux 3.18.31
October 21, 2017 – October 2017 security update (118 MB), Android 7.1.2 / Linux 3.18.31
November 3, 2017 – October 2017 security update (75.7 MB), Android 7.1.2 / Linux 3.18.31
November 15, 2017 – This review
November 22, 2017 – November 2017 security update (466.9 MB), Android 7.1.2 / Linux 3.18.31
December 12, 2017 – December 2017 security update (153.0 MB), Android 7.1.2 / Linux 3.18.31
December 27, 2017 – December 2017 security update (63.4 MB), Android 7.1.2 / Linux 3.18.31
December 31, 2017 – December 2017 update (1107.4 MB), Android 8.0.0 / Linux 3.18.66
January 26, 2018 – January 2018 security update (89.0 MB), Android 8.0.0 / Linux 3.18.66
March 21, 2018 – February 2018 security update (87.3 MB), Android 8.0.0 / Linux 3.18.66
March 29, 2018 – March 2018 security update (440.0MB), Android 8.0.0 / Linux 3.18.66
April 23, 2018 – April 2018 security update (262.63MB), Android 8.0.0 / Linux 3.18.66
May 25, 2018 – May 2018 security update (80.1MB), Android 8.0.0 / Linux 3.18.66
May 30, 2018 – May 2018 security update (58.3MB), Android 8.0.0 / Linux 3.18.66
July 22, 2018 – July 2018 security update (1152 MB), Android 8.1.0 / Linux 3.18.71
August 29, 2018 – August 2018 security update (474.4MB), Android 8.1.0 / Linux 3.18.71
October 1, 2018 – September 2018 security update (393.9MB). Android 8.1.0 / Linux 3.18.71
October 7, 2018 – The phone has become very slow almost unusable apparently due to slow storage leading to very low app loading times (30 seconds to several minutes). A factory reset helped for a short while, but as soon as reinstalled apps the phone started to be slow again. Battery life is not affected, so it's not about an app taking too much resources.
October 20, 2018 – October 2018 security update (238.6 MB). Android 8.1.0 / Linux 3.18.71
November 17, 2018 – November 2018 security update (66 MB). Android 8.1.0 / Linux 3.18.71 (It nearly took 2 hours to complete the update with my failing flash, and the phone still keeps on rebooting for now)
Conclusion
I'm really pleased with my experience with Xiaomi Mi A1 smartphone, and to my surprise it's an improvement over Vernee Apollo Lake with most features, except for fast charging that's missing from the phone.
PROS
Stable and relatively recent Android 7.1.2 firmware
Part of Android One program with promise of regular security and firmware updates for 2 years (including Android 8.x and 9.x).
Good & sharp 1920 x 1080 display; wide brightness range
Excellent Wi-Fi 802.11ac performance
Excellent eMMC flash performance (Best I've tested so far)
Long battery life (about 30 hours per charge for 4 to 5 hours active use per day)
Good front-facing camera and rear dual cameras for depth effect
Overall better app performance compared to my previous Helio X20 based smartphone, especially for some games
CONS
Quick Charge (Fast charging) not available
Videos shot with the rear camera are not smooth in dark scenes, and audio is poor in some videos (metal sound)
SAMBA WiFi performance is average for transfer from phone to server
Mi Remote app (infrared remote) is not working well with my aircon (Haier)
Display is quite glossy / reflective
Built-in speaker not really good to listen to music
Android One support may add about $30 to $40 to the price of the phone
GPL source code not released yet, but an article suggests Mi A1 Linux kernel source code may be released within three months.
I'd like to thank GearBest for providing a review sample. Xiaomi Mi A1 (Black) can be purchased on their shop for $219.99 shipped with coupon A1HS. Other shopping options include GeekBuying, Banggood, eBay, and others online shops.
Some people noticed that Xiaomi Redmi Note 4 smartphone has very similar specifications with a Snapdragon 625 processor, 4GB RAM, and 64GB storage, the same 5.5″ Full HD display, but no dual rear camera, and a bigger battery (4,100 mAh). It's sold for on Aliexpress for about $190 (Black version) and around $180 (Other colors), so if we assume the battery / camera features cancel out (in terms of price) that means Android One support adds about $30 to $40. One way to look at it is that you pay a little less than $2 per month for 2-year support with regular security & firmware updates.

Jean-Luc started CNX Software in 2010 as a part-time endeavor, before quitting his job as a software engineering manager, and starting to write daily news, and reviews full time later in 2011.