We love what we do at CNX Software, covering news, product launches, reviewing various types of boards and devices related to embedded systems. But we are also trying to expand our readers' and our own horizon, always on the look out for unmet market needs that may be filled by the community at large.
A few years ago, we found out that while democracy was all good, about people power and blah blah, it could create severe mental stress to the losing side, with talks of dark days for democracy, the end of the country as we know it, and so forth and so on. So we thought about ways to either help change the election outcome, at least lower the blow by making people feel they did the best they could possibly do beside just throwing a piece of paper in a box. That's why we came up with a solution, and are proud to introduce CNX Election Meddling System.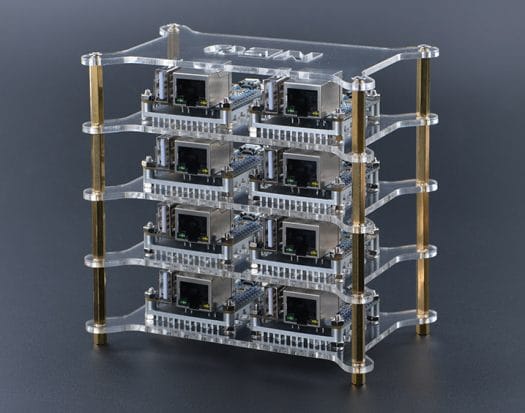 The hardware is comprised of tiny Arm Linux boards arranged in a cluster, and running the latest mainline Linux kernel, with our specialized AI-powered election optimization & meddling system working as well at home, as it does abroad thanks to the software, language, and intelligence specialists involved in the project. The system is mostly destined to work on its own, so politicians and volunteers can focus on offline tasks. The platform can easily scale to target large cities, to states/regions, and even countries, and as a rule of thumb we'd generally recommend one meddling system per one million voters, meaning you could cover the entire United States with just around 150 systems placed in various parts of the country.
Some of the key features of CNX Election Meddling System include:
AI Powered News, Ad & Meme Generator – Our system will automatically generate news, ads and memes either favorable to your selected candidate, or detrimental to your opponents.
Automated Smart Social Sharing & Ad Distributions – Our bot running in CNX Election Meddling System(s) will analyze social media groups, and websites, and publish the AI-generated news, ads, and/or memes in relevant groups and website, at a time of the day that generates the most impact.

Sample Ad Generated and Distributed by CNX Election Meddling System

IoTGodSendTM – Who wants to pay for Google Ads? Clearly nobody, and luckily thanks to the Internet of Things and ISP routers with open ports or/and default passwords, our system can scan IP addresses on the Internet in your target locales looking for vulnerabilities in order to install our goodware in potential voters local networks, so that they can be served ads, news, or memes without going through third party services. You only pay once for the option, and then serving media resources is free, This option is recommended for large scale operations.
VirtualFlaresTM – Some people at some level in the government may not quite like what our systems are doing, so we are covering our & your tracks with randomized MAC address, and operate through the Tor Project and other IP address randomization methods. We also have an option to increase the number of IP address from a specific region or country.
NotMeTM – In case our goodware is discovered we've made sure to implement features that will send the most astute of intelligence officers in the wrong track by leaving clues is was designed and injected by a foreign source. Some of the key ways to achieve this feat to make sure to active the software in time zones that would lead them to believe it is operated from a specific country, and we also added foreign language strings to further throw them offtrack. Here are some of the string generated inside the binary to clearly place the blame on foreign powers:
Je suis français, c'est vrai.
คนไทยจริงๆ ไม่ได้โกหก
Путин это сделал
Opposition Research Generation – Our bot will also browse resources online to find negative news, fake or real, about your opponent(s), in order to generate credible reports with compromising AI-generated photos, and audio recording serving as proof. In the next few years, we should also have the ability to generate realistic and convincing videos in order to further the goals of our customers.
We've also been working on offering soft services through our media contact, collaboration with intelligence agencies, in order to help customer distributes news and research and further amplify the effects of our system.
While we're announcing CNX Election Meddling System public today, we've been working in beta for several years, and satisfied many customers as shown by some of their anonymous testimonies:
Fantastic. Highly recommended. Believe me – Donald T.

We have tanks, but CNX election meddling system is great for mind shaping – Prayut C.

Very effective to manipulate the masses, and I'm eagerly waiting for the yellow vests contingency plan option – Manu M.

Ha ha ha ha – Vladimir P.
At CNX Software, we believe in the democratization of technology, and election meddling should not be reserved to foreign governments or large entities. Our affordable CNX Election Meddling System achieves just that by bringing back the power to where it belongs: THE PEOPLE!

Jean-Luc started CNX Software in 2010 as a part-time endeavor, before quitting his job as a software engineering manager, and starting to write daily news, and reviews full time later in 2011.