First introduced in 2015, 96boards specifications define mechanical, electrical, and software specifications for single board computers, but in 2017 Linaro asked companies to provide some feedback on what they'd like for a 96boards system-on-module standard.
And for the first day of Linaro Connect Bangkok 2019, the 96Boards SoM specifications have now been announced, together with the introduction of Rockchip RK3399Pro powered TB-96AI and Rockchip RK1808 based TB-96AIoT, the first compliant 96Boards SoMs, and corresponding 96Boards SoM Carrier Board.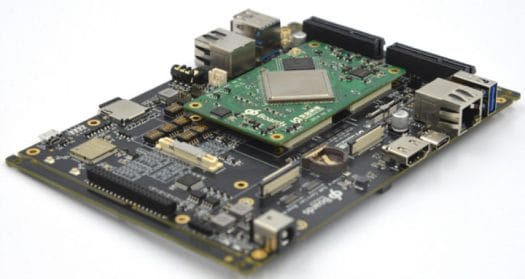 96Boards System-on-Module Specifications
Two 96Boards SoM specifications have been unveiled with the Compute Module Specification and the Wireless Specification.
The 96boards Compute Module Specification defines a SoM with up to four 100-pin connectors, but only one is mandatory (X1), and two form factors are specified: SOM-CA (85 x 50 mm) and SOM-CB (50 x 50 mm).
List of signals associated to each connectors:
X1 – SoM managements, 1x UART, 2x I2C, 1x SD, 2x SPI, 1x CAN, 1x multiplexed DSI/eDP/LVDS, 2x USB 2.0 OTG/Host, 1x USB 2.0/3.0 host
X2 – 1x I2S, 1x multiplexed I2S/PCIe, 6x multiplexed GPIO/analog audio, 1x multiplexed MIPI CSI/DSI/Audio, 1x Ethernet, 1x PCIe 4x, 1x USB 2.0 OTG/Host, 1x USB 2.0/3.0 device, 1x smartcard/muxed with PCIe, 1x SATA
X3 – 7x GPIO, 4x MIPI CSI inc. 1x multiplexed with MIPI DSI, 1x MIPI DSI multiplexed with MIPI CSI, 1x Ethernet, 1x HDMI
X4 – 2x UART, 2x I2C, 1x I2S mux with SATA, 7x GPIO mux with ADC/SPI, 1x SD. 2x SPI, 2x CAN (1x mux), 1x PCIe x4, 1x USB 2.0 OTG/Host, 1x USB 2.0/3.0 host, 1x SATA mux with I2S
That's plenty of multiplexed signals which at first sight open the door for potential incompatibilities between modules.
The 96boards Wireless specification defines wireless modules with 802.15.4, BLE, WiFi, LoRa, NB-IoT, LTE-M, and future wireless standards. Again two form factors are specified with SOM-WA and SOM-WB and 20-pin are defined with GPIO, PWM, UART, SD, SPI, I2C, ADC, USB, SWD, and VDD/ground.
TB-96AI & TB-96AIoT Modules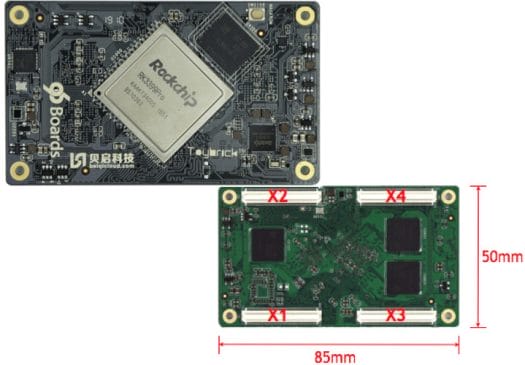 TB-96AI module features Rockchip RK3399Pro hexa-core processor with a 3 TOPS NPU, 8GB RAM, a 85x50mm form factor, 4x 100-pin connectors with DP1.2, HDMI 2.0, MIPI-DSI, eDP multiple display output interfaces, PCIe x4, USB 3.0 & 2.0 ports, Gigabit Ethernet, and low speed signals mandated by the specifications.
It also appear some of the signals are optional, as for example X2 is supposed to have Ethernet, but in the list of features below it is missing.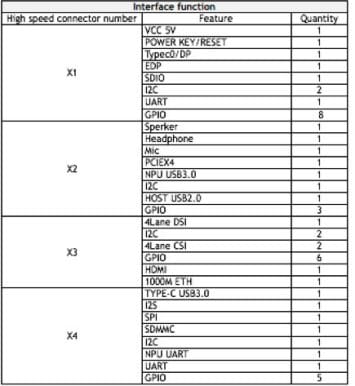 TB-96AIoT is equipped with Rockchip RK1808 AIoT chip, manufactured using a 22nm process, basically being the 3.0 TOPS NPU found in RK3399Pro processor with two Arm Cortex-A35 cores. The module has a smaller 50x50mm form factor, and may be at an earlier stage of development since only a render of the PCB is shown.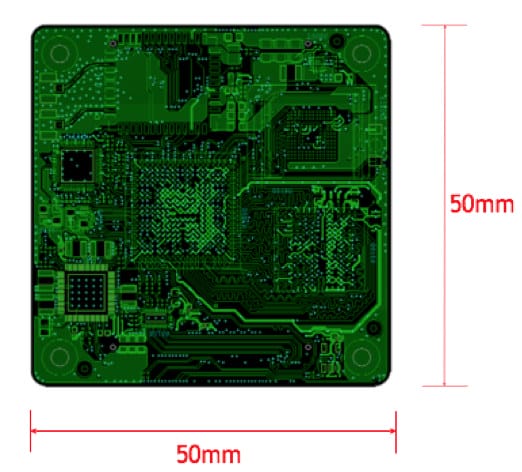 96Boards SoM Carrier Board
We'll also need a carrier board for those module, and one is indeed provided with support for both SOM-CA and SOM-CB form factors, as well as 96boards Mezzanines (add-on boards).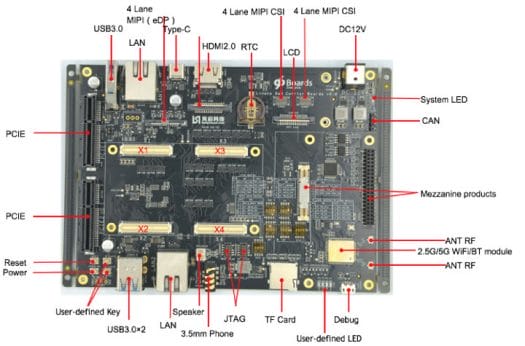 Key features:
4x 100-pin connectors for 96Boards SoM
Storage – Micro SD card
Video Output – 4-lane MIPI DSI (eDP), HDMI 2.0, LCD header
Audio – 3.5mm audio jack, speaker header
Camera – 2x 4-lane MIPI CSI connectors
Connectivity – 2x Gigabit Ethernet, Dual band WiFi + Bluetooth module
USB – 3x USB 3.0 ports, 1x USB type-C port
Expansion

2x PCIe sockets
LS & HS connectors for mezzanine products
CAN bus header

Debugging – micro USB debug port, JTAG
Misc – Reset, power, and 2x user buttons; user LEDs, and system LEDs; RTC battery socket
Power Supply – 12V DC
All hardware will be sold through a company called Beiqicloud, which should be related to VAMRS because of the "ToyBrick" reference on the boards silkscreen. You'll find details about all three hardware platforms on the products page of the company.
You may wonder where you can download 96Boards SoM specifications, and the answer is I don't know, but eventually they should be listed here. The new 96Boards specs have not been announced by Linaro and/or 96Boards yet, and instead I found most of the information in a blog post on Seeed Studio.

Jean-Luc started CNX Software in 2010 as a part-time endeavor, before quitting his job as a software engineering manager, and starting to write daily news, and reviews full time later in 2011.