A few days ago, we covered Dakota DR40X9 Wave-2 AC router board powered by Qualcomm QCA4019/QCA4029 SoC, but we were informed about MikroTik RB450Gx4, an Ethernet router with five Gigabit Ethernet ports, a serial port, two power jacks, and a microSD card slot that is also based on the 4-core Qualcomm IPQ4019 SoC.
Mikrotik has used this SoC as the heart of its RB450Gx4 Router Board. It has 5 Ethernet ports, one of them able to power the board by means of Power-On-Ethernet (PoE), and another port can be used as PoE output. In addition, it may be powered from 2 DC Jacks.
Router price is 99$, making it a great choice for 5 ports, PoE enabled router with a great SoC which allows to use Mikrotik Router OS firmware or to install a Linux distribution, like OpenWrt.
Additionally, it provides PCB temperature and voltage monitoring.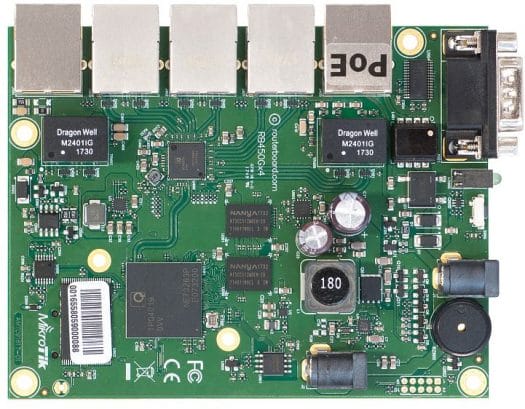 MikroTik RB450Gx4 Router specifications:
CPU: IPQ-4019
Architecture: ARM 32 bits
Number of cores: 4
CPU Nominal Frequency: 716 MHz
Dimensions: 90 x 115 mm
RAM Memory: 1GB
Storage Memory: 512 MB
Type of storage memory: NAND
Temperature range: -40ºC – 70ºC
Number of 10/100/1000 Ethernet ports: 5
PoE in: 802.3af/at
PoE out: Passive PoE
PoE input voltage: 12-57 V
DC Jack input: 10-57 V
Max out per port output (input > 30 V): 500 mA
Max out per port output (input < 30 V): 500 mA
Max total out (A): 500 mA
Max power consumption: 16W
Mikrotik Router can be is provided with RouterOS software. You can start to know about this software, going to http://demo.mt.lv/ (login demo; no password), so you can start emulating the board. The license provided with the device is License level 5, for more information about licensing, visit this page.
Anyway, you can also run a Linux distribution for embedded systems like OpenWrt, there are lots of guides for learning how to do so step by step, you can find one of them, for instance, here. More details may also be found on the product page.
Thanks to tkaiser for the tip.

I'm Javier Longares Abaiz, an electronic engineer with more than 15 years of professional experience developing new microcontroller-based products. During this time, I've developed dozens of products, and I can proudly say than some of them are currently being sold in more than 100 countries.
Nowadays I offer firmware and hardware consultancy services, including the development of new devices from scratch.