Last year, we wrote about F&S Elektronik Systeme PicoCORE MX7 system-on-module (SoM) powered by NXP i.MX 7ULP processor manufactured with a 28nm FD-SOI process, and that was announced a year earlier. The official launch of the module was planned for Q3 2018, but there have been some delays as LinuxGizmos reports NXP has only started mass production of their i.MX7 ULP this June.
With the official launch of i.MX 7ULP, the company also introduced the official i.MX 7ULP Evaluation Board (MCIMX7ULP-EVK) as showcased on Element14's community and several other companies announced i.MX 7ULP systems-on-modules.
Benefits of NXP i.MX 7ULP Processor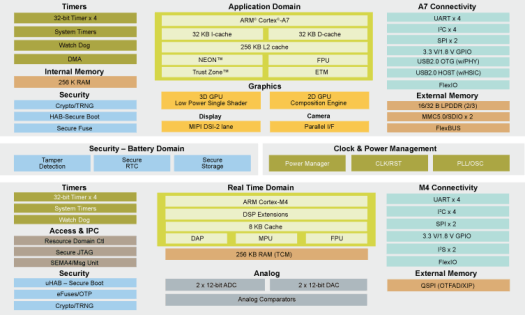 The i.MX7 ULP family of processors is an extremely power-efficient series, that is utilizing lower power for more functions. The SoC is being touted as the most power-efficient processor that can be obtained that also houses a 3D GPU.  Although like the i.MX7, the i.MX 7ULP combines both Cortex-A7 and Cortex-M4 cores but can effectively bring the power states even lower than the already power-efficient i.MX7.
The real divergence is the i.MX7 ULP boasts a 3D Vivante GC7000 NanoUltra GPU, while also carrying the 2D G320 Composition Processing Core GPU. In the overall specs the i.MX7 ULP has a 256 KB L2 cache, with security structures that include eFuses, RNG, encrypt/decrypt. Tamper detection, as well as boot and RTC.
Features include as follows.
Heterogeneous multicore Processing Architecture, Cortex-A7, and Cortex-M4 configuration
2D and 3D Graphics Processing Units (GPU)
External Memory Support: LPDDR2/LPDDR3
Flash Memory Support: Managed NAND (eMMC, eSD)
MIPI DSI Display Interface
Parallel Camera Interface
512KB of total SRAM
Quad SPI (w/ On The Fly Decryption)
Communication Ports (I2C, SAI, UART, SPI, SDIO, USB)
NXP i.MX 7ULP Evaluation Board

The EVK for the i.MX7 ULP SoC is costing $199.00 and come with support for Linux and Android. The Cortex-M4 chip supports FreeRTOS.
The package contains
NXP i.MX7 ULP Evaluation Board
USB Cable
5V/2A universal power supply
8 GB SD Card
Preloaded with a bootable Linux distribution and demo
Optional LCD Touch Screen is available.
The compute module of the EVK could also be used as an SBC. The rundown on what the unit comes equipped with is as follows.
i.MX 7ULP SoC
1GB LPDDR3
8MB quad-SPI Flash
Support for NAND, eMMC, or eSD storage types.
Wireless Module 802.11 b/g/n and Bluetooth 4.1
Onboard antenna and external antenna connector.
microSD 3.0 slot
USB 2.0 OTG Type C
NXP PF 1550 power management IC (PMIC) (optional)
The Carrier Board of the i.MX 7ULP EVK
Full size SD/MMC 3.0 slot
HDMI port
MIPI-DSI connector
Audio Jack (Wolfson WM8960 codec)
Speaker interface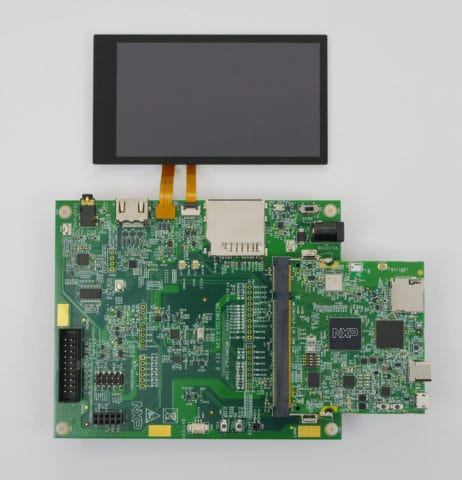 Additional EVK features include USB HSIC, Arduino, MFI, ADC/DAC interfaces. JTAG and UART/USB debugging features are available. And to add to that you get a 6-axis accelerometer/magnetometer, gyroscope, and an I2C pressure sensor altimetry.
Other Platforms for i.MX 7ULP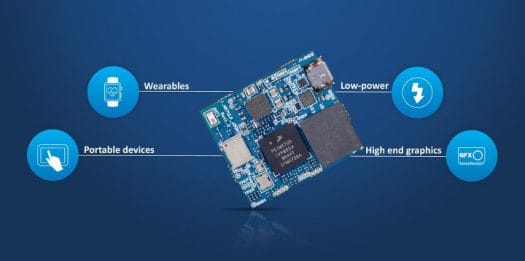 Volansys' VOL NXP i.MX7ULP uSOM is an ultra-low-power processor SOM, carrying all the features of the i.MX 7ULP, as well as being targeted for the multiple portable markets, such as wearables and portable devices. Its features are focused on long battery life and high-end graphics. Volume pricing starts at $55.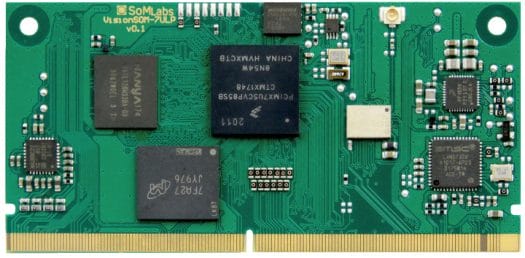 SoMLabs' Action SOM-7ULP module is now shipping with an SoC clock speed of 800 MHz. There is support for Linux and Android and the Cortex-M4 MCU is run by FreeRTOS. The MXM314 connector includes MIPI-DSI, 24-bit Parallel camera, USB 2.0 OTG, up to 4x 12C, 4x SPI, 2x 12-bit ADC handling up to 16 input channels and audio interfaces.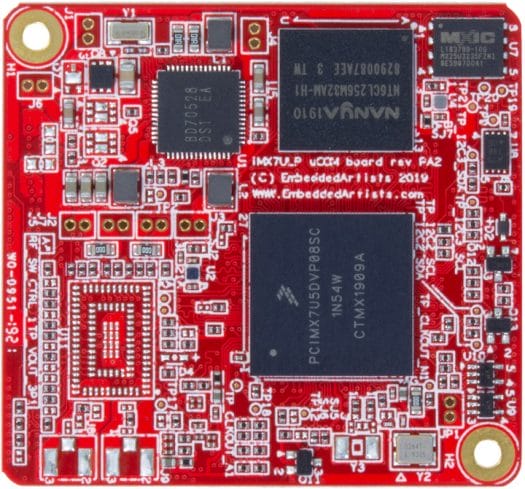 Embedded Artists' iMX7ULP uCOM is a compact (42x45mm) module that targets the portable device market with support for battery, sleep mode for the Cortex-A core, and wake up using the Cortex-M4 core.
F&S Elektronik Systeme PicoCORE MX7 SoM we covered last year has now launched, and the Starterkit PicoCore MX7ULP Linux is now availablefor 180 Euros including one module, a baseboard, a cable kit, access data to documentation and software. Price of the module itself is available on request.

Stephen started writing about technology after publishing sci-fi short stories. His first White-Paper, written in 2008, was well received and inspired him to continue writing about technology. Today he writes in the technology space full time, covering a multitude of topics. During the time he wrote part-time he edited hundreds of titles for large publishers, in science and technology. He lives in Staten Island, with his wife and children.