The latest board to use the STM32MP1 dual Cortex-A7 and the Cortex-M4 processor is the Emtrion emSBC-Argon, which adds to SBC's such as the PanGu Board. The emSBC-Argon, is a powerful yet reasonably priced SBC that is feature-rich and out-of-the-box ready. The low-power needs of the board enable it to run real-time processing.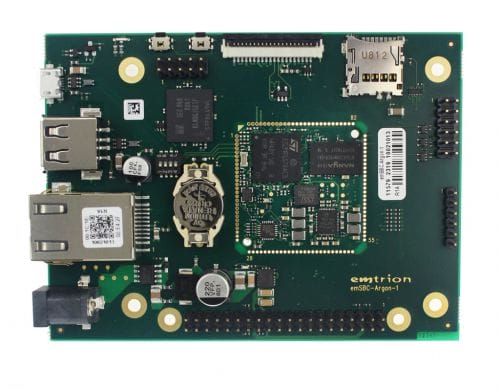 Protocols such as PROFINET, EtherCAT, EtherNet/IP are all available and ready to run real-time processes and communication applications.
Key Features:
STM32MP157AAC processor from STMicroelectronics
Arm Dual Cortex-A7 @ 650MHz – 2470 DMIPS
Arm Cortex-M4 @ 200MHz – 250 DMIPS
Co-processor: ARM Neon, FPU, and 3D GPU
Operating system: Linux or Android
Virtualization capable (Jailhouse)
Up to 512 MB DDR3L SDRAM
8GByte (up to 64 GB) eMMC Flash
Up to 8 MB of QSPI-NOR-Flash
2x FD-CAN 2.0
Dimensions: 104.5 x 77.5 mm
The emSBC-Argon is capable of virtualization using Jailhouse, for those real-time functions that require breaking down into software "cells" for higher-order functionality.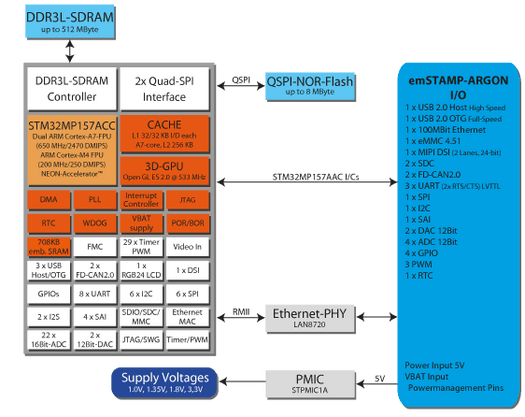 The SBC supports Android and Linux operating systems. The true ability lies with the STM32MP1, which runs at 600 MHz and needs very little power to operate at processing speeds compatible with real-time communications.
The Arm Cortex A7 allows the unit to run Linux, while the Cortex M4 runs the real-time processing through various ports and interfaces. That allows the Argon to re-use code from existing STM32 projects. Emtrion embedded systems offers paid in-house support for the emSBC Argon. More details can be found on the product page.

Stephen started writing about technology after publishing sci-fi short stories. His first White-Paper, written in 2008, was well received and inspired him to continue writing about technology. Today he writes in the technology space full time, covering a multitude of topics. During the time he wrote part-time he edited hundreds of titles for large publishers, in science and technology. He lives in Staten Island, with his wife and children.