The latest release from IBase is a single board computer that seems to be designed for the mass business markets, especially in signage. The IBR210 is a 3.5-inch (147 x 102 mm) low-power multimedia SBC based on the NPX ARM Cortex-A53/Cortex-M4 i.MX 8M processor that comes in either a dual or quad-core running in the 1.3 GHz to 1.5 GHz frequency range. The unit was announced on August 1, 2019, but as of yet there is no pricing information.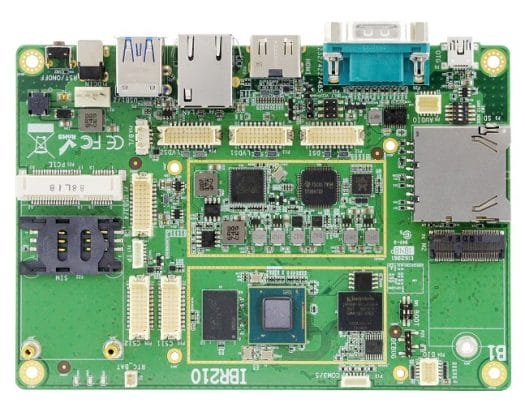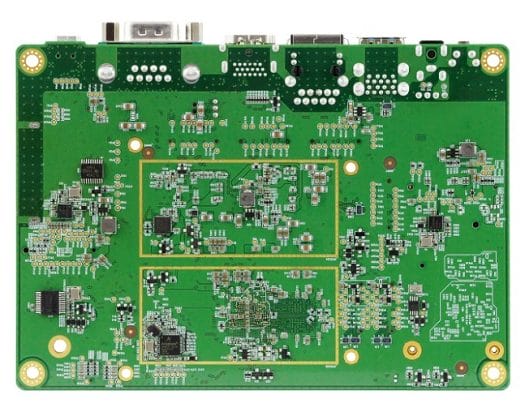 The GPU is a Vivante GC7000Lite/GC7000VLX, and an integrated Cortex-M4F real-time core, in the i.MX8M. Although for the i.MX8M Mini is a faster and newer SoC, the i.MX8M supports 4K video and HDR.
The system runs Android 9 or Yocto v2.5 Linux, with up to 3GB soldered LPDDR4 and up to 64GB eMMC. The video output supports 4K via HDMI 2.0, while there are 2 USB 3.0 ports. The board supports a wide range of environments with a standard operating range of 0 to 70 ℃ which can be increased to an optional -40 to 85 ℃.
IBase IBR210 comes in after the company's IBR117 SBC powered by NXP iMX6 SoC in the same 147 x 102 mm form factor.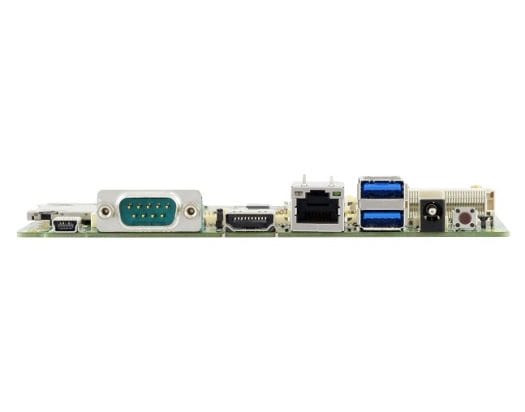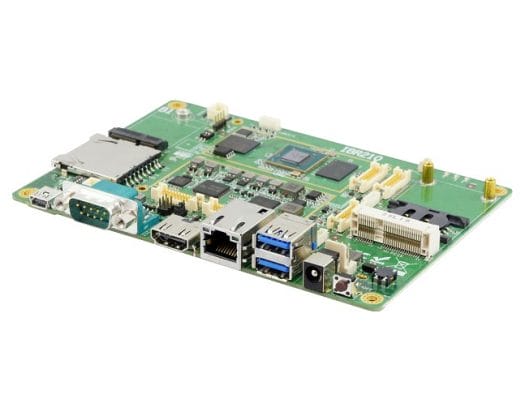 Specifications listed for the IBR210 include:
Processor – NXP i.MX8M Dual or Quad (2x or 4x Cortex-A53 @ up to 1.5GHz); Vivante GC7000Lite GPU; VPU; Cortex-M4F @ 266MHz
Memory/storage:

3GB LPDDR4 RAM soldered
8GB to 64GB eMMC
MicroSD slot

Networking/wireless — 10/100/1000 Ethernet port
Media I/O:

HDMI 2.0a port for up to 4k@60 with HDR
Dual-channel LVDS (via FHD)
MIPI-DSI header
2x MIPI-CSI headers
Audio I/O header
Backlight support (3/5/12V @ 1A)

Other I/O:

2x USB 3.0 host ports
2x USB 3.0 headers
Micro-USB 2.0 OTG port
RS-232/422/485 DB9 COM port
3x 2-wire UART headers (1x for debug)
I2C header
8x GPIO

Expansion:

M.2 E-key 2230 slot (USB, SDIO, UART, PCIe)
Mini-PCIe slot with SIM socket

Other features — Watchdog; 3x LEDs
Power — 12-24V DC input; power button
Operating temperature — 0 to 70°C; optional -40 to 85°C; 10%~90% (non-condensing) humidity resistance
Dimensions — 147 x 102mm (3.5-inch)
Operating system — Yocto v2.5 and Android 9 BSPs with Linux Kernel 4.14.62.
Offerings
| | |
| --- | --- |
| BR210-D308 | 3.5" SBC, i.MX 8M Dual 1.5GHz, 3GB LPDDR4, 8GB MLC eMMC |
| IBR210-D308I | Industrial Grade 3.5" SBC, i.MX 8M Dual 1.3GHz, 3GB LPDDR4, 8GB MLC eMMC |
| IBR210-Q316 | 3.5" SBC, i.MX 8M Quad 1.5GHz, 3GB LPDDR4, 16GB TLC eMMC |
| IBR210-Q316I | Industrial Grade 3.5" SBC, i.MX 8M Quad 1.3GHz, 3GB LPDDR4, 16GB TLC eMMC |
The platform offers a wide range of applications in IoT, with an eye towards signage in airports, train stations, malls and HMI passenger information applications, through its dual-channel FHD LVDS display capabilities via the HDMI 2.0 port.
More information can be found on the IBR210 product page and in the Ibase announcement.
Information on the IBR210 was found in part in an article on the LinuxGizmos website.

Stephen started writing about technology after publishing sci-fi short stories. His first White-Paper, written in 2008, was well received and inspired him to continue writing about technology. Today he writes in the technology space full time, covering a multitude of topics. During the time he wrote part-time he edited hundreds of titles for large publishers, in science and technology. He lives in Staten Island, with his wife and children.