Last year, we wrote about Lichee Tang FPGA board powered by Anlogic EG4S20 FPGA and targeting RISC-V development for just under $15.
The company, now called Sipeed, has made an even cheaper FPGA board with Tang Nano equipped with GOWIN Semi GW1N FPGA part of the company's LittleBee family.
Sipeed Tang Nano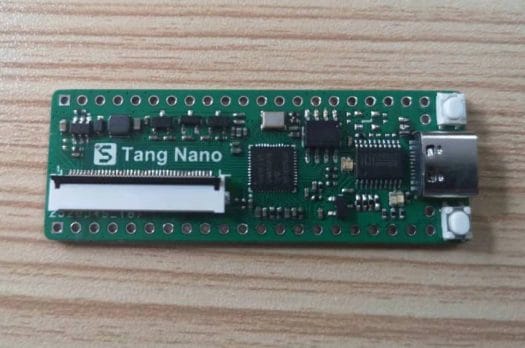 Sipeed Tang Nano specifications:
FPGA – Gowin GW1N-1-LV FPGA with 1,152 LUT4, 864 Flip-Flops(FF), 72Kbit Block SRAM, 4x B-SRAM, 96Kbit user flash, 1x PLL, 4x I/O banks
System Memory – 64Mbit (8MB) 3.3V PSRAM
Display – Standard 40-pin RGB LCD interface with on-board screen backlight driver circuit (default normally open, EN pin can be connected to FPGA)
USB – USB Type-C port for download and power supply
Expansion – 34 I/O ports and power pins on headers (unpopulated), breadboard-compatible
Misc – RGB LED, 2x user buttons, 24MHz crystal oscillator
Power Supply – 5V via USB-C port (at least 400 mA)
Dimensions – 58.4 x 21.3 x 4.8 mm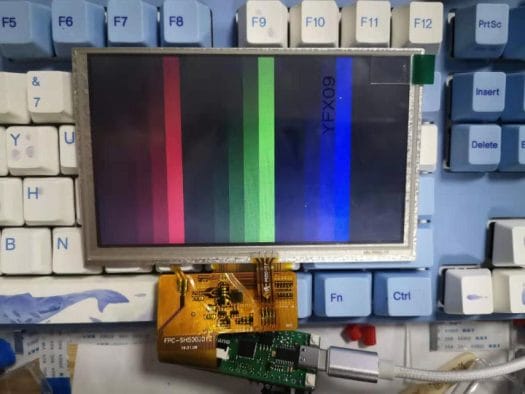 Everything is done through a USB-C cable with which the board is powered, and you can power download the bitstream. Programming can be done with GOWIN IDE available for Windows and Linux. There's a Wiki with more information, but note that for now the English section is empty, and all info is on the Chinese version. Browsing that directory will bring you to more hardware documentation and the schematics, as well as (soon) more details about the software.
If you'd like to purchase the board, you can do so via Taobao, or a third-party Taobao forwarder if you are outside of china, where it is sold for 34.90 RMB ($4.9 US), or up to 132 RMB (~$18) with a 5″ color display.
GOWIN GW1N FPGA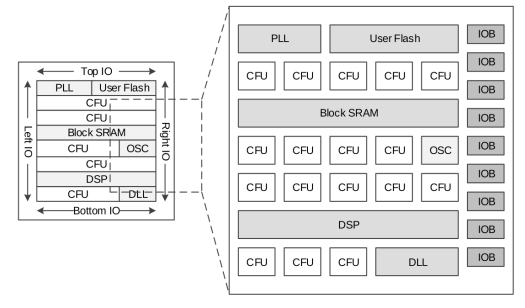 The directory also contains the datasheet of GOWIN GW1N FPGA in both English and Chinese, where we can find the main features of the tiny, low-cost FPGA:
User Flash

GW1N-1, GW1N-1S – 100,000 write cycles, > 10-year data retention at +85 °C, selectable 8/16/32 bits data-in and data-out, 256 bytes page size: 256 bytes, 3 μA standby current, page write time: 8.2 ms
GW1N-2/2B/4/4B/6/9) – Up to 608Kbits, 10,000 write cycles

Low power consumption

55 nm embedded flash technology
LV: supports 1.2 V core voltage
UV: supports same power supply for VCC / VCCO / VCCx – Note: GW1N-1 and GW1N-1S devices do not support UV version, the other devices
support both.
Clock dynamically turns on and off

Multiple I/O Standards

LVCMOS33/25/18/15/12; LVTTL33, SSTL33/25/18 I,
SSTL33/25/18 II, SSTL15; HSTL18 I, HSTL18 II, HSTL15 I; PCI,
LVDS25, RSDS, LVDS25E, BLVDSE, MLVDSE, LVPECLE, RSDSE
Input hysteresis option
Supports 4mA,8mA,16mA,24mA,etc. drive options
Slew rate option
Output drive strength option
Individual bus keeper, weak pull-up, weak pull-down, and open
drain option
Hot socket
I/Os in the top layer of GW1N-1S and GW1N-6/9 devices support MIPI input
I/Os in the bottom layer of GW1N-6/9 devices support MIPI output
I/Os in the Top layer and Bottom layer of GW1N-6/9 devices support I3C OpenDrain/PushPull conversion

High-performance DSP

High-performance digital signal processing ability
Supports 9 x 9,18 x 18,36 x 36 bits multiplier and 54 bits
accumulator;
Multipliers cascading
Registers' pipeline and bypass
Adaptive filtering through signal feedback
Supports barrel shifter

Abundant slices

Four input LUT (LUT4)
Double-edge flip-flops
Supports shift register and distributed register

Block SRAM with multiple modes

Supports dual port, single port, and semi-dual port
Supports bytes write enable

Flexible PLLs+DLLs – Frequency adjustment (multiply and division) and phase
adjustment; Supports global clock
Built-in flash programming – Instant-on; supports security bit operation; supports AUTO BOOT and DUAL BOOT
Configuration

JTAG configuration
GW1N-2B and GW1N-4B devices support JTAG transparent
transmission
Offers up to six GowinCONFIG configuration modes: AUTOBOOT,
SSPI, MSPI, CPU, SERIAL, DUAL BOOT
As you can see in the table below, GW1N-1 used in Tang Nano board only supports some of the features and is one of the entry-level members of the family.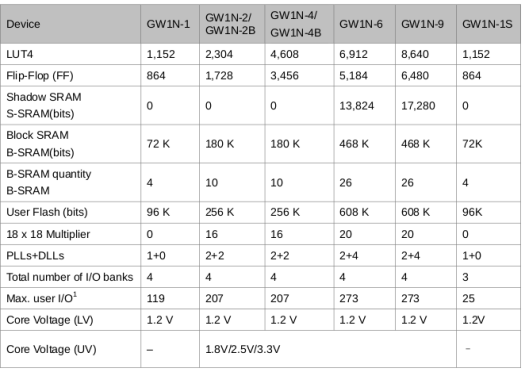 You'll find more by checking out the datasheet.

Jean-Luc started CNX Software in 2010 as a part-time endeavor, before quitting his job as a software engineering manager, and starting to write daily news, and reviews full time later in 2011.