After our interview with Rak Wireless CEO, we received a comment inquiring about the availability of SX1302 gateways. Semtech so far had two LoRa transceivers for gateways namely SX1301 and SX1308, but I had never heard about a third one.
Semtech SX1302 is brand new, the latest generation of baseband LoRa chip for gateways that is said to reduce current consumption in order to simplify the thermal design of gateways, as well as the BoM (bill of materials) costs), while being capable of handling a higher amount of traffic.
Semtech SX1302 LoRa Transceiver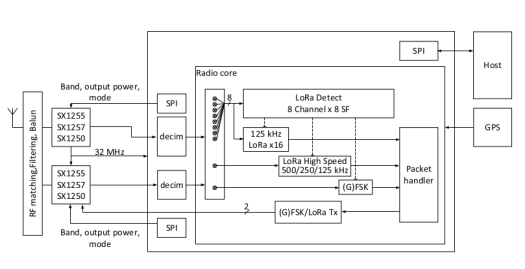 Key features:
Up to -141 dBm sensitivity with SX1250 Tx/Rx front-end
125 kHz LoRa reception with:

8 x 8 channels LoRa packet detectors
8 x SF5-SF12 LoRa demodulators
8 x SF5-SF10 LoRa demodulators

125 /250 / 500 kHz LoRa demodulator
(G)FSK demodulator
Direct interface to Semtech transceivers SX1255, SX1257 and SX1250
SPI host interface
Single 32 MHz clock
QFN68 Package
Temperature Range – -40°C to +85°C.
One important change is support SF5 and SF6 high-speed packets that have been made possible by eight extra modems, while the eight others are handling SF7-SF12 traffic. SF stands for Spreading Factor which represents the duration of the transmission.
Semtech SX1250 Front-End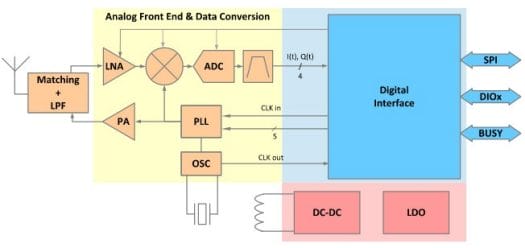 SX1302 is meant to be used paired with SX1250 sub-GHz RF Front End device which covers any frequency band below 1 GHz.
Features:
Half Duplex operation
Capable of low power operation
150 – 960 MHz ISM frequency bands

Europe 868MHz
India 866MHz
North America 915MHz
APAC 920MHz
Asia 923MHz
Lower UHF bands 169 and 433 or 490MHz

Can handle LoRa or FSK
Built-in differential Low Noise Amplifier (LNA)
Controlled via a serial SPI interface and a set of general-purpose input/output (DIO)
Semtech Corecell SX1302 LoRa Gateway Reference Design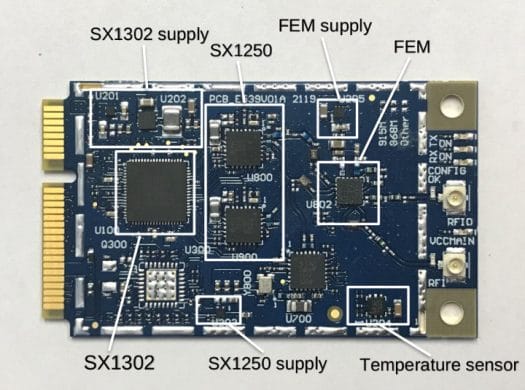 The company has also created a Corecell reference design based on one SX1302 transceiver and two SX1250 RF front-ends, a 27dBm front-end module, and all of the necessary filters and power supplies to create an 8-channel LoRa gateway.
Highlights:
10x power reduction compared to legacy products
Maximum TX output power = +27 dBm
Receive 8 LoRa channels multi-data rates (SF5 ~ SF12 / 125 Simultaneously kHz) + 2 mono-data rate (LoRa 250 / 500 kHz and FSK 50 kbps)
Half Duplex mode
Typical sensitivity level:

-141 dBm at SF12 BW 125 kHz
-127 dBm at SF7 BW 125 kHz
-111 dBm at FSK 50 kbps

Typical Power Consumption @ 5V

39mA with 8 RX CHANNELS ON and TX OFF
421 mA with 8 RX CHANNELS OFF and TX ON at 27 dBm (868 MHz)
148 mA with 8 RX CHANNELS OFF and TX ON at 14 dBm (868 MHz)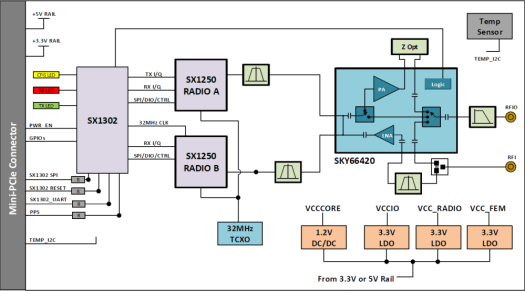 Semtech Corecell is designed for home, building and factory automation. The board interface with the host machine through a mini PCIe interface that requires the following signals:
1x SPI coming from host to the SX1302 SPI interface
1x I2C coming from host to the temperature sensor I2C interface
Power Enable line
SX1302 reset line
PPS (

Pulse-Per-Second

) signal
It's note quite standard so the company also designed an interface board for the mini PCIe card as well as a 40-pin header for easy connect to Raspberry Pi board as shown below.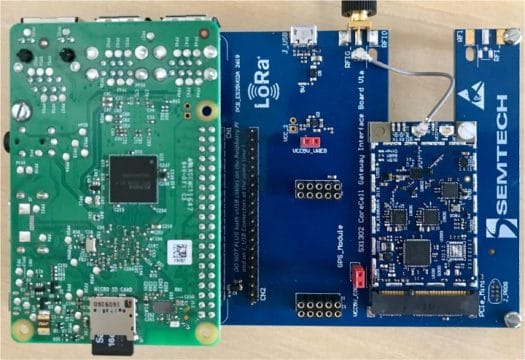 That also probably means we should shortly see Raspberry Pi-powered SX1302 gateways come to market.
Technical Documentation, and Availability
You'll find more details including the datasheets on the transceiver, RF front-end, and reference design pages. SX1302 Hardware Abstraction Layer (HAL) and tools such as the packet forwarder can already be found on Github. You may also want to follow the thread about SX132 on TTN forums for new development, or read the comment in this blog post :).

All three are currently listed on Mouser (here and there) with SX1302 going for $18.22 per unit on a 3,000 pieces reel, SX1250 for $2.80, and the Corecell gateway reference design is apparently going for $257.99. Commercial SX1302 gateways will hopefully be more affordable since SX1302, SX1250, and the Corecell gateway are actually slightly cheaper than their SX1308 equivalents.

Jean-Luc started CNX Software in 2010 as a part-time endeavor, before quitting his job as a software engineering manager, and starting to write daily news, and reviews full time later in 2011.