CNX Software interviews Ken Yu, RAK Wireless' founder & CEO, to learn more about the company and the current & future state of the LPWAN (Low Power WAN) market especially with regards to NB-IoT and LoRaWAN.
CNXSoft: We've already covered several products from RAK Wireless on CNX Software, starting with WiFi IoT boards several years ago, and more recently LPWAN products based on NB-IoT or LoRa. But for readers who may not be familiar with RAK Wireless yet, could you provide a short description of what the company does?
Ken Yu: RAKwireless was founded in 2014. The core founder team consists of professionals coming from established leaders in the Networking industry as Qualcomm, H3C, etc. Because our engineers have more than 10 years of experience designing Wi-Fi solutions, this was the core of our business in the beginning.
RAKwireless is working towards a vision of a connected world and In building low-power, wide-area networks for the Internet of Things, we make IoT simple.
We are an industrial-leading connectivity solutions provider for building Network Infrastructure and Modular Edge devices for IoT, Smart City, and Smart Agriculture markets. We offer in-house developed hardware and software products, utilizing LPWA (Low Power Wide Area) technologies.
Our main focus is helping organizations and individuals build high-performance and energy-efficient solutions for monitoring and control, at the core of which are RAKwireless' innovative modular components and unified software interface (RUI). We are committed to an "IoT Made Easy" philosophy, providing customers with cost-efficient and easy to use solutions that are developer tested and enterprise-ready.
CNXSoft: More of a fun question. In the Thai language, "RAK Wireless" reads like "LOVE wireless". I doubt that was the intended effect here, so what does RAK mean in your company name?
Ken Yu: RAKwireless is actually made of the first letters from the names of the initial founders R-A-K. You can think of it as a "Rapid Access Kit", meaning we are developing networking access technology to allow Things to connect to the Internet in the most efficient way.
CNXSoft: Based on the news flow we've got here on CNX Software, LoRa, NB-IoT, and Sigfox seem to be the three most popular LPWAN standards. I understand RAK Wireless does not provide Sigfox modules yet, but which technology is the most popular among RAK Wireless' customers, and how does it vary from regions or countries.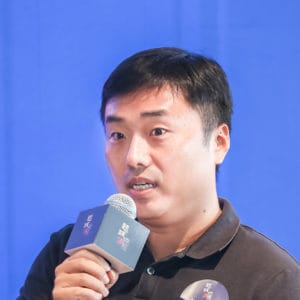 Ken Yu: Currently, RAKwireless has two major product lines.
The first one is comprised of LoRaWAN Networking infrastructure solutions, which include LoRaWAN Gateways and the software required for their efficient management and monitoring of performance. This is key as IoT is in its early stages and in order to make it possible for developers to experiment with end-user solutions we need to have a solid network with stable connectivity to use as a backbone.
The second one is geared toward end-user devices, which we are working on unifying under an IoT Modular Platform. It is a complete and qualified software platform for IoT that includes integrated software tested to commercial standards, a scalable family of microcontrollers (MCUs), unified software development tools, plus support and maintenance. The connectivity options so far include LoRaWAN and NB-IoT.
The platform gives back time and resources to developers, so they can innovate and differentiate their products and get to market sooner.
CNXSoft: When users decide whether to use an NB-IoT or a LoRa based solution, what are the main factors influencing that decision? Is that coverage, battery life, bandwidth, the overall cost of hardware, or do other factors come into play? I understand LoRa should provide longer battery life at the cost of having a lower bandwidth, while NB-IoT offers higher bandwidth and potentially better coverage.
Ken Yu: You have to understand that it is all circumstantial. There are inherent advantages to each technology, but those only apply in specific cases. As with everything else in this world of ours, there is no single solution rather a number of complementing technologies and strategies that work in synergy to solve a larger problem.
True, LoRaWAN is more cost-efficient and the lower power consumption is a big plus. The range can be considered inferior to NB-IoT, but this is only due to the fact that the cellular infrastructure is already well established and coverage is dense. In the future, we are confident this will change as LoRaWAN starts scaling up. However, as of now, it is more suited for scenarios where dense cellular infrastructure is not an option and larger areas of space need to be covered. In the end, LoRaWAN is pretty versatile as long as it is well planned and implemented and the LoRa Alliance recommendations followed.
NB-IoT does have advantages too. It is more power-hungry, but this brings greater bandwidth and data rate. One area where this is important is for cognitive solutions where voice needs to be transmitted. LoRaWAN is not suitable for this as it was not designed for it.
CNXSoft: Longer term, do you see any of those standards dominate, or do they have different strengths and weaknesses that mean they'll probably coexist, and still be around in 10 years.
Ken Yu: We at RAKwireless believe that IoT will evolve in a network of diverse technological solutions that complement each other in order to illuminate the weaknesses of a single technology and capitalize on the benefits of synergy. We believe there will be room for LoRaWAN, NB-IoT, Sigfox, Zwave, etc.
Then again, 10 years is a long time, so who knows what will be around, look at LoRa for example. It really started picking up speed around 2016, getting more and more popular ever since The Things Network was announced. It has been 3 years since and there is a huge number of gateways and nodes in operation. One thing is for sure, whether it is LoRaWAN, NB-IoT or something completely different the IoT sector will keep growing and with greater speeds as years pass, so we think there is plenty of work for companies like RAKwireless in the near and far future.
CNXSoft: Do you see any other existing LPWAN standards such as RPMA or Wize coming to prominence in the future, or maybe new LPWAN standards that people are not aware of and should pay attention to?
Ken Yu: This is a tricky question, to be honest. Like I said there are bound to be new contenders as time passes by and new challenges arise. Will one technology eventually dominate the others and become the de-facto king? Perhaps, we have seen it in cellular, remember WiMAX ?
However, in the end, I believe it is unrealistic to express an opinion as we are talking about a case that has never before been presented. Again, we have only feedback on how cellular technologies have evolved, form the first NMT networks to the forthcoming 5G. IoT is a little bit different. There is no unification in device functionality.
Think about it, all phones more or less do the same thing nowadays. However, IoT devices will have vastly different functionality as far as both hardware and software goes as they will be used in different use cases. A smart flow meter will have different components and firmware than a smart parking sensor. Who is to say that a given technology will not be a better solution for one device than another?
Ultimately, we think the name of the game will be scalability. At some point, the IoT device network will be so dense that it might be impossible for one technology (spectrum, spreading technique, protocol) to handle all that load. So, technologies will have to coexist and in order to fill in the gaps where needed in order for things to run smoothly.
Time will tell, as IoT starts to mature and the big players start backing up their chosen technology, we might one or a few on the top. Our, bet, however, is that things will remain in flux for quite some time.
CNXSoft: Finally, do you have any new product to announce or news about new upcoming solutions we should expect soon from RAK Wireless?
Ken Yu: We at RAKwireless will continue to fulfill our commitment to the industry and make easy to use and affordable products. We have multiple products in the pipeline in both our Raspberry Pi and OpenWrt powered Gateway line.
We are aiming at the sector of advanced researchers and developers that require sophisticated development kits, where the price is not an issue. Furthermore, we are developing a line of LoRaWAN sensor nodes based on our Modular platform (WisBlocks) to work in conjunction with our gateway line. This will allow us to cover the full spectrum of hardware and software required to deploy a LoRaWAN solution.

Jean-Luc started CNX Software in 2010 as a part-time endeavor, before quitting his job as a software engineering manager, and starting to write daily news, and reviews full time later in 2011.