Arbor M1016 Healthcare & Kiosk Tablet

Arbor offers various products in the embedded systems field, automotive IoT and healthcare infotainment, as well as patient interfaces for hospitals. The M1016, a 10.1″ Healthcare Infotainment Terminal is a soon to be released alternative to the company's HTab.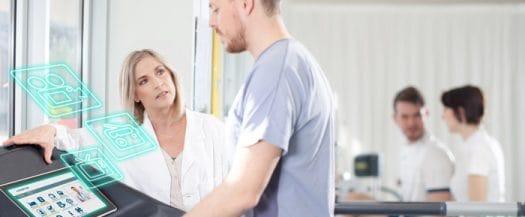 Previous Articles for Arbor
HTab healthcare bedside patient entertainment tablet and the IoT-800N Automotive Panel PC have both been reported on in previous articles about Arbor market entrants.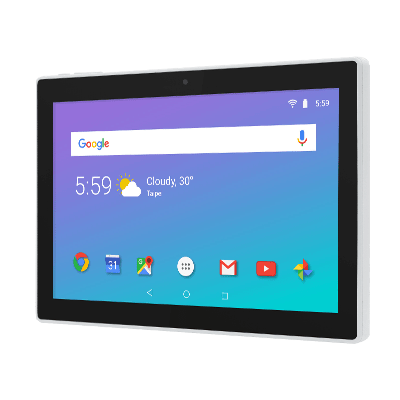 The Basics and Kiosk Design
The M1016 runs an Arm Cortex-A35 CPU @ 1.5GHz, that supports Android 8.1, and offers a variety of features for many of the different capabilities of patients under care. The design is based on a Kiosk model, with an a-la-carte menu arrangement.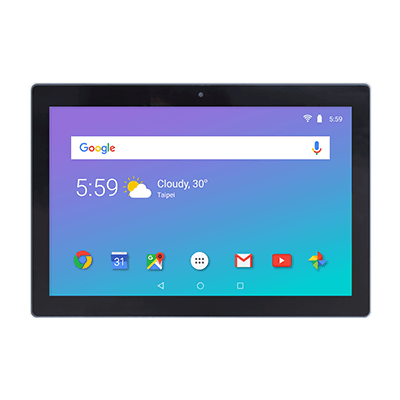 Access and Power Consumption
The unit itself is fanless with low power requirements that lend themselves well to thin enclosure design and ease of use. The GPU is a Mali-G31 with high efficiency and the tablet supports e-health attributes for medical staff access, which can reduce the need for some reference and information dissemination peripherals.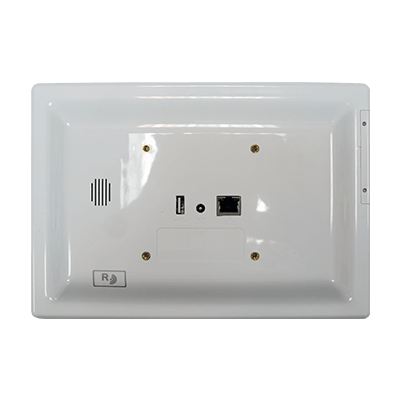 Case Design
The enclosure is thin and equipped with an embedded 2MP camera, speaker, headphone jack, mic, SD card access, and RFID and NFC reader.  The lightweight and 10.1″ form factor make the unit ideal for both patient entertainment and nursing cart mounting, adding to its versatile uses in healthcare.
Power over Ethernet
The M1016 offers PoE access for a substantial reduction in hanging wires and cables, which can have a safety aspect in a healthcare setting. And when seeking a large quantity wiring and installation reductions can decrease overall costs. That can be an important factor in purchase decisions.
Applications Alternatives
The M1016 can also be used in environments such as fitness entertainment, or an information kiosk terminal. The low-power consumption and fast processing speeds offer many alternatives to the bulky kiosks in such places as airports and a more interactive option in fitness centers.
Cutting Edge IoT
IoT is a standard function of the M1016, and it's modern and lightweight overall design allows it to provide multimedia infotainment and cutting edge software standard. The systems support the Linux Debian and Android 8.1 operating systems.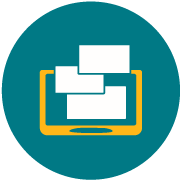 Multimed Software Suite         
Modernized Services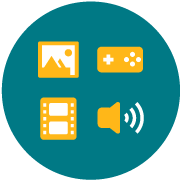 Multimedia Infotainment
Base Processor and SoM
Although not mentioned in any of the latest literature, the processor should be the Rockchip PX30, seated in the company's SoM RP-301 Module announced earlier this year.
Specifications
Quad-Core ARM Cortex-A35 CPU 1.5G Hz, Android-based
Bedside infotainment and medical thin-client application
10.1" LCD display
10-point Projected Capacitive Multi-Touch
Support Android 8.1
H.265/HEVC Video Decode
IEC & EN 60601-1 (Edition 3.1) and IEC & EN 60601-1-2 (Edition 4th) medical certifications
PoE connectivity (PD)
Operating temperature: 0~40ºC
Pricing
No pricing information was offered for Arbor M1016 medical-grade tablet at this time and the datasheet plainly lays out that all specifications are preliminary.
Product Information
The product page offers some of the same information as the press release.

Stephen started writing about technology after publishing sci-fi short stories. His first White-Paper, written in 2008, was well received and inspired him to continue writing about technology. Today he writes in the technology space full time, covering a multitude of topics. During the time he wrote part-time he edited hundreds of titles for large publishers, in science and technology. He lives in Staten Island, with his wife and children.