Imagination Technologies has just launched IMG A-Series GPU which they claim is "The GPU of Everything" and "The fastest GPU IP ever".
IMG A-Series can be customized and scaled for various applications & markets from automotive, AIoT, set-top box, mobile, and server. Compared to the company's earlier PowerVR 9Series GPU, IMG A-Series GPU delivers 2.5 times more performance, eight times faster AI processor, and 60% less power while running complex content with the same process node, area, and under similar conditions.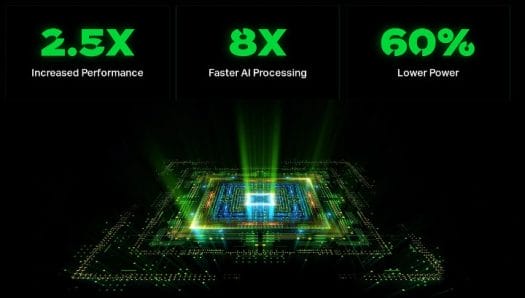 IMG A-Series GPU supports the latest API standards including OpenGL ES, Vulkan, OpenCL, and Imagination provides a Unified AI API for use in combination with PowerVR neural network accelerators.
It also offers 5x performance density compared to the best current shipping PowerVR devices and supports PVRIC4 lossless or virtually-lossless compression guaranteeing a 50% bandwidth and footprint reduction.
The new GPU also leverages HyperLane Technology with up to eight individual, isolated hardware control lanes for multizone hardware virtualization leading to improved security and stability. HyperLane Technology also enables what the company calls "AI Synergy" that allows software developers to run programmable AI workloads on the A-Series GPU at the same time as graphics while offloading fixed-function AI to a dedicated neural-network accelerator.
An automotive options package brings ISO 26262 certification readiness, documentation, and long-term support.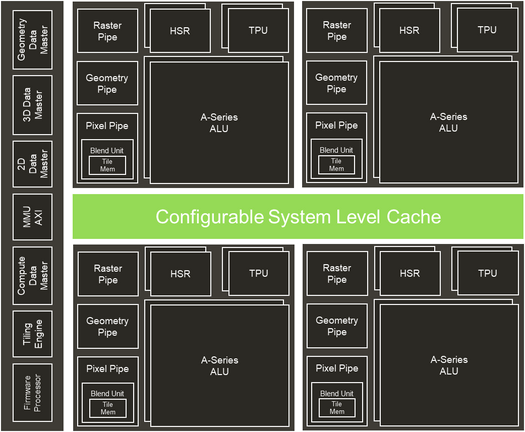 There are currently three categories and 7 GPU IP as follows:
AXE area-optimized, fillrate-focused designs for cost-sensitive devices

IMG AXE-2-16 for premium IoT, entry DTV/STB, display and other fillrate driven applications; 2 PPC, 16 GFLOPS, and 2 Gpixels
IMG AXE-1-16 for entry-level mobile and IoT and the fastest Vulkan-capable GPU in its class; 1 PPC, 16 GFLOPS, and 1 Gpixels

AXM which balances performance, power, and area

IMG AXM-8-256 for mid-range mobile; 0.25 TFLOPS, 8 Gpixels and 1 TOPS

AXT high-performance GPUs with a focus on low power

IMG AXT-64-2048 for flagship performance; 2.0 TFLOPS, 64 Gpixels, and 8 TOPS of AI performance
IMG AXT-48-1536 for premium mobile; 1.5 TFLOPS, 48 Gpixels, and 6 TOPS
IMG AXT-32-1024 for high-performance mobile and automotive; 1 TFLOPs, 32 Gpixels, and 4 TOPS
IMG AXT-16-512 for high-mid-performance mobile and automotive; 0.5 TFLOPS, 16 Gpixels, and 2 TOPS
Imagination Technologies upload an IMG A-Series demo on YouTube which looks very impressive, and which I assume was rendered on IMG AXT-64-2048 GPU.
You'll find more details on the press release and product page.

Jean-Luc started CNX Software in 2010 as a part-time endeavor, before quitting his job as a software engineering manager, and starting to write daily news, and reviews full time later in 2011.