Earlier this month, Vivante Corporation has announced several silicon partner integrations (but no names given) of its GC7000 Series GPU IP into SoCs targeting wearables, mobile, automotive, and 4K TV products, and provided some more details about its GC7000 family which supports features such as OpenGL ES 3.1 API, and hardware TS/GS/CS (tessellation / geometry / compute shader) extensions for Android.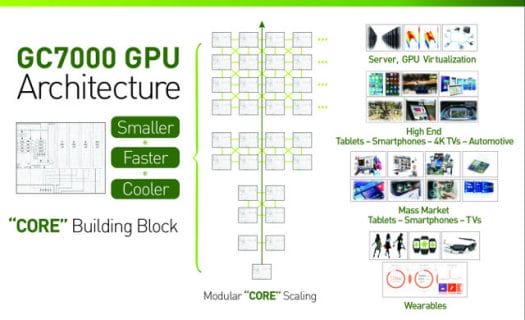 According to the company, they key benefits of their GC7000 GPU IP can be summarized as follows:
True GPU Scalability – GC7000 Series products support limited silicon area to match form factor and market requirements. Products can snap to grid starting at 3.0 mm2 (28 nm) for the smallest single GPU GC7000 instance and grow in simple modular fashion for high end implementations to achieve what the company's claims to be the the industry's best PPA (power/performance/area).
Smallest Licensable OpenGL ES 3.1 Cores with Geometry, Tessellation, and Compute Shaders – Die area of the GC7000 is reduced by 20% over previous generation mass market cores and includes the new evolution of OpenGL ES 3.1 and DirectX 11 shader/GPU technologies and upcoming mobile platform requirements, including support for hardware TS/GS shading extensions for Android OS.
Faster Graphics Performance – Better real time utilization of shaders speeds up rendering performance, quality and effects to effectively scale up for 4K gaming content at 60 FPS.
Cooler Cores – GPU thermals and system power are reduced 30% and bandwidth is reduced by 50% through bandwidth modulation using Vivante frame buffer (vFB) and pixel compression, Khronos ASTC, geometry/tessellation shader rendering, and Android optimized intelligent composition (Regionizer).
Configurable Shader Core Implementations – Cores range from highly silicon optimized eight shader solutions to performance optimized multi-GPU/multi-shader solutions, all with hardware support for security (secure GPU) and OS virtualization.
Hardware and Software Integration Simplified – The single unified software stack supports all Vivante GPU cores and existing software platforms to create a seamless transition to the latest technologies. GC7000 hardware is even more modular to allow faster integration with easier place-and-route design and reduced wire congestion.
System Friendly Architecture – GC7000 is designed for hybrid and heterogeneous computing systems supporting OpenCL and HSA using AMBA ACE-Lite (CPU – GPU cache coherency) and the vStream interface. Other additions include a pixel compression fabric that allows GC7000 to create a streamlined pixel processing pipeline across the ISP, CPU, DSP, memory, and display processor.
GC7000 Series GPU cores come packaged with a single driver software stack that supports board support packages (BSP) running Android KitKat, Chrome OS, Linux, QNX, Tizen and Windows operating systems. They will also support Unreal Engine 4, Unity 4 and the upcoming Unity 5 SDKs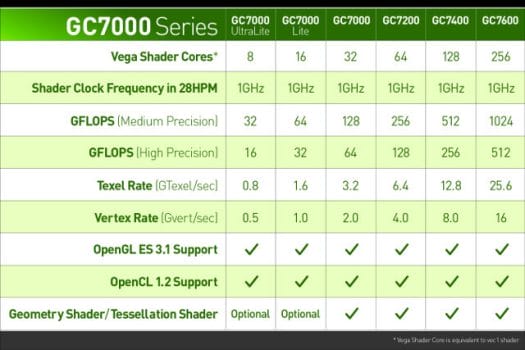 There are currently 6 GPUS available from the GC7000 series with GC7000 UltraLite, GC7000 Lite, GC7000, GC7200, GC7400, and GC7600 with 8 to 256 Vega Shader Cores clocked up to 1GHz, and all supporting OpenGL ES 3.1, OpenGL 2.x desktop, and OpenCL 1.2. Performance will range from 32 to 1024 GFLOPS with medium precision operation, 16 to 512 GFLOPS for higher precision operations, and GC7000 GPUs will be able to deliver up to 25.6 GTextel/s and up to 16 Gvertex/s.
AndroidPC.es also reports GC7000 GPU performance, I'd assume GC7600 performance, should be 40% higher than Nvidia Tegra K1 "Kepler" GPU and 122% higher than Imagination Technologies PowerVR GPU GX6650 "Rogue 2.0".

Jean-Luc started CNX Software in 2010 as a part-time endeavor, before quitting his job as a software engineering manager, and starting to write daily news, and reviews full time later in 2011.