FreeMesh W1326 LTE Router Mesh Network Access
FreeMesh has launched an open-source mesh router, the WE1326 LTE FreeMesh Router (included are two nodes) that runs OpenWrt open-source operating system.
Open Source and "Hackable" Mesh System
FreeMesh enters the mesh market with source code posted on Gitlab, a user-hackable/customizable mesh in other words. FreeMesh uses OpenWrt – the OpenWrt project is a Linux operating system aimed at embedded systems. The focus is on removing the need for a static firmware, where there is only one option for software for the hardware being purchased.
The Offerings and Markets
The company is targeting the residential market, where most mesh systems are almost double the $150.00 price tag of the FreeMesh. It is reported that there are other ZBT WE826-WD based mesh routers on the market, check out the LinuxGizmos.com article for more information.
FreeMesh Specifications
FreeMesh Router
CPU Dual Core 880MHz MediaTek MT7621AT
ROM SPI 16MB
RAM DDR3 512MB
Antenna 2x 5dBi 2.4GHz, 2x 5dBi 5GHz, 2x 3dBi 3G/4G (built in)
Protocol 802.11a/b/g/n/ac dual band (2.4/5 GHz)
Interfaces 1x 10/100/1000Mbps WAN (Auto MDI/MDIX), 4x 10/100/1000Mbps LAN (Auto MDI/MDIX), 1x USB 2.0 ports, 1x Micro SD Card Slot, 1x SIM Card Slot
Button Reset
LED Power, 2.4GHz, 5GHz, WAN, LAN1, LAN2, LAN3, LAN4
Power DC 12V 2A
Size 28 x 22.6 x 7.6 cm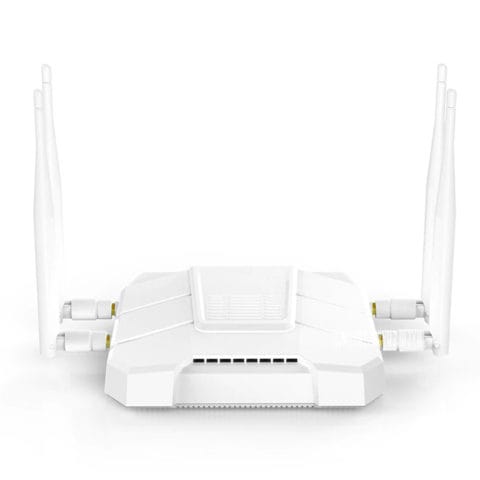 CPU Single Core 580MHz MediaTek MT7620A
ROM 16MB
RAM DDR2 128MB
Antenna 2x 5dBi 2.4GHz, 2x 5dBi 5GHz
Protocol 802.11a/b/g/n dual-band (2.4/5 GHz)
Interface 1x 10/100Mbps WAN (Auto MDI/MDIX), 4x 10/100Mbps LAN (Auto MDI/MDIX)
Button Reset
LED Power, 2.4GHz, 5GHz, WAN, LAN1, LAN2, LAN3, LAN4
Power DC 12V 2A
Size 5.1 x 7.6 x 2.5 cm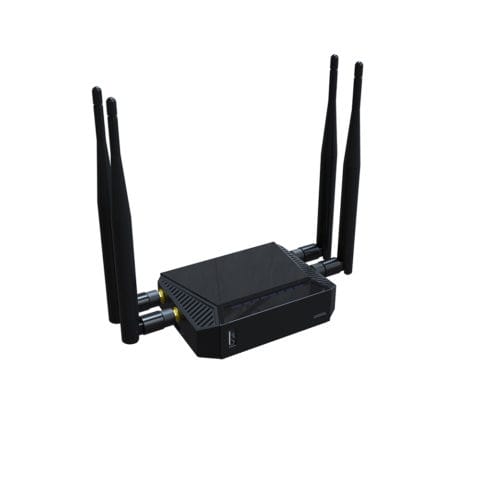 The FreeMesh Router Pricing
1 FreeMesh Router and 2 Nodes are ready for shipping at $149.99 USD. The system is in the Beta stage.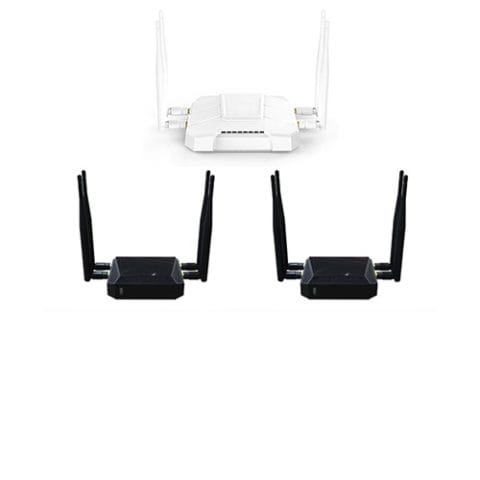 The kit can be pre-ordered on FreeMesh website.
The solution is built on 802.11r & 802.11s technology which are extensions to IEEE 802.11 standard better known as "WiFi", and used to implement roaming and mesh networking. We shortly describe each extension purpose below.
IEEE 802.11r-2008 – Amendment 2008
The fast BSS transition (FT) amendment of 2008 was targeted at handoffs of wireless devices in motion, such as smartphones in moving vehicles. The protocol developed a way for transitions to be made seamlessly and consistently between access points. This was the result of a redefining of the security key negotiation protocol. The access points could then negotiate and request wireless resources and services in parallel.
Further background on the 802.11r Amendment can be found on Wikipedia.
IEEE 802.11s – Amendment 2011
The 802.11s Protocol is the 2011 amendment to the IEEE 802.11 standard for a mesh networking protocol. The 802.11 standards have grown and developed into the need for the system to include incorporated and interconnected APs. The main focus of the protocol is to set out standards for a Wi-Fi network to discover related APs within the original network, which is not always the internet but can include the internet. This protocol is now being seen in the residential and SOHO markets.
More information can be found in a CWNP White paper on 802.11s Mesh Networks.

Stephen started writing about technology after publishing sci-fi short stories. His first White-Paper, written in 2008, was well received and inspired him to continue writing about technology. Today he writes in the technology space full time, covering a multitude of topics. During the time he wrote part-time he edited hundreds of titles for large publishers, in science and technology. He lives in Staten Island, with his wife and children.