MediaTek Rich IoT SDK v20.0 is Available
MediaTek has announced its Rich IoT SDK v20.0 is already available for the i300 and i500 chipset series. The SDK was developed in collaboration with BayLibre, the French developer of Linux and Android embedded systems software, which is also known for helping mainlining Amlogic processors to Linux.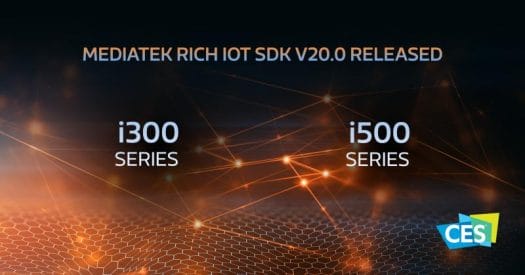 The i300A, i300B, and i500 hardware platforms are supported and the features are focused on IoT and the emerging generation of smart devices.
Supported OS'es and Test Applications
The Rich IoT SDK v20.0 supports Yocto 3.0 Linux and Android 10 to let third-party customers and members of the MediaTek Ecosystem test Computer Vision algorithms, AI models and custom software on top of the base layer.
Updates and Maintenance
The SDK is receiving updates quarterly, with security updates and patches being delivered over-the-air (OTA) on a regular basis. The chipset series has a timeline for updates to features and security for device manufacturers to leverage the latest builds for their units to protect end-users and patch vulnerabilities.
Edge Computing For Next-Gen Devices
The SDK v20.0 works through a unified BSP for the i300 and i500 chipset series. It allows developers to easily distribute edge computing workloads to all the processing units – CPU, GPU, and APU – and make sure those operate efficiently.
Alexa and Google Assistant
There is contingent support for the core technologies that run voice-controlled devices from Amazon Alexa Voice Services and Google Assistant, for devices based on the very popular home attendants.
MediaTek's Rich IoT SDK v20.0 key features:
U-Boot 2019.10
ARM Trusted Firmware 2.2 and OP-TEE 3.6
Linux Kernel 5.4 LTS
Yocto 3.0 including Wayland (i300A, i500)
Android 10 AOSP (i300A, i500)
DSP Concepts Audio Weaver
Graphics and AI acceleration for PowerVR GPU (i300A) and Mali GPU (i500)
AI acceleration for APU based on Tensilica Vision P6 (i500)
Mender.io Enterprise OTA updates
Upon customer request, the Rich IoT SDK v20.0 is made available by MediaTek's partner, BayLibre.
Pumpkin i500/i300 SBC
The Pumpkin i500 HEK (EVK) is designed by OLogic and works with the Rich IoT SDK v20.0. It is an SBC that is built to support computer vision and AI Edge Computing.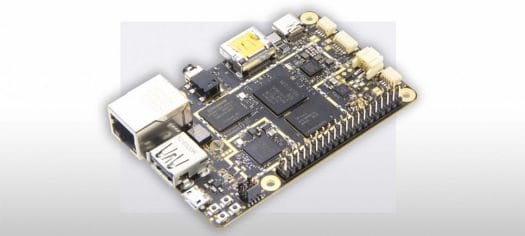 It is connected to the Cloud, for IoT functionality in such sectors as Smart Home, Embedded systems, IIoT, Smart City and Robotics. The Pumpkin i500 HEK will be available in February 2020 from Seeed Studio.
Demos at CES 2020
BayLibre demonstrated various applications on i300A, i300B and i500 platforms at CES 2020, including a voice assistant, an object detection demo and a smart display platform.
Further Information
The Rich IoT SDK v20.0 announcement has more information, as does the Pumpkin i500 press release.

Stephen started writing about technology after publishing sci-fi short stories. His first White-Paper, written in 2008, was well received and inspired him to continue writing about technology. Today he writes in the technology space full time, covering a multitude of topics. During the time he wrote part-time he edited hundreds of titles for large publishers, in science and technology. He lives in Staten Island, with his wife and children.