SB30 MTK i300 and SB50 MTK i500 AI IoT Platforms
Just announced by Innocomm are the SB30 and the SB50 SoMs carrying the MediaTek i300 and i500 SoC's, and running either Linux or Android. The rundown on the systems is the MediaTek AIoT processor series has been out for some time, and we reported on the latest SoC in the MediaTek i700 article last July. Innocomm is also known for its NXP-based compute modules such as the i.MX8M Mini driven W15 and i.MX8M powered W10.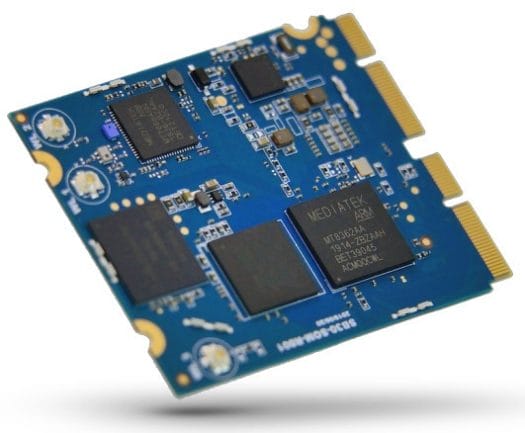 MediaTek i300 Specs
The MediaTek i300 (MT8362) SoC is running a Cortex-A35 power-efficient quad-core processor clocking at 1.5 GHz. The SoC is further equipped with an Imagination PowerVR Series8XE GE8300 GPU. The i300 also integrates a PMIC, an RF chip for 2.4 GHz 802.11/b/g/n as well as Bluetooth 4.0. There is support for the MediaTek MT7668 chipset for 802.11ac (WiFi 5). Rounding out the system is a 13 megapixel and 720P ready ISP with an eye towards portable and HMI devices, with up to 1920 x 1080-pixel touchscreens. Audio subsystems are targeting voice-controlled devices.
The SB30 SoM Specs
The Innocomm SB30 MTK i300 SoM has been designed for industries including audio/video, kiosk, digital signage, and fitness consoles. The system-on-module combines an i300 with 1 or 2 GB LPDDR3, 16 GB eMMC flash, and a module with either dual-band 802.11ac and Bluetooth 5.0, or 802.11n 2.4 GHz with Bluetooth 4.0. Media interfaces include MIPI-DSI, LVDS, HDMI 1.4a as well as I2S audio. USB 2.0 host and OTG connections and I2C, SPI, UART are other interfaces, just to name a few.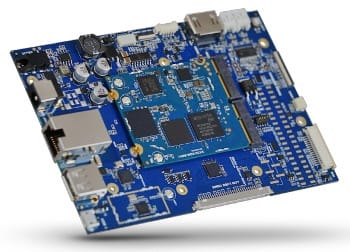 The SB30 EVK
The evaluation kit carries the module with 10/100M Ethernet, USB 2.0 host & micro-USB device ports, as well as microSD slot, RS232 header and the expansion connectors for I2C, SPI, I2S, USB, and UART Interfaces. There is a MIPI-DSI connector that can support the Raspberry Pi 7-inch LCM.
Few details about SB50 SoM
Innocomm did not provide many details about SB50 SoM powered by MediaTek i500 (MT8385) octa-core Arm Cortex-A73/-A53 AIoT processor clocked at up to 2.0 GHz. The MediaTek i500 processor also includes an Arm Mali-G72 MP3 GPU, as well as AI processor (APU) operating at up to 500MHz. The latter enables deep learning, neural network acceleration and computer vision applications such as facial recognition, object identification, scene analysis, OCR and more.
SB50 SoM follows SB30's form factor and is said to be compatible with the same carrier board.
More Information
All information on the SB30 MTK i300 and EVK are preliminary, as are the specs on the SB50 MTK i500 and EVK. There is no pricing as of yet, and no real information on the Innocomm product pages. Most of the information found here comes from linuxgizmos.com article.

Stephen started writing about technology after publishing sci-fi short stories. His first White-Paper, written in 2008, was well received and inspired him to continue writing about technology. Today he writes in the technology space full time, covering a multitude of topics. During the time he wrote part-time he edited hundreds of titles for large publishers, in science and technology. He lives in Staten Island, with his wife and children.