MicroSys Announces Automotive miriac SBC S32G274A Dev Kit
MicroSys is showcasing its latest automotive and industrial SBC & development kit, the Miriac SBC-S32G274A, powered by NXP S32G Quad-core Cortex-A53 vehicle network processor. The development kit runs Linux and is aimed at the automotive industry.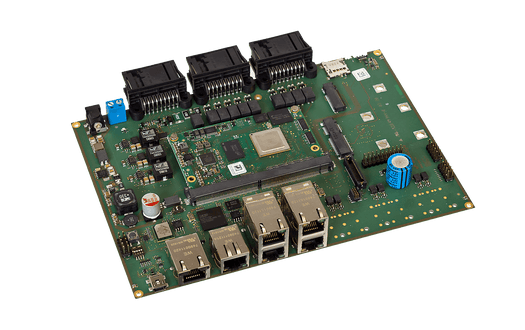 The Components of the SBC
The miriac SBC-S32G274A was developed specifically with the NXP's S32G274A Vehicle Network Processor for automotive connectivity. A SoM, the MPX-S32G274A, is mounted almost at the center of the carrier board and comes with the purchase. High-speed interfaces include:
2x Flexray
4x LIN
16x CAN
2x CAN FD
The NXP S32G Safe and Secure Vehicle Network Processor
Made for high-speed calculations and communication, the miriac SBC is built on the NXP's S32G Arm Cortex-A53 Safe and Secure Vehicle Network Processor.
Introduced at CES 2020 earlier this year, the NXP S32G processor is designed with security and functionality in mind. Utilizing ASIL D Saftey, hardware security, high-performance real-time and application processing, the NXP S32G SoC increases overall performance 10 times compared to the closest processor in the NXP family of automative gateway devices.
The Dev Kit and Applications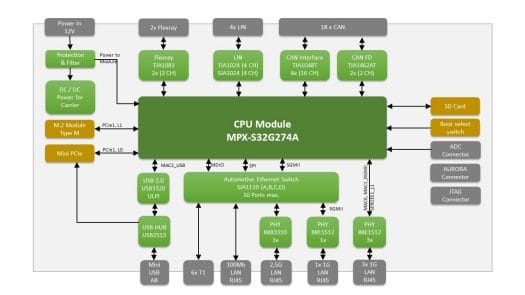 The development kit targets industrial automation, medical, railway and transportation, and automotive networking.
Specifications
CPU – NXP S32G274A – 4x Arm Cortex-A53 cores and 3x Arm Cortex-M7 cores.
RAM – 4GB 64bit – LPDDR4 SDRAM
Flash – 32GB eMMC / 512MB QuadSPI Flash
Ethernet

SJA1110 TSN Ethernet Switch
1x 2.5Gbit
4x 1Gbit
1x 100 Mb
6x T1 Ethernet

Other I/O Interfaces


1x mini-PCIe
2x Flexray
4x LIN
18x CAN (16x CAN / 2x CAN FD)
12x analog Inputs to ADCs
1x M.2 Module type M

Dimensions – 200 mm x 140 mm
Further Reading
LinuxGizmos has reported on the miriac SBC-S32G274A, the product page offers information and specs on the dev kit. The announcement of the miriac SBC system and the dev kit is found on the MicroSys Website.

Stephen started writing about technology after publishing sci-fi short stories. His first White-Paper, written in 2008, was well received and inspired him to continue writing about technology. Today he writes in the technology space full time, covering a multitude of topics. During the time he wrote part-time he edited hundreds of titles for large publishers, in science and technology. He lives in Staten Island, with his wife and children.