With the world at his knees, fighting the current coronavirus pandemic, which has impacted millions of lives around the world psychologically, economically, and physically. Engineers, scientists, politicians around the world are looking for ways to assist in stopping the virus spread, helping the critically ill people, and help restore society to the way it was before.
One major highlight during this COVID-19 crisis is the lack of enough ventilators for patients, a piece of critical equipment that greatly affects the breathing of critically ill patients. There are not enough ventilators available in hospitals right now for all of the potential patients who will be struck by the virus, so it is clear we need more ventilators. Makers are joining the call to service with their existing maker tools, and an example is the attempt to make a low-cost, open-source Arduino ventilator device.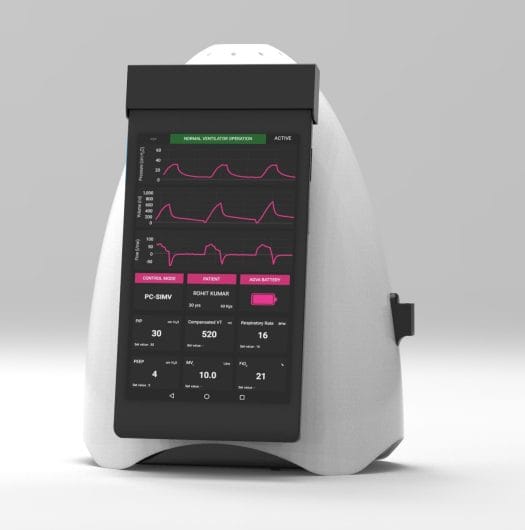 Another solution is the AgVa phone ventilator produced by the Indian based company AgVa Healthcare which used one tool we already have: smartphone. The AgVa Phone Ventilator, known officially as the AgVa Advance Pure, is a portable and mobile ventilator system that does the work of a typical ventilator. The vision around the ventilator is that patients should not always have to be stuck to the hospitals all the time.
The primary focus of the ventilator is to provide mechanical ventilation for everyone in need. Its small package ensures easy storage and transportation, whereas its intuitive user interface makes it extremely easy to use even for a non trained person. Finally due to its phenomenally low cost and no need for infrastructure requirement makes it ideal for scaling up the ICU.
The ventilator supports three main patient connection ways: Endotracheal Tube, Tracheostomy Tube, and BiPAP/CPAP Mask. A connector is provided with AgVa Advanced ventilator, which will enable users to connect the universal connector to be connected at the inlet of the ventilator. The amount of oxygen can be controlled using an independent flowmeter. The ventilator comes with an Oxygen sensor; hence you can monitor the FiO2 (percentage of oxygen that a person inhales) in realtime. The AgVa Ventilator comes with various operating modes.
In terms of safety, It has two built-in computer systems that monitor each other's activities and automatically ring an alarm in case of issues, while also restarting the whole system. The whole ventilator system can be controlled and monitored through a freely available Android app. The ventilator also comes with a backup power supply through its rechargeable Lithium-ion battery, which can deliver adequate power to the ventilator for up to 4 hours.
Features:
Modes: PC-CMV, PC-SIMV, PSV, VC-SIMV VC-CMV, PRVC, ACV, CPAP & BiPAP.
Battery backup: Up to 4 hours of battery backup.
Pressurized Air: Not Needed
Primary application area: Hospital, and other professional areas.
FiO2 Capability:

100% at an input flow rate of 15 L/min of pure oxygen with MVi of less than 7 L/min and PEEP < 6.
80% at an input flow rate of 15 L/min of pure oxygen with MVi of more than 7 L/min and PEEP < 6.
Higher FiO2 Connection is available.

Mobile Device: Included
Peak Flow rate: 160 liters per minute
Peak Pressure: 60 cmH20
Trigger Flow Sensitivity: 1 Liter per minute to 20 Liter per minute
Dimensions: 240 x 180mm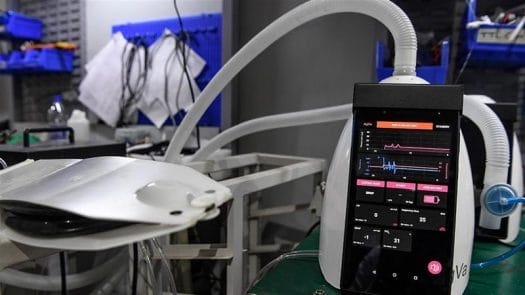 AgVa Advance Pure is said to cost around Rs 50000, or about 660 USD for the basic version. But Aljazeera reports a $2000 price tag that is still a fraction of the price of conventional ventilators, which go for more than $10,000. Since the Indian government has banned the export of coronavirus-linked medical exports, including ventilators, it won't be available outside of India for the time being.
More information about the product is available on the website and on the sales page. For a definite answer about the total price, you should probably contact the company.
Thanks to Onebir for the tip.

I enjoy writing about the latest news in the areas of embedded systems with a special focus on AI on edge, fog computing, and IoT. When not writing, I am working on some cool embedded projects or data science projects. Got a tip, freebies, launch, idea, gig, bear, hackathon (I love those), or leak? Contact me.