In the last year or so, we've started to see several camera SoCs with a built-in NPU or SIMD instructions to accelerate face detection, objects detection and so on, starting with the low-resolution Kendryte K210 processor to the 2.5K Ingenic T31 MIPS video processor, or even the 4K capable iCatch V37 camera SoC.
Allwinner introduces several camera processors (V3, V316, S3…) in the past, but none of them included an NPU aka AI accelerator. This has now changed with Allwinner V831 Cortex-A7 Full HD camera SoC also including a small 200 GOPS NPU.
Sochip / Allwinner V831 AI Camera SoC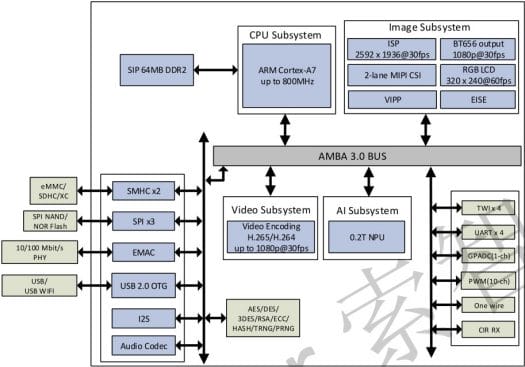 Specifications:
CPU – Single-core Arm Cortex-A7 processor @ up to 800 MHz with
NEON, 32KB L1 instruction cache and 32KB L1 Data cache, 128KB L2 cache
AI Accelerator – 0.2 TOPS (200 GOPS) NPU for face recognition, face detection, and "humanoid detection network"
System Memory – 64MB on-chip DDR2 RAM
Storage

SPI NOR flash, SPI NAND flash, eMMC 5.0
Booting from SPI NOR, SPI NAND, eMMC, SD, USB, UART, one-key FEL
hardware boot select pin or eFuse booting sequence

Display I/F

RGB output up to 320 x 240 @ 60fps
BT656 video output up to 1080p @ 30fps

Video Subsystem

Encoder

H.264 BP/MP/HP up to 1080p60 + VGA @ 60Hz
H.265 MP up to 1080p90 or 720p30 + 5M @ 30 fps
H.264/H.265 supports I/P frame, dual-P frame
JPEG snapshot at 1080p @ 60fps independently
Maximum 16 regions of interest(ROIs) without encoding for AI

Decoder – H.264 BP/MP/HP, H.265 MP, MJPEG/JPEG MP

Camera Support

2-lane MIPI CSI input up to 1080p60
ISP with 2688×2688 maximum resolution, 2592×1963 @ 30 fps
Electronic Image Stabilization Engine (EISE)
Lens distortion correction, fisheye, and PTZ calibration
2 Video channels: one up to 1080p@60fps, the other up to 720p@60fps
Adjustable 3A functions, including automatic exposure(AE), automatic white balance(AWB) and automatic focus(AF)
Highlight compensation, backlight compensation, gamma correction, and color enhancement
Defect pixel correction, 2D/3D denoising

Audio – 20-bit audio codec, I2S & TDM interfaces
Networking – 10/100M Ethernet port with RMII interface
USB – 1x USB 2.0 OTG
Other Peripherals

Up to 54 GPIO interfaces
4x UART, 3x SPI, 1x PWM, 4x I2C/TWI, One-wire interface
2x SD 3.0/SDIO 3.0 for SDXC cards
GPADC
RTC

Security

AES, DES, 3DES, and XTS
RSA512/1024/2048/3072/4096bits, ECC160/224/256/384/521bits
HASH tamper-proofing algorithms implemented by using hardware, including MD5/SHA/HMAC
TRNG) and PRNG
Integrated 1Kbits e-Fuse storage space

Supply Voltages – Core: 0.9V; I/O: 3.3V
Package – QFN88, 9 x 9 mm, 0.35 mm pitch
Allwinner V831 is designed for security monitors, driving recorders, police body cameras, and other camera applications that may leverage AI acceleration.
Note we've also been told Allwinner V833 is another similar processor capable of handling 4K, but requiring external DRAM. We were unable to find details at this time. [Update: We've had the V831/V833 datasheet drop into our inbox this morning, and V833's MIPI CSI input supports up to 2592 x 1936 @ 30fps RAW data or 4x 1080p@25fps, the encoder is still limited to 1080p90. Cortex-A7 clocked at 1.2 GHz with 400 GOPS NPU]
Sochip V831 development board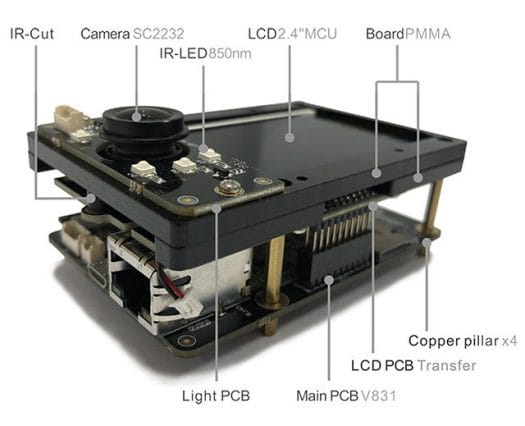 The development board is comprised of four parts with the main PCB powered by Allwinner V831 processor, and featuring a Fast Ethernet port, a Micro USB port, a MicroSD slot, and various header, the camera board, the "light" PCB with IR LEDs, and a 2.4″ LCD.
Sochip V831 development board is aimed at companies planning to design an IP camera with AI features and is sold for $440 on Alibaba. The chip itself should just cost a few dollars in volumes.
Software and Documentation
You'll find some WiP documentation on Sochip's Wiki. The Linux source code (Tina) is available through the company's git server, but you'd need to provide an SSH public key (id_rsa.pub), a company name, and email address to Sochip to be able to download the code after approval. Full documents are also available via an FTP server, but again you'd need to obtain a username and password from Sochip.
Thanks to Jon for the tip.

Jean-Luc started CNX Software in 2010 as a part-time endeavor, before quitting his job as a software engineering manager, and starting to write daily news, and reviews full time later in 2011.