Earlier this year, Taiwan based DFI launched GHF51 Ryzen Embedded R1000 SBC offering some similarities with Raspberry Pi 4 SBC, including a business card form factor, two Micro HDMI ports, and Gigabit Ethernet. But the comparison stopped there, as DFI GHF51 board will vastly outperform the Raspberry Pi 4 boards both in terms of CPU and graphics performance due to AMD Ryzen processor, and DFI embedded board does not target hobbyists nor students, but instead business and industrial customers.
The company recently contacted CNX Software, and send GHF51 board with all accessories for review. I was pretty excited since it's the first AMD Ryzen Embedded SBC that I'll review, so it should be particularly interesting. I've just received the sample and will do a two-part review starting with unboxing and kit assembly, before publishing the second part of the review reporting on my experience with Windows 10 and/or Ubuntu 20.04.
DFI GHF51 Unboxing
That's quite a big package for a board supposed to be Raspberry Pi-sized…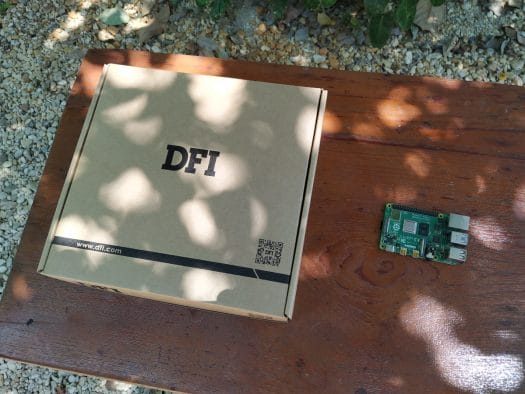 But there's a reason, as the board comes with plenty of accessories including a massive heatsink, a beefy 12V/5A power supply and accompanying power cord, some cables and screws, a utility/demo DVD, a quick reference guide, and a battery warning.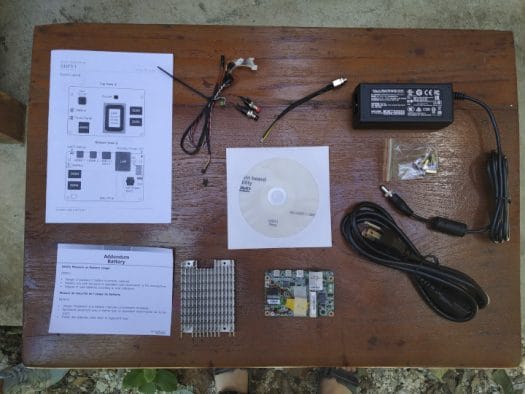 [Update June 2020: The power supply, power cord, and other wires are optional items that need to be purchased separately]
The heatsink includes four through holes for mounting, as well as orange (CPU) and black (RAM) thermal pads for cooling.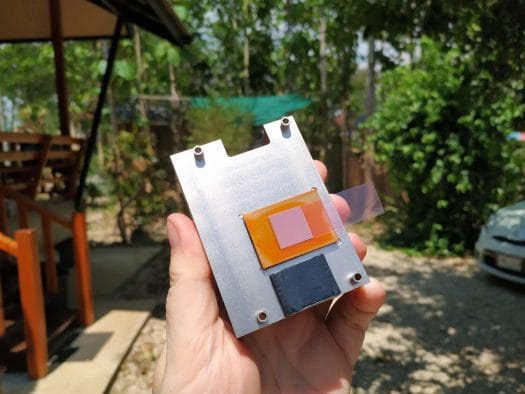 The top of the board features an mPCIe socket, the RTC battery, two RAM chips, the 10-pin DIO header, the power input terminal block, Gigabit Ethernet, a USB Type-C port, and two Micro HDMI ports.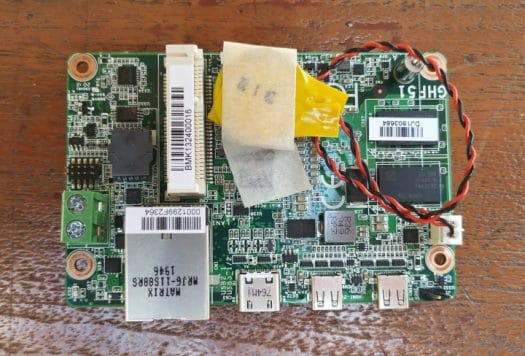 We'll find the AMD Ryzen processor (R1606G) on the other side together with buzzer, two more RAM chips, an Ethernet transceiver, and an eMMC flash chip.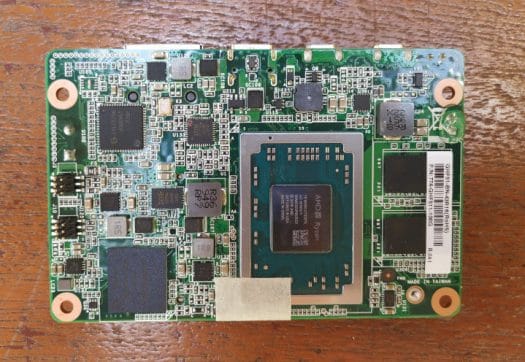 The sticker covering the RAM chips show my part number: GHF51-BN-43R16. This means my board comes with AMD Ryzen Embedded R1606G processor combined with 4GB DDR4 RAM and a 32GB eMMC flash.
Since the board has been compared to Raspberry Pi 4, I've taken a side-by-side photo. While both boards have a similar size, and some identical ports, they are not mechanically nor electronically compatible.
GHF51 Ryzen Embedded R1606G SBC Assembly
Time to put everything together starting with the heatsink. First, peel off the plastic film from the thermal pad, and place the board top on of the heatsink making sure the processor and RAM chips are placed correctly on top of the pads.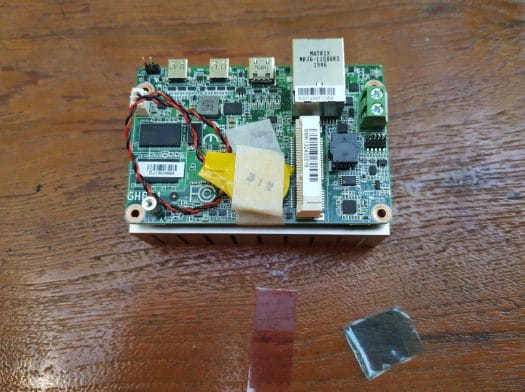 Now insert the four screws through the heatsink with thread visible on the other side of the board, and tighten everything with spacers. We now have a pretty board…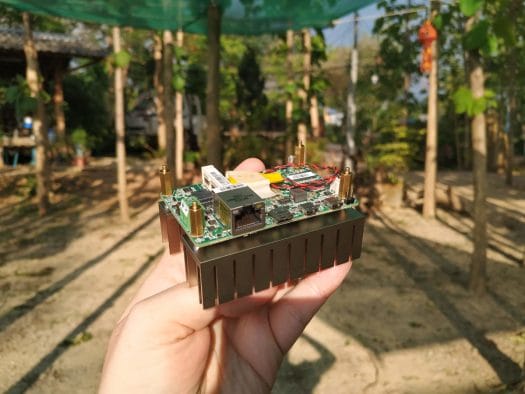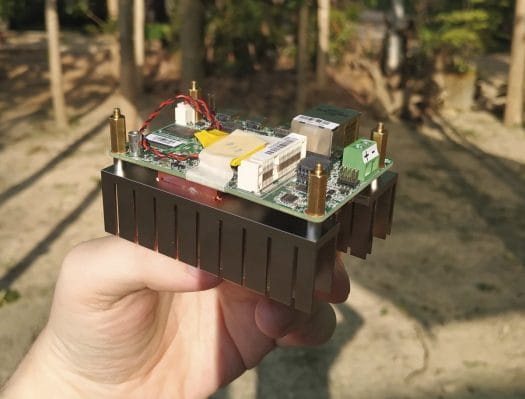 Back on the table, we can connect the power cable to the 2-pin terminal (green), and screws the power supply. It's done that way for some flexibility, and better resistance to shocks and vibrations. I also connected the DIO cable to the board which provides access to 8x GPIOs, 5V, and GND through two 2.54mm pitch headers.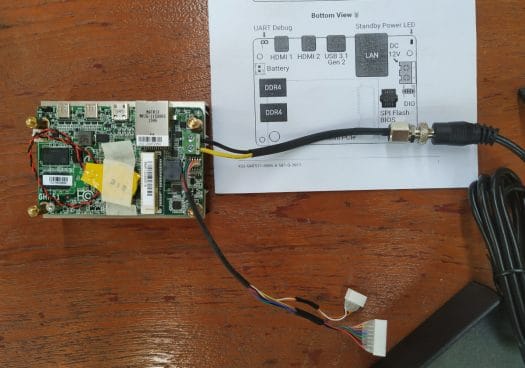 Flipping the board will allow completing assembly with the SMBus cable, and the front panel cable that includes power and reset buttons, as well as power LED and 3.3V LED.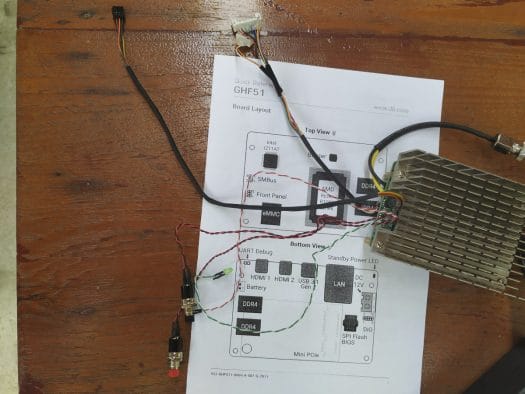 When connecting the three cable, just make sure to identify pin 1 on the board with the Quick Reference, and cable where pin 1 is marked with a white dot.
I'm done with the assembly, but in real use cases, the board would eventually be mounted in a chassis such as the one below.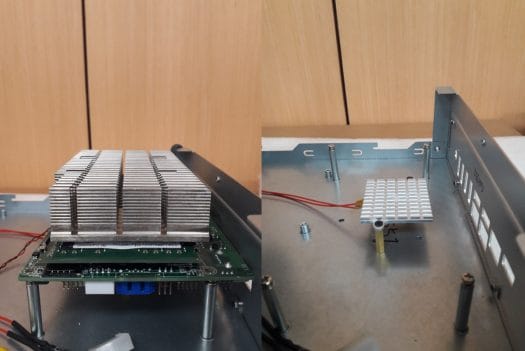 If you still have trouble with assembly, you may refer to the installation guide, which also points to the user manual and datasheet, as well as to an "EAPI Qt sample".
I'd like to thank DFI for sending a review sample. If you are interested in the board, you may contact the company via the product page. Alternatively, if you'd just like to buy one sample, the GHF51-BN-43R16 1.8″ embedded SBC is available on DFI-ITOX store for $378. I'll post the second part of the review in a few weeks.
Continue reading "DFI Ryzen Embedded R1606G SBC Review – Part 2: Windows 10 Enterprise LTSC" and "AMD Ryzen Embedded SBC Review with Ubuntu 20.04".

Jean-Luc started CNX Software in 2010 as a part-time endeavor, before quitting his job as a software engineering manager, and starting to write daily news, and reviews full time later in 2011.