When it comes to RISC-V based SoC, SiFive has always set a benchmark in the RISC-V ecosystem. On 29th October 2020, SiFive confirmed the first-ever RISC-V PC.
After an increased demand for AI-focused RISC-V microarchitecture, targeting all applications from artificial intelligence, the internet of things, high-performance computing, and now even desktop PCs. SiFive Freedom U740 powered HiFive Unmatched mini-ITX motherboard comes with a complete development environment which allows developers to create RISC-V based applications from bare-metal to Linux-based systems.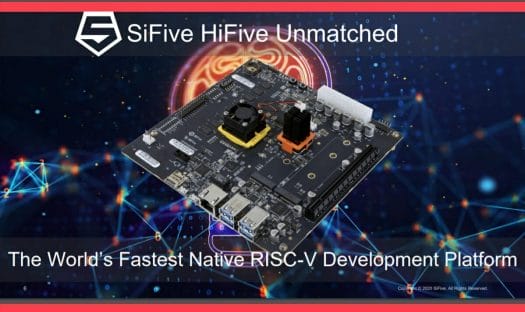 "HiFive Unmatched ushers in a new era of RISC-V Linux development with a platform in a PC form factor. Powered by the SiFive Freedom U740, a high-performance multi-core, 64-bit dual-issue, superscalar RISC-V processor.", SiFive says. It is the world's fastest native RISC-V development platform.
SiFive HiFive Unmatched Board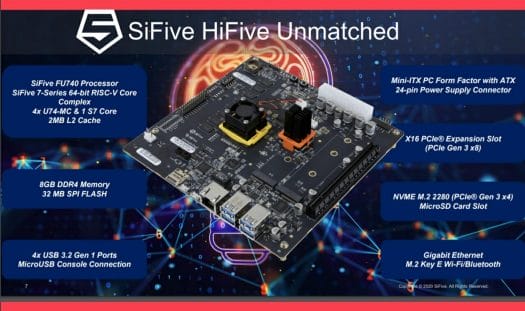 At the heart of the SiFive board is a SiFive FU740 processor coupled with 8 GB DDR4 memory and 32 MB SPI Flash. It comes with a 4x USB 3.2 ports and a 16x PCIe expansion slot. The mini-ITX standard form factor makes it easy to build a RISC-V PC.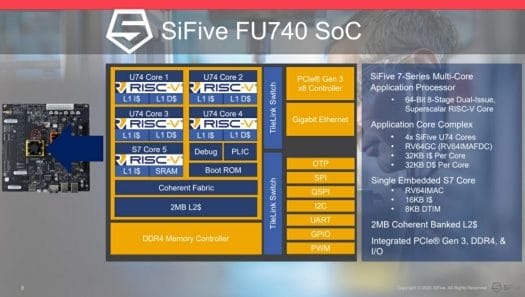 You can here see there is a total of four U74 cores with one S7 core. There is something called the mix-match configuration allowed wherein you can combine S2 core, S7 core combined in the SiFive FU740 using SiFive Mix+Match technology. This combination offers a homogeneous/heterogeneous multi-core complex that offers a potent combination of application and real-time processing.
The product will be shipped at 1.4 GHz but developers can up the frequency up to 1.5 GHz. Overclocking is not advisable, but some people will always try. On the HiFive board, you can run an emulated version of virtualization. You can use the PCIe general-purpose slot (PCIe Gen 3 x8) for the graphics card and since Linux driver support is available today.
SiFive Freedom U Software SDK
Both the HiFive Unmatched and earlier Unleashed boards come with Freedom U SDK support based on Yocto/OpenEmbedded. The SDK allows you to build your own custom Linux distribution and comes with U-Boot, OpenSBI, U-Boot SPL all packaged together and released under an open-source license.
Debian support for RISC-V has grown over the past few years with ~95% of packages ported to RISC-V, and Fedora distribution also supports (U)EFI. Both operating systems should run well on either HiFive board.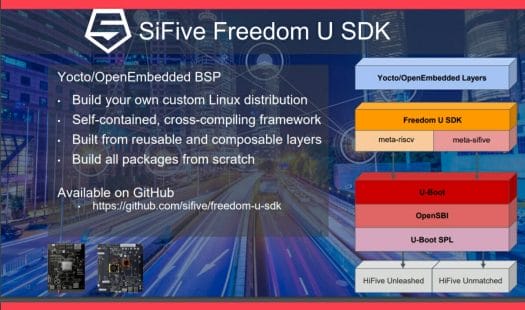 Q&A
Question (Abhishek Jadhav): RISC-V being an open-source ISA, what happens when we see RISC-V based PCs for customers? Do they pay a royalty to SiFive to make the board/SoC?
Answer (Dr. Yunsup Lee, CTO, and co-founder at SiFive): "SiFive has a pretty clean IP business model where there are license and royalty associated with the IP that works with our partners so it would have been too different from what people can see in the market to use RISC-V PCs. RISC-V specifications are free and open specifications. In other words, the other competitors have something called an architectural license and you have to pay fees to get access to the architecture license to build your own cores. So, one way to think about RISC-V is that everyone gets a free architecture license."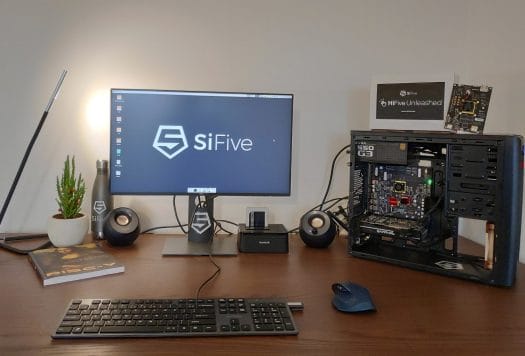 Conclusion
SiFive Unmatched board will be available by Q4'20 for USD 665, and you can already register your interest. You will get a mini-ITX board, 32 GB MicroSD, and 3-meter CAT5e ethernet cable. SiFive did not speak on the commercial aspect of the product but are very confident about future development. Android and Chrome support is something we can see in the future. The product looks promising and we are excited to see future development in the RISC-V PC ecosystem.
Presentation slides are available here.

Abhishek Jadhav is an engineering student, RISC-V Ambassador, freelance tech writer, and leader of the Open Hardware Developer Community.