After the launch of ClockworkPi GameShell in Q4 2018, now ClockworkPi has come with yet another exciting product. DevTerm is a portable computer that comes with a 6.8-inch IPS screen, a keyboard with 67 keys, and a battery module, all connected to ClockworkPi v3.14 carrier board and a choice of core modules. It will also come with an optional built-in thermal printer.
ClockworkPi v3.14 Mainboard and the Core boards
The mainboard ClockworkPi v3.14 uses a compact design and comes with a reduced size of 95x77mm. With a modular design, it gives you a choice of "core board" modules for various applications. Moreover, ClockworkPi v3.14 is now compatible with the Raspberry Pi CM3 series, which means that your work on the Raspberry Pi can be "teleported" to a portable terminal without hassle.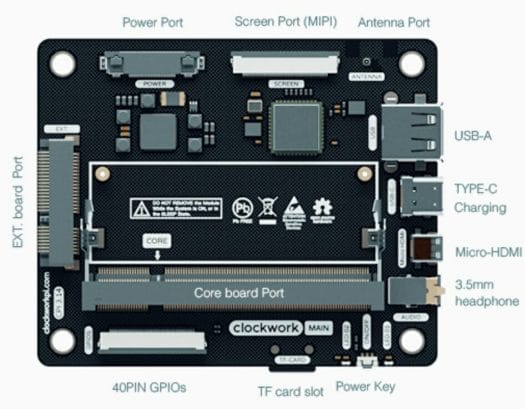 It has integrated 5GHz WIFI (802.11ac) and Bluetooth 5.0 which makes it suitable for wireless communication applications as well. A high-gain antenna (HGA) increases the signal strength and provides a more precise way of targeting radio signals. This is very essential for long-range wireless networks. Other specifications include a Micro-HDMI interface, 3.5 headphone jack with a microphone input.
As mentioned above, you have the option to choose a suitable core. Some of them include the A-04 series Arm 64-bit quad-core Cortex-A53 (likely Allwinner H6) coupled with 1/2 GB LPDDR3, A-06 series Arm 64-bit dual-core Cortex-A72 + quad-core Cortex-A53 (Rockchip RK3399 hexa-core processor) plus 2/4GB LPDDR3. To break it down, the A-04 series and RPI-CM3 are suitable for general purpose applications including writing, coding, e-mails, making indie-games, running most video game emulators, etc. While the A-06 series will provide you with a better solution for high performance, such as for AI/algorithm development and rapid prototyping of embedded devices.
Some good news for developers is that the portable computer will come with a DIY-friendly external module. You can now add AI accelerator, 4G/5G module, Software-defined Radio (SDR), game cassette reader, and EEG/ECG monitoring modules.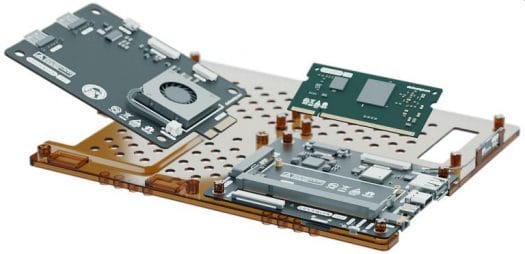 DevTerm open-source portable terminal
This will come with an ultra-wide 6.8-inch IPS screen, an aspect ratio of 16:6 (a typical retro-style proportion), and 1280×480 resolution. The keyboard has a physical mini trackball with an OK function and three mouse buttons. The central control unit of the keyboard adopts the Arm Cortex-M3 architecture. The battery module has a short circuit and reverse-polarity protection features. But it is still advised to purchase batteries from a reliable distributor.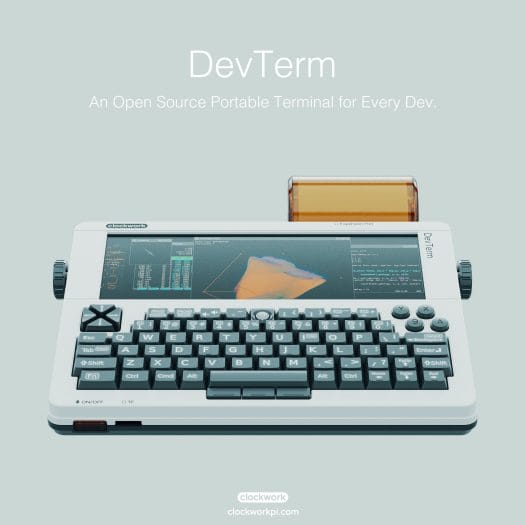 Clockwork has already been working on testing more CPU architectures, such as FPGA+ARM, RISC-V, and even x86 architecture.
The company plans to release schematics and related design materials under the GPL v3 license, and you can find them on GitHub.
You can now buy the DevTerm which is up for pre-order with the price starting at $219 for the model based on Raspberry Pi Compute Module 3.
Source: All the figures used are from the ClockworkPi website and @Hal_clockwork.
Via Liliputing.

Abhishek Jadhav is an engineering student, RISC-V Ambassador, freelance tech writer, and leader of the Open Hardware Developer Community.