The STM32WB5MMG (STM32) is a wireless microcontroller module by STMicroelectronics. It is a compact ultra-low-power module that allows customers to design 2-layer PCBs and integrates everything up to the antenna, including an IPD (integrated passive device) for reliable antenna matching in order to reduce the overall costs.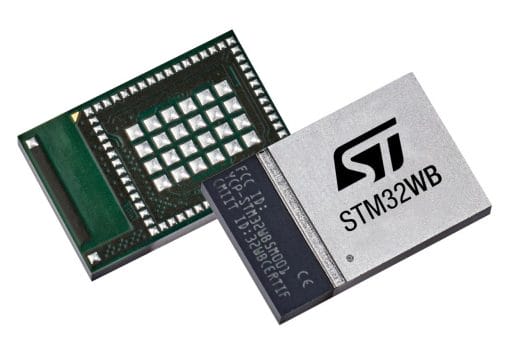 The STM32 wireless module is compatible with BLE (Bluetooth Low Energy) 5.0, OpenThread, Zigbee 3.0, dynamic and static concurrent modes, and 802.15.4 proprietary protocols. It also supports simultaneous dual-protocol mode that allows IEEE 802.15.4 radio-based protocols like Zigbee 3.0 and OpenThread for direct connection with any BLE device.
Overview of STM32 Wireless Module
The STM32 wireless module is a SiP-LGA86 package (System in Package Land Grid Array)  with various external components including: 
STMicro STM32WB55 Cortex-M4/M0+ wireless MCU

LSE crystal 

HSE crystal

Passive components for SMPS 

Antenna matching and antenna 

IPD for RF matching and harmonics rejection

Key Features of STM32 Wireless Module
Dedicated Arm Cortex-M0+ for radio and security tasks
Dedicated Arm Cortex-M4 CPU with FPU and ART (adaptive real-time accelerator) up to 64 MHz speed

Supports 2 Mbit/s

TX output power up to +6 dBm

RX sensitivity: -96 dBm (Bluetooth Low Energy at 1 Mbps), -100 dBm (802.15.4)

Range: up to 75 meters

Fully integrated BOM, including 32 MHz radio and 32 kHz RTC crystals

Integrated SMPS

68 GPIOs

1.8 V to 3.6 V VDD range

-40 ºC to 85 ºC temperature range

Certifications: CE, FCC, IC, JRF, SRRC, RoHS, REACH, GOST, KC, NCC
The STM32WB5MMG is a tiny wireless module measuring 7mm x 11.3mm that reduces the design complexities like tuning the antenna and optimizing the RF, hence allowing quicker implementation into customer designs. The STM32WB55VGY MCU in the wireless module makes it suitable for advanced applications such as home automation, smart locks, wireless audio devices, and healthcare personal trackers. STM32CubeMX graphical tool can be used to configure projects, and the ultra-low-power features of the STM32 wireless module "enable the extended battery lifetime, small coin-cell batteries or energy harvesting."
STMicroelectronics is soon going to release the STM32WB55MMG-DK development board with a "myriad of sensors, an LCD, external memory, and more" so that all the functionalities of the wireless module can be explored.
The STM32WB5MMG wireless module is available now, from $5.66 for orders of 10,000 pieces. You can find more details of the module on the official product page.

Saumitra Jagdale is a Backend Developer, Freelance Technical Author, Global AI Ambassador (SwissCognitive), Open-source Contributor in Python projects,  Leader of Tensorflow Community India and Passionate AI/ML Enthusiast