When it comes to high-end AI-edge computer boards, we have seen Hackboard 2 with support for Windows 10 operating system and optional 4G or 5G cellular connectivity. Fast Sense Studios is a Russian-based startup designing powerful on-board computers to bring edge AI capabilities to mobile robotics. At Embedded World 2021, the company has unveiled the Fast Sense X Robotics AI Platform that integrates the power of six computers into a single module.
The company claims the newly launched edge AI computer outperforms the NVIDIA Xavier with over 8x higher performance in mobile robots thanks to the advanced DNN inference hardware. Apart from the Intel UHD GPU, the computer also integrates up to 3 Coral Edge TPU devices and up to 2 Myriad X devices allowing it to give optimum results even when on heavy workloads.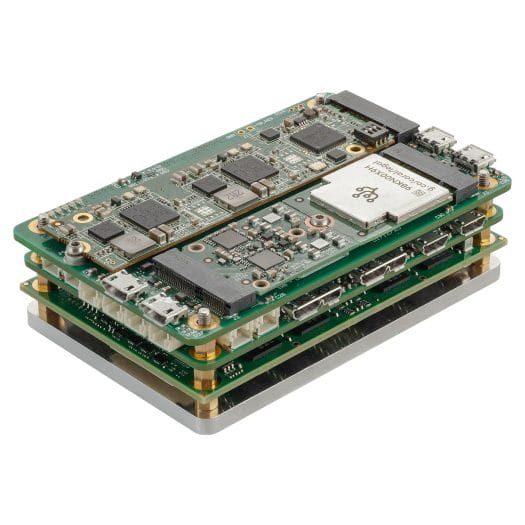 "We believe in the future where reliable physical agents become relevant for routine tasks that most of us perform today. Reliability is what we are working on today, creating the environment for robots to process a large amount of data onboard, learning from this, and making independent, safe, and reliable decisions," said Yuri Rumyancev, Co-founder of СТО Fast Sense Studio.
Bringing together hardware and robotics engineers, software developers, and data scientists, we have developed a prototype computer for mobile robotics with six independent edge AI accelerators from Intel and Google. It is fully tested and already integrated into our wheeled robot. The launch of the Fast Sense AI Edge Computer indicates a new benchmark for end-to-end robotic systems to help people achieve a new level of productivity.
What's inside Fast Sense X Robotics AI Platform?
Despite its minimalist aesthetics, the motherboard manages to pack in a couple of USB 3.1 as well as 6x USB 2.0 for proper interfacing and appears to offer 6x UART, I2C, and possibly a display port also.
Looking more at the hardware design, the Fast Sense X Robotics AI Platform is built around Intel's Atom x6425E processor at up to 3.0 GHz. One of the most important hardware aspects that makes it stand out is that the onboard DRAM of up to 16GB LPDDR4x has a speed of 4.267 million transfers per second (MT/s).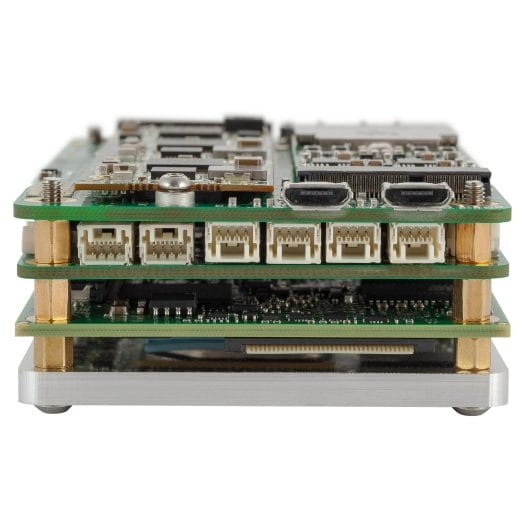 For storage, the manufacturer has provided up to 64 GB UFS 2.0 storage, which is faster than the eMMC standard. Apart from high performance, the hardware is designed for low-power consumption of no more than 24W TDP with a breakdown of CPU/GPU – 12W and Edge AI – 11W.
Regarding the software, the mini-computer comes with a preinstalled OS Lubuntu 18.04.5 LTS and ready-to-go Docker containers for EdgeAI devices and ROS nodes. For new users, the company has provided easy-to-use inference code examples.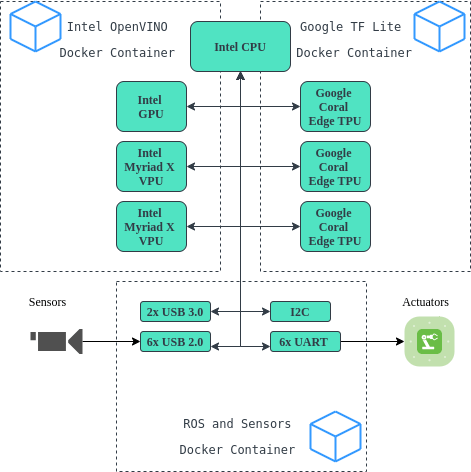 How to get started?
Designed for heavy AI edge workloads, the fast-sense AI platform is shipped with all the interfacing cables required to make it a computer. With these interfacing cables, connect a monitor, mouse, keyboard, USB-wifi stick, and power supplies. After a couple of minutes in for the system to boot, you can log in to the system using your default credentials. 
Note: Login: robot / Password: fastsense 
After the initial set-up, the operating system pre-installed via docker provides an easy user experience. "It is highly recommended to run everything inside a docker container from our Docker Hub," the company notes. 
With this, you are set to try running your first demo. To add more to the edge AI demo, refer to the user manual provided on the company's readthedocs page.
What's next?
There is no price set for the hardware, however, we can expect it somewhere around $1,000 depending on the configuration. If you wish to get more details, inquire on the product webpage. 
The product might sound overpriced, but the AI edge computer comes with up to 16GB DRAM when compared to Hackerboard 2 at 4GB DDR4 RAM. Even the hardware is efficiently designed to run high-end AI applications.

Abhishek Jadhav is an engineering student, RISC-V Ambassador, freelance tech writer, and leader of the Open Hardware Developer Community.