Axiomtek has announced eBOX560-52R-FL, which is a palm-size fanless embedded system featuring Intel Core and Celeron Whiskey Lake-U processors. We also saw ICP Germany's fanless Linux embedded system featuring NXP i.MX 8M processor. This device was dedicated to IoT gateways and data acquisition applications. In contrast, the eBOX560-52R-FL fanless embedded system is for more diverse use cases including machine and logistics automation, station gate controls, and ticket vending machines.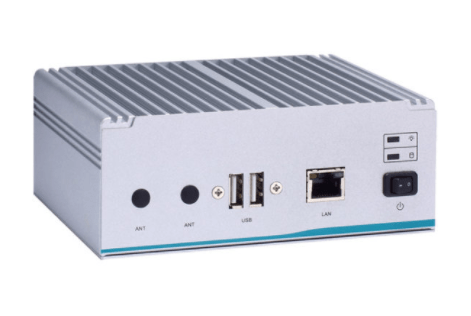 The eBOX560-52R-FL fanless embedded system comes with two independent 4K Ultra HD displays via DisplayPort++ and HDMI ports. The device features 2 GbE LAN for faster communication and networking, as well as one M.2 Key E 2230 for the Wi-Fi module.
The embedded system can endure up to 50G shock and 3Grms vibration thus suitable for industrial applications. The operating temperature of the device ranges from -10°C to +50°C with 0.7 m/s airflow whereas the storage temperature ranges from -20°C to 80°C making it fit to work in "harsh environments."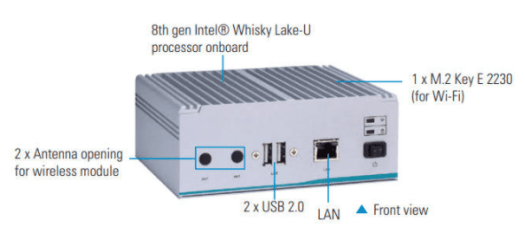 eBOX560-52R-FL fanless embedded system key features:
CPU – 8th generation Intel Core i5-8365UE working up to 1.6 GHz and Intel Celeron 4305UE working up to 2.0 GHz
System Memory includes 1 x 260-pin DDR4-2400 SO-DIMM, maximum up to 32GB
Powered by AMI BIOS
2x RS-232/422/485 for transmission protocols
USB – 2 x USB 2.0 and 2 x USB 3.1 Gen2
2x Ethernet/PoE at 10/100/1000 Mbps speed
Multiple display ports, including DisplayPort++ and HDMI port
Storage includes a 2.5″ SATA HDD drive bay up to 9.5 mm
Expandable with M.2 Key E 2230 for wireless communication
Features ATX power switch, AT/ATX quick switch, screw-type VDC power input connector, and a pair of antenna openings
Watchdog timer with 65535 levels ranging from 1 to 65536 sec
Construction using Aluminum extrusion and heavy-duty steel, IP40
Dimensions of the embedded system are 141.6 x 106 x 55 mm
Weight – 0.6 kg (1.32 lb)/1.5 kg (3.3 lb)
Multiple mounting options include Wall-mount Kit and a DIN-rail kit.
Janney Lee of Axiomtek explains, "eBOX560-52R-FL is for providing customers with flexible, convenient, and simplified solutions for industrial and embedded applications. The fanless yet low-power embedded system can operate under wide temperatures ranging from -10°C to 50°C with 0.7 m/s airflows and endure up to 50G shock and 3Grms vibration."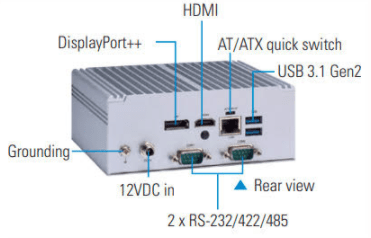 The software support features AMS.AXView, which is an industrial IoT management system for device setting and monitoring, event detection. It also comes with plug-in standard protocols. The device is compatible with Windows 10 IoT and Linux operating systems. The eBOX560-52R-FL embedded system requires a DC power supply of 12 V.
The eBOX560-52R-FL fanless embedded system is not yet released at this point in time, hence there is no information on pricing and availability. However, the press release says that it would be available for purchase in May 2021. For more information visit the official product page.

Saumitra Jagdale is a Backend Developer, Freelance Technical Author, Global AI Ambassador (SwissCognitive), Open-source Contributor in Python projects,  Leader of Tensorflow Community India and Passionate AI/ML Enthusiast