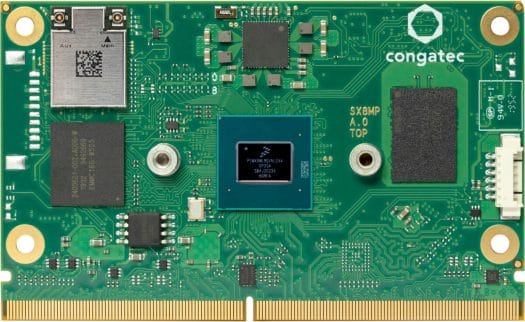 Low-power flagship for artificial intelligence – congatec is expanding its SMARC platform with a new module with an NXP i.MX 8M Plus processor especially for embedded AI applications. Thanks to the extensive ecosystem with an application-ready 3.5-inch carrier board, Basler cameras, and AI software stack, fast proof of concept is possible.
That hasn't always been so easy. Previously, it was usually much more difficult to use the latest processor technology from the Arm environment as a finished system than to implement the x86 environment. This is because, as a result of the historically large range of individually tailored custom designs used in large quantities, the ecosystem of system platforms is not that extensive. However, with the modular approach based on the SMARC computer-on-modules specification, it is now also possible to obtain standard form factors from the x86 box PC range with ARM processors. For example, the embedded computing specialist congatec offers a 3.5-inch board that can be equipped with modules from its SMARC 2.1 platform as required. With each launch of a new SMARC module, the portfolio of possible configurations is automatically expanded with a slight time lag. The latest flagship processor is the new NXP i.MX 8M Plus processor, which congatec has officially launched on SMARC at the virtual Embedded World 2021 earlier this year, and for which a fully supported 3.5-inch carrier board is available.
Attractive Features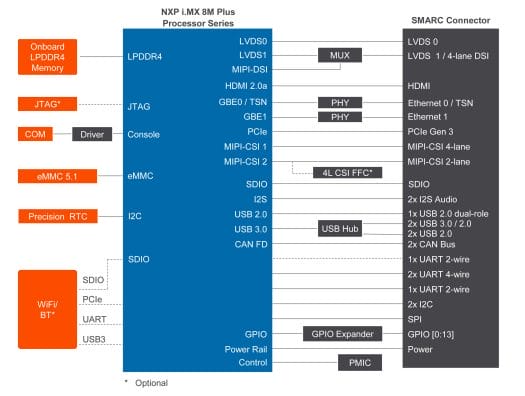 Technical highlights of the new SMARC module with i.MX 8M Plus processor are the four powerful Arm Cortex-A53 processor cores with the additional neural processing unit (NPU), which adds up to 2.3 TOPS of AI computational power. Thanks to the integrated image signal processor (ISP), they have been developed specifically for AI inference and machine learning applications and can process the data of the two integrated MIPI CSI interfaces very efficiently. A key application field here is gesture-based control systems, e.g., enabling touchless login into medical applications on intensive care computers for adjusting the administration of infusions. In addition, the multimedia functions cover 3D/2D graphics acceleration as well as video decoding and encoding including H.265 so that camera streams can be sent directly to the network. High resolutions are becoming increasingly important both in inspection and in monitoring systems for enabling better evaluation of details. The NPU can help with the pre-processing so that the raw data does not overload the network. High-quality DSP for audio and voice functions is also interesting. Through the combination with the arithmetic logic units, user-specific speech recognition with around 40,000 different words is possible, for example. And that, unlike commercial solutions such as Alexa, Google, or Siri, purely locally and completely without any cloud connection, which can be very useful for contactless voice commands.
In addition, real-time control is possible via the Cortex-M7. And via Gigabit Ethernet with time-sensitive networking (TSN). For the first time, high data security and reliability are ensured by the in-line ECC function of the processor, which can implement error correction code based on LPDDR4 memory for up to 6 GB of capacity. The Cortex-M7 can also be used as a fail-safe unit, which is crucial for customer applications to be designed with fault tolerance in accordance with IEC 61508/IEC61511. If you look at this all-round service package and implement further application-specific functions via PCIe Gen 3 as well as 2x USB 3.0 and 2x SDIO, you have a highly reliable and robust Linux, Android, or FreeRTOS platform, which, depending on the variant, can even be used in the industrial temperature range of -40 °C to 85 °C. Incidentally, the BSP primarily supported by congatec is based on the Yocto framework. The low energy consumption of 2–6 W and the onboard eMMC with a storage capacity of 128 GB and the ability to be operated in robust pSLC mode to extend the service life of the robust memory even more are other attractive highlights.
Diverse Application Areas
The new SMARC modules with i.MX 8M Plus platform are thus focused on reliable industrial applications in combination with embedded vision, machine learning, and AI as well as advanced multimedia applications. They thereby target Industry 4.0/IIoT, visual inspection and monitoring systems, and smart infrastructures and smart cities. Other applications can be found in agriculture and construction as well as in building automation and measurement technology. The target markets are thus extremely diverse. One of the largest application fields is in the wide range of HMIs because virtually every device today has a graphical user interface and extended multimedia functions for increasingly immersive experiences, in low-power and mobile device areas too. Support of up to three independent displays also makes the new processor module predestined for multidomain applications. The NXP i.MX 8M Plus processor platform is thus a perfect replacement for all existing i.MX6 applications that are getting on in years. It also scales the SMARC-based AMD and Intel portfolio from congatec towards more energy-efficient, compact, and mobile solution platforms. Added to that are mobile handheld devices and in-vehicle applications. Thanks to the camera and AI integration, the modules are also suitable for a multitude of different vision applications, for which congatec and its partner Basler offer extended services.
Industry 4.0 Applications With Real-Time Networking
The new SMARC modules with processors from the i.MX8 M Plus platform offer numerous attractive features for real-time control of safety-critical applications and networked Industry 4.0 systems such as robots or autonomous logistics vehicles. These begin with the integrated watchdog, which can be used for failure detection in redundant machine control systems. Distributed edge systems with real-time synchronization can also be established via the real-time clock and the TSN-capable Gigabit Ethernet port. For example, in networked manufacturing cells or the process industry. The NXP TrustZone offers a secure execution environment for enhanced protection against cyberattacks, the risk of which increases through networking. This is based on an encryption module (CAAM) for hardware-accelerated ECC and RSA encryption, the Resource Domain Controller (RDC) for the isolated execution of critical software, and the secure High Assurance Boot mode, which prevents execution of unauthorized software during the boot procedure.
Embedded Vision Systems a Focus Market
The availability of the SMARC modules with i.MX 8M Plus is thus another milestone in the company's solution platforms for embedded vision systems. congatec already created a proof of concept for retail deep learning applications with Basler and NXP Semiconductors in 2019. Integrated AI software, with which automated cash systems can be realized in retail, runs on this platform. With the growing popularity of contactless technologies as a result of the pandemic, this kit is now more relevant than ever and the NXP i.MX 8M Plus processor with the new NPU and the powerful image signal processor for even more powerful AI-based image evaluation in real-time offers an even more attractive feature set for such applications. The ISP can process video streams of 375 megapixels per second (MP/s). This corresponds to 180 Full HD images per second with, for example, image contrast optimization or lens distortion correction. With the integrated neural processor and the support for OpenGL ES 3.1, Vulcan VX extensions, OpenCL 1.2 FP, and OpenVG 1.1, vision applications receive a uniquely high processing performance.
With COM & Carrier to Customer-Specific Design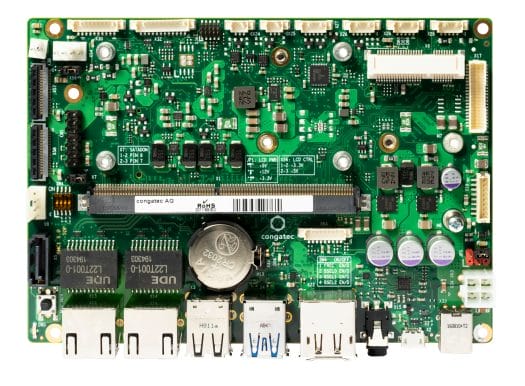 SMARC modules – like all computer-on-modules – are also attractive for developers without the 3.5-inch board because application-ready carrier boards are often already available and the SMARC modules can be used right on these customer systems. This practically eliminates the hardware development, which also significantly accelerates the software development and ultimately leads to a faster time to market. In the further course of the product life cycle, performance variants can also be created through simple replacement of the module, and for extremely long-term availability, it is possible to switch to the next generation at a minimal NRE cost when a processor is discontinued. Ultimately, this means that the ROI can be significantly extended. For this reason, COMs have also assumed a leading position in the market for embedded computer boards and systems. Another attractive feature of SMARC is the fact that this standard supports Arm and x86. As a result, potential migration paths are extended even further. SMARC modules from congatec can currently be scaled via 24 module variants. However, if the system performance is sufficient, it will still be able to be reordered in professional applications for a long time to come. congatec specifies an extended availability of 15 years for the new SMARC module with NXP i.MX 8M Plus processor.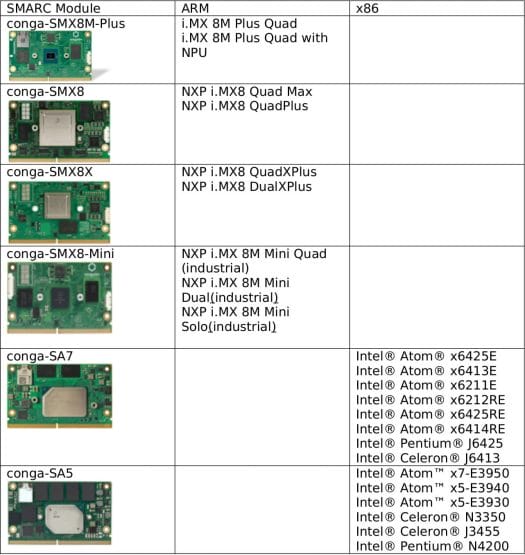 Author: Martin Danzer Loncaric is Director of Product Management at congatec AG.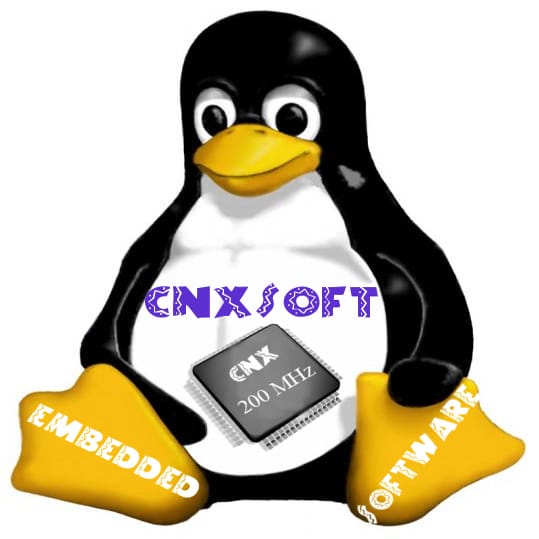 This account is for paid-for, sponsored posts. We do not collect any commission on sales, and content is usually provided by the advertisers themselves, although we sometimes write it for our clients.