I still don't own a WiFi 6 router, but MediaTek has already started to demonstrate WiFi 7 (802.11be) to customers with solutions based on upcoming Filogic 802.11be processors which deliver "super-fast speeds and low latency transmission" and provide a "true wireline/Ethernet replacement for super high-bandwidth applications".
The company goes on to explain that Wi-Fi 7 relies on the same 2.4GHz, 5GHz, and 6GHz frequencies as WiFi 6/6E, but can still provide 2.4x higher speeds than Wi-Fi 6, even with the same number of antennas, since WiFi 7 can utilize 320Mhz channels and support 4K QAM (quadrature amplitude modulation) technology.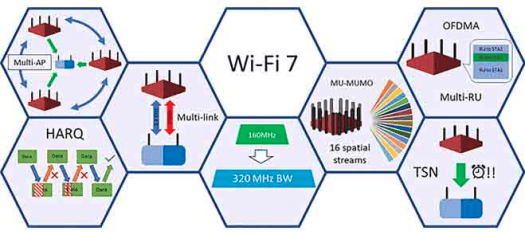 There's limited information about MediaTek Filogic 802.11be WiFi 7 processors since it will take a few more years before becoming available, but we can find more details in a document entitled "Current Status and Directions of IEEE 802.11be, the Future Wi-Fi 7" from IEEE Xplore.
Here are some of the key features expected in WiFi 7:
Up to 40 Gbps link
Bandwidth up to 320 MHz and beyond
Order of modulation up to 4K-QAM
Up to 16x spatial streams in MU-MIMO
Enhanced Distributed Channel Access (EDCA) with 802 TSN (Time-sensitive Networking) features for real-time applications
Latency below 5 ms suitable for gaming
Enhanced OFDMA for better resource allocation
Multi-link operation favorable for both tremendous data rates and extremely low latency
Channel sounding optimization to reduce overhead
Introduction of HARQ (Hybrid Automatic Repeat Request) which "exploits the information from the previous tries. The receiver combines the signals from several transmission attempts, which increases SNR and, consequently, the probability that the receiver decodes the packet correctly."
Non-orthogonal Multiple Access (NOMA) to increase peak throughput and improve efficiency by making an access point (AP) serve multiple stations/clients (STAs) simultaneously in the same baseband by allocating portions of the total transmission power for each STA
Multi-AP cooperation with techniques such as coordinated spatial reuse (CSR) or coordinated OFDMA (CO-OFDMA) in dense deployments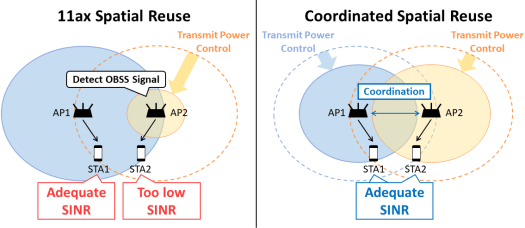 Note that the features above are still being under consideration since the 802.11be standard has yet to be ratified and there may be changes.
The higher speeds and lower latency will help provide a better quality of service for some existing applications such as high-quality video calls, 4K/8K TV entertainment, real-time gaming, and more, and MediaTek expects future AR/VR applications to fully benefit from the new wireless standard.

MediaTek says products with Wi-Fi 7 are expected to hit the market starting in 2023, but the development timeline from the May 2020 document above expects the final amendment to occur in May 2024. I've seen companies launch products based on draft specifications before, but obviously, there's a certain level of risk as the products may end up not being fully compatible depending on how the draft specifications are amended.
Thanks to TLS for the tip.

Jean-Luc started CNX Software in 2010 as a part-time endeavor, before quitting his job as a software engineering manager, and starting to write daily news, and reviews full time later in 2011.