Picovoice Leopard and Cheetah offline, on-device speech-to-text engines are said to achieve cloud-level accuracy, rely on tiny Speech-to-Text models, and slash the cost of automatic transcription by up to 10 times.
Leopard is an on-device speech-to-text engine, while Cheetah is an on-device streaming speech-to-text engine, and both are cross-platform with support for Linux x86_64, macOS (x86_64, arm64), Windows x86_64, Android, iOS, Raspberry Pi 3/4, and NVIDIA Jetson Nano.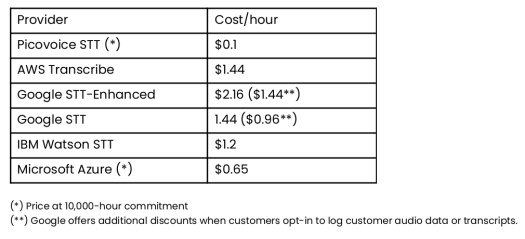 Looking at the cost is always tricky since companies have different pricing structures, and the table above basically shows the best scenario, where Picovoice is 6 to 20 times more cost-effective than solutions from Microsoft Azure or Google STT. Picovoice Leopard/Cheetah is free for the first 100 hours, and customers can pay a monthly $999 fee for up to 10,000 hours hence the $0.1 per hour cost with PicoVoice. If you were to use only 1000 hours out of your plan that would be $1 per hour, still not too bad. Check out the pricing page for details.
But the price is not everything, and a cheap service that does not do the job would be worthless, so the company provided some speech-to-text benchmarks with instructions to reproduce their setup on Github comparing Picovoice Leopard/Cheetah against AWS Transcribe, Google STT/STT-Enhanced, IBM Watson STT, and Microsoft Azure.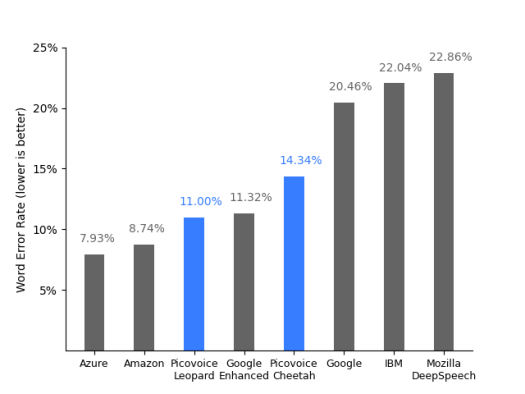 The first metric looked into is the word error rate to estimate the accuracy of the services/solutions. Picovoice Leopard and Cheetah achieve a relatively low word error rate similar to cloud-based services such as Azure, Amazon, and Google Enhanced, and much better than Mozilla DeepSpeech offline, on-device speech-to-text engine.
Mozilla DeepSpeech would still be the most cost-effective solution (since it's free) provided your application can do with the lower accuracy, but another aspect is that Picovoice speech-to-text engines make use of much fewer resources than the Mozilla STT solution with a lower Real-Time Factor (RTF), the ratio of CPU processing time to the length of the input speech file, and acoustic and language models that are 60 times smaller.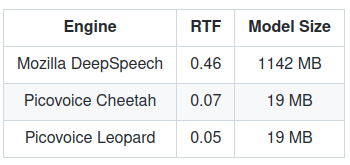 The closed-source libraries for all supported platforms, as well as documentation, can be found on Github in the respective Cheetah and Leopard repositories.

Jean-Luc started CNX Software in 2010 as a part-time endeavor, before quitting his job as a software engineering manager, and starting to write daily news, and reviews full time later in 2011.