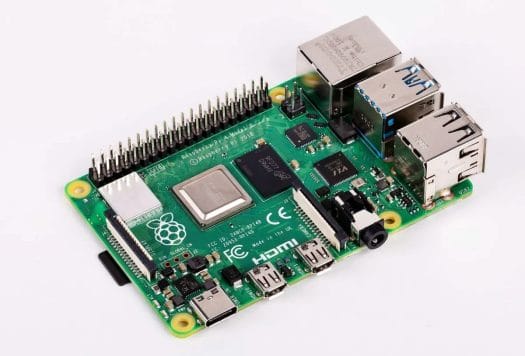 As you may have noticed, Raspberry Pi boards may get hard to get and/or be sold at excessive prices by some resellers. Eben Upton explains the reasons behind the Raspberry Pi Shortage and provides some recommendations to work around the shortage and high prices.
Raspberry Pi Trading is still manufacturing around 500,000 Raspberry Pi boards or modules per month despite the global semiconductors shortage, and the issue they face is more of a demand shock than a supply shock with demand for Raspberry Pi products having increased sharply from the start of 2021 and remains unabated as the supply chain can not handle that extra demand at this time. That means distributors have backlogs in almost all products, and it takes time for customers to get their orders.
Bots are also involved in making automatic purchases as soon as stock becomes available often in order to resell those boards at a higher price. So Approved Resellers have implemented single unit limits or even two-factor authentication to prevent bots from scooping the boards. Raspberry Pi Trading also had to make some tough choices and are currently prioritizing commercial and industrial customers at the expense of individuals, because the former depends on the latter for their livelihood. There's currently enough supply for business customers, which explains why we can still frequently see new products launched with the Raspberry Pi CM4 modules, even though they seem unobtainium for individuals.
Eben's recommendations will be somewhat disappointing, but it is what it is. First, he recommends purchasing only from approved resellers, listed on the products page, as they are held to a single price, and they won't sell you a Raspberry Pi 4 SBC for 100 Euros or other inflated prices. Approved resellers should also receive supplies faster, and you can check stocks on rpilocator. The second recommendation is to buy a Raspberry Pi Pico or RP2040 MCU, as there's plenty of stock as previously mentioned, or a Raspberry Pi 400 Keyboard PC. Obviously, that does not help if all you need is a Linux-capable single board computer.
Another solution that won't come from Eben's mouth is that you could buy a similar single board computer from competitors with, for instance, Hardkernel ODROID-C4, Orange Pi 4 LTS, Pine64 RockPro64, FriendlyELEC NanoPi M4V2, RockPi 4, Khadas VIM3, and others. But I reckon that's not for everybody as it may require some technical knowledge and updates to the software. Finally, since Rasperry Trading prioritizes commercial customers, you could always try to buy through your company, but I could not find any information about the minimum order quantity, which is typically in the hundreds. Companies having trouble finding stock and wanting to order Raspberry Pi products in volume for an industrial or commercial application can contact Raspberry Pi Trading at business [at] raspberrypi.com.

Jean-Luc started CNX Software in 2010 as a part-time endeavor, before quitting his job as a software engineering manager, and starting to write daily news, and reviews full time later in 2011.