2019 is closing to an end, or you may already be into 2020 while reading this post. In any case, that means it's time to look back at 2019 and look forward to the events and new products to take place next year.
While 2018 was a boring year for new processors, 2019 brought us some interesting new chips such as Amlogic S922X / A311D, or the first Arm Cortex-A55 only processors such as Amlogic S905X3. Rockchip RK3399Pro was promising when it was announced last year, but it never really took off. It was a pretty quiet year for Allwinner as well.
RISC-V architecture has been ramping up with the first general-purpose RISC-V MCU: GD32V, WCH CH572 Bluetooth LE MCU, the launch of more SiFive RISC-V cores, and Kendryte K210 RISC-V AI processor announced last year has found its way into more and more boards.
There have also been the usual launches of mobile Arm processors from Qualcomm, Samsung, and MediaTek with a clear trend: "AI everywhere" since AI accelerators have become a must in all but the lower-end mobile processors.
It's been fairly calm for low power Intel processors, as Gemini Lake processor suffered a shortage most of the year, before resuming shipment and we'll have to wait until next year for Elkhart Lake processors. Several mini-laptops with screens of around 7″ to 9″ have been launched in 2019 continuing with the 2018 trends, but mostly based on the more expensive & powerful, yet low power Amber Lake and Comet Lake processors.
2019 has been a banner year for SBC's especially with the launch of Raspberry Pi 4 last June, but competitors have not stopped with the likes of Orange Pi, FriendlyELEC, Hardkernel and Khadas launching some interesting Arm and x86 boards.
Espressif ESP8266 & ESP32 Wireless MCUs remained at the top of the charts in the Internet of Things space at least for hobbyists and makers, but there have been some other chips announced as well notably UNISOC WiFi 5 SoCs and boards, as well as more cheap Arm Cortex-M4 WiFi modules. In terms of LPWAN, I feel it has been more of the same with NB-IoT, LoRaWAN and to a lesser extent Sigfox dominating the news.
We continued publishing more reviews thanks to the help of Karl (3D printers, CNC…) and Linuxium (mini PCs), and I got some writers including Stephen, Ayo, and Siji to help me with the workload, and getting the site accepted into Google News feed.
Top 10 Posts of 2019
I've used Google Analytics to find out which posts were the most read in 2019, so without further delays here are the top ten posts of the year in reverse order:
Raspberry Pi 4 Benchmarks & Mini Review (June 2019) – The Raspberry Pi 4 launch in June was a key moment of the year, and I was lucky enough to have gotten a sample from Cytron just in time for the release and do a quick review. It was not all positive though, as without heatsink I found out Raspberry Pi 4 was actually slower than Raspberry Pi 3 in some benchmarks, and 4K video playback still needed some more work.
Lenovo Enters the SBC Market with Leez LP710 RK3399 Board (November 2019) – When a large company like Lenovo enter the relatively small single computer market it gets noticed, and many people wanted to see what Leez LP710 board was all about
This Business Card is a $3 Linux Computer Powered by Allwinner F1C100s SoC (December 2019) – People like small, slim, and cheap electronics and one embedded systems engineer decided to promote himself by design an actual business card running Linux on an Allwinner processor. The article was published just 4 days ago but got picked by Google Discover and other sources which generated a fair amount of traffic
Top 5 Raspberry Pi Alternatives in 2019 (May 2019) – One month before the Raspberry Pi 4 launch, I wrote about 5 Raspberry Pi alternatives that provide better hardware specifications while keeping mechanical and electrical compatibility.  Some of the boards really had clear advantages but those advantages mostly vanished with RPi 4 introduction.
PineTime is a $25 Smartwatch / Companion for PinePhone Linux Phone (September 2019) – 2019 was an interesting year for Linux smartphones thanks to products like Purism Librem 5 and PinePhone, but when news broke out the latter would get a low-cost smartwatch companion supporting multiple OS it really picked up the attention of people and an active community of developers is now working on the project.
New Raspberry Pi 4 VLI Firmware Lowers Temperature by 3-5°C (June 2019) – As noted in the first link, Raspberry Pi 4 had troubles running without heatsink, and later I tested the board with heatsink again. Eben Upton noticed and contacted CNX Software to test a new version of the PCIe to USB bridge (VLI) firmware that was supposed to lower the CPU temperature. I was allowed to publish my findings, and unsurprisingly drew a fair amount of traffic since it was basically an exclusivity.
Rock Pi X Intel Cherry Trail Board to Sell for as low as $39 (September 2019) – There are plenty of low-cost Arm boards, but it's harder to find in the x86 world. So people noticed when Radxa announced plans for Rock Pi X Cherry Trail SBC, and their intention to sell it for just $39 (and up)
Raspberry Pi 4 vs Pi 3 – What are the differences? (June 2019) – I hope you are not bored with Raspberry Pi 4 news, but on the third step of the podium, we'll find a side-by-side comparison table between Raspberry Pi 3 Model B+ and Raspberry Pi 4 Model B.
$35 Atomic Pi Cherry Trail Linux SBC is now available worldwide (April 2019) – I've already told you low-cost Intel SBC are sought after, and Atomic Pi was actually launched last year via a crowdfunding campaign. One small issue at the time was they would only ship to the US, so once it became available for purchase worldwide (on Amazon), many decided to give it a try for just under $35.
ROCK Pi SATA HAT Targets ROCK Pi 4 & Raspberry Pi 4 NAS (December 2019) – Surprise! Surprise! The most viewed post of the year on CNX Software is about… Raspberry Pi 4 (and Rock Pi 4) with Radxa launching a SATA HAT allowing users to connect up to 4 SATA drives to Raspberry Pi 4, and 5 SATA drives to Rock Pi 4 thanks to an additional eSATAp port.
SBC posts dominated the top 10 list this year with the exception of PineTime, and Raspberry Pi 4 was part of 4 of them. In theory, articles posted earlier in the year would have an advantage since they've been online longer, but most articles that made the list were posted in June or later.
CNX Software Statistics for 2019
We published 922 posts this year against 892 last year. The higher number is partially due to the fact I did not take holidays, and that CNX Software got some writers to help you.
Let's check out some of Google Analytics stats to find out more about what happens in terms of traffic and audience in 2018.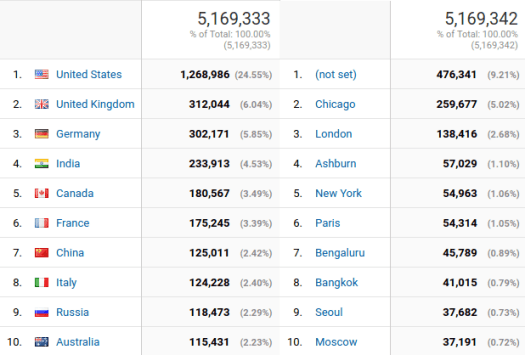 The United States, the United Kingdom, and Germany are still in the top three, but the latter switches places. The share of traffic from the United States rose from 17.96% in 2018 to 24.55% this year. Australia managed to kick out Spain out of its top ten position. The top three cities also changed with Chicago dethroning London from the top stop with the city in the third position being Ashburn. The tiny Coffeyville disappeared from the list, and a geolocation bug appears to have been fixed.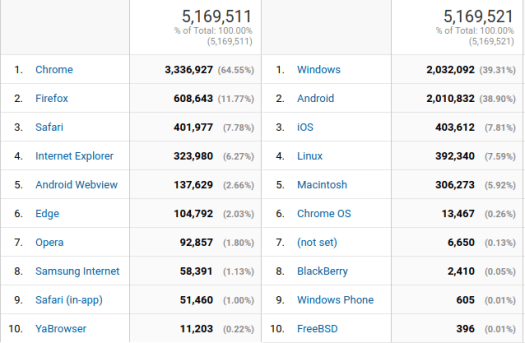 Chrome further consolidates its leading with a 64.55% share of traffic against 61.53% last year, and Firefox coming a distant second at 11.77% a drop from the 15.33% share it had in 2018. Windows is still at the top, but with 39.31% barely holds the lead to Android at 38.90%. Last year, Windows represented close to 50% of the traffic to the site, but this year mobile traffic further increased and Google informed us it would us mobile-first indexing on the website since the majority of the traffic now comes from smartphones.
That's true at least for the second part of the year, as for the full-year Desktop traffic still has a 52.92% share.

Google separates Mobile and Tablet traffic and the later only has 3.95%, against 43.14% for mobile which last year had just 28.32% share.
What to Expect in 2020
Rockchip should have an exciting year with Rockchip RK3588 Cortex-A76/A55 processor for 8K STBs, and RK3530 quad-core Cortex-A55 processor for entry to mid-range TV boxes and SBCs. Amlogic also announced their first TV box processors with AV1 codec support namely S805X2, S905X4, and S908X. The first is designed for entry-level Full HD TV box, S905X4 is a mid-range quad-core Cortex-A55 processor capable of 4K video playback, and S908X is expected to launch at the end of 2020 with 8K video support and HDMI 2.1. It's unclear what Allwinner is planning to do, as they just vaguely mentioned some tablet SoCs without many details, and often re-brand existing Cortex-A7/A53 processor for a given business unit. We should also see the first Intel Elkhart Lake mini PCs or laptop succeeding Gemini Lake sometimes in 2020 as well.
I'm also expecting some more RISC-V processors' announcements notably from Espressif Systems and Samsung, but likely many others. The Raspberry Pi Foundation is also a member of the RISC-V foundation, but considering they've introduced a new Raspberry Pi board this year, a RISC-V RPi is likely more of a 2021 story.
IoT and Artificial Intelligence should still be sectors to follow for new innovative products and solutions. New communication standard such as 5G, 802.11ax (WiFi 6), 802.11ay, and Bluetooth 5.1 should start to ramp up in 2020 after initial deployments in 2019.
I'll like to thank everybody who visited and/or commented on the site in 2019, and wish you all a prosperous, healthy, and happy new year 2020!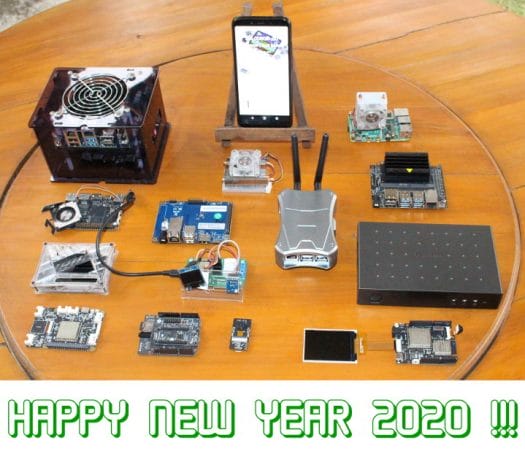 Jean-Luc started CNX Software in 2010 as a part-time endeavor, before quitting his job as a software engineering manager, and starting to write daily news, and reviews full time later in 2011.