If you have just purchased a new phone and feel daunted by the task of transferring data from your old phone, Wondershare MobileTrans secure phone-to-phone transfer solution could be a lifesaver.
Trusted by more than 500,000 users worldwide, the MobileTrans program can help you transfer WhatsApp data, photos, apps, messages, videos, and more between your new and old phone, no matter if you've switched from Android to iPhone or vice versa, or kept faithful to the same operating system.
WhatsApp Data Transfer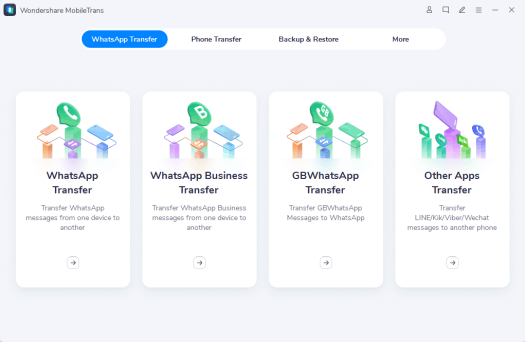 The software allows users to migrate WhatsApp data easily from iPhone to Android and vice versa including messages, stickers, media such as photos, videos, and audio messages, as well as documentation, locations, emojis, and contacts. It's also possible to restore WhatsApp backups from Google Drive to an iPhone.
MobileTrans also works with Whatsapp Business Transfer and GBWhatsApp, as well as other messaging apps such as LINE. Kik and WeChat are also supported but only from iPhone to iPhone, and Viber chats can be backed up to your computer.
Selective transfer with MobileTrans secure phone-to-phone solution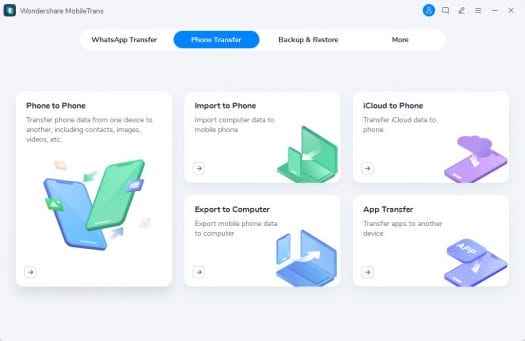 This feature enables the user to freely transfer various types of data, including photos, apps, songs, messages, videos, and more between phones, selecting all data or only specific items by simply checking boxes.
The Phone Transfer Tool supports over 18 types of data and more than 6000 mobile devices running on Android and iOS operating systems. It can transfer photos, videos, and other data from an Android or iOS device to a computer, and supports direct iCloud data to Android transfer, as well as transferring apps from Android to iPhone/Android.
Backup Your Phone to Windows or Mac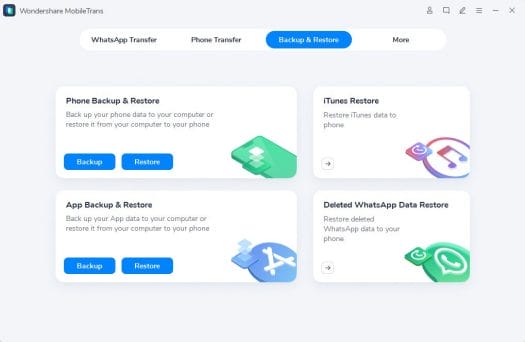 The easiest way to use MobileTrans is probably to do a full backup to a Windows PC or Mac computer. You'll then be able to restore the back to your current phone for recovery or to another phone if you've just purchased a new one. Wondershare makes sure the software is always up-to-date with support for the latest models, and both Android 12 phones such as Samsung S22 and the iPhone 14 running iOS 16 are supported.
MobileTrans system requirements and pricing
To install MobileTrans, you'll need a host computer running Windows XP or great or Mac OS 10.8 or greater with at least a 1GHz processor with 200MB of free space and 1GB of RAM is recommended. It works with phones running iOS 6+ up to iOS 16 and Android 4.6+ up to Android 12.
The company offers a free trial version to test 10 to 20 photos and/or videos as well as full phone backup with partial restore. If you are satisfied with the trial version, you can purchase the "full features" Windows software for $39.99, or Whatsapp, Phone Transfer, or Phone Backup/Restore tool for $29.99 all good for one year for up to 5 mobile devices. The Mac "full features" program is offered for $49.99, and individual tools for $44.99 each. The company also offers business packages and discounts for students. Head over to the Wondershare website to try or purchase the program.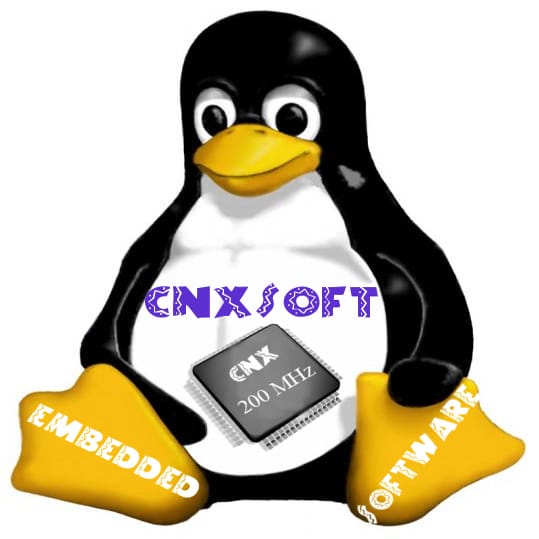 This account is for paid-for, sponsored posts. We do not collect any commission on sales, and content is usually provided by the advertisers themselves, although we sometimes write it for our clients.