Allwinner T3 is a quad-core Cortex-A7 automotive-grade processor that supports a wide industrial temperature range of -40°C to +85°C. After comparing the specifications of Allwinner T3, I think it is the same as Allwinner A40i, as Allwinner has different business units and the T-series is for the automotive-grade market, while the A-series has historically been for the tablet market, but is now also used in the industrial-grade market.
Tronlong SOM-TLT3 and SOM-TLT3-B are Allwinner T3 system-on-modules (SoM) of Allwinner T3. Both modules have basically the same specifications but the SOM-TLT3 comes with castellated holes for soldering to the carrier board, while the SOM-TLT3-B features board-to-board connectors.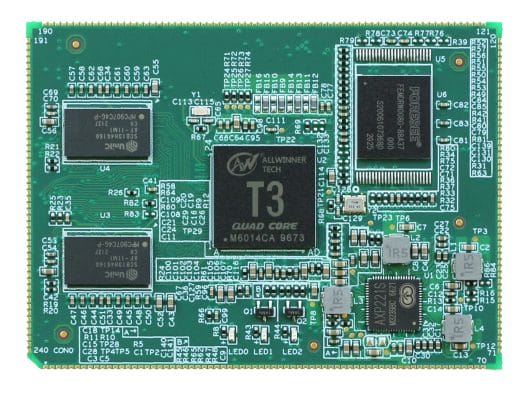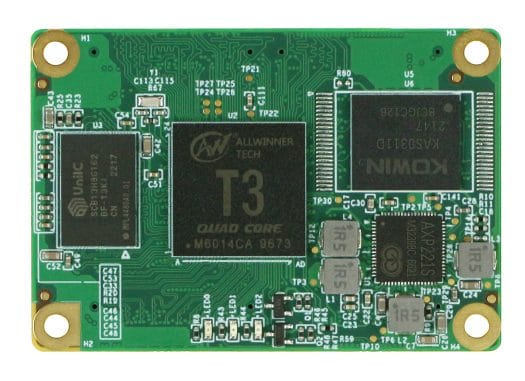 Tronlong SOM-TLT3 / SOM-TLT3-B specifications:
CPU – Allwinner T3 quad-core Arm Cortex-A7 @ 1.2 GHz with 32KB L1 I-cache + 32KB L1 D-cache, 512KB L2 cache.
GPU – Arm Mali-400 MP2 with support for OpenGL ES 1.1/2.0, Open VG 1.1
Memory – 1/2GByte DDR3
Storage – eMMC 5.1 flash up to 8GB, 1x SATA
VPU

H.264 decoding up to 1080 @ 45fps
H.264 encoding up to 1080 @ 45fps

Video Input

2x MIPI CSI interfaces: CSI0 up to 1080 @ 45fps, CSI1 up to 720 @ 30fps
4-channel TVIN with support for CVBS, NTSC and PAL

Video Output

4-lane MIPI DSI up to 1080 @ 60fps
2x RGB interfaces up to 1080 @ 60fps
2x LVDS up to 1080 @ 60fps (2-lane LVDS DISPLAY and RGB DISPLAY pin multiplexing)
4-channel TVOUT for CVBS, NTSC, and PAL

Networking – 2x Ethernet
USB – 3x USB interfaces
Low-speed interfaces – Up to 5x I2C, 4x SPI, 8x UART, and PWM interfaces
Host connection – 2x 50pin + 2x 70pin, pitch 1.0mm
Dimensions  – 55 x 75mm (SOM-TLT3); 39 x 57mm (SOM-TLT3-B)
Tronlong also offers a features-rich TLT3-EVM carrier board that brings out two Ethernet RJ45 ports, dual CAN, dual USB, dual RS485, as well as wireless support with Bluetooth, WiFi, and 4G cellular modules. Multimedia interfaces include MIPI LCD, LVDS LCD, TFT LCD, and CVBS OUT for up to two independent displays, CAMERA, LINE, H/P OUT, and more. The carrier board is also equipped with a SATA port for high-capacity storage.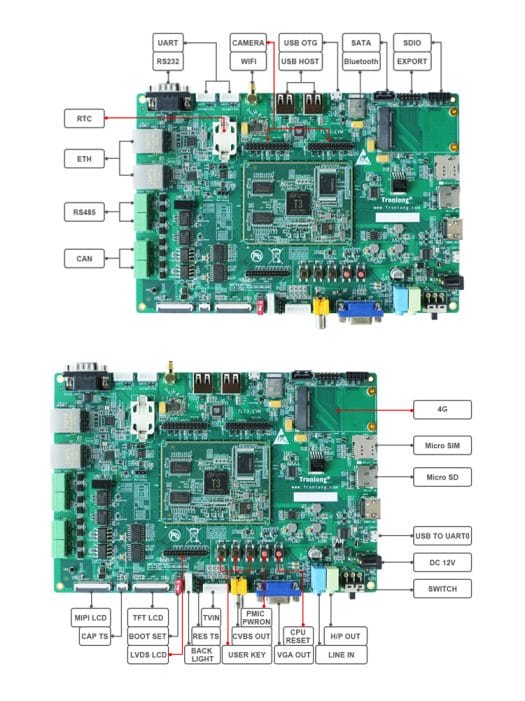 TLT3-EVM has been tested and validated in the industrial temperature range (-40°C to 85°C) and gone through at least 3000 startup tests.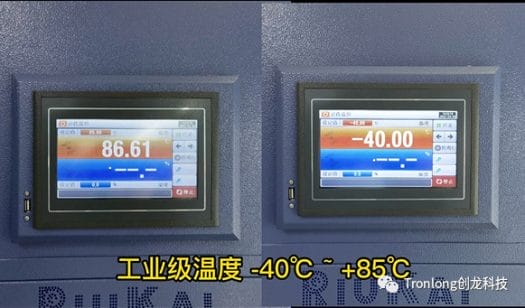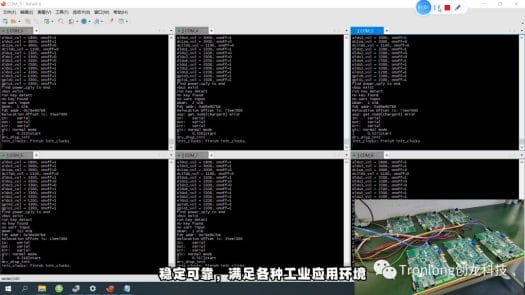 Tronlong says the Allwinner T3 modules and by extension, the TLT3-EVM, support the OpenWrt-based Tina operating system with Linux 3.10, as well as Buildroot-201611, Ubuntu 16.04, and SylixOS, an operating system developed by a Chinese company.  The company provides development materials such as pin definition, schematics, PCB layout of the development board, as well as datasheets. However, you would need to fill out a form in Chinese with some of your personal information to access all of those…
The Tronlong TLT3-EVM development board is sold on Aliexpress for $237.02 with free shipping, the SOM-TLT3 system-on-module can be found for $74.45 shipped, but we never unable to find the SOM-TLT3-B outside of China.

Li Zexi became a part-time writer for CNX Software in 2022 and works as a software engineer in an embedded software company in China. He's been passionate about embedded development and the Internet of Things for many years, with extensive industry experience, and a new and unique vision!