Axelera M.2 AI accelerator module is said to deliver up to 214 TOPS of AI inference and up to 3200 FPS with ResNet -50 in a compact M.2 2280 form factor.
Few details are available at this time, but the module is based on the company's Metis AIPU (AI Processing Unit) using in-memory computing based on arrays of SRAM memory devices used to "store a matrix and perform matrix-vector multiplications "in-place" without intermediate movement of data". This technology is said to "radically" increase the number of operations per computer cycle with without suffering from issues such as noise or lower accuracy.
The Metis AI platform delivers 50+ TOPS per core (RISC-V-controlled dataflow engine), offers FP32 equivalent accuracy, and has a 15 TOPS/W energy efficiency. The last point is impressive, but that means 214 TOPS won't be reachable with the module shown above, since the M.2 form factor is designed to handle up to around 8W with proper cooling (thick heatsink). So the best we could hope for would be 120 TOPS. That would still be a serious jump compared to the Hailo 8 M.2 card with up to 26 TOPS, and even more when compared to the popular Coral Edge or Myriad X accelerators.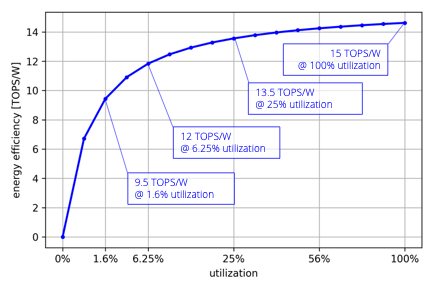 For reference, the NVIDIA Jetson AGX Orin module (32GB) delivers up to 200 TOPS @ 50W, or 4 TOPS/W energy efficiency. So Axelera is making bold claims, especially since the M.2 module is expected to sell for $149 / 149 Euros, and this would have to be confirmed with third-party testing since comparing public AI benchmarks is close to impossible. We'll find out once the module becomes available.
Axelera Metis is programmable with the Voyager SDK which is currently optimized for the development of computer vision applications for the Edge. It abstracts the internal workings of the Medis AIPU and can also quantize and compile models trained for PyTorch and Tensorflow in order to simplify the work of developers. The company also provides access to the Axelera Model Zoo, accessible on the Web and via cloud APIs, with pipelines for common use cases such as image classification, object detection, segmentation, key point detection, and face recognition.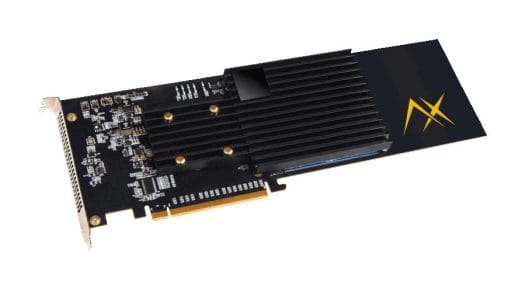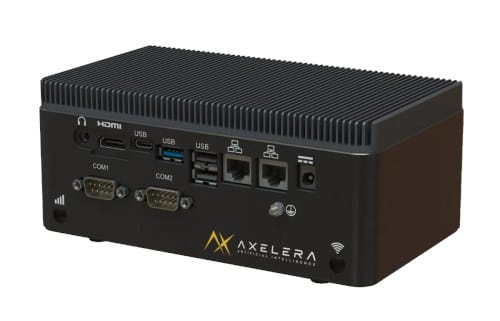 Finally, an AI gateway with the Metis M.2 card will be able to handle up to 8 cameras for deployments in robotics and retail, and we're told it will offer performance in excess of 100 TOPS, which looks more feasible than the 200+ TOPS claim. The design of the enclosure makes me think it was designed by AAEON, but I may be wrong here.
Both the Axelera M.2 module, PCIe card, and AI gateway will be available for order in Q1 2023. More details may be found on the company's website, where you can also register your interest.

Jean-Luc started CNX Software in 2010 as a part-time endeavor, before quitting his job as a software engineering manager, and starting to write daily news, and reviews full time later in 2011.