Last year, Jean-Luc introduced the T113-S3 processor and the small MangoPi-Dual board with T113-S3. This time, I will introduce a development board with relatively rich resources, the 100ASK-T113-PRO, which consists of a core board with T113-S3 and a carrier board with a large number of peripheral interfaces, and the upcoming Allwinner T113-S4 SoC with 256MB DDR3.
100ASK-T113-Pro Allwinner T113-S3 industrial board
While the T113-S3 and D1s/F133 RISC-V processors are pin-to-pin compatible, the T113-S3 is a dual-core Arm Cortex-A7 processor with HiFi4 DSP, CAN interfaces added (CAN is not mentioned publicly, but can be seen in the T113-S3 Datasheet) and 128MB DDR3 on-chip memory.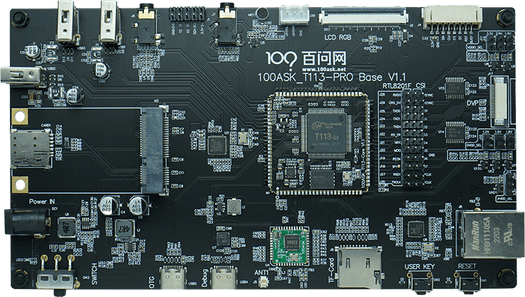 100ASK-T113-PRO preliminary specifications:
T113-S3 Core Lite:

SoC – Allwinner T113-S3

CPU – Dual-core Arm Cortex-A7 with 32 KB L1 I-cache + 32 KB L1 D-cache per core, and 256 KB L2 cache
DSP – Single-core HiFi4
Memory – 128 MB DDR3 (SIP)

Storage – 16MB SPI NandFlash
Video decoding – H.265/H.264 up to 1080p @ 60fps and MPEG-1/2/4, JPEG, VC1 up to 1080p @ 60fps
Video encoding – JPEG/MJPEG up to 1080p @ 60fps

Carrier board:
Storage – MicroSD card slot
Video Output

1x TV IN/OUT interface
1x RGB LCD interface for RGB Screen
1x SPI interface for E-INK Screen

Audio

1x 3.5mm headphone/mic Jack
1x S/PDIF audio output
1x Speaker header

Camera I/F – 1x DVP camera interface
Networking

1x 10/100M Ethernet RJ45 port
XR829 WiFi and Bluetooth module
1x Mini PCle socket + SIM card slot for 4G LTE module

USB – 3x USB 2.0 Type-A port, 1x USB 2.0 Type-C OTG port
Debugging – 1x USB Type-C port for serial console
Misc – Power switch, 3 buttons (Power, Reset, User Key)
Power Supply – DC Power Jack
The Allwinner T113-S3 processor is mainly oriented toward the industrial field with an up to 10-year chip life in an industrial environment. The 100ask's carrier board basically exposes all the peripherals of the T113-S3 CPU and mainly targets fields such as Car MP5 players, automotive dashboards, industrial control, HMIs, and industrial PLCs.
Allwinner T113-S4 processor with 256MB DDR3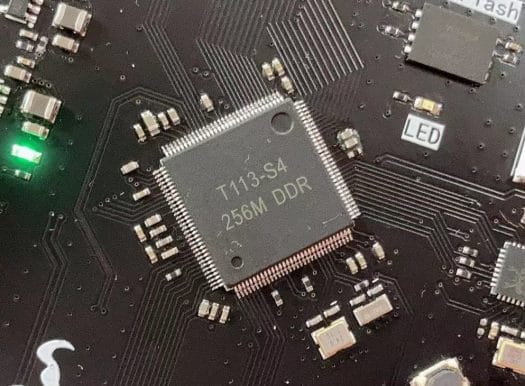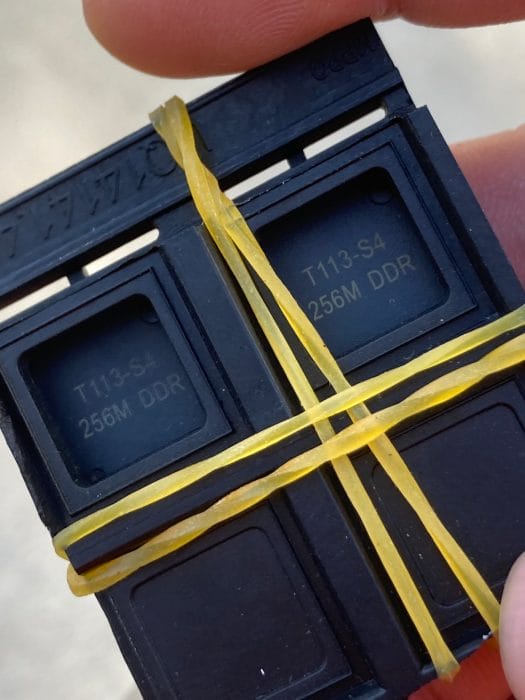 We found out about the Allwinner T113-S4 processor via a Tweet from GLGH, but the chip markings do not seem to be official from Allwinner. Compared to the T113-S3, the T113-S4 has only been upgraded to use 256MB DDR3 instead of 128MB DDR3, and other aspects have not changed. This upgrade may especially be useful for industrial displays that require more RAM.
Software and availability of the 100ASK-T113-Pro board
100Ask provides relevant information about the 100ASK-T113-Pro board on their official download site. Everything is in Chinese, but the documentation includes a quick start tutorial for the development board and a tutorial specific to LVGL to build a graphical user interface. You'll find AllWinner SDKs for Tina Linux, Longan Linux, and Buildroot LTS on 100ASK Gitee account, and can purchase a development kit with a Core Lite module and the carrier board for $86.35 on Aliexpress including shipping.

Li Zexi became a part-time writer for CNX Software in 2022 and works as a software engineer in an embedded software company in China. He's been passionate about embedded development and the Internet of Things for many years, with extensive industry experience, and a new and unique vision!