Cytron CM4 Maker Board is a carrier board for the Raspberry Pi CM4 or CM4 Lite system-on-module with plenty of I/Os, support for one M.2 NVMe SSD, and RTC backup battery, a buzzer, and various LEDs for GPIO status that makes the board especially well suited for the education market and prototyping.
The carrier board also comes with the usual Gigabit Ethernet and full-size HDMI port, four USB 2.0 ports, five Grove connectors, one Maker port, the omnipresent 40-pin Raspberry Pi GPIO header, and support power input from 7V-18V DC jack or 5V via a USB Type-C connector.
CM4 Maker Board specifications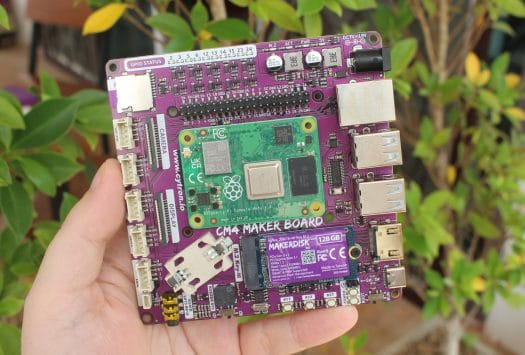 Cytron CM4 Maker Board specifications:
Supported SoM – Raspberry Pi Compute Module 4 or Compute Module 4 Lite
Storage

microSD card slot
M.2 PCIe 2.0 socket for NVMe 2232/2242 SSD

Video Interfaces

Full-size HDMI 2.0 port
MIPI DSI display connector

Camera – MIPI CSI connector connector
Audio – 3.5mm audio jack, built-in buzzer
Networking

Gigabit Ethernet RJ45 port
Optional WiFi 5 and Bluetooth 5.0 on Raspberry Pi CM4/CM4Lite module

USB – 4x USB 2.0 host ports, 1x USB Type-C port for power
Expansion

40-pin Raspberry Pi-compatible GPIO header
5x Grove ports

2x GPIO Ports (GPIO 5, 6 & 23, 24)
1x PWM Port (GPIO 12, 13)
1x UART Port (GPIO 14, 15)
1x I2C Port (GPIO 2, 3)

1x 4-pin JST-SH Maker port compatible with Stemma Qt/Qwiic connectors

Misc

4x Status LEDs, 10x GPIO LEDs
2x power buttons, 3x user buttons
1x external power button header
Buzzer mute Switch
Boot Switch to select eMMC (Boot mode) or SD/SSD boot (Run mode)
PCF85063A RTC and RTC 2032 battery holder

Power Supply

7V to 18V DC input via power barrel jack
5V via USB Type-C port

Dimensions – 110 x 110mm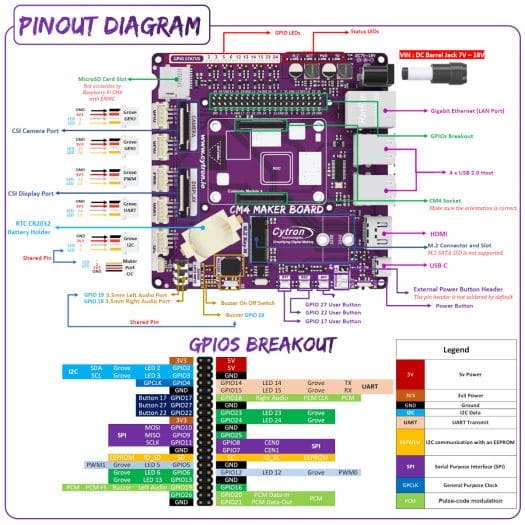 The board is designed to run the Raspberry Pi OS operating system provided by Raspberry Pi Trading.
CM4 Maker Board Kit unboxing
Cytron sent me the "CM4 Maker Board + CM4W4L + MD NVME 2242 128 GB + Accessories" kit with one carrier board, one Compute Module 4 Lite with 4GB RAM and WiFi/Bluetooth, one 128GB NVMe SSD, and other accessories including a 5V/3.5A power supply unit.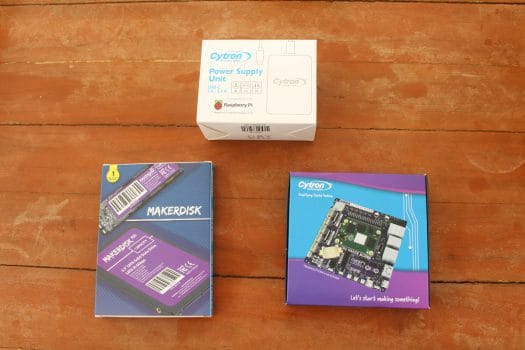 Let's check the content of the main kit…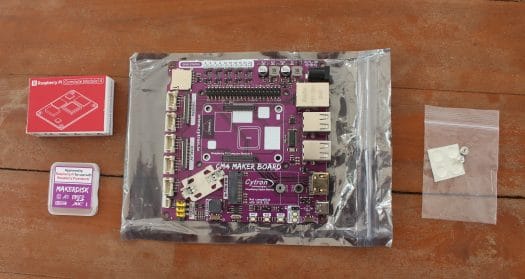 The package contains the CM4 Maker Board carrier board itself, a Raspberry Pi Compute Module 4 (Lite), a MAKERDISK (Class A1 microSD card pre-loaded with Raspberry Pi OS), and an accessory set with rubber pads and a few screws and threads for the SSD.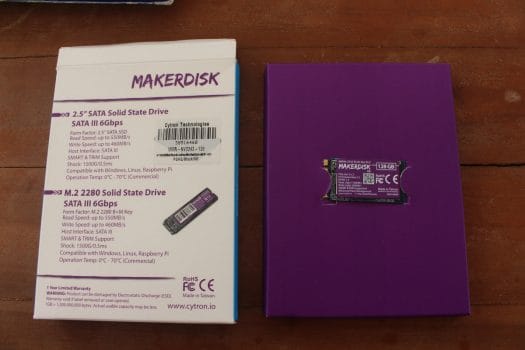 The MAKERDISK package includes a small 128GB M.2 2242 B+M Key NVMe SSD pre-loaded with Raspberry Pi OS that supports up to 1700 MB/s read speeds and 600 MB/s write speeds. The package is oversized because Cytron also uses it for larger 2.5-inch SATA or NVMe SSDs.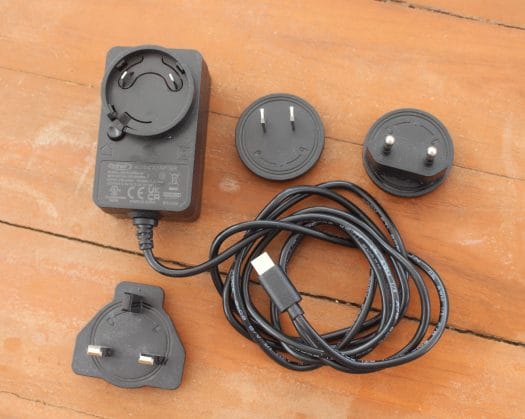 The final package comes with a 5V/3.5A USB power adapter with US, EU, and UK plug adapters.
SSD/MicroSD installation and first boot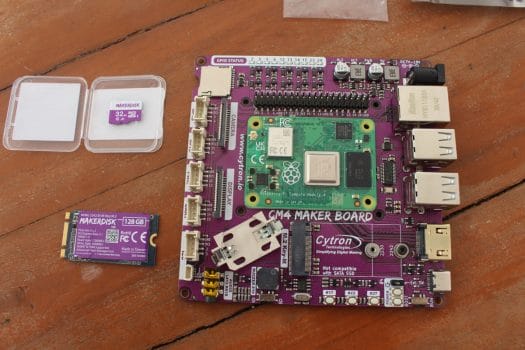 After inserting the Raspbnerry Pi CM4 Lite (without eMMC flash) into the carrier board, we can install either the 32GB MAKERDISK microSD card or the 128GB MAKERDISK SSD.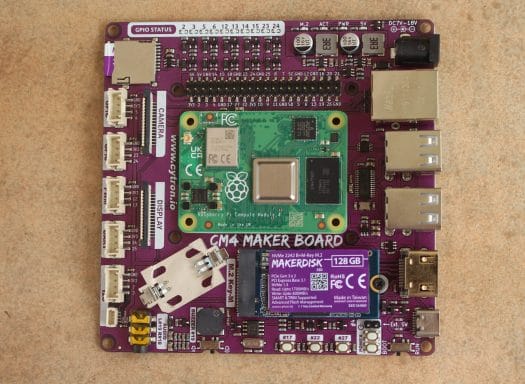 I ended up installing both, but really only one is needed unless you want to use the storage device that is not used to boot the OS as a storage device. Note that the boot selection switch in the bottom right of the photo above is set to "Boot". This is not going to work unless we connect a Raspberry Pi CM4 module with eMMC flash, and in our case, it should be slided to the right to select "Run".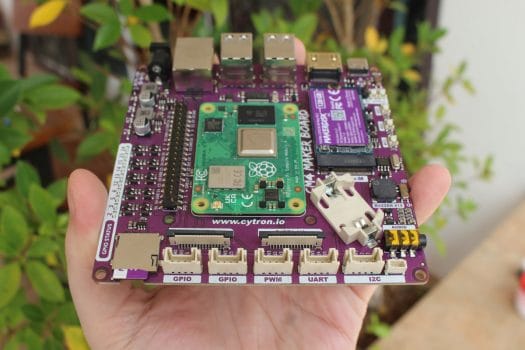 On one side we can clearly see the five Grove connectors for GPIO, PWM, UART, and I2C modules, as well as the much small Maker Port on the right.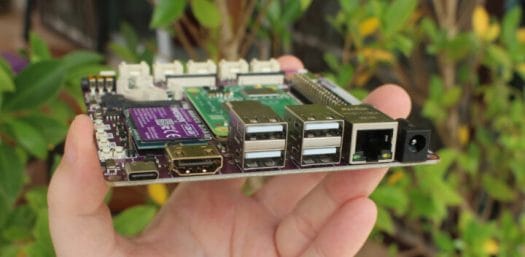 All user-accessible ports are on one side of the power with the USB-C port for 5V power, HDMI 2.0 for 4K video output, four USB 2.0 host ports, Gigabit Ethernet, and a DC jack for 7 to 18V power. It's a bit disappointing they did not extend the range up to 19 or 20V as this precludes us from power it up with a typical laptop power brick.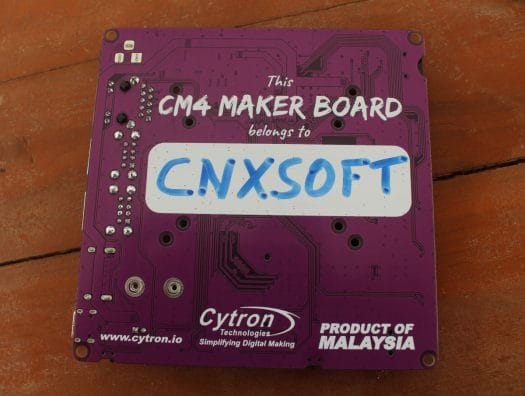 As usual, Cytron also left a blank space on the silkscreen to write your name or class name. In this case, it can be found on the bottom side of the board. We are done preparing our board so let's connect a wireless keyboard and mouse, an HDMI cable to a 10.1-inch HDMI monitor, an Ethernet cable, and finally the USB power adapter provided with the kit.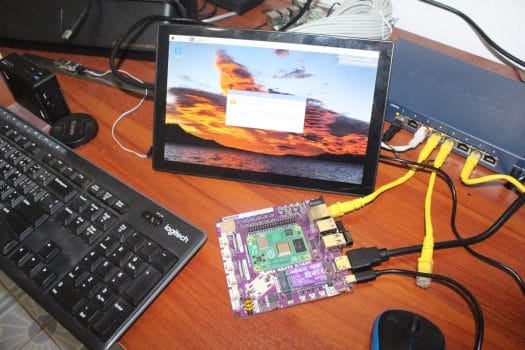 It did not work for me the first time, since I did not read the instructions, but it did boot just fine as soon as I moved the Boot switch to "Run". I did not have to install any operating system since it is pre-installed on the microSD card and M.2 SSD. But before I complete the first part of the review, I'm still curious to find out which storage device was selected for the boot…

NAME

MAJ

:

MIN

RM

SIZE

RO

TYPE

MOUNTPOINT

mmcblk0

179

:

0

0

28.9G

0

disk

├─

mmcblk0p1

179

:

1

0

256M

0

part

/

boot

└─

mmcblk0p2

179

:

2

0

28.7G

0

part

/

nvme0n1

259

:

0

0

119.2G

0

disk

├─

nvme0n1p1

259

:

1

0

256M

0

part

└─

nvme0n1p2

259

:

2

0

119G

0

part

It looks like the microSD card had priority over the NVMe drive. I just mounted the boot partition from the SSD to make sure it was preloaded with Raspberry Pi OS, and indeed it is.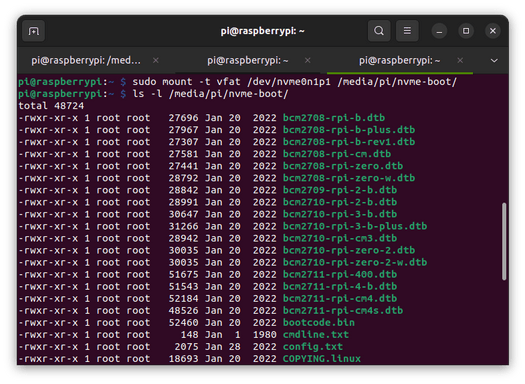 So if we remove the microSD card or insert a non-bootable microSD card, the system will automatically boot from the SSD.
That will be all for today, and I'll focus the second part of the review on some of the unique features of the CM4 Maker Board carrier board such as the NVMe SSD, RTC, Grove expansion modules, and so on.
I'd like to thank Cytron for sending a sample for review. The kit used in this review is similar to the "CM4 Maker Board + CM4W4L + MD NVME 2242 128 GB + Accessories" minus the microSD card which does not seem to be included, but there should be an HDMI cable that was not in my kit. It currently sells for $154.80. If you only need the CM4 Maker Board carrier board, the price is much lower at $44.80. All prices appear to be promotional with a 20% discount for the next 48 hours.
Continue reading "Cytron CM4 Maker Board review – Part 2: NVMe SSD, RTC, Buzzer, Grove modules, ChatGPT…".

Jean-Luc started CNX Software in 2010 as a part-time endeavor, before quitting his job as a software engineering manager, and starting to write daily news, and reviews full time later in 2011.