Quansheng UV-K5, an inexpensive walkie-talkie/multiband radio that works in the 50 MHz to 600 MHz bands, has gotten an experimental firmware from the community that expands the range to 18 MHz to 1300 MHz, the maximum limits of the Beken BK4819 chip it is based on.
The device is popular enough in the ham radio community that an unofficial blog has been created for it. The author explains that UV-K5 is better than other typical Chinese radios with "intuitive controls although the naming is a bit cryptic, and a nice crisp display". He goes on to explain how to flash the firmware and reminds users they do this at their own risk in case they brick the device or break any regulations.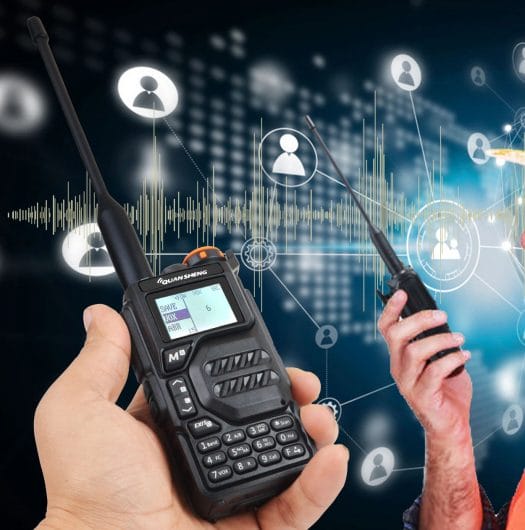 The Quansheng UV-K5 supports the following bands with the stock firmware:
F1: 50.0000-76.0000MHz (RX only)
F2: 108-.0000-135.9750MHz (RX only)
F3: 136.0000-173.9750MHz (TX and RX both)
F4: 174.0000-349.9750MHz (RX only)
F5: 350.0000-399.9750MHz (RX only)
F6: 400.0000-469.9750MHz (TX and RX both)
F7: 470.0000-600.0000MHz (RX only)
The stock firmware is likely limited to comply with various regulations around the world. But you can remove the limitation by using one of the modified firmwares (there are multiple versions) to extend that to 18MHz to 1300MHz, excluding the frequencies between 630 MHz and 840 MHz which are not supported by the Beken BK4819 baseband chip.
Summary of features provided by the modded firmware:
Regular (FM) reception from 18-850MHz (1300MHz with the extended mod)
AM reception from 18-136MHz (850MHz with the extended mod)
Transmission outside of the 136-174, 400-520MHz bands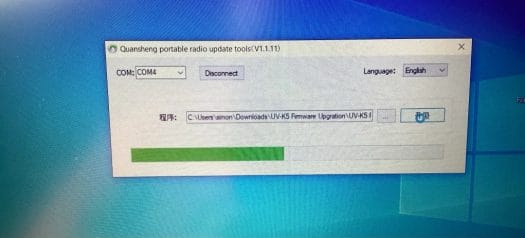 Flashing the new firmware to the Quansheng UV-K5 looks to be fairly simple. You'll need an inexpensive Baofeng USB programming (serial TTL) cable with a standard Kenwood plug which you can purchase or do yourself to connect the device to your host, and the UV-K5 Programming Software ("Quansheng portable radio update tools") to load the firmware and flash it to the radio.
Once it's done, you'll get some new bands to play with for amateur radio, air traffic control, Citizens Band (CB) radio, marine band, public safety services, and so on. If you'd like to give it a try yourself, the Quansheng UV-K5 multiband radio can be purchased for around $40 on Amazon and $26 on Aliexpress. Just make sure you don't transmit anything on illegal frequencies in your country.
Via Hackaday, and thanks to Lalith for the tip.

Jean-Luc started CNX Software in 2010 as a part-time endeavor, before quitting his job as a software engineering manager, and starting to write daily news, and reviews full time later in 2011.